Olympian God
Zeus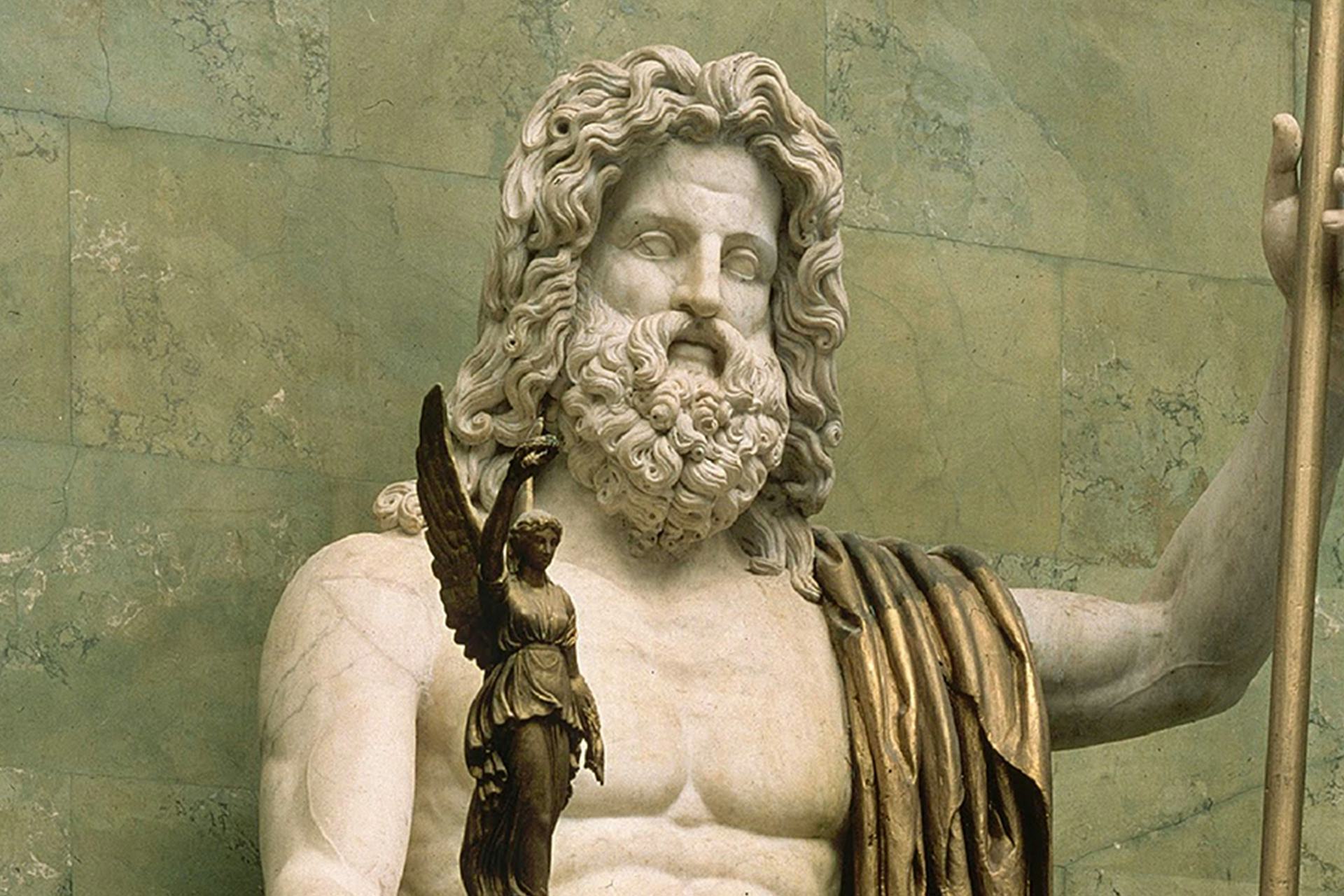 Overview
Zeus was the supreme god of the Greeks, a mighty deity who meted out justice from atop Mount Olympus. Hailed as the father of both mortals and immortals, Zeus was the god of the sky and weather, but was also connected with law and order, the city, and the household.
The numerous other gods of the Greek pantheon were all subordinate to Zeus, and none could rival him in power. Zeus' wife and queen was Hera, goddess of women and marriage. The two had several divine children together, though Zeus also fathered numerous children through other marriages and affairs. 
Greek myth and religion emphasized Zeus' supreme power, but also his role as a source of justice. To the Greeks, Zeus represented the world order as they saw it. He was worshipped throughout the Greek world, with major Panhellenic sanctuaries at Olympia and Dodona.
Key Facts
Roles and Powers
In ancient literature, art, and cult, Zeus was typically represented as a god of the sky and weather—and thus, by extension, the god who controlled lightning, thunder, rain, snow, and other meteorological phenomena.[1] The most recognizable symbols of his power and dominion were lightning and thunder; the dreaded thunderbolts he wielded were said to have been fashioned for him by the Cyclopes.
Zeus was also the supreme god of the Greeks and was therefore often invoked as the divine "father" (metaphorically, not literally—though he did have many children). As the ruler of both gods and humans,[2] Zeus was the strongest of the Greek gods. In the Iliad, for example, Zeus boasts that he can easily overpower all the gods in a pulling contest:
Make ye fast from heaven a chain of gold, and lay ye hold thereof, all ye gods and all goddesses; yet could ye not drag to earth from out of heaven Zeus the counsellor most high, not though ye laboured sore. But whenso I were minded to draw of a ready heart, then with earth itself should I draw you and with sea withal; and the rope should I thereafter bind about a peak of Olympus and all those things should hang in space. By so much am I above gods and above men.[3]
As the highest ruler of the cosmos, Zeus was also a god of order and the fate of human beings (what the Greeks called moira or aisa). In the Iliad, Zeus chooses who prospers and who suffers:
For two urns are set upon the floor of Zeus of gifts that he giveth, the one of ills, the other of blessings. To whomsoever Zeus, that hurleth the thunderbolt, giveth a mingled lot, that man meeteth now with evil, now with good; but to whomsoever he giveth but of the baneful, him he maketh to be reviled of man, and direful madness driveth him over the face of the sacred earth, and he wandereth honoured neither of gods nor mortals.[4]
Zeus was responsible for guiding not only individual lives but also the course of world events; it was often said that all things followed the "plan" or "will" of Zeus.[5] But Zeus' authority was not absolute. Ultimately, it was the Moirae, or "Fates," who determined the overall course of fate; even Zeus was powerless to resist what the Moirae decreed.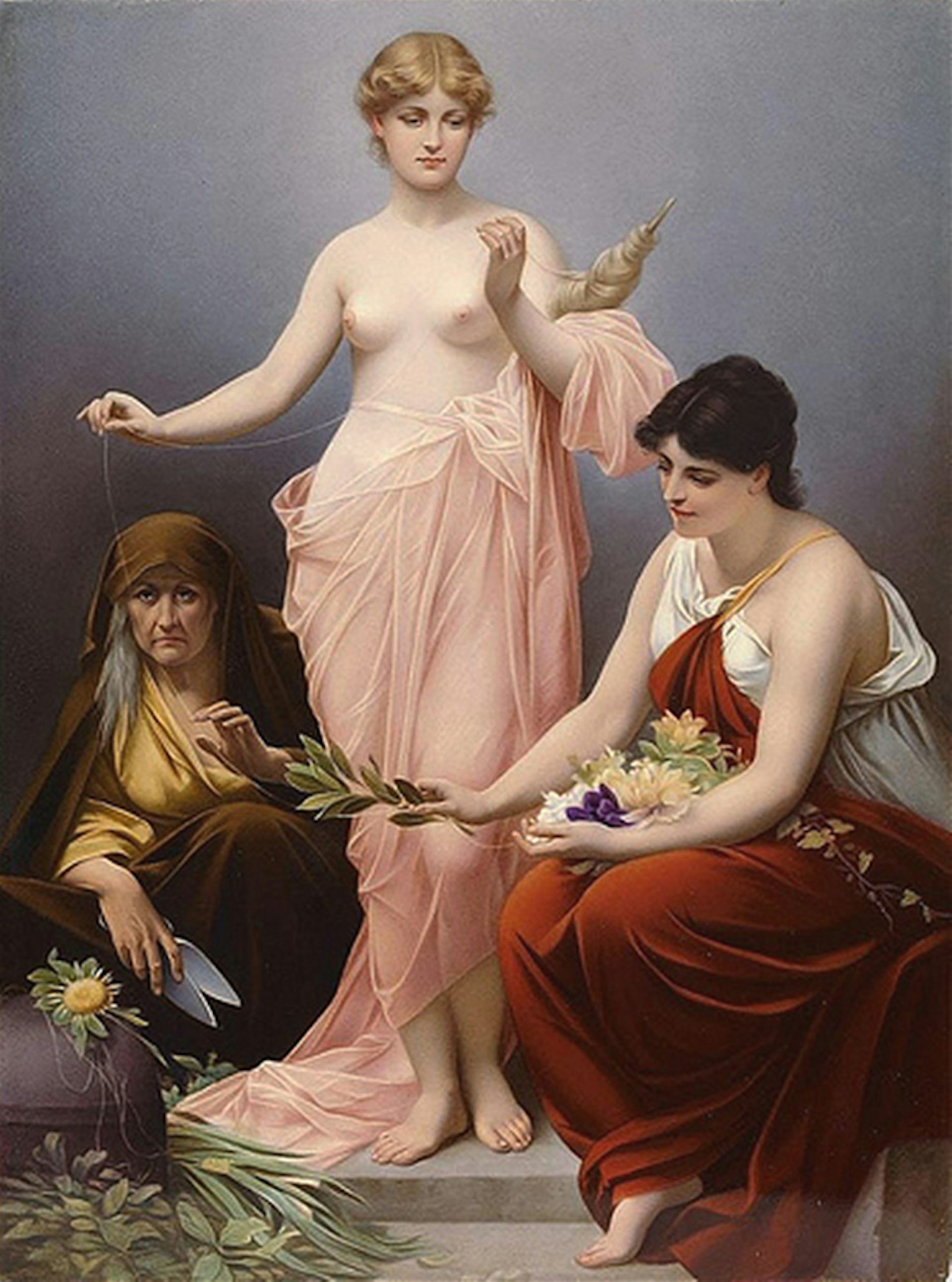 Though he did not have complete control over fate, Zeus was regarded as the guarantor of world order and justice. With the help of a host of divine watchers and spirits, Zeus supervised the human world, learning of all transgressions and ensuring that justice was done.[6] Likewise, it was Zeus who was said to give kings the right to dispense justice,[7] and Zeus who was invoked as the protector of suppliants, strangers, and beggars.[8]
Zeus was invoked in many other natural, domestic, and institutional capacities. For example, he was perceived as the protector of the city (polis), the marketplace (agora), the home, and the family. Zeus was also a god of prophecy, with an early and important oracle at Dodona (see below).
Zeus could also be invoked as a chthonic god—that is, a god of the earth and the Underworld. In this guise, he was connected with the fertility of the soil[9] as well as with cults of expiation and purification.
Attributes
Symbols
Zeus' most familiar symbol was the thunderbolt (fashioned for him by the Cyclopes), which he wielded as a formidable weapon.[10] The ancient Greeks believed that places where lightning had struck had been hallowed by Zeus and were therefore taboo (abaton in Greek). Zeus was also shown with other trappings of power, such as a scepter or a crown of olive, oak, or laurel leaves.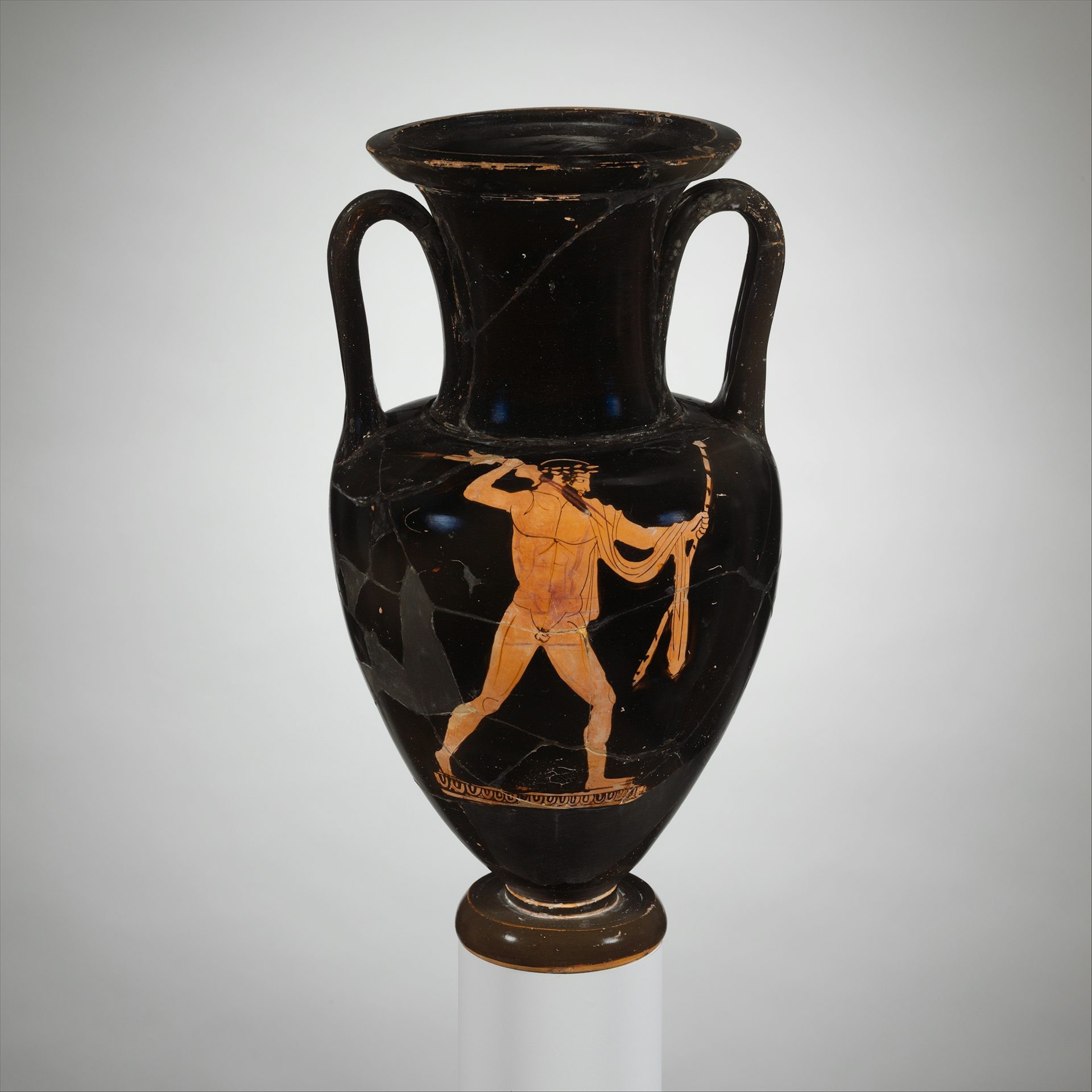 When he went into battle, Zeus carried the aegis, an invincible shield covered in a goatskin. Though other gods, especially Athena, sometimes carried the aegis, too, it was typically said that Hephaestus had made it specifically for Zeus, endowing the shield with magical powers to put enemy warriors to rout.[11]
Zeus was also associated with certain animals, especially the eagle and the bull. Pindar's first Pythian Ode, for instance, evocatively describes the eagle of Zeus, which "sleeps on the scepter of Zeus, relaxing his swift wings on either side, the king of birds."[12]
Certain plants and trees appeared as symbols of Zeus as well. At the oracle of Zeus at Dodona, for example, there was a grove of oak trees that was sacred to Zeus; it was said that the god spoke through these trees on occasion. Moreover, in Athens, Zeus (along with Athena) was the protector of the olive tree, the most important tree in the region.
Personality
Zeus was the most powerful being in the traditional Greek cosmos—the embodiment of sovereignty, order, and justice. The ancient Greeks thus imbued him with characteristics that reflected this identity. Though he did not have absolute power, Zeus was unrivaled among the gods; he controlled his fellow deities by right, but also by force if necessary. In the Iliad especially, Zeus does not hesitate to use threats of violence to get what he wants.
As time wore on, the Greeks' depiction of Zeus softened, and he was increasingly represented as a god who ruled in accordance with the principles of justice, wisdom, and diplomacy. Some ancient works of literature even explicitly claim that Zeus' character transformed over the course of his rule, with the god gradually abandoning the tyranny of his early reign in favor of a gentler approach.[13]
Many of Zeus' characteristics reflect key features (both positive and negative) of the ancient Greeks. In his attempts to maintain peace among his plotting peers, Zeus expressed the same yearning for unity felt by the bitterly divided city-states of the Greek world. Meanwhile, Zeus' many sexual exploits—often nothing more than rapes and attempted rapes—laid bare the deeply misogynistic culture of the Greeks.[14]
Indeed, Zeus' exploits and triumphs reveal much about the Greeks who worshipped him. Both powerful and just, Zeus embodied the spirit of the Hellenes at their best—warrior-poets whose military vigor was matched only by their dedication to the law and order of the polis (city-state). Zeus was not simply the powerful god the Greeks looked to when they gazed at the sky; he was also an idealized reflection of themselves.
Dwellings
Zeus lived alongside the other Olympians, who took their name from their home atop Mount Olympus. This mountain, physically located in northern Greece, was represented in antiquity as more of a heavenly, otherworldly realm than a true mountain (though literary descriptions of Olympus did sometimes stress its mountainous features, including crags and cliffs).[15]
On Olympus, Zeus had his own grand palace; like the homes of the other Olympians, it was built in lavish style by the smith god Hephaestus.[16] The gods would gather in Zeus' palace to hold council.[17]
Iconography
As the ruler of the cosmos, Zeus was a common subject in ancient art. Early images often showed the god striding forward, thunderbolt in hand (this iconographic type is known as "Zeus Keraunios," or "Zeus the Thunderer"). By the Classical period (490–323 BCE), Zeus' iconography had softened a bit, and he tended to be shown seated, often holding a scepter. 
The most famous example of a seated Zeus is the gigantic statue of Zeus at Olympia, fashioned in chryselephantine (gold and ivory) by the artist Phidias in the second half of the fifth century BCE. Considered one of the Seven Wonders of the Ancient World, the statue was destroyed long ago, but detailed descriptions of it have survived from antiquity.[18] Zeus is also at the center of the pediment friezes on the Parthenon in Athens.
Ancient artists placed Zeus in a variety of mythological scenes. Vase paintings and sculptures often depicted his amorous pursuits, chasing after figures such as Europa, Leda, or Ganymede. He also frequently appeared in scenes from the Gigantomachy, fighting against the Giants with the other Olympian gods. Such scenes were popular in vase painting but were also represented on a monumental scale on the Pergamon Altar (first half of the second century BCE). 
Throughout antiquity, Zeus was often pictured on coins as well.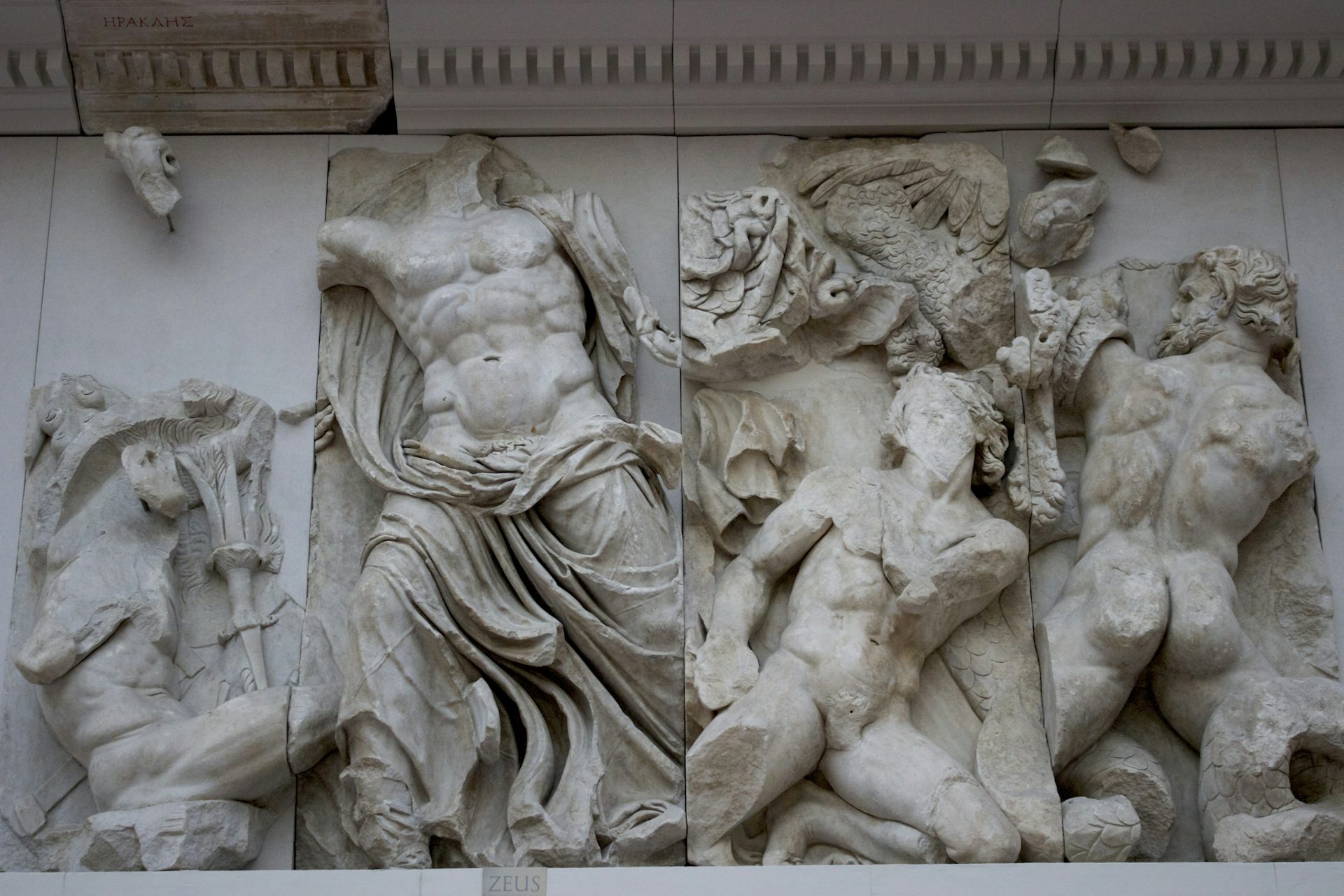 During the Hellenistic period (323–31 BCE), Zeus tended to appear with other figures, in "group" scenes such as the Gigantomachy. During this same period, many Hellenistic emperors—and, subsequently, Roman emperors—appropriated Zeus' image for propagandistic reasons, identifying themselves with the supreme god.
Finally, some representations of Zeus as a chthonic or earth deity showed him in the form of a snake. Zeus Ktesios, or Zeus as god of personal property, was often depicted this way, reflecting the ancient notion of wealth being connected with the earth or soil.[19]
Etymology
Pronunciation
| English | Greek |
| --- | --- |
| Zeus | Ζεύς (Zeús) |
Other Names
There were many dialectical variants of Zeus' name in antiquity. These included the forms Δεύς (Deús), Δίς (Dís), Ζήν (Zḗn), Δάν (Dán), and Ζάς (Zás), among others.
Zeus' Roman equivalent was called Jupiter.
Titles and Epithets
Zeus had many titles and epithets, reflecting his diverse roles and functions across diverse regions of the ancient world. In fact, over 1,000 epithets and cult titles (also called "epicleses") are known from literature and inscriptions.[22]
Some of Zeus' most important and familiar epithets were tied to his rule as the supreme paternal god of the Greek cosmos. Zeus was thus often known as ἄναξ (ánax), "lord," or πατήρ (patḗr), "father." In Homer and Hesiod, he is often called πατὴρ ἀνδρῶν τε θεῶν τε (patḗr andrôn te theôn te), "father of men and gods." Moreover, as high god of the Olympians, Zeus was known in many contexts simply as Ὀλύμπιος (Olýmpios), the "Olympian."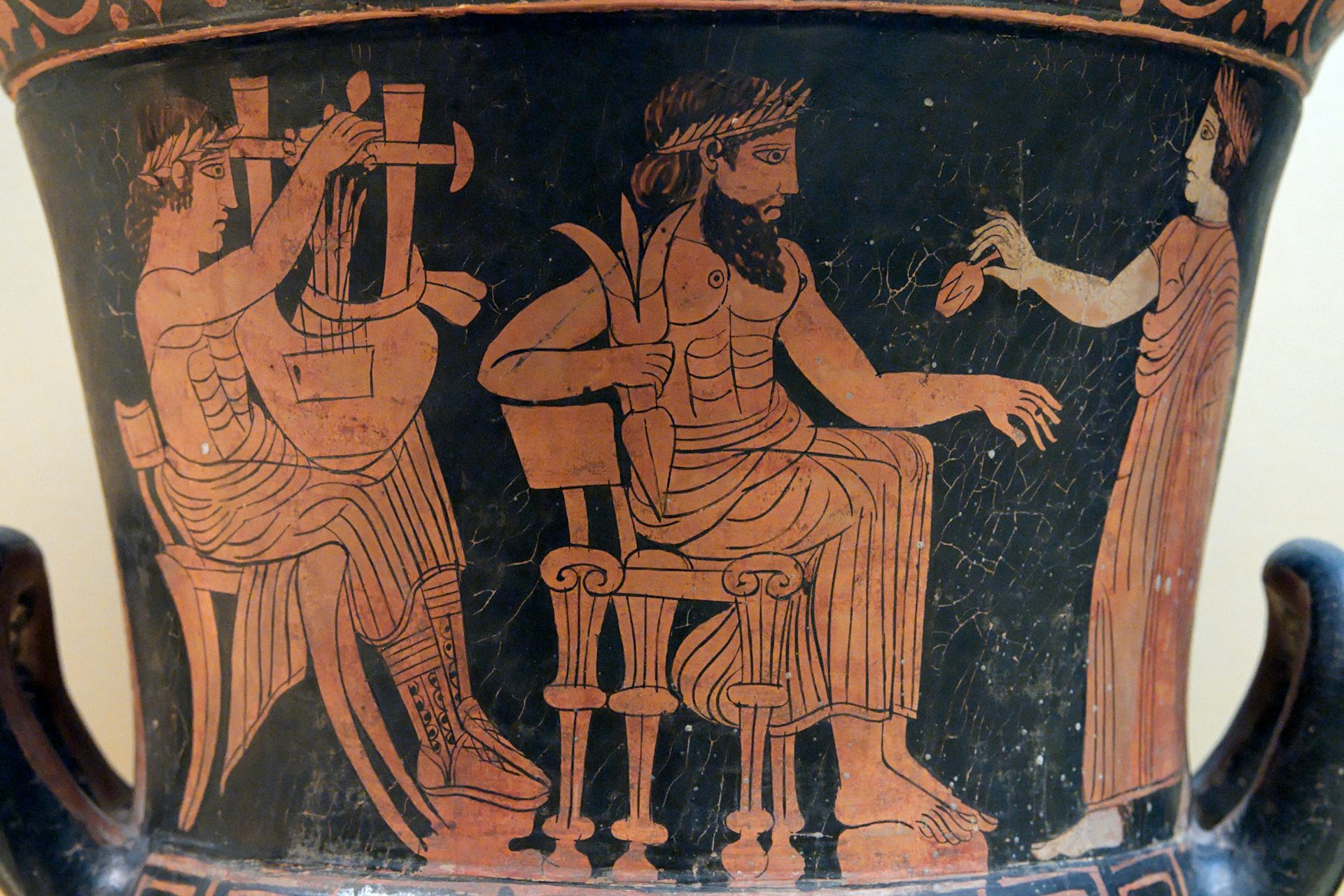 Other epithets of Zeus were more specific. As the god of rain, storms, thunder, and lightning, he had titles and epithets such as ὑέτιος (hyétios) or ὄμβριος (ómbrios), "of the rain" or "rainmaker"; νεφεληγερέτα (nephelēgeréta), "cloud-gatherer"; κεραύνιος (keraúnios), "thunderer"; τερπικέραυνος (terpikéraunos), "he who delights in thunder"; ὑψιβρεμέτης (hypsibremétēs), "high-thunderer"; and καταιβάτης (kataibátēs), "he who comes down (as lightning)."
As a god of prophecy and divination, Zeus had titles and epithets such as φαντήρ (phantḗr), "he who gives signs"; τεράστιος (terástios), "he of omens"; and φήμιος (phḗmios) or κληδόνιος (klēdónios), "he who gives oracles."
As a domestic god who watched over the home, Zeus had titles and epithets such as ἐφέστιος (ephéstios), "of the hearth"; ἑρκεῖος (herkeîos), "of the courtyard"; and κτήσιος (ktḗsios), "of possessions."
As a god of families and kinship groups, Zeus had titles and epithets such as πατρῷος (patrô(i)os), "of the father"; and φράτριος (phrátrios), "of the clan."
As a god of interpersonal relations, Zeus had titles and epithets such as ξένιος (xénios), "of hosts"; ἱκέσιος (hikésios), "of suppliants"; and φίλιος (phílios), "of friendship."
As a god of the Greek polis (city-state) and politics, Zeus had titles and epithets such as πολιεύς (polieús), "of the polis"; ἀγοραίος (agoraíos), "of the marketplace"; and βουλαῖος (boulaîos), "of the council chamber." 
As a god of oaths, Zeus had titles and epithets such as ὅρκιος (hórkios), "of oaths."
As a protector of individuals, groups, and cities from misfortunes, such as natural disasters and wars, Zeus had titles and epithets such as σωτήρ (sōtḗr), "savior"; ἀλεξίκακος (alexíkakos), "he who wards off evil"; and ἀποτρόπαιος (apotrópaios), "he who turns away (evil)."
Most of the titles and epithets listed above were Panhellenic, meaning they were used by people living in many (if not all) of the diverse regions and city-states of Greece. But some of these titles had specific uses tied to specific locales. 
Zeus Polieus, for example, had special local cults in places such as Delos, Cos, Rhodes, Thera, Delphi, Sardis, and Smyrna. Likewise, Zeus Eleutherios (Ἐλευθέριος/Eleuthérios, "of freedom")—who emerged after the Panhellenic victory over the Persians at the Battle of Plataea in 479 BCE—merged with many local cults of Zeus as he spread across the Greek world.
Other local titles and epithets of Zeus were more location-specific, usually derived from the name of a site where Zeus was worshipped in a special way. Thus, Zeus Lykaios (Λυκαῖος, Lykaîos) was Zeus as worshipped on Mount Lycaeon in Arcardia; Zeus Laphystios (Λαφύστιος/Laphýstios) was Zeus as worshipped on Mount Laphystius in Boeotia; and Zeus La(m)braundos or Labrandeus (Λα(μ)βραύνδος/La(m)braúndos or Λαβρανδεύς/Labrandeús) was Zeus as worshipped in Labranda (or Labraunda), near Mylasa (one of the most important cults of Zeus in Anatolia). 
Zeus Olympios, "Olympian Zeus," was the Panhellenic counterpart of these various local Zeuses. He was the supreme god of all Greeks, ruling the cosmos from atop Mount Olympus.
Other titles and epithets of Zeus referred to specific ritual practices. We thus hear Zeus called aigophágos, "goat-eater," in connection with goat sacrifices; ElE/koos, "he who listens," as a god who listened to prayers; or even ikmaîos, "he of humidity," in connection with rituals of rain magic. 
Interestingly—and somewhat paradoxically—the heavenly Zeus could also be invoked in certain ritual contexts as a god of the earth and what lay beneath it. In this capacity, he had titles and epithets such as χθόνιος (chthónios), "of the earth." 
Since the Greeks connected gods of the earth with the Underworld, it was also common practice to invoke the "chthonic" Zeus with euphemistic titles and epithets meant to smooth away the dread the Greeks associated with the dreary Underworld. This is why Zeus sometimes had titles and epithets such as μειλίχιος (meilíchios), "gentle"; εὐμένης (euménēs), "benevolent"; and ἠλάστηρος (ēlástēros), "expeller."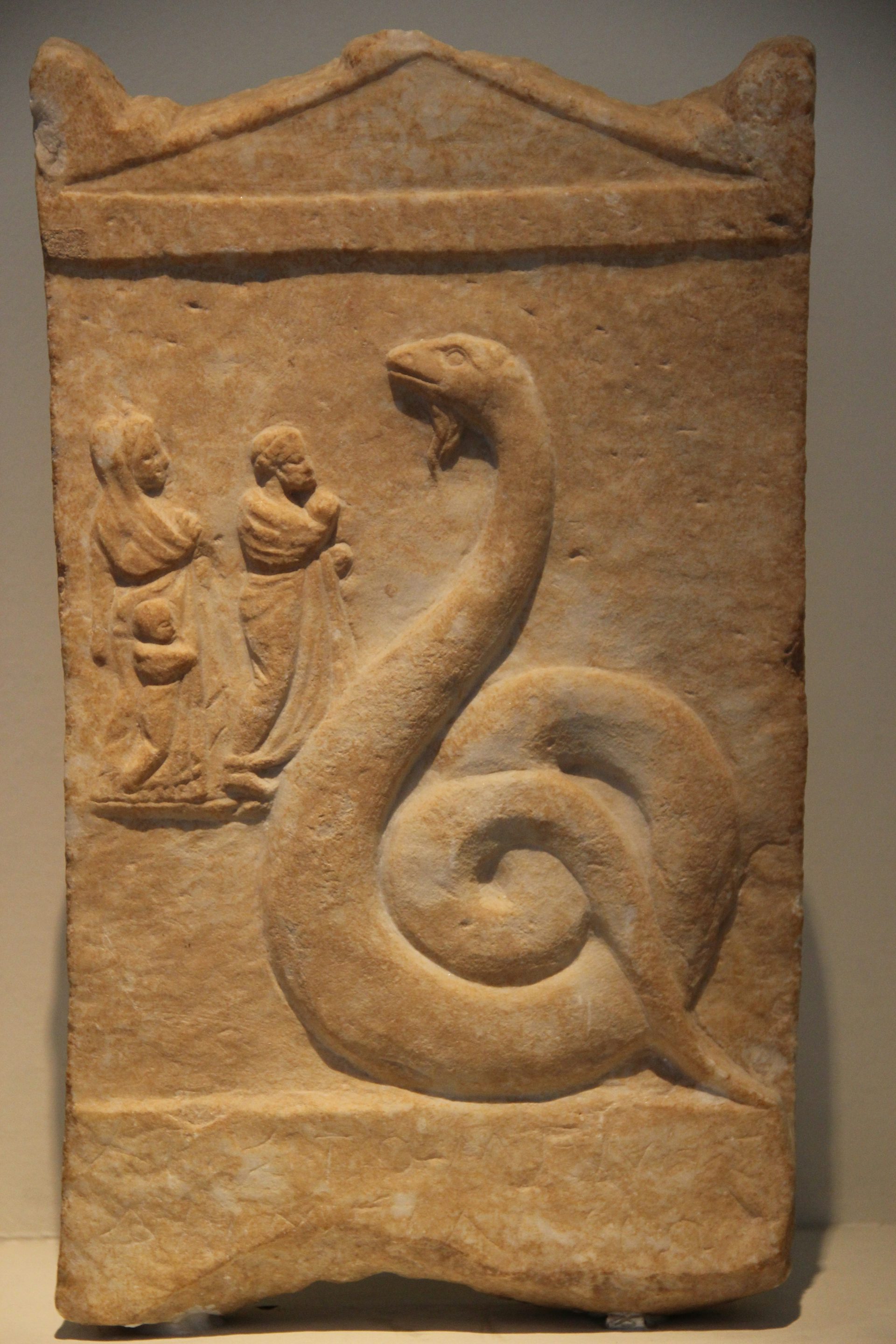 Worship
Temples
Beautiful temples to Zeus were erected throughout the ancient world, from the sixth century BCE on. The most important of these were located in Athens, Acragas (in Sicily), and Olympia. The temple of Zeus at Olympia was particularly famous for its statue of Zeus; sculpted from gold and ivory by the artist Phidias, it was one of the Seven Wonders of the Ancient World.
Zeus also had a Panhellenic cult and sanctuary at Nemea, where the Nemean Games were held in antiquity. There he was worshipped in connection with the infant Opheltes, in whose honor the Nemean Games were said to have been established. The temple of Zeus at Dion, on the lower slopes of Mount Olympus, was also influential, especially during the Hellenistic period.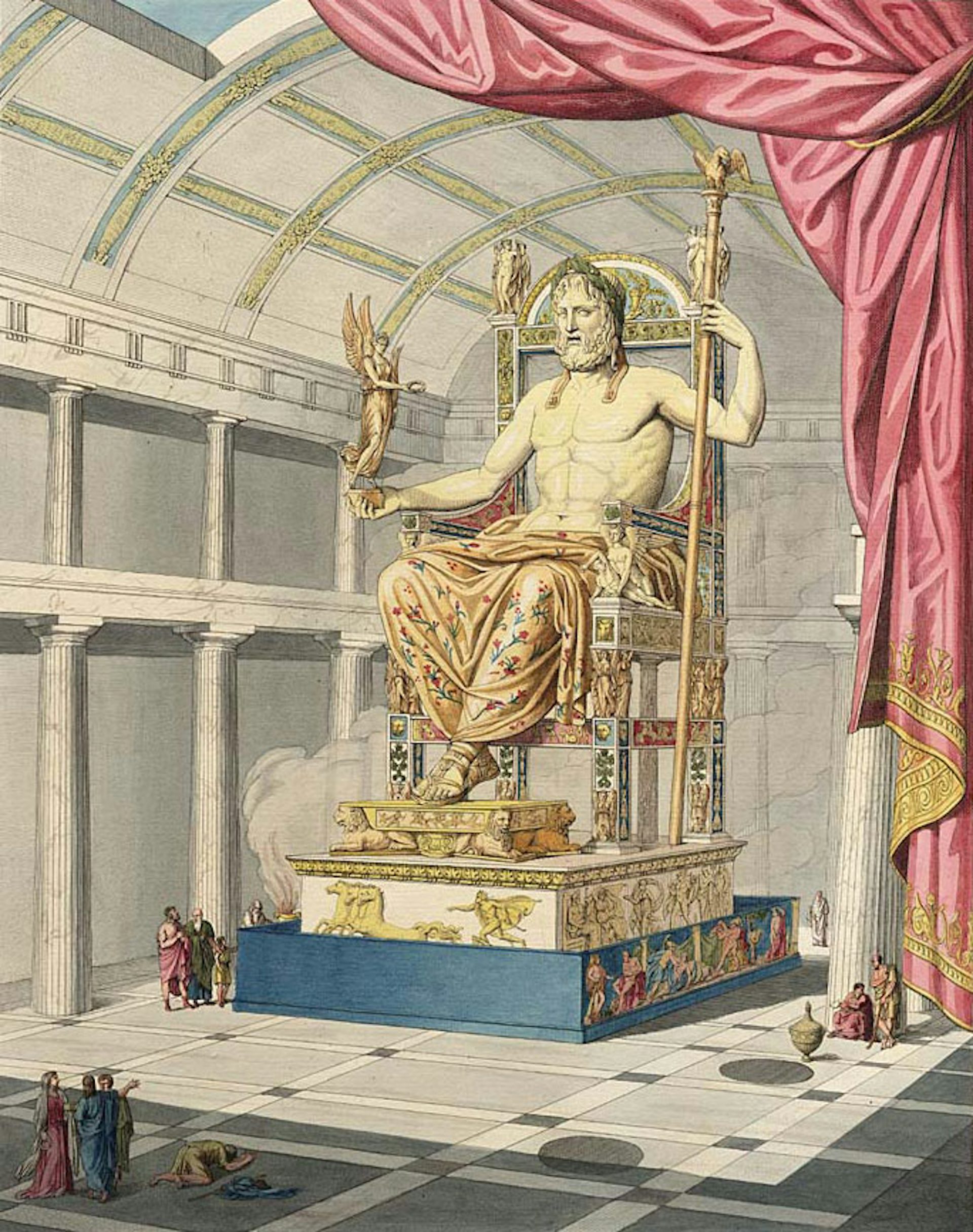 Animal sacrifice was one of the cornerstones of Zeus' worship. In Olympia, there was even an altar dedicated to Zeus built not of stone but from the burned remains of the animals previously sacrificed there. 
In many individual Greek city-states, Zeus' domain was the public marketplace (the agora), where he was thought to supervise commerce and public life. In Athens, Zeus had important public altars on the acropolis and the agora, reflecting his roles as god of the polis or city-state (Zeus Polieus) and of the phratry or clan (Zeus Phratraios). 
Zeus was also regarded as a prophetic or oracular god. He had important oracles at Olympia, Dodona (in northern Greece), and the Siwa Oasis (in Libya). The oracle of Zeus at Dodona was particularly ancient and influential: in fact, it may have been the earliest oracle in all of Greece.
Homer spoke of priests of Zeus at Dodona called Selloi,[114] but by historical times it seems the oracle only had priestesses.[115] It was also said that at Dodona, Zeus spoke through his sacred oak trees, or through the doves that flew through those trees.[116]
Finally, Zeus was often worshipped as Zeus Herkeios, the protector of the household, sometimes receiving sacrificial offerings in the courtyards of individual homes. According to one authority, every Athenian family had to have a shrine to Zeus Herkeios in their home.[117] Through his connection with the household, he was also worshipped as Zeus Ephestios (Zeus of the Hearth) and Zeus Ktesios (Zeus of Property).
Festivals and Rituals
The most important festivals to Zeus in the ancient world were Panhellenic, meaning they were celebrated by all Greeks, not just individual cities. These included the Olympic Games, held at Olympia every four years. The games were initiated with elaborate rites and sacrifices that took place in a complex of temples, with the main temple dedicated to Zeus. Zeus was also honored at the Panhellenic games at Nemea, held every two years.
There were also many local festivals to Zeus, though these were typically less important; since Zeus was a Panhellenic god, shared by all Greeks, individual cities rarely claimed him as a special patron deity. 
In the region of Attica (whose most important city was Athens), Zeus was celebrated in three local festivals that were held annually: the Dipolieia, centered around a bull sacrifice (which ended in the ritual condemnation of the ax and knife used for the sacrifice);[118] the Diasia, which featured bloodless sacrifices as well as animal sacrifices;[119] and the Diisoteria, held at the harbor town of Piraeus, which involved animal sacrifice and a procession.[120]
On Mount Lycaeum (in Arcadia), a strange festival called the Lycaea was celebrated in honor of Zeus. The rites of this festival involved cannibalism and werewolf stories.[121]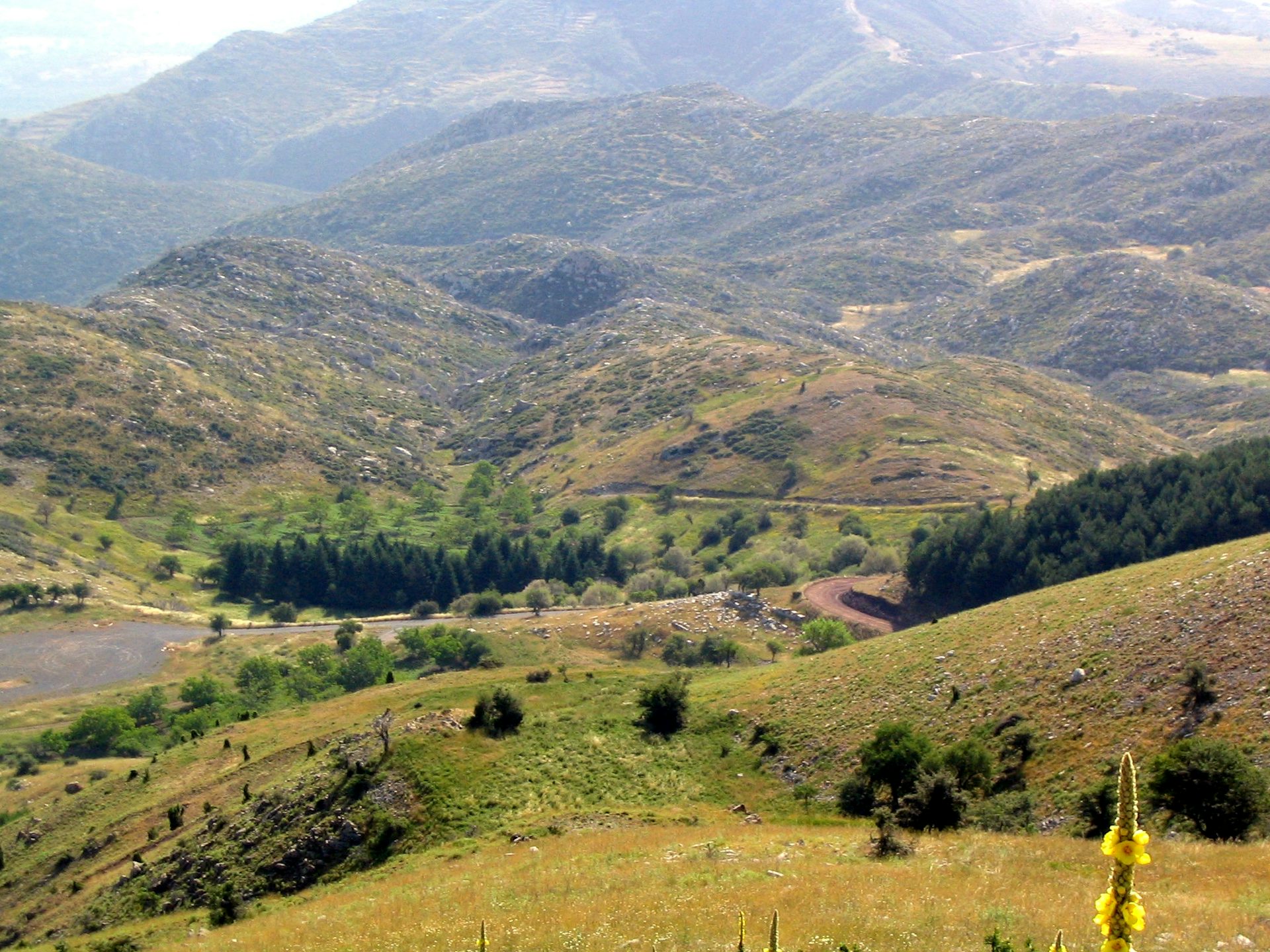 Zeus' cult on the island of Crete deserves special mention. Indeed, Zeus was associated with Crete from as early as the Bronze Age; in myth, Crete was usually cited as the place where he was born and raised. 
Cretan initiation rituals seem to have reenacted the "sacred time" of Zeus' infancy, when the Curetes danced around him to protect him. Zeus himself was imagined as a youth or kouros in these rituals, connected with herds and the countryside.[122]
On a smaller scale, Zeus was the chief god invoked at symposiums—Greek drinking parties. Before the symposium began, three libations were poured out: the first to Zeus Olympios ("Olympian Zeus"), the second to the heroes, and the third to Zeus Soter ("Zeus the Savior").
Foreign Cults
From an early period, the Greeks projected Zeus onto the supreme gods of foreign peoples, a practice sometimes known as interpretatio Graeca (literally, "translation into Greek"). Zeus was thus identified with gods such as the Semitic Baal, the Egyptian Ammon, the Jewish Yahweh, and, perhaps most famously of all, the Italian Jupiter.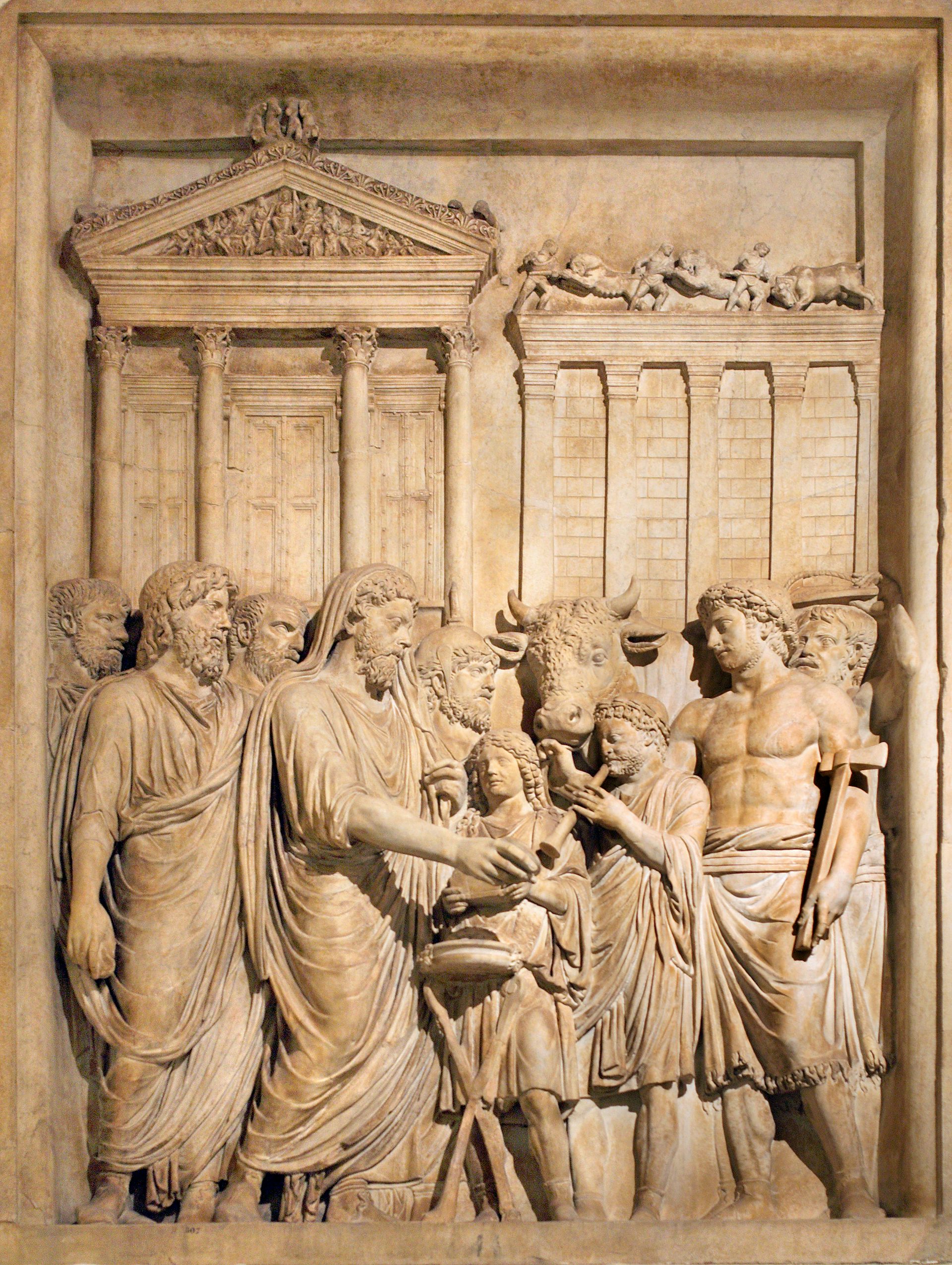 Zeus' identification with Jupiter was particularly noteworthy. The Romans, in fact, adopted most of Zeus' mythology and iconography for their own Jupiter, even though the two gods were worshipped very differently.
Like Zeus, Jupiter was the leader of the gods. But Jupiter was a much more political figure than Zeus, serving as the state god of Rome and the guarantor of Roman sovereignty and power. His main temple was an enormous structure on the Capitoline Hill in Rome, known as the Temple of Jupiter Optimus Maximus ("Jupiter the Best and Greatest").
Pop Culture
Though he is no longer worshipped as he once was, Zeus' image has persisted in popular culture. He often appears in stories about Hercules, such as the 1970 cult classic Hercules in New York, starring Arnold Schwarzenegger, and the Disney animated film Hercules (1997). He also features in the acclaimed God of War video game series, where he appears as the father of the hero Kratos. 
In all of these representations, Zeus' image is remarkably consistent: a wise, good-natured father figure with a booming voice and a hearty laugh.
Nowadays, Zeus is often shown as distant from the goings-on of Hercules and other mortals. In most pop culture depictions, he is more like a modern monotheistic god than the flawed figure of Greek mythology who was intimately involved in earthly affairs.