Greek Goddess
Persephone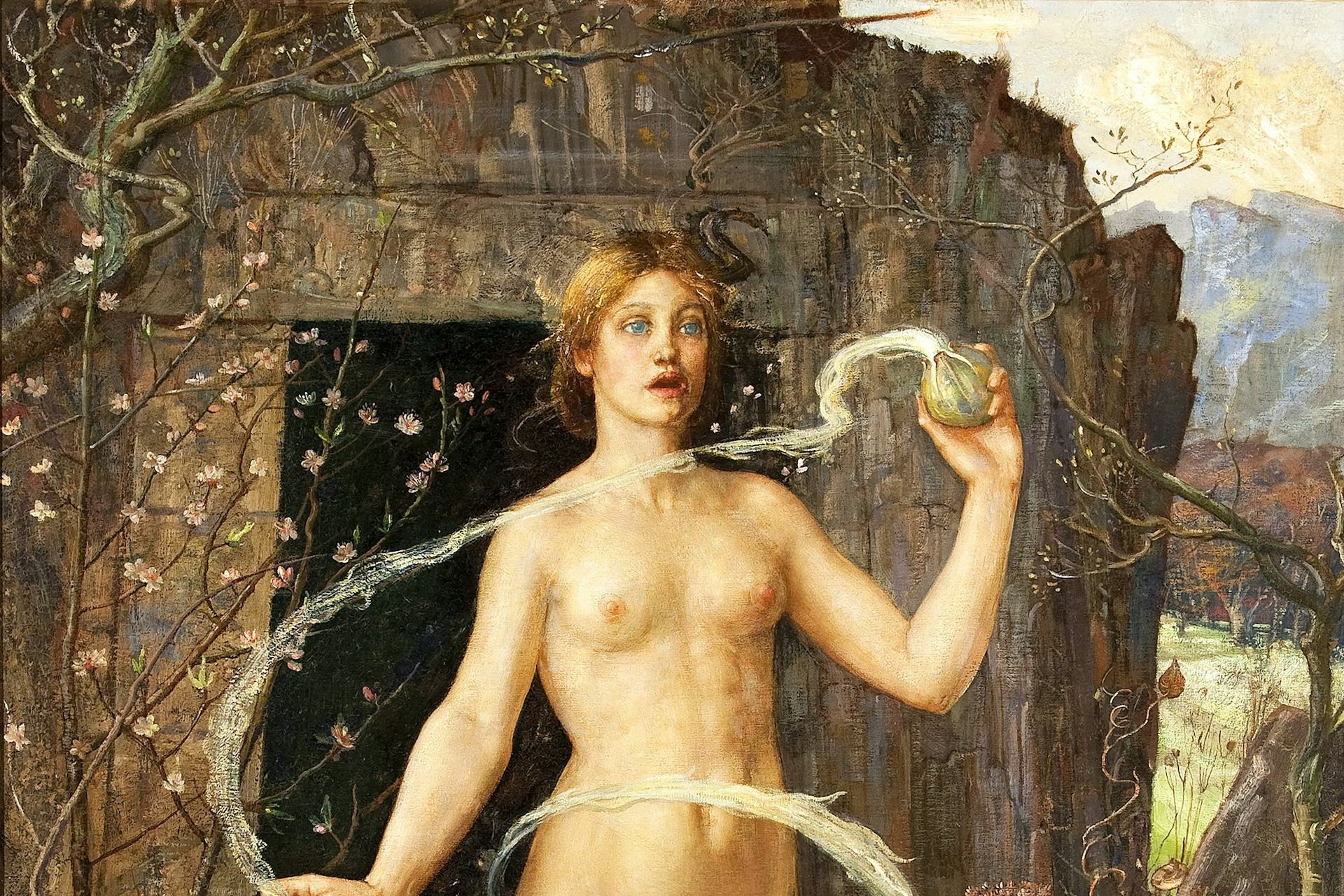 Overview
Persephone, often known simply as Kore ("Maiden"), was a daughter of Zeus and Demeter. Her mythology tells of how she was abducted by her uncle Hades one day while picking flowers. Demeter, distraught, wandered the entire world in search of her daughter. 
When Demeter at last located Persephone in the Underworld, she demanded that her daughter be returned. But Hades had tricked Persephone into eating something—a handful of pomegranate seeds—while she was in the Underworld. Thus, although Persephone was allowed to spend part of the year on Olympus with her mother, she was forced to spend the other part of the year in the Underworld as Hades' bride.
As the wife of Hades, Persephone was the queen of the Underworld. She was also associated with spring, girlhood, and marriage. Persephone was often worshipped alongside her mother, Demeter—for example, in the Eleusinian Mysteries.
Etymology
Ancient authors sometimes sought creative etymologies for the name "Persephone" (Greek Περσεφόνη, translit. Persephonē). Plato, for example, interpreted the name as "she who touches things that are in motion" (epaphē tou pheromenou), a reference to Persephone's wisdom (to touch things that are in motion implies an understanding of the cosmos, which is constantly in motion).[1] 
Other ancient etymologies connected Persephone's name with aphenos ("wealth"), phonos ("death"), and phōs ("light"). But these are folk etymologies that lack credibility. 
Nowadays, Persephone's name is often thought to have Indo-European origins. Robert Beekes and others have connected it to two Indo-European roots: *perso- ("sheaf of corn") and *-gʷn-t-ih₂ ("hit, strike"). This would indicate that Persephone's name means something like "female corn thresher."[2]
Pronunciation
| English | Greek |
| --- | --- |
| Persephone | Περσεφόνη (translit. Persephonē) |

| Phonetic | IPA |
| --- | --- |
| [per-SEF-uh-nee] | /pərˈsɛf ə ni/ |
Alternate Names
The name Kore (Korē, "Maiden") was commonly used as an alternative to "Persephone" and highlighted the goddess's role as the daughter of Demeter, goddess of agriculture. Another alternate name, Despoina ("Mistress"), focused on Persephone's role as the wife of Hades and queen of the Underworld.
There were several alternate forms of the name "Persephone" itself, including Persophatta or Persephatta (which may have been the original form of the name), Persephoneiē (the Homeric form), Pherrephatta, and Phersephonē.
Persephone's Roman counterpart was called Proserpina or Proserpine.
Titles and Epithets
Persephone was known by numerous cult titles, including Sōteira ("Savior") and Brimō ("Angry"). She also had a handful of epithets. These included epainē ("awful"), which stressed Persephone's role as queen of the Underworld, as well as agauē ("venerable"), hagnē ("holy"), and arrētos ("she who must not be named").
Attributes
There were two sides to Persephone. On the one hand, she was Persephone, wife of Hades and goddess of the Underworld, and thus a chthonic figure closely associated with the inevitability of death. On the other hand, she was Kore, the maiden daughter of the agricultural goddess Demeter, an alternate guise that brought her into the sphere of agriculture and fertility. In her ritual and mythology, Persephone/Kore was also regarded as a goddess of all aspects of womanhood and female initiation, including girlhood, marriage, and childbearing.
True to her double nature, Persephone was imagined as having two homes: one on Olympus with her mother, Demeter, and the other in the Underworld with her husband, Hades. According to Homer, she also possessed sacred groves on the western edge of the world, near the entrance to the Underworld.[3]
In her iconography, Persephone was represented as a young woman, modestly clad in a robe and wearing either a diadem or a cylindrical crown called a polos on her head.
Persephone was characterized by several attributes and symbols, most notably torches, stalks of grain or ears of corn, and scepters. More rarely, she was associated with pomegranates or poppies. Other attributes, such as the rooster, were more localized and tied to the iconography of specific cults.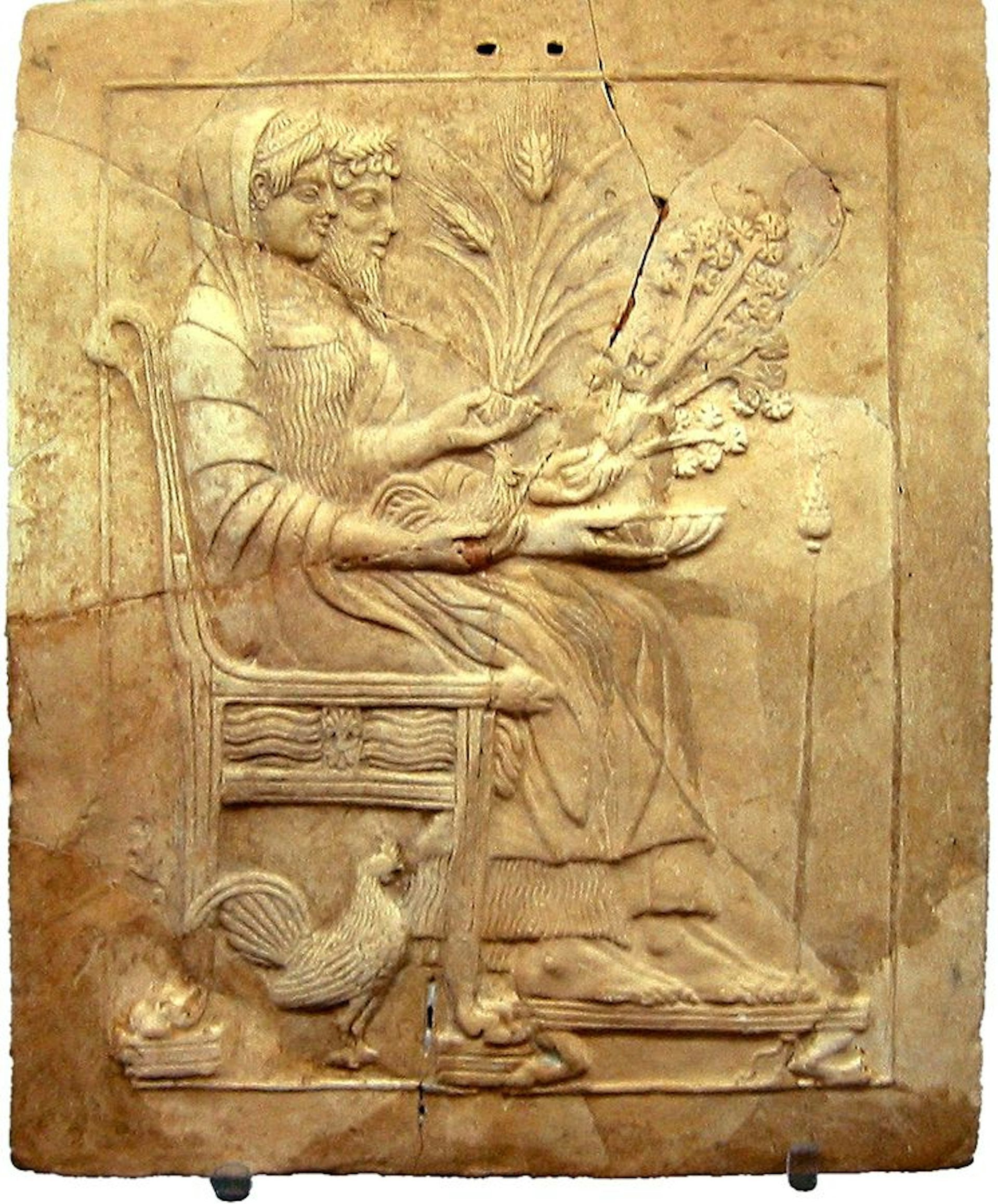 Several scenes from Persephone's mythology—especially her abduction by Hades—were popular among ancient artists.[4]
Family
In the standard tradition, Persephone was the daughter of Zeus, the king of the gods, and his sister Demeter, the goddess of agriculture.[5] But there were a handful of rival traditions surrounding Persephone's parentage, including one in which she was the daughter of Zeus and Styx, an Oceanid who gave her name to one of the rivers of the Underworld.[6] The Orphic version of Persephone, on the other hand, was a daughter of Zeus and Rhea,[7] while an Arcadian version of Persephone called Despoina was the daughter of Demeter and Poseidon.[8]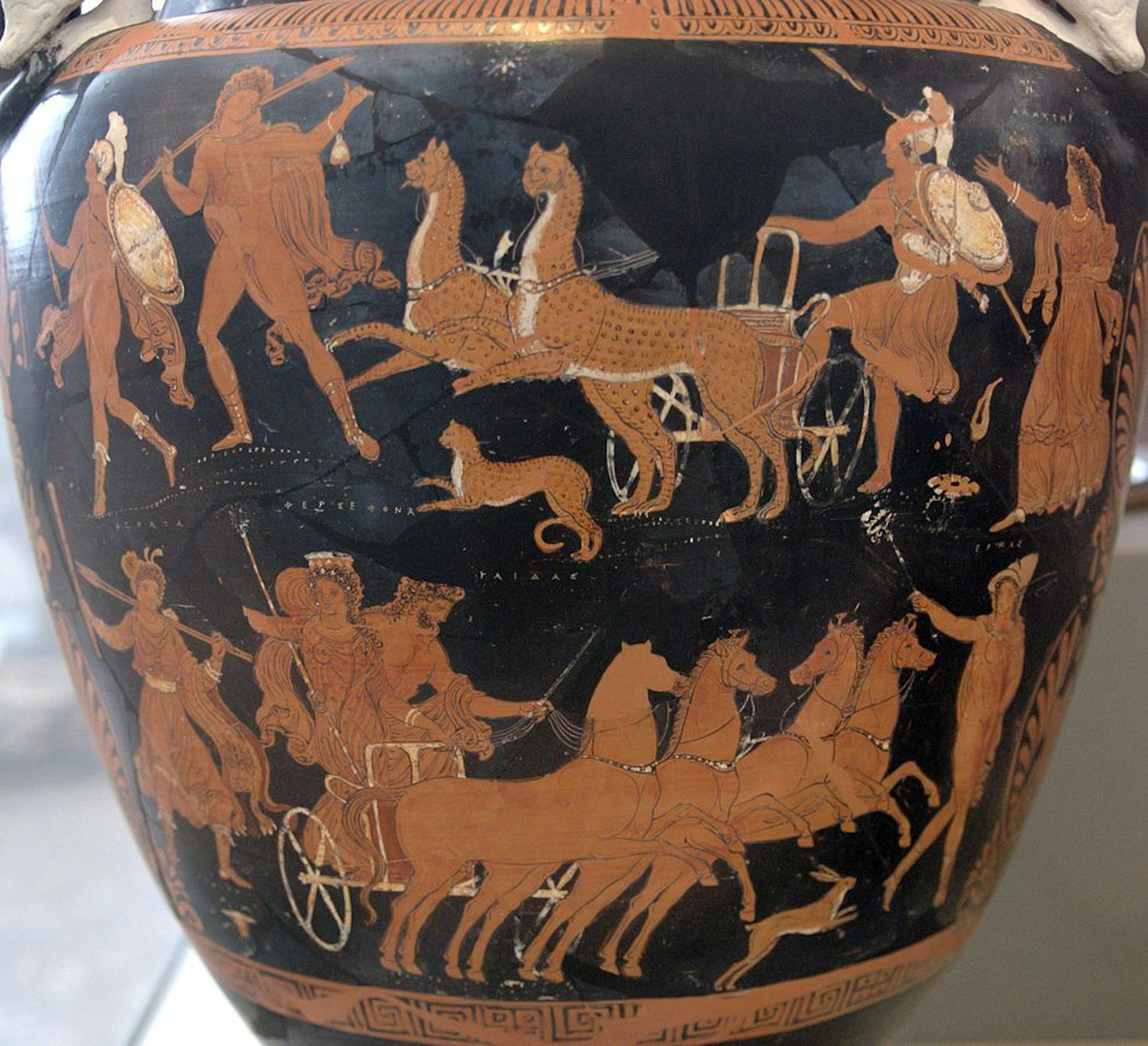 Persephone was usually regarded as the only child born to Zeus and Demeter, but both gods had children with other consorts. Thus, Persephone's half-siblings included Demeter's other children (Arion, Corybas, and Plutus) as well as the numerous children of the promiscuous Zeus (including Apollo, Artemis, Athena, Dionysus, Heracles, Perseus—and many, many others).
Worship
Temples
Persephone had temples throughout the Greek world, many of them shared with Demeter. The most notable of these was the Temple of Demeter in Eleusis, a huge, ancient temple likely built during the seventh century BCE. The famous "Eleusinian Mysteries," religious rites honoring Demeter and Persephone/Kore, were performed there.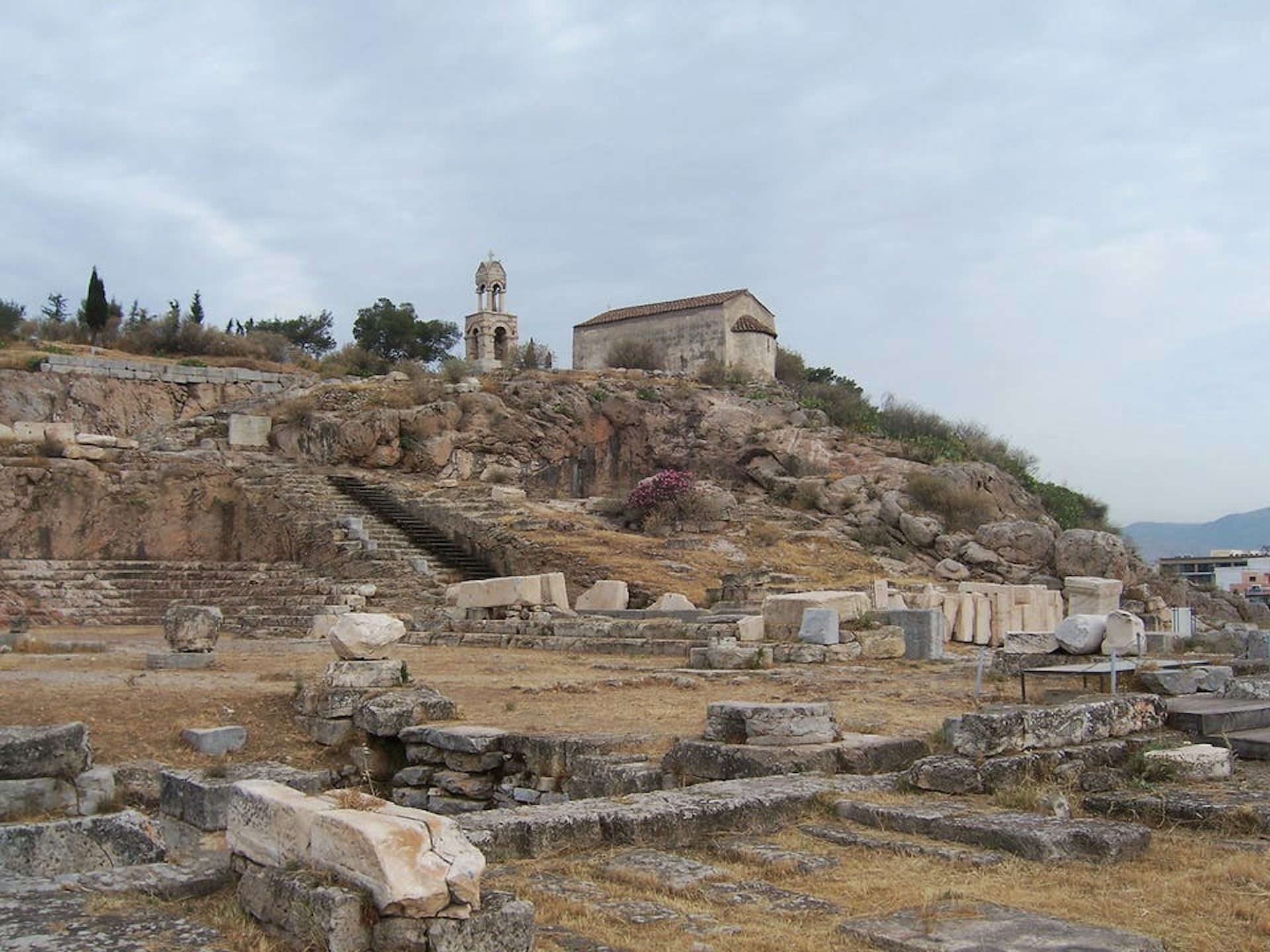 Persephone shared many other temples with Demeter, though she also had several temples of her own; the one at Epizephyrian Locris (a Greek colony in southern Italy) is an important example.[29] At other sites, including Teithras in Attica,[30] Acrae in Sicily,[31] and the island of Thasos,[32] Persephone had a separate sanctuary called a Koreion.
Elsewhere, such as Cyzicus,[33] Erythrae,[34] Sparta,[35] Megalopolis in Arcadia,[36] and the Athenian deme of Corydallus,[37] Persephone was worshipped with the cult title Soteira, meaning "Savior."
Festivals and Rituals
Just as Persephone shared many of her temples with Demeter, she also shared many of her festivals with her.
The most important festival of Persephone and Demeter, the Thesmophoria, was celebrated by married women throughout the ancient Greek world. In Athens, the Thesmophoria lasted three days and involved several rituals, including one in which the rotten remains of a slaughtered pig were dug up and placed on the altars of the goddesses.[38] The Thesmophoria was also celebrated in other parts of Greece, such as the region of Boeotia.[39]
Many of the festivals of Persephone and Demeter were related to the myth of Persephone's abduction. At Eleusis, worshippers reenacted Demeter's search for Persephone at night by torchlight. When Persephone was "found," the ritual ended with celebration, torch throwing, and probably the sounding of a gong.[40] At Megara, similarly, worshippers reenacted Persephone's abduction by a sacred rock called Anaklēthris, where Demeter was believed to have "called back" (anekalesen in Greek) Persephone when she passed by it during her search.[41] 
In Sicily, sometimes said to have been the island from which Hades had abducted the goddess, Persephone was honored in a number of different festivals and rituals. The Korēs Katagōgē ("Descent of Kore"), for example, commemorated Hades taking Persephone (Kore) down to the Underworld.[42] Every year in the Sicilian city of Syracuse, Persephone was honored with the sacrifices of smaller animals and the public drowning of bulls.[43]
Another festival, called the Chthonia, was celebrated annually at Hermione, a city in the Argolid. It honored Demeter in her connection with Persephone, the queen of the Underworld. One part of the festival involved four old women who sacrificed four heifers with sickles.[44]
Other festivals celebrated Persephone in connection with the institution of marriage (rather than with Demeter and agriculture). This seems to have been how Persephone was honored at her temple in Epizephyrian Locris. In some Sicilian cities[45] and in the Locrian colony of Hipponion,[46] there were festivals celebrating Persephone's wedding.
In Cyzicus, where Persephone was worshipped under the title Soteira, her festival was called either the Soteria,[47] the Pherephattia,[48] or the Koreia.[49] A festival called the Koreia appears to have also been celebrated in Arcadia[50] and Syracuse[51] (though the Syracusean Koreia was likely simply the equivalent of the Thesmophoria).
Persephone, both individually and together with other gods, was also honored through festival and ritual at numerous other sites, including Mantinea, Argos, Patrae, Smyrna, and Acharaca.
Other Worship: Orphism and Curse Tablets 
The Orphics, who called Persephone either Despoina[52] or the "Chthonian Queen,"[53] worshipped her primarily in connection with the Underworld. They also associated her with salvation: it was believed that she would grant a blissful afterlife to those who had been properly purified.
Persephone was often invoked on curse tablets under her Underworld title Despoina. Curse tablets were engraved texts that called upon a god, usually a "chthonian" god associated with the Underworld (such as Hecate, Hermes, or Gaia), to punish or harm an enemy, who would generally be named in the text.
Pop Culture
Persephone has continued to captivate the modern imagination as the virginal yet terrifying queen of the Underworld. She has appeared in a handful of modern adaptations of Greek mythology, including Rick Riordan's Percy Jackson and the Olympians franchise, the 1990s TV series Hercules: The Legendary Journeys, and even the video game Assassin's Creed: Odyssey.
Together with Demeter, Persephone is also depicted on the Great Seal of North Carolina, where she is shown in a pastoral setting with the sea in the background.