Overview
Pandora, the first human woman, was fashioned by Hephaestus on instructions from Zeus. She received gifts from all the gods and was presented to Prometheus' brother Epimetheus as a bride. But Pandora was not a gift: rather, Zeus hoped to use her to punish mortals after Prometheus gave them the fire he had stolen from the gods. As part of this plan, Pandora was entrusted with a lidded jar. When she opened it, she unleashed all the evils of the cosmos upon mankind. Only hope remained in the jar.
Etymology
The name "Pandora" (Greek Πανδώρα, translit. Pandōra) is derived from the Greek words pan, meaning "all," and dōron, meaning "gift." The name can thus be translated as "all-gifted" or "all-giving." According to Hesiod, Pandora received this name because, when she was created, "all they who dwelt on Olympus gave each a gift."[1]
Pronunciation
| English | Greek |
| --- | --- |
| Pandora | Πανδώρα (translit. Pandōra) |

| Phonetic | IPA |
| --- | --- |
| [pan-DAWR-uh, -DOHR-uh] | /pænˈdɔr ə, -ˈdoʊr ə/ |
Alternate Names
Pandora was sometimes known by the alternate name "Anesidora," meaning "she who sends up gifts."[2]
Attributes and Iconography
Pandora, perhaps more than any other figure in Greek mythology, was defined by her attributes. Indeed, her name was interpreted by the ancient Greeks as a reference to the fact that, when she was created, each of the gods gave her a different attribute as a gift. From Hephaestus, Pandora received a lovely shape; from Athena, knowledge of crafts; from Aphrodite, irresistible grace and charm; from Hermes, cunning and deceitfulness; and so on. The epic poet Hesiod gives the most complete account:
[Zeus] bade famous Hephaestus make haste and mix earth with water and to put in it the voice and strength of human kind, and fashion a sweet, lovely maiden-shape, like to the immortal goddesses in face; and Athena to teach her needlework and the weaving of the varied web; and golden Aphrodite to shed grace upon her head and cruel longing and cares that weary the limbs. And he charged Hermes the guide, the Slayer of Argus, to put in her a shameless mind and a deceitful nature. So he ordered. And they obeyed the lord Zeus the son of Cronos. Forthwith the famous Lame God moulded clay in the likeness of a modest maid, as the son of Cronos purposed. And the goddess bright eyed Athena girded and clothed her, and the divine Graces and queenly Persuasion put necklaces of gold upon her, and the rich-haired Hours crowned her head with spring flowers. And Pallas Athena bedecked her form with all manner of finery. Also the Guide, the Slayer of Argus, contrived within her lies and crafty words and a deceitful nature at the will of loud thundering Zeus, and the Herald of the gods put speech in her.[3]
Zeus ordered the creation of Pandora as a punishment for mortals. This first woman was designed to be a "beautiful evil"[4] who would make the lives of mortal men miserable. According to this (highly misogynistic) logic, before Pandora—that is, before women were created—mortal men lived a completely carefree existence, which women somehow ruined.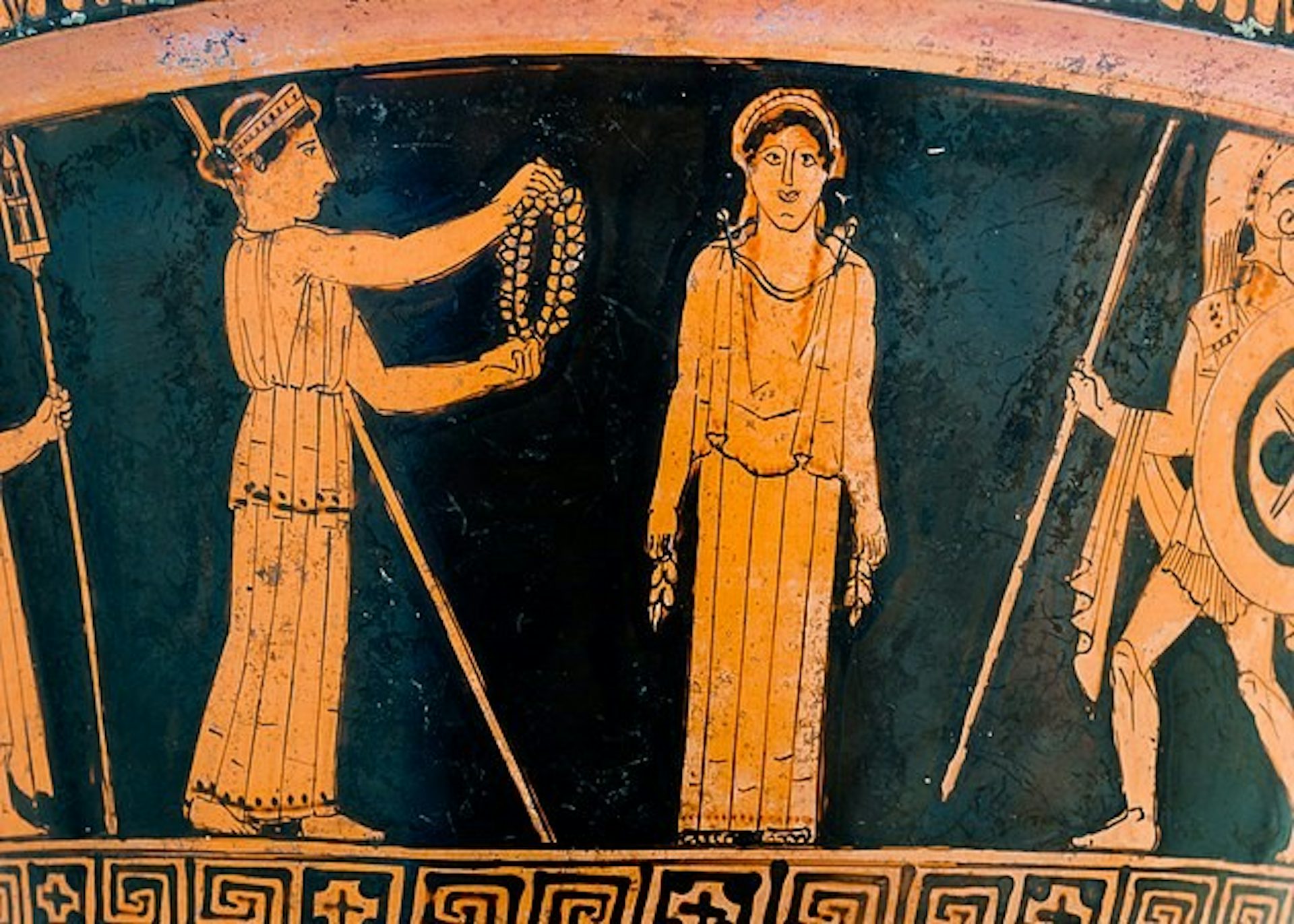 In ancient art, Pandora was represented as a beautiful young woman. The myth of her birth was a popular subject, appearing, for instance, on the pedestal of the famous statue of Athena Parthenos in Athens.[5]
Family
Since she was created by the gods, Pandora did not have any parents. She married the Greek Titan Epimetheus and together they had Pyrrha, the first woman to be born rather than created.[6] Pyrrha eventually married her cousin Deucalion, the son of Epimetheus' brother Prometheus. After surviving a flood that wiped out the rest of the human race, Pyrrha and Deucalion went on to become the ancestors of a new humanity.
Worship
The name "Pandora" was used as a title for ancient Greek earth goddesses such as Gaia and Hecate.[12] How the worship of these goddesses was connected to the myth of Pandora is unknown.
Pop Culture
Pandora and "Pandora's Box" have been extensively appropriated and misinterpreted by modern pop culture. The myth has come to be understood as an explanation for why human beings must face so many hardships with only hope to sustain them—even though it is unclear whether this is the correct interpretation of the myth. 
All the same, Pandora and her jar have been referenced in numerous modern films, television shows, books, and video games. For example, Pandora's Box plays an important role in the video game franchise God of War. It has also featured in the television series Xena: Warrior Princess and in Rick Riordan's Percy Jackson and the Olympians novels.