Greek Hero
Odysseus
Overview
Odysseus, the son of Laertes and Anticlea, was king of the island of Ithaca. Known by Homer as "the man of twists and turns" and favored by the goddess Athena, Odysseus was remarkably intelligent and cunning. He used these qualities to great effect during the Trojan War: ten years into the war, Odysseus devised the trick of the Trojan Horse to help the Greeks penetrate Troy's impregnable walls and conquer the city.
After sacking Troy, Odysseus spent ten years wandering the world as he tried to get back home to Ithaca. These wanderings are the most famous part of his mythology and are full of fantastic adventures: Odysseus faced Cyclopes, sorceresses, and sea monsters, among other creatures. Eventually, he made it back to Ithaca, killed all of the suitors who were trying to marry his wife and take over his kingdom, and was reunited with his family.
Etymology
The etymology of the name "Odysseus" has been much debated. In ancient Greek literature, it was connected with the words odyssomai ("to be angry with, to hate"), odyromai ("to lament"), or ollymi ("to perish, to be lost"). In Book 19 of the Odyssey, for example, the servant Euryclea tells of how, when Odysseus was born, his grandfather Autolycus named him Odysseus "inasmuch as I am come hither as one that has been angered with [Greek: odyssamenos] many, both men and women, over the fruitful earth."[1]
However, modern scholars generally regard the derivation of "Odysseus" from odyssomai as a folk etymology. Attempts have been made to trace the name to various locales and languages from Odysseus' mythology, including Illyria or Epirus in northwestern Greece, continental Europe, Asia Minor, and Babylonian or Hittite. Other scholars have simply concluded that the name is pre-Greek.[2]
Pronunciation
| English | Greek |
| --- | --- |
| Odysseus | Ὀδυσσεύς |

| Phonetic | IPA |
| --- | --- |
| [oh-DIS-ee-uhs, oh-DIS-yoos] | /oʊˈdɪs i əs, oʊˈdɪs yus/ |
Alternate Names
From an early date, Odysseus' name existed in a number of variants, including Oliseus, Olyseus, Olysseus, Olyteus, Olytteus, Ōlysseus, and Oulixēs. These forms seem to have been more closely related to Odysseus' Italian counterparts, the Etruscan Uthuze and the Roman Ulixes or Ulysses. According to John Tzetzes, the Etruscans sometimes called Odysseus Nanus or Nannus.[3]
Titles and Epithets
Odysseus' most famous epithet is polytropos, popularly translated as "the man of twists and turns." This is one of several epithets that highlight Odysseus' cunning. Others include polymētis, "of many councils," and polymēchanos, "of many devices."
Odysseus had other important epithets. Because of his role in sacking Troy, he was called ptoliporthios ("sacker of cities"). Due to his many long years of wandering, he was called polytlas and polytlēmōn ("much-suffering, much enduring"), polypenthēs ("of much pain"), and polystonos ("of much sorrow"). Finally, Odysseus was often simply called by his patronymic, Laertiadēs, meaning "son of Laertes."
Attributes
Odysseus was the king of Ithaca, a small, rocky island on the west coast of Greece. Unlike the kingdoms of most other great heroes, Odysseus' island home was humble and insignificant.
What Odysseus lacked in political prestige he made up for in his intellectual attributes. As his famous epithets suggest, Odysseus, "the man of twists and turns," was extraordinarily cunning. It was no doubt partly because of this cunning that Athena, the goddess of wisdom (among other things), loved Odysseus so dearly.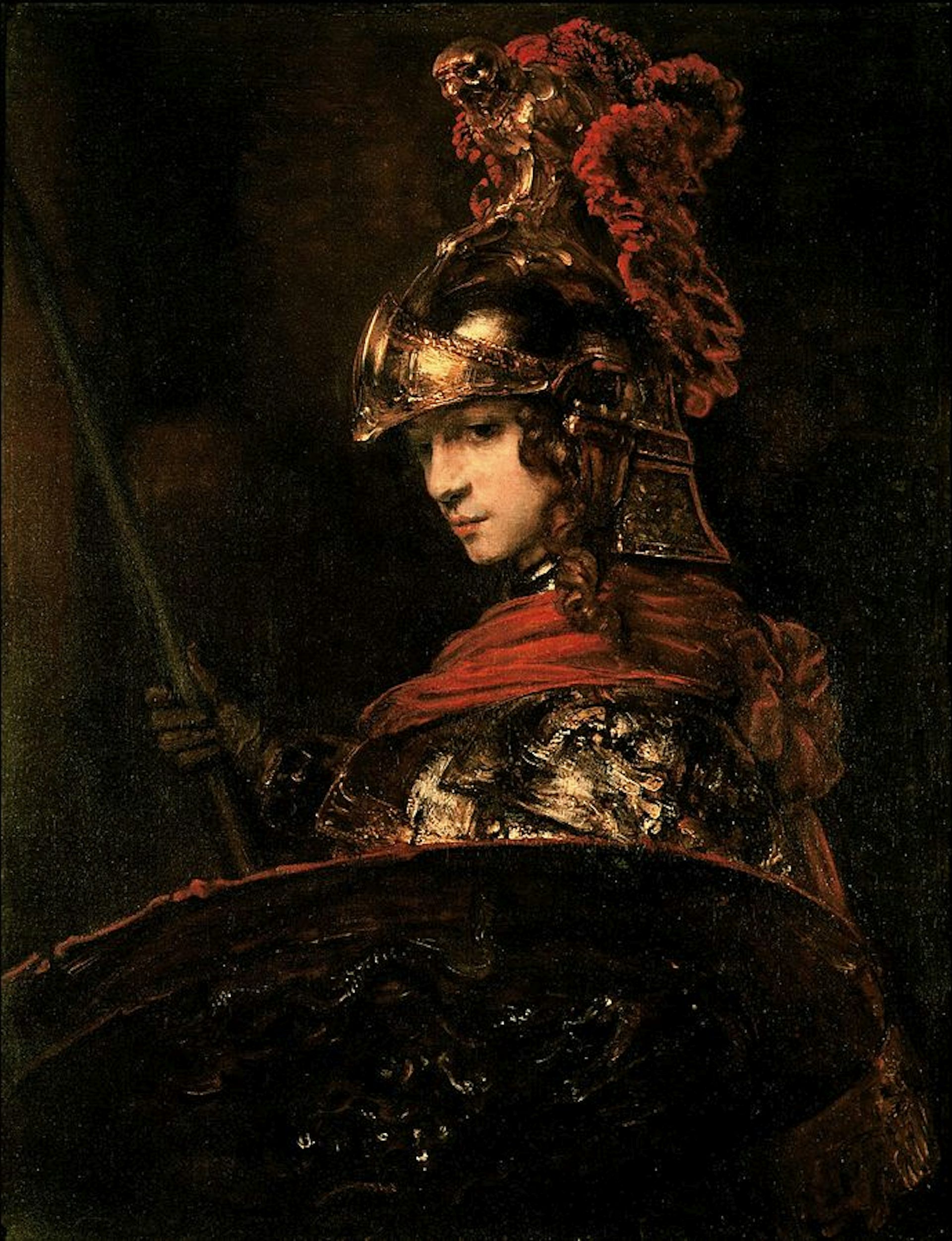 Physically, Odysseus was typically described as not very tall but broad-shouldered and broad-chested.[4] He was known for his speed as well as his strength, as illustrated in many of the myths about him.
In artistic representations from the fifth century BCE and beyond, Odysseus is typically recognized by a pilos, a conical hat or skullcap often associated with sailors in ancient Greece.
Family
In the standard account, first attested in the Homeric epics, Odysseus was the son of Laertes and Anticlea. Laertes was the king of Ithaca; in some traditions, he was one of the Argonauts who had sailed with Jason in his quest for the Golden Fleece.[5] Anticlea was the daughter of Autolycus, a talented thief and a son of Hermes.[6] As Anticlea's son, Odysseus was thus the grandson of Hermes.
According to some traditions, however, Odysseus' father was not Laertes but Sisyphus. As the story went, Sisyphus had seduced Anticlea before she married Laertes and was thus Odysseus' true father.[7]
Interpretations
Odysseus is and always has been an ambivalent figure. In the Odyssey—the earliest surviving source to tell his myth—he is depicted relatively sympathetically. But even Homer's Odysseus is more of an "antihero" than the straightforwardly heroic Achilles: he relies less on his physical prowess than on his intellect, and he does not hesitate to use trickery and deceit.
Compared to Homer, other sources were much more critical of Odysseus. The poet Pindar, for example, claimed that Homer had exaggerated how much Odysseus actually suffered,[73] while the philosopher Plato dismissed the hero as an unprincipled liar and trickster.[74]
Some Greek literature, especially tragedy, tended to highlight the darker sides of Odysseus' character. In the Sack of Troy, an early Greek epic, Odysseus cruelly throws Hector's young son Astyanax off the walls of Troy as the Greeks burn the city;[75] in Sophocles' Philoctetes, he displays a cynical and self-serving personal philosophy;[76] and in Euripides' Hecuba, he is coldly calculating in carrying out the sacrifice of Hecuba's daughter Polyxena.[77]
Roman literature was even more unkind to Odysseus. While describing the fall of Troy in Book 2 of the Aeneid, Virgil depicts Odysseus as a cruel and impious villain. Seneca paints a similar portrait of Odysseus in his Trojan Women.[78] Ovid, characteristically, is less consistent: in Book 13 of the Metamorphoses, Odysseus comes across as an unscrupulous sophist, while Heroides 1, written from the perspective of Penelope, presents him in a more sympathetic light.
Worship
Odysseus was the subject of hero cult at several ancient Mediterranean sites, most of them associated with his mythology. These included Aetolia and Epirus (the area of his later travels),[79] Libya (where the Lotus-eaters were believed to have lived),[80] and Tarentum in southern Italy.[81] Dedications to Odysseus have also been discovered on his home island of Ithaca. Finally, the Spartans had a shrine dedicated to Odysseus, where they claimed to house the Palladium that he had once stolen from Troy.[82]
Pop Culture
As one of the most famous Greek heroes, Odysseus has had an enduring presence in modern pop culture.
In literature, he has appeared in or inspired numerous poems, epics, novels, and graphic novels, including Alfred Lord Tennyson's "Ulysses" (1842), James Joyce's Ulysses (1918–1920), Nikos Kazantzakis' The Odyssey: A Modern Sequel (1938), Eyvind Johnson's Return to Ithaca (1946),  Eric Shanower's Age of Bronze graphic novel series (1998–), Margaret Atwood's The Penelopiad (2005), David Gemmell's Troy trilogy (2005–2007), Glyn Iliffe's Adventures of Odysseus series (2008–2017), and Margaret Miller's The Song of Achilles (2011) and Circe (2018).
The myth of Odysseus has also been adapted many times for film and television, with various actors taking on the role. In film, these include Kirk Douglas in the Italian Ulysses (1955), John Drew Barrymore in The Trojan Horse (1961), and Sean Bean in Troy (2004). In television, Odysseus has been portrayed by John D'Aquino in Xena: Warrior Princess (1995–2001), Armand Assante in The Odyssey (1997), and Joseph Mawle in Troy: Fall of a City (2018). The 2000 film O Brother, Where Art Thou, starring George Clooney as Ulysses Everett McGill, is loosely based on the Odyssey.
Odysseus is also featured in other media, such as the song "Tales of Brave Ulysses" (1967) by the British band Cream and the video game Total War Saga: Troy (2020).
True to the ancient tradition, most modern adaptations of Odysseus present a highly ambivalent character, one who is devoted to his family and home but also driven by a thirst for adventure—or, in some cases, violence and greed. Hence the dilemma of Tennyson's famous Ulysses, who finally reaches Ithaca after two decades of war and wandering only to find that he "cannot rest from travel."