Overview
Hera—the sister and wife of mighty Zeus—served as the queen of the Olympian deities and the goddess of women, family, and marriage. She was also the patron of the city of Argos; it was here that her worship in the ancient world was the most vibrant.
"Cow-eyed"[1] Hera was usually represented as a stately queen with robe and headdress. In myth, she was remembered as a jealous goddess who was forever tormenting her husband's many lovers and illegitimate children. Figure 1
Key Facts What were Hera's attributes?
Hera cut a regal figure with her traditional attributes of a robe or cloak, crown or headdress, and scepter. She was sometimes depicted with a peacock or even riding in a peacock-drawn chariot.
In mythology, Hera was presented as bold, clever, and powerful, yet she was best known for her less flattering characteristics. Above all else, Hera was a jealous and vengeful goddess who struggled with her husband's infidelities and raged (often fruitlessly) against his many lovers, both mortal and divine.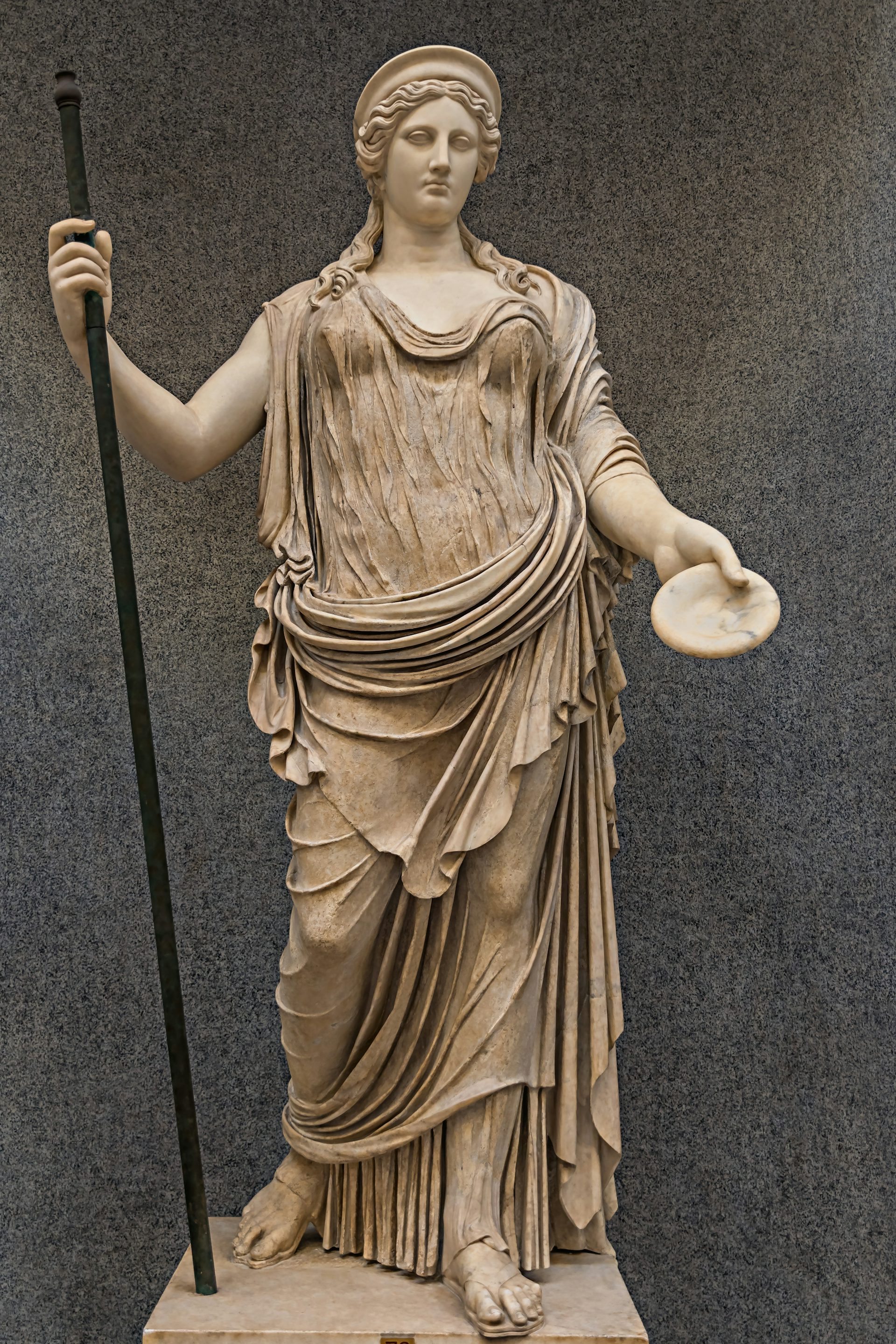 Who were Hera's children?
Hera bore several children to her husband Zeus, including Ares, the god of war; Eileithyia, the goddess of childbirth; and Hebe, the goddess of youth. The smith god Hephaestus was also Hera's son, though ancient sources disagreed on his exact paternity: some traditions made him the son of both Hera and Zeus, while others made him the son of Hera alone, born without a father.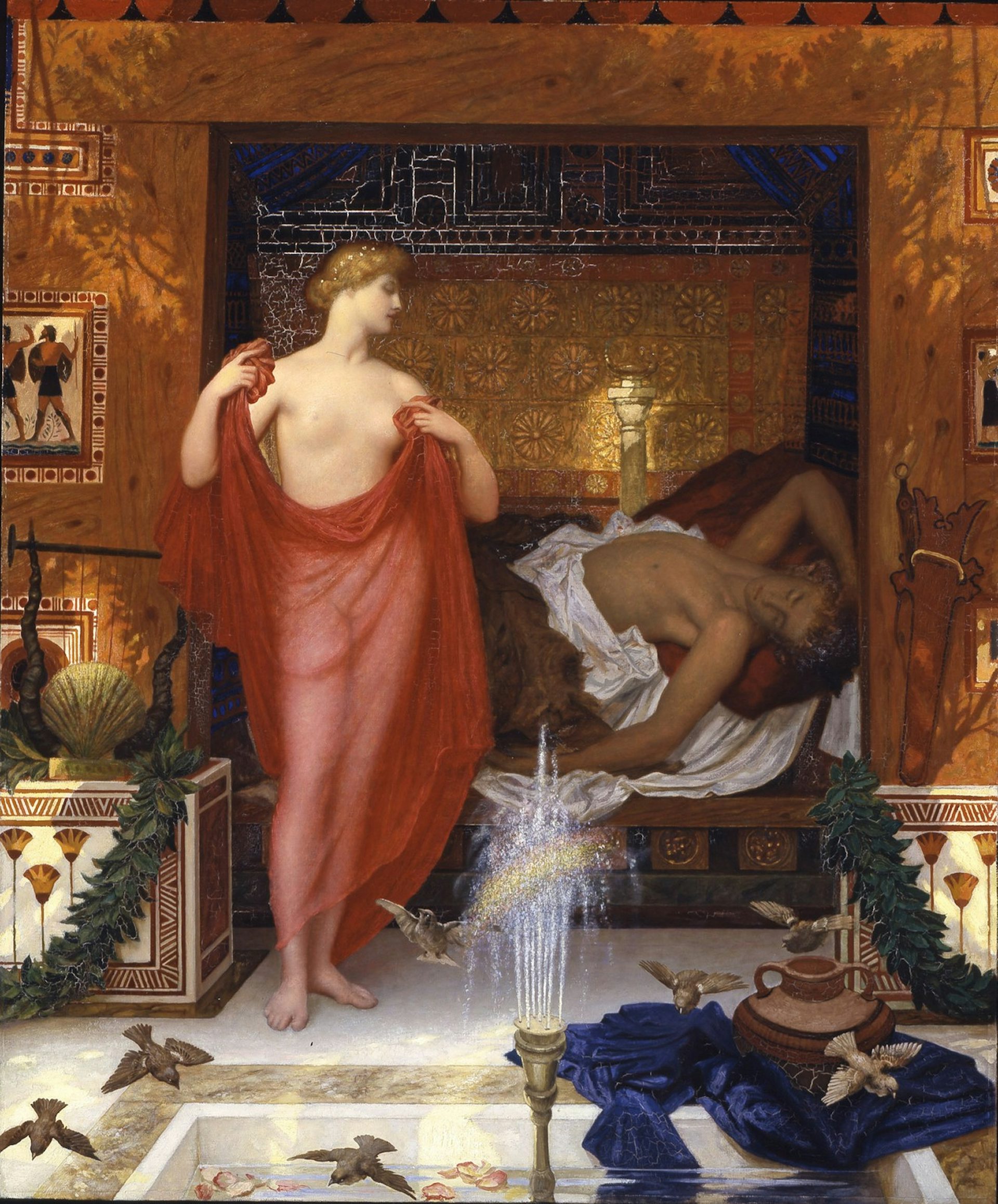 Hera and Io
Hera was forever waging war against her husband's illicit lovers and illegitimate children. In one myth, Hera discovered that Zeus was having an affair with Io, a mortal girl from Argos and Hera's own priestess. When Hera angrily confronted Zeus, Io was somehow transformed into a cow (there are different versions of who was responsible for this transformation).
Io's metamorphosis, though dramatic, was not enough for Hera; the jealous goddess also had her rival held prisoner. When the guard, Argus Panoptes, was killed at Zeus' behest, Hera had Io pursued across the world by an unrelenting gadfly. In the end, Io reached Egypt, where she was restored to her original shape and allowed to live out her life in peace.
Roles and Powers
Hera was revered as a goddess of women, marriage, and motherhood, but also as a protector of cities and young men. As the wife of Zeus, she was the queen of the Olympian gods.
Hera held sway over many domains, but her principal responsibilities lay in the realm of marriage and married life. She was sometimes connected with childbirth in the guise of "Hera Eileithyia" (in mythology, Eileithyia—the goddess of childbirth—was Hera's daughter). By comparison, her connection to unmarried maidens and motherhood was less prominent, even though she was thought to preside over all aspects of female life. 
Another function of the goddess was protection of the polis, or city-state, and its young male warriors. This role was especially important in her major cult centers at Argos and Samos.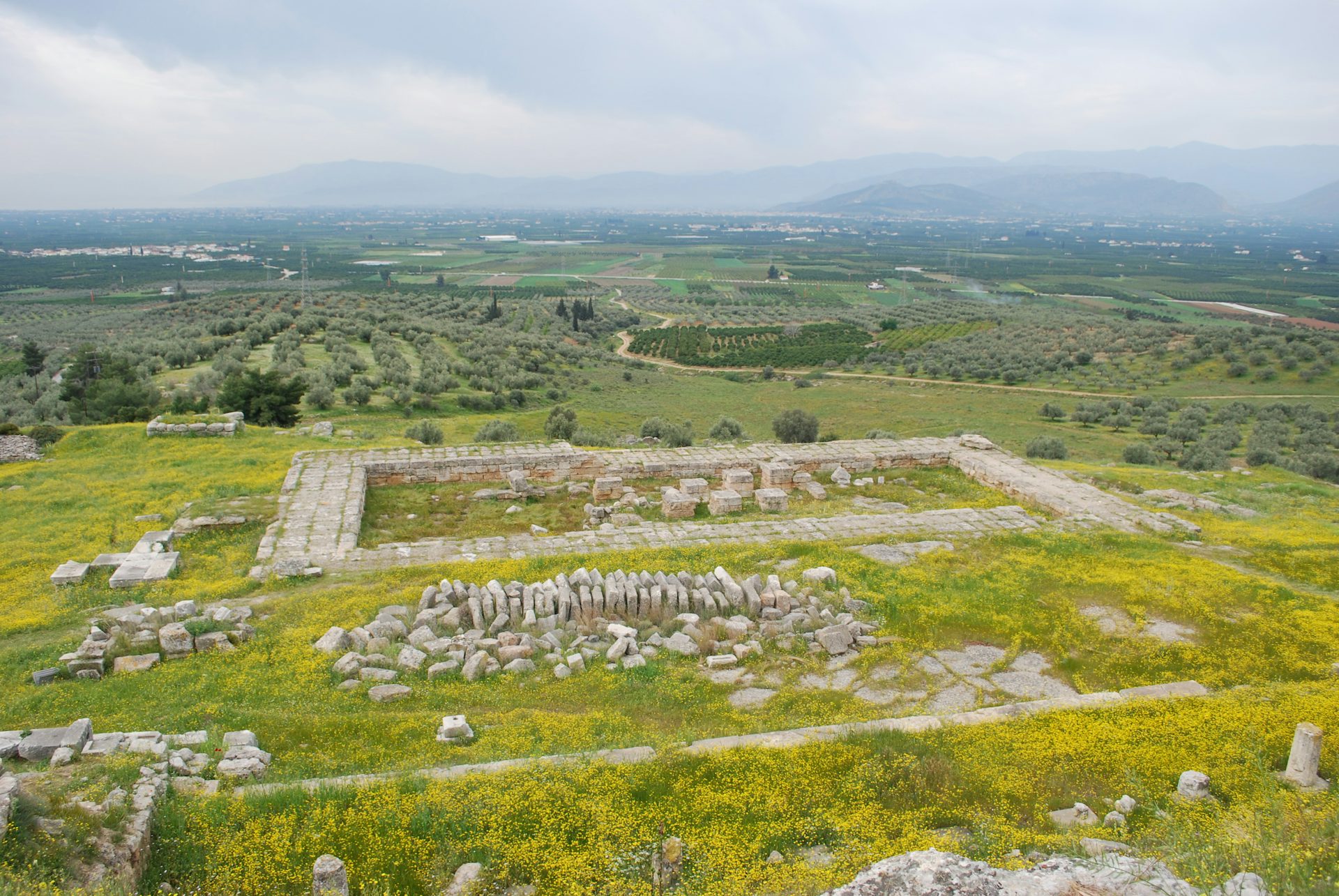 Attributes
For the ancients, Hera was distinguished by her queenly qualities.[2] She was typically imagined crowned and clad in regal robes; in one tradition, it was the goddess Athena herself who wove Hera's raiment.[3] She lived with the other Olympian gods on Mount Olympus, in a palace befitting her station. 
Hera's favorite cities, according to Homer, were Argos, Mycenae, and Sparta.[4] Argos in particular was a very early and important cult center of the goddess (see below). 
Because she was a goddess of all aspects of female life, some local traditions claimed that Hera could restore her own virginity and become a maiden again. The goddess accomplished this by bathing annually in the spring of Canathus, in the Argolid.[5]
From the earliest periods of Greek history, Hera was associated with cattle—hence her Homeric epithet "cow-eyed" (see below). In this way, Hera is comparable to the Egyptian Hathor, a cow-faced goddess of motherhood. 
Hera was also associated from early on with the cuckoo bird, as it was said that Zeus had seduced her in the form of a cuckoo. A cuckoo sat on top of Hera's scepter in many of her cult images.[6] The goddess was also connected with peacocks, horses, and lions.
In myth, Hera's most recognizable characteristics were her jealousy and vengefulness—traits amplified by her husband Zeus' many affairs. Indeed, much of Hera's mythology tells of the wrath she visited upon Zeus' lovers and illegitimate children. 
Classics scholar Timothy Gantz describes Hera as "rather severe, not generally inclined to offer assistance to mortals and certainly with no sense of humor"—though he admits that "perhaps her marital situation is sufficient cause for that."[7]
Among Hera's closest companions was Hebe, the goddess of youth (and Hera's own daughter). Hebe frequently served as Hera's attendant; in the Iliad, for example, Hebe is depicted helping Hera yoke her wagon.[8] She is also described as Hera and Zeus' cupbearer, thus becoming a kind of female counterpart to Ganymede, the male cupbearer of the gods.[9]
Iconography
In her iconography, Hera was generally represented wearing a peplos (a sleeveless dress or robe) and himation (a cloak). Her himation was usually pulled over her head like a veil. She was also shown wearing a crown (pōlos or stephanē) and carrying a scepter, a libation bowl (phialē), or a pomegranate.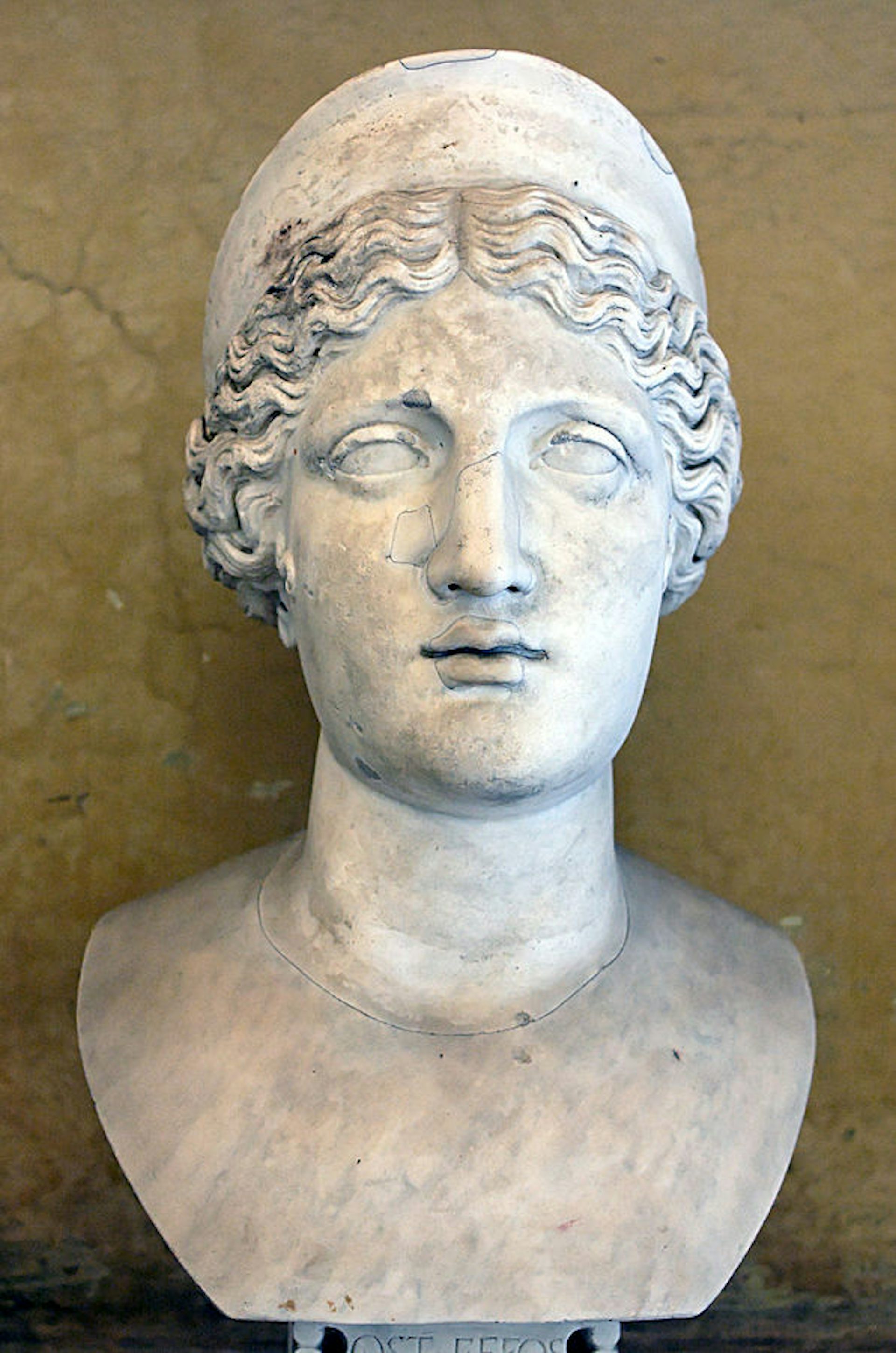 From the Hellenistic period on, it was common to depict Hera riding in a chariot drawn by peacocks (though this imagery only appeared after the eastern conquests of Alexander the Great, since peacocks were unknown in Greece before then).
Though one of the most important goddesses of the Greek pantheon, Hera was not typically shown on her own. In depictions of the assembled gods, she almost always appeared alongside Zeus, underscoring her role as his companion. Indeed, Hera was often depicted in hieros gamos ("sacred marriage" or "hierogamy") scenes together with her husband/brother Zeus.
Few cult images of Hera survive. In early Greece, she was occasionally represented aniconically (that is, without an image). In Argos, for example, she was represented as a pillar, and on the island of Samos as a plank. Eventually, these humble images were replaced by more impressive statues, such as the beautiful chryselephantine (gold and ivory) statue of Hera that Polyclitus fashioned for Hera's temple in Argos.[10]
Hera was also featured in artistic renderings of various mythical scenes. In representations of the Judgment of Paris, for example, she appeared as one of the three goddesses vying for the infamous golden apple. 
Some representations of the Gigantomachy, including those on the Siphnian Treasury and the Pergamon Altar, showed Hera fighting the Giants alongside the other gods. She was sometimes also shown in depictions of the return of Hephaestus or, more rarely, in scenes from the mythology of Heracles.[11]
Etymology
The etymology of the name "Hera" (Greek Ἥρη or Ἥρα, translit. Hḗrē or Hḗra) is uncertain. The name itself is very old, dating back to the Mycenaean period; it can be found on tablets written in Linear B, the script used to write the earliest known form of the Greek language. Scholars have most often translated E-ra—the Linear B version of Hera—as "mistress" or "lady," but the precise origin and meaning of this term remain controversial.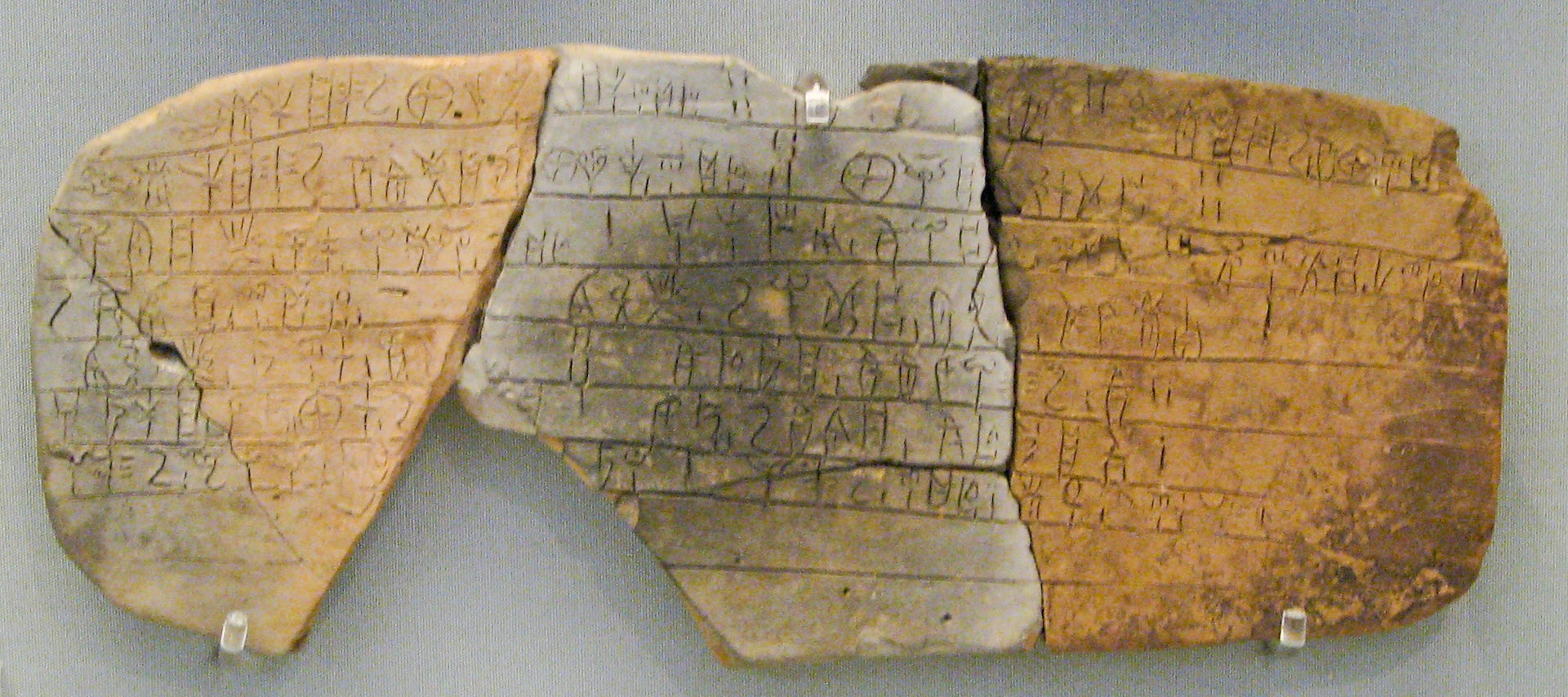 Some ancient authorities—especially philosophers and allegorists—rearranged the letters of Hera's name to link the goddess to ἀήρ (aḗr), the Greek word meaning "air." Alternatively, Hera was identified as ἐρατή (eratḗ), "the lovely one."[12] But modern scholars dismiss these as folk etymologies.
More recently, some scholars have posited that Hera's name is a feminine form of the Greek word hērōs, "hero." The more remote derivation, based on the Indo-European root *yer- ("year" or "spring"), suggests that the goddess's name means something like "goddess of the year." Either way, it is likely that the name itself is pre-Greek in origin.[13]
Pronunciation
| English | Greek |
| --- | --- |
| Hera | Ἥρη or Ἥρα (Hḗrē or Hḗra) |

| Phonetic | IPA |
| --- | --- |
| [HEER-uh, HER-uh] | /ˈhɛrə, ˈhɪərə/ |
Alternate Names
In ancient Greece, Hera was called either Ἥρη (Hḗrē) or Ἥρα (Hḗra). The precise form of the name varied according to local dialects and conventions.
Hera's Roman equivalent was Juno (Latin Iuno).
Titles and Epithets
As a goddess of all aspects and stages of female life, Hera could be invoked under a variety of titles and epithets, many of them contradictory. Hera was thus simultaneously the "maiden" (παῖς/paîs), "bride" (νυμφευομένη/nympheuoménē), "wife" (τέλεια/téleia or ζύγια/zýgia), and "widow" (χήρα/chḗra).
In her capacity as queen of the gods, Hera was often addressed as βασίλεια (basíleia), "queen."
Hera also possessed poetic and epic epithets that referred to her beauty, including λευκώλενος (leukṓlenos), "white-armed," and βοῶπις (boôpis), "cow-eyed" or "cow-faced."[14]
Family
Hera was the daughter of Cronus and Rhea—Titans who overthrew the primordial deities Uranus and Gaia to establish themselves as rulers of the universe. Her siblings included the gods Hestia, Demeter, Hades, Poseidon, and Zeus.[15]
Hera married her brother Zeus, who went on to become king of the gods.[16] Their marriage produced several children, including Eileithyia, goddess of maternity and childbirth; Hebe, goddess of youth; Hephaestus, god of the forge; and Ares, god of war (though in some traditions, Hephaestus and Ares did not have a father).[17]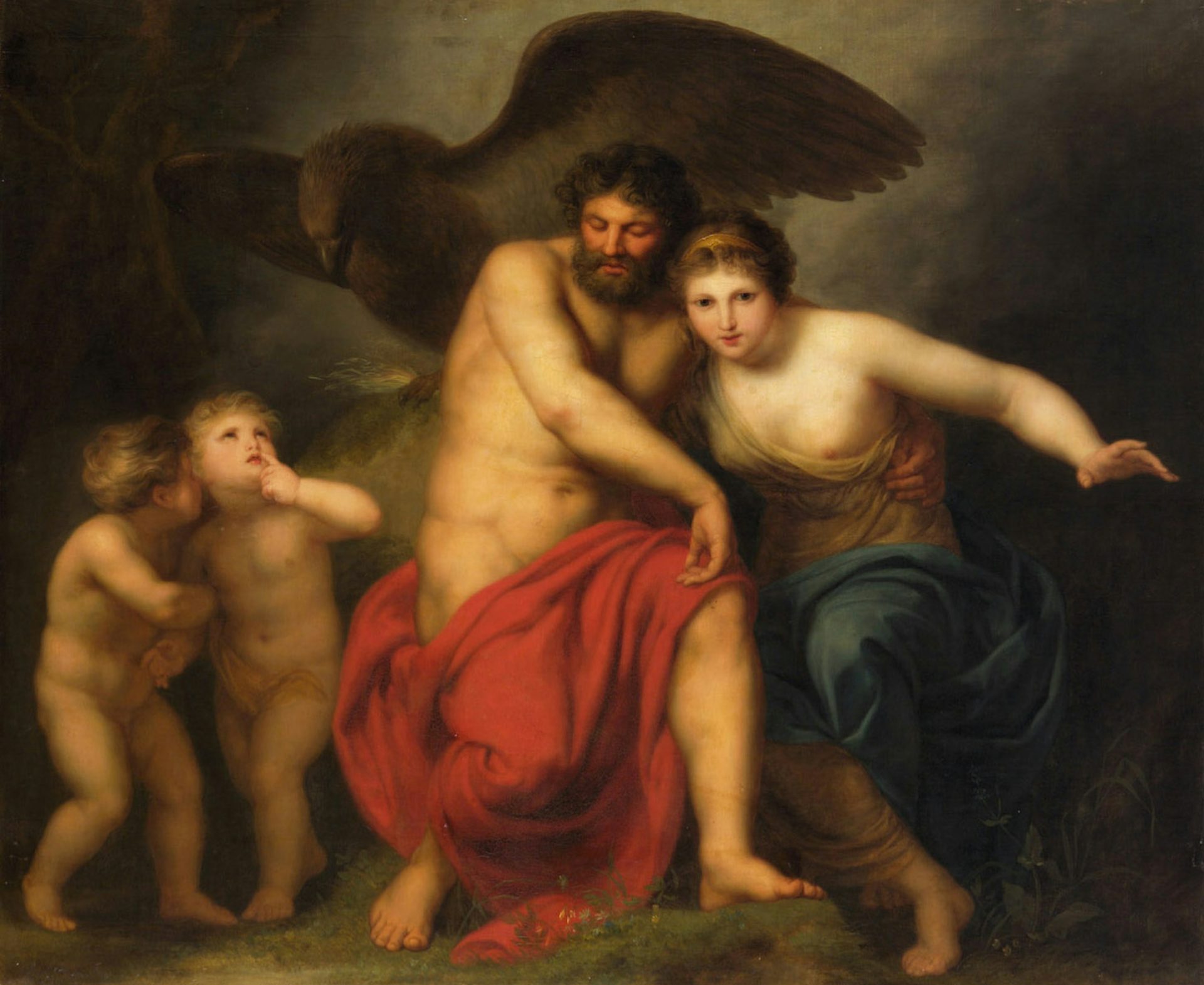 More obscure traditions also made Hera and Zeus the parents of Angelos,[18] Eleutheria (the personification of freedom),[19] Eris (the personification of discord),[20] the Charites or "Graces" (usually the daughters of Zeus by Themis),[21] the Curetes,[22] and even Heracles.[23]
As the goddess of marriage, Hera did not generally have extramarital affairs (in contrast to her polyamorous husband Zeus). There were, however, various figures from myth who tried to seduce Hera, including Ixion and Endymion—both of whom were punished for their trouble. 
In one lesser-known story, Hera was raped by the Giant Eurymedon and bore him a son, Prometheus (in the more familiar version, Prometheus was the son of one of the Titans, not of Hera).[24]
Hera also (begrudgingly) nursed some of the children born to her husband Zeus from his other lovers. For instance, there were stories of Hera nursing Heracles (the son of Zeus and Alcmene), Hermes (the son of Zeus and Maia), and Dionysus (the son of Zeus and Semele).[25]
Finally, Hera sometimes appeared in myth as the mother or foster mother of monsters. In some traditions, for example, she was the mother of the monster Typhoeus (Typhon), who did battle with Zeus.[26] Hera was also the foster mother of the Nemean Lion and the Hydra, two of Heracles' most fearsome adversaries.[27]
Worship
Temples
Hera's temples—called Heraea (Heraeum in the singular)—were some of the oldest and most impressive of the ancient Greek world. Most of these temples were located outside of the settled areas of the city. This was likely due to Hera's role as the protector of the city, as well as certain cult practices.
The Heraeum of the island of Samos, the earliest roofed temple built by the Greeks, dates from around 800 BCE. Though this temple was destroyed, it was rebuilt on an even grander scale in the sixth century BCE.[92] Hera's cult image at Samos has been cited as evidence of the temple's tremendous age: it was said to have been fashioned in the time of the mythical craftsman Daedalus.[93]
Another important temple of Hera, also called a Heraeum, was in Argos, situated on a hill some distance from the main city. This was likewise a very ancient structure, built during the seventh century BCE, if not earlier.[94] Hera had other major temples nearby in the Argolid and the Peloponnese, where her worship was especially prominent, including in cities such as Perachora, Sparta, Corinth, and Tiryns.
Hera had a famous temple in Olympia, where the Olympic Games were held every four years.[95] She also had a temple on the sacred island of Delos.
The cult of Hera was particularly important in Dorian and Achaean cities, including cities outside of the Greek peninsula and Aegean islands. In Paestum in southern Italy, for example, there was a temple complex of three monumental temples, two of which were Hera's. The nearby cities of Metapontum and Croton also had temples of Hera, as did some Sicilian cities such as Selinus.
At some of her temples, Hera was worshipped in association with other gods. At Sparta, Sicyon, and Argos, for example, she shared sanctuaries or cults with Apollo.[96] Hera was also sometimes connected with Hebe.[97]
Festivals and Rituals
Hera's festivals were usually called Heraea. The Heraea at Argos, one of Hera's major cult centers, involved a sacrificial procession outside of the city. During this procession, the priestess of Hera rode in an oxcart while young men carried the "Shield of Hera."[98] At the end of the procession, there was a "hecatomb," or sacrifice of one hundred bulls. Because of this, the Argive Heraea was sometimes called the Hecatombaea.
Heraea festivals were also celebrated in other cities, such as Elis, Corinth, and Samos.
On the island of Samos, a site considered sacred to Hera,[99] there was a festival of Hera called the Toneia. This festival involved a kind of scavenger hunt in which participants searched for the cult image of Hera. When it was found, it was washed clean and dressed in new clothes.[100]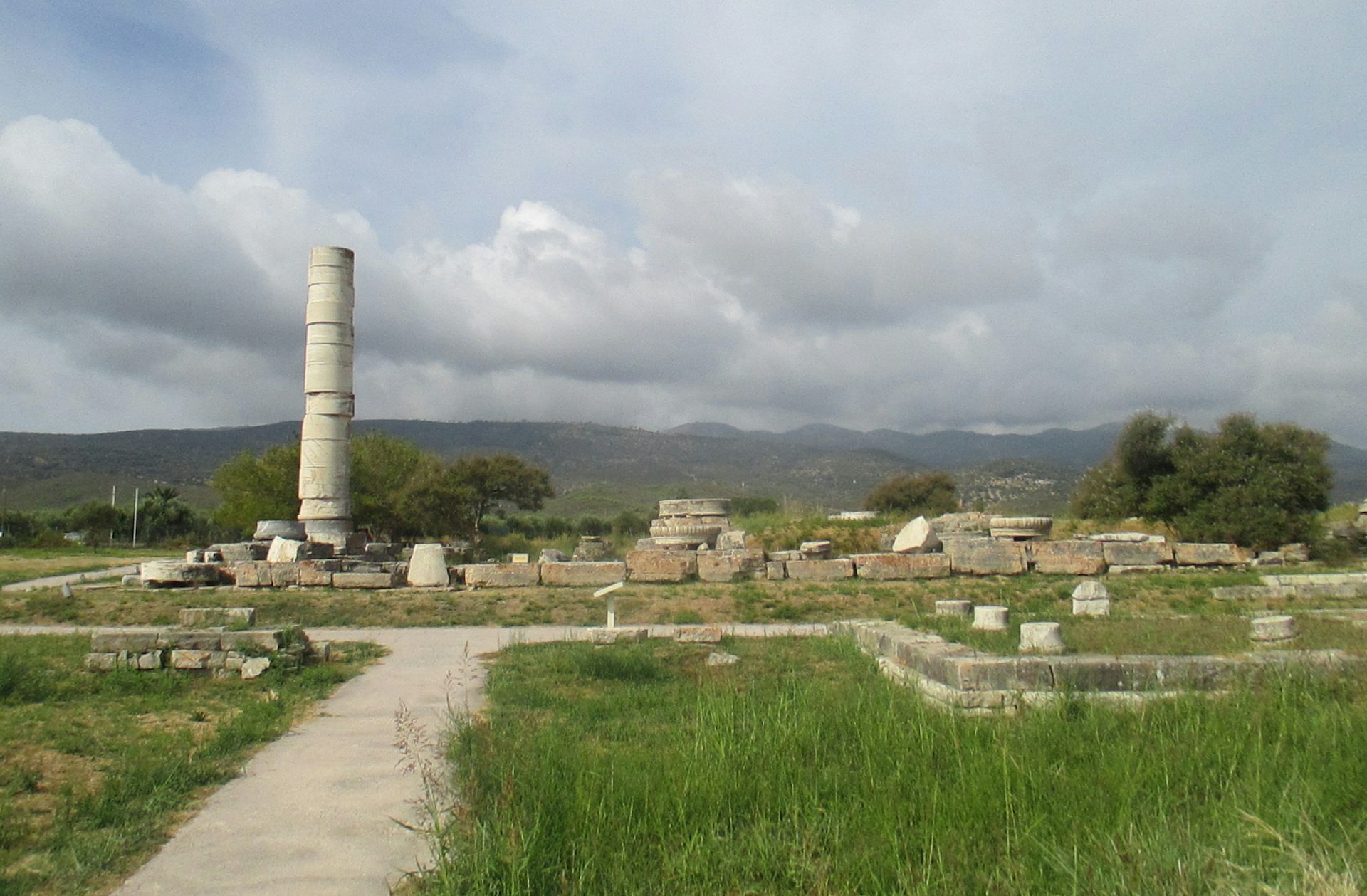 Another important festival of Hera was the Daedala, celebrated in Plataea and a few other nearby towns. The "Lesser" Daedala were celebrated every seven years, while the "Great" Daedala occurred every sixty years. 
The Daedala was a marriage ritual that honored Hera as goddess of marriage. During the ritual, wooden dolls were dressed up as brides and conveyed in a procession to a peak of Mount Cithaeron, where they were burned on a pyre.[101] This festival commemorated the myth of how Zeus managed to reconcile with Hera after one of the couple's quarrels (see above).
Other festivals and rituals connected with Hera were observed throughout the Greek world. There were a handful of festivals associated with the "sacred marriage" of Hera and Zeus, including the Athenian Theogamia and a festival celebrated in Crete.[102]
At Olympia, where Hera was worshipped as Hera Hippia ("Hera of the Horse"), there was a festival that involved contests of girls. This festival was said to have been established by the local queen Hippodamia to commemorate her marriage to the hero Pelops.[103]
Hera's patronage of marriage was also evident at Sparta, where mothers consecrated their daughters to Hera Aphrodite at their weddings.[104]
At Argos, the Lecherna sacrifice (or childbed sacrifice) was based on the connection between Hera and her daughter Eileithyia, the goddess of childbirth.[105] Hera was honored in a similar capacity at some of her sanctuaries, where dedications to the goddess as "child-rearing" (kourotrophos) have been discovered.
In Attica, the month of Gamelion (the seventh month of the Attic calendar) was consecrated to Hera.[106]
Finally, Hera's worship sometimes had chthonic associations—that is, associations with the earth and the Underworld. These were especially characteristic of Hera's cult in Boeotia.
Foreign Cults
Hera was identified with the Roman goddess Juno from a very early period. Indeed, most of Juno's mythology and iconography was adopted from the Greek Hera. Juno, like Hera, was a goddess of marriage and childbirth as well as of young men of fighting age; she was also one of the principal gods of the Roman state.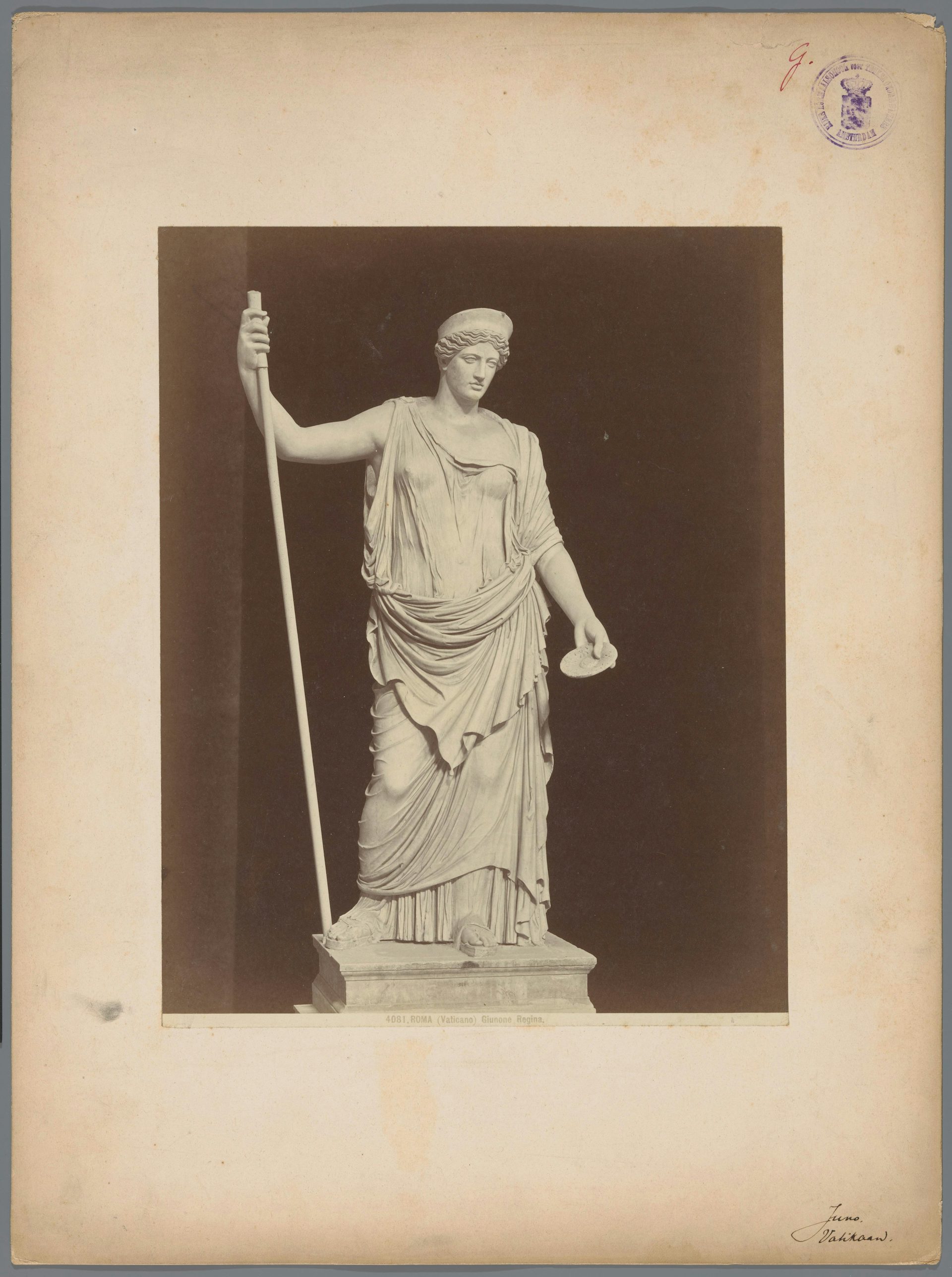 In Thrace, the Balkan region stretching northeast of mainland Greece, a special cult of Hera began to form during the Roman Imperial period. This cult, which we find evidence of in literature and art, appears to have combined elements from the Greek cult of Hera and the Roman cult of Juno Regina ("Queen Juno").[107]
Popular Culture
In contrast to better-known figures such as Zeus and Heracles, Hera has not figured prominently in popular culture. However, she does occasionally appear in modern adaptations of Greek mythology. 
The Disney animated film Hercules (1997) offers an interesting twist on the relationship between Hera and Heracles (Hercules to the Romans): rather than trying to murder the boy in his crib as punishment for her husband's infidelity, the film presents Hera as Hercules' loving mother. She is terribly distraught when the infant is made mortal and forced to live among the humans. 
In some adaptations of the Trojan War myth—including the 2003 miniseries Helen of Troy as well as the more recent 2018 miniseries Troy: Fall of a City—Hera is depicted in the famous Judgment of Paris scene. 
Overall, Hera is not a well-developed character in popular representations, which may reflect some lingering confusion about her personality: though she served as the embodiment of a faithful wife and mother, she also viciously punished those who crossed her.