Greek Goddess
Hera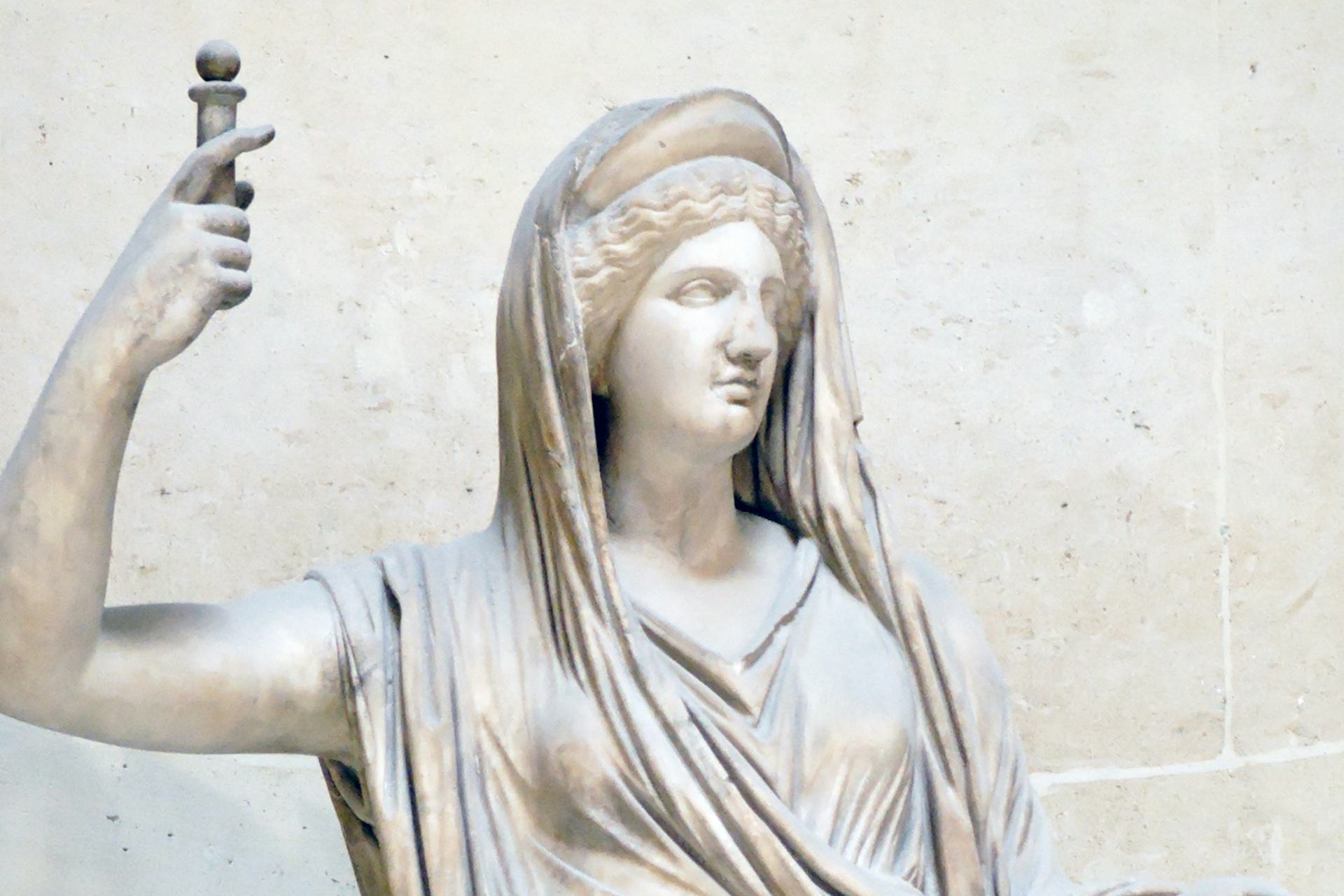 Overview
Faithful Hera was the goddess of women, family, and marriage. The wife of mighty Zeus, she served as queen of the Olympian deities. Known as "ox-eyed," "golden-sandaled," and "white-armed," Hera was also the patron of the city of Argos in the Peloponnese; it was here that her worship in the ancient world was the most vibrant.
Hera was bold, clever, and powerful, yet she was best known for her less flattering characteristics. Above all else, Hera was a jealous and vengeful goddess who struggled with her husband's infidelities and raged (often fruitlessly) against his many lovers, both mortal and divine. In the end, her constant anger and inability to exact revenge spoke powerfully to the place and perception of women in ancient Greece.
Etymology
The name "Hera" is directly linked to the contemporary Greek word Hēra, meaning "protectress." The more remote derivation—gleaned from analysis of Linear B, the script used to write Mycenaean Greek (the oldest known form of the Greek language)—suggests that "Hera" comes from words meaning "of the year" or "of the season" (similar to the ancient Greek word hôrê, or "season"). 
Scholars have further speculated that this Mycenaean root evolved from the still older Proto-Indo-European root for the word "lady" or "mistress." This shift from "mistress of the seasons" to "protectress" signifies the evolution of the deity from Mycenaean times (ca. 1500 BCE) to the classical period of city-states (ca. 500 BCE).[1]
Pronunciation
| Phonetic | IPA |
| --- | --- |
| [HEER-uh, HER-uh] | /ˈhɛrə, ˈhɪərə/ |
Alternate Names
In ancient Greece, Hera was called either Ἥρη (Hērē) or Ἥρα (Hēra). Hera's Roman equivalent was Juno.
Titles and Epithets
As a goddess of all aspects and stages of female life in ancient Greece, Hera could be invoked under a variety of epithets, many of them contradictory. Hera was thus simultaneously the "maiden" (Pais), "bride" (Nympheuomenē), "wife" (Teleia), and "widow" (Chēra).
In her capacity as queen of the gods, Hera was often addressed as Basileia ("queen").
Hera also possessed epithets that referred to her beauty, including Leukōlenos ("white-armed") and Boōpis ("cow-eyed" or "cow-faced").
Attributes
Hera was revered as a goddess of women, marriage, and motherhood, but also as a protector of cities and young men. As the wife of Zeus, she was the queen of the Olympian gods.
In her iconography, Hera was generally represented wearing a peplos (a sleeveless dress or robe) and himation (a cloak). Her himation was usually pulled over her head like a veil. She was also shown wearing a crown (pōlos or stephanē) and carrying a scepter, libation bowl (phialē), or pomegranate. Hera was often depicted in Hierogamy ("sacred marriage") scenes together with her husband/brother Zeus.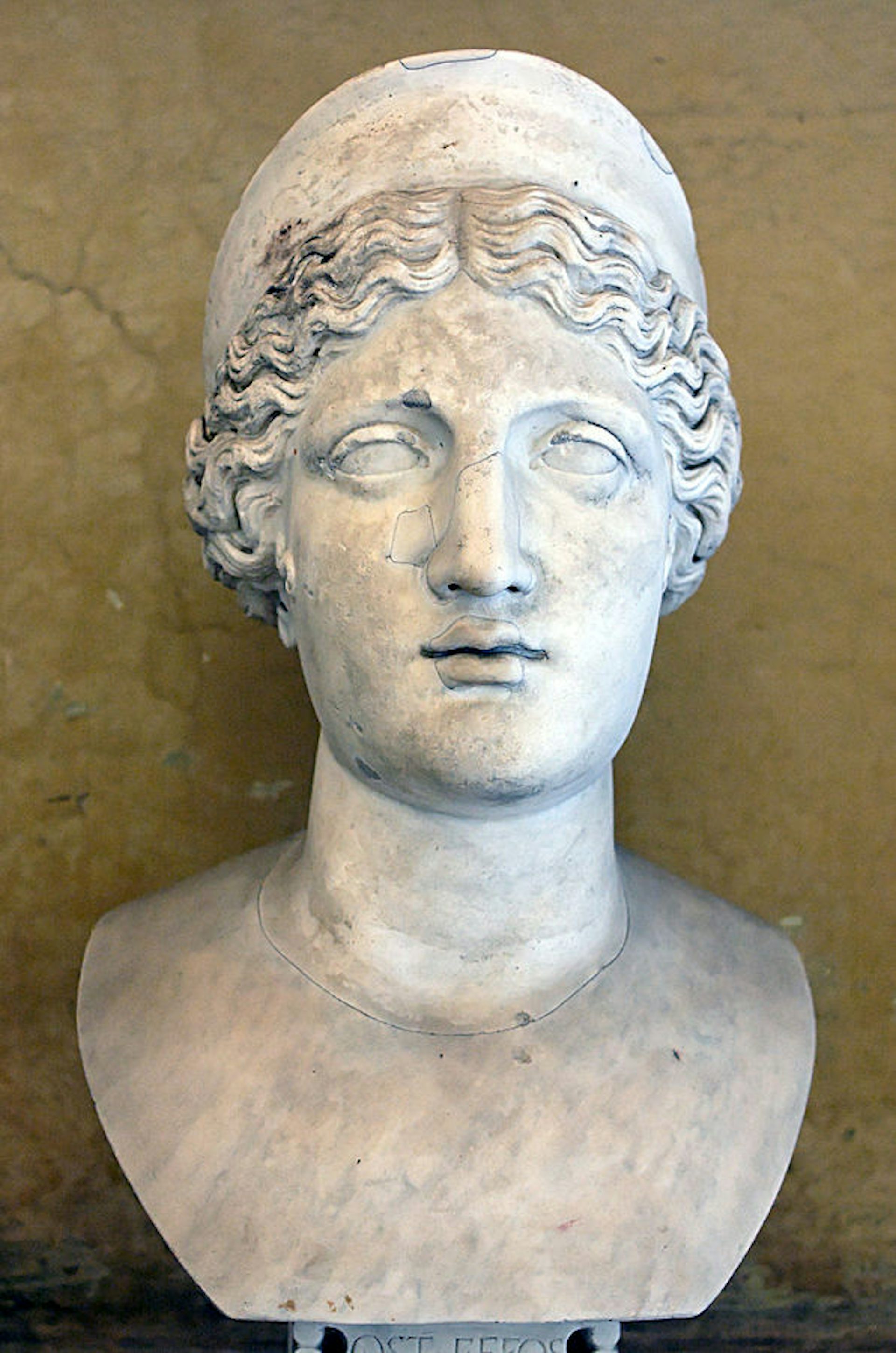 In early Greece, Hera was occasionally represented aniconically (that is, without an image). In Argos, for example, she was represented as a pillar, and on the island of Samos as a plank.
From the earliest period of Greek history, Hera was associated with cattle—hence her Homeric epithet "cow-eyed." In this way, Hera is comparable to the Egyptian Hathor, a cow-faced goddess of motherhood. Hera was also associated from early on with the cuckoo bird. In myth it was said that Zeus had seduced Hera in the form of a cuckoo. A cuckoo sat on top of Hera's scepter in many of her cult images.[2]
From the Hellenistic period on, it was common to depict Hera riding a chariot drawn by peacocks (though this imagery only appeared after the eastern conquests of Alexander the Great, since peacocks were unknown in Greece before then).
Family
Hera was the daughter of Cronus and Rhea, Titans who overthrew the primordial deities Uranus and Gaia and established themselves as the rulers of the universe. In total, Hera had five divine siblings among the Olympians: her sisters were Hestia and Demeter, and her brothers were Hades, Poseidon, and Zeus. 
One of Hera's earliest experiences was being swallowed by her father, Cronus, who was terrified of a prophecy proclaiming that his children would overthrow him (as he had done to his own father). Eventually, Zeus, the last of Cronus and Rhea's children, rescued Hera and the others. Together, they formed the Olympian pantheon to rule over the realms of gods and men.
Hera and the Greeks
The common threads of Hera's myths reveal much about the place and perception of women in the deeply misogynistic culture of the ancient Greeks.[16] Hera's faithfulness to Zeus, despite his many sexual improprieties, suggests that women were expected and encouraged to remain steadfast, even when their husbands were not. Her futile attempts to exact revenge on Leto, Io, Alcmene, Heracles, and others indicate that there were limitations to the justice that women could expect to achieve. The fact that Hera's vengeance focused more on women than on Zeus also gives us some sense of whom the Greeks blamed in such affairs. 
Similarly, Hera's unsuccessful efforts to sway the course of the Trojan War (tellingly, it was the crafty male Odysseus who conceived of the Trojan horse that ended the conflict) say a great deal about the perception of female powerlessness in Greek society.
Worship
Temples
Hera's temples were some of the oldest and most impressive of the ancient Greek world. The Heraeum of the island of Samos, the earliest roofed temple built by the Greeks, dates from around 800 BCE. This temple was destroyed and rebuilt on an even grander scale in the sixth century BCE. 
Another important temple of Hera, also called a Heraeum, was in Argos. This was likewise a very ancient structure, built during the seventh century BCE.[17] Hera had other major temples nearby in the Argolid and the Peloponnese, where her worship was especially prominent. This included cities such as Sparta, Corinth, and Tiryns. Thus, Hera says in the Iliad (an eighth-century BCE epic): "Verily have I three cities that are far dearest in my sight, Argos and Sparta and broad-wayed Mycenae."[18]
Hera had another famous temple in Olympia, where the Olympic Games were held every four years.[19] She also had a temple on the sacred island of Delos.
Many temples were dedicated to Hera outside of the Greek peninsula and Aegean islands. In Paestum in southern Italy, there was a temple complex of three monumental temples, two of which were Hera's. The nearby cities of Metapontum and Croton also had temples of Hera, as did some Sicilian cities such as Selinus.
Most of Hera's temples were located outside of the settled area of the city. This was likely due to Hera's role as the protector of the city as well as certain cult practices.
Festivals
Hera's festivals were usually called Heraia. The Heraia at Argos, one of Hera's major cult centers, involved a sacrificial procession outside of the city. In the procession, the priestess of Hera rode in an ox cart while young men carried the "Shield of Hera."[20] At the end of the procession, there was a "hecatomb," or sacrifice of one hundred bulls (because of this, the Argive Heraia was sometimes called the "Hecatombaia").
Heraia festivals were also celebrated in other cities, such as Elis, Corinth, and Samos.
On the island of Samos, a site considered sacred to Hera (the Samians believed that Hera was born on their island[21]), there was a festival of Hera called the Toneia. This festival involved a kind of scavenger hunt in which participants searched for the cult image of Hera. When it was found, it was washed clean and dressed in new clothes.[22]
Another important festival of Hera was the Great Daedala in Euboea. This was a marriage ritual that honored Hera as goddess of marriage. During the ritual, wooden dolls were dressed up as brides and burned on a pyre.[23]
Pop Culture
In contrast to better-known figures such as Zeus and Heracles, Hera has not figured prominently in popular culture. In the Disney animated film Hercules (1997), Hera is a background character. In an interesting twist on the original story, however, she plays the loving mother of Hercules who is terribly distraught when the infant is made mortal and forced to live among the humans. In the drama series Helen of Troy (2003), Hera is depicted in the famous Judgment of Paris scene. 
Overall, Hera is not a well-developed character in popular representations, which may reflect some lingering confusion about her personality. She was a figure who embodied the image of a faithful mother and wife even while seeking to viciously punish those who crossed her.