Overview
Dionysus, the son of Zeus and Semele, was a Greek god who represented the more spontaneous and unrestrained aspects of human experience. He was the god of wine, winemaking, fertility, music, dance, and inspiration, and was sometimes counted among the Twelve Olympians—the most important gods of the Greek pantheon.
The mythology and cult of Dionysus were often characterized by madness. Some sources claimed that Dionysus used his invention of wine to drive his enemies mad, while others said that Dionysus himself went mad. Said to have traveled far and wide, Dionysus was regarded as a bringer of civilization in the form of wine cultivation—with both positive and negative consequences.
Key Facts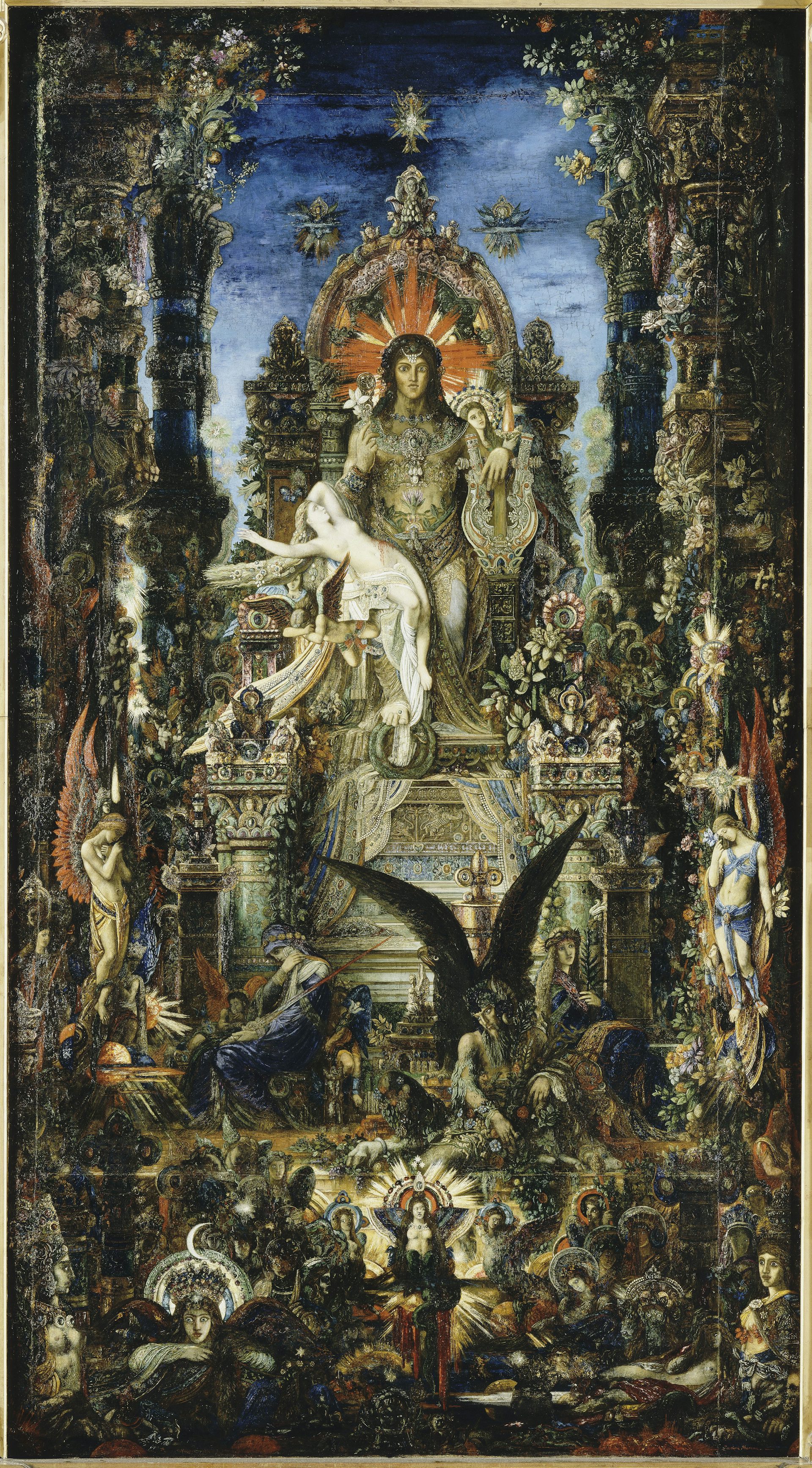 What were Dionysus' attributes?
Dionysus was usually imagined as a youthful god. His most common attributes pertained to his function as the god of wine and intoxication; these included grapevines or grapes and a special kind of ivy-covered wand called a thyrsus.
In art, Dionysus was often shown holding a large wine cup. He was also associated with wild cats, especially leopards and panthers; ancient artists liked to depict him riding these exotic creatures. His entourage included mythical beings such as satyrs and silens and frenzied female worshippers called maenads.
How was Dionysus worshipped?
Dionysus was worshipped throughout the Greek world, though the Greeks themselves thought of him as a foreign god imported from the East. The cult of Dionysus tended to revolve around ecstasy and intoxication; because of this, Dionysus was often viewed as a god who lived on the edge of civilization.
At the same time, Dionysus was worshipped as a god of culture and the arts. Indeed, it was at the annual festival of Dionysus in Athens that Greek tragedies and comedies—some of the most important literary creations of the ancient world—were performed in honor of Dionysus.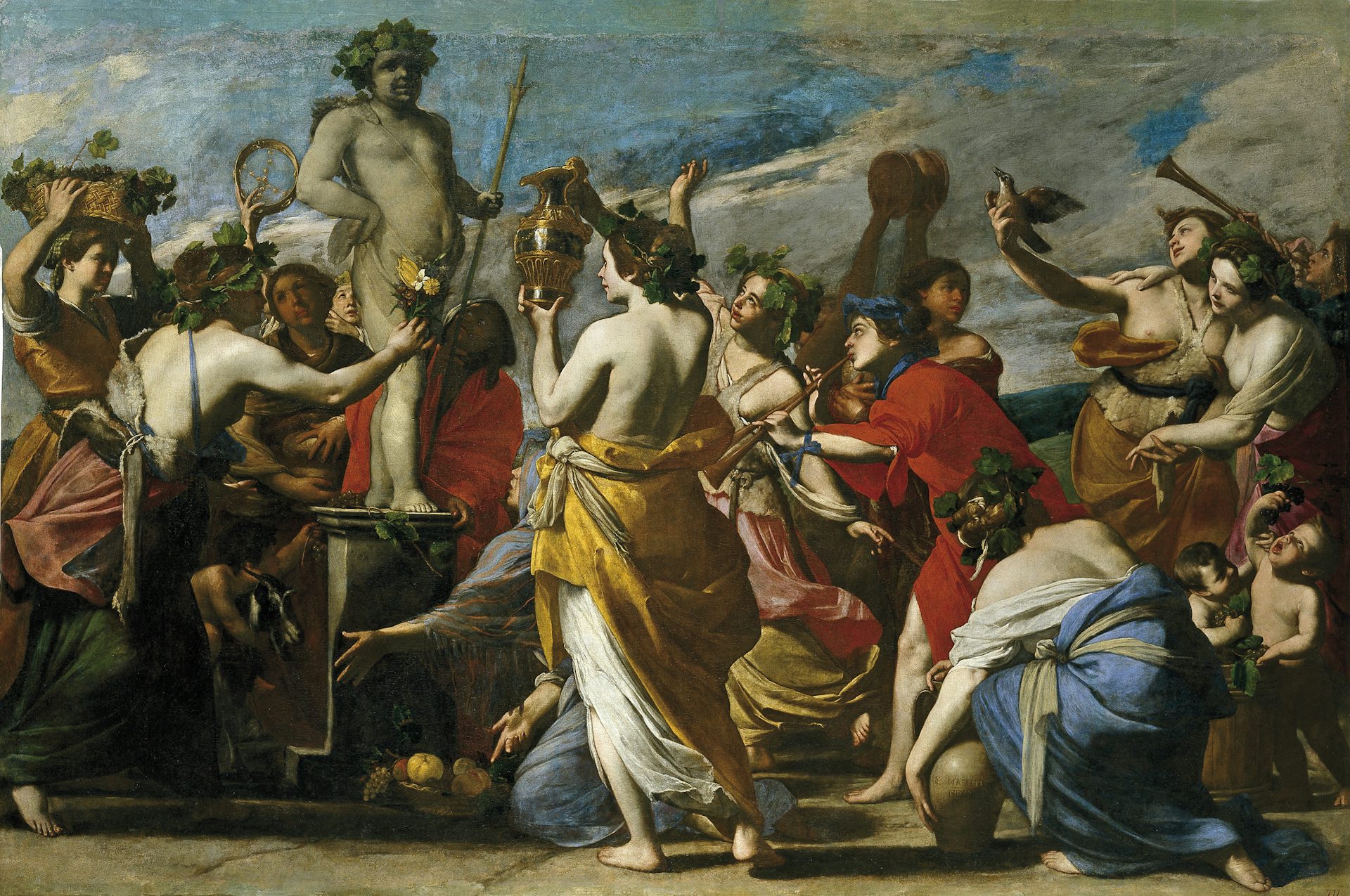 Dionysus and Ariadne
Dionysus' most famous consort was Ariadne, a Cretan princess who helped the hero Theseus defeat the Minotaur. After Theseus abandoned Ariadne on the island of Naxos, Dionysus happened to catch sight of her while reveling with his entourage. Enchanted by the beautiful princess, Dionysus whisked her away to become his lover.
The meeting between Dionysus (surrounded by his extravagant retinue) and the distraught Ariadne became an extremely popular subject in literature and art, both ancient and modern.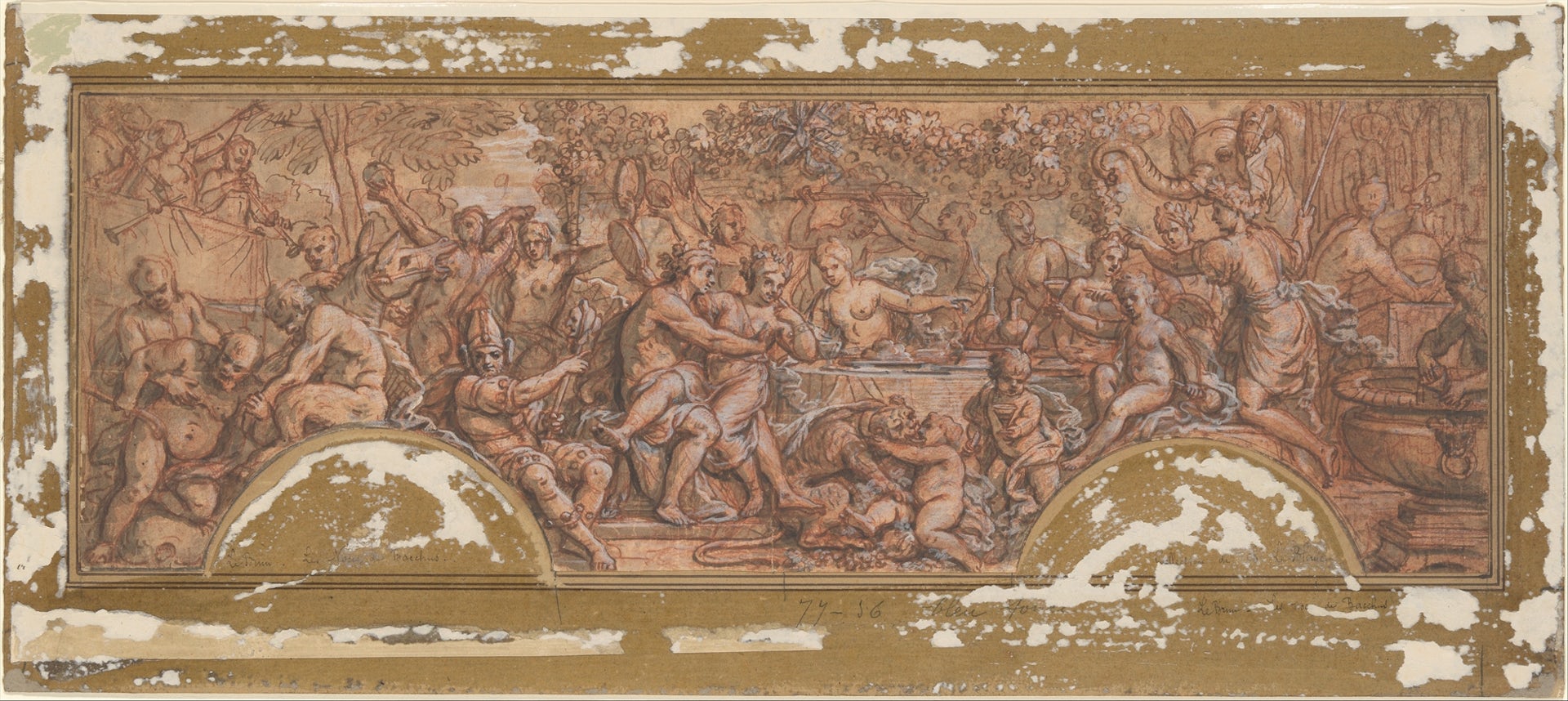 Roles and Powers
As a god, Dionysus was primarily associated with wine and intoxication, though he was also worshipped in connection with ecstasy and inspiration, theater and the arts, and the afterlife.
Perhaps more than any other figure of Greek mythology, Dionysus blurred the natural, social, and cultural boundaries of his world. For example, though he was one of the most important gods of the Greek pantheon, he was also seen as an outsider—a foreign god from the East. Though conceived by (if not born from) a mortal woman, he was worshipped as a god. And while commonly numbered as one of the Twelve Olympians, he sometimes ceded his place to Hestia, the goddess of the hearth.[1]
Dionysus' most recognizable role was as the god of wine and intoxication (as well as the related domains of vegetation and nature). The "god of abundant clusters,"[2] Dionysus embodied and ruled over wine in all its forms and uses—wine as an inspiration for music[3] and love,[4] or as relief from care[5] and old age,[6] but also as an instigator of madness[7] and violence.[8]
Dionysus was also the god of the soil more generally, and of the growth and ripening of vegetation.[9] Though he was first and foremost the god of the vine and its byproducts, Dionysus was also strongly connected with ivy, which frequently accompanied him in literature and art. He was also the god of laurel,[10] fir,[11] oak,[12] and sarsaparilla.[13]
In addition to discovering wine and viticulture, Dionysus was sometimes credited with other agricultural advances, including the discovery of the fig tree[14] and the apple tree,[15] or even the distillation of beer from barley.[16]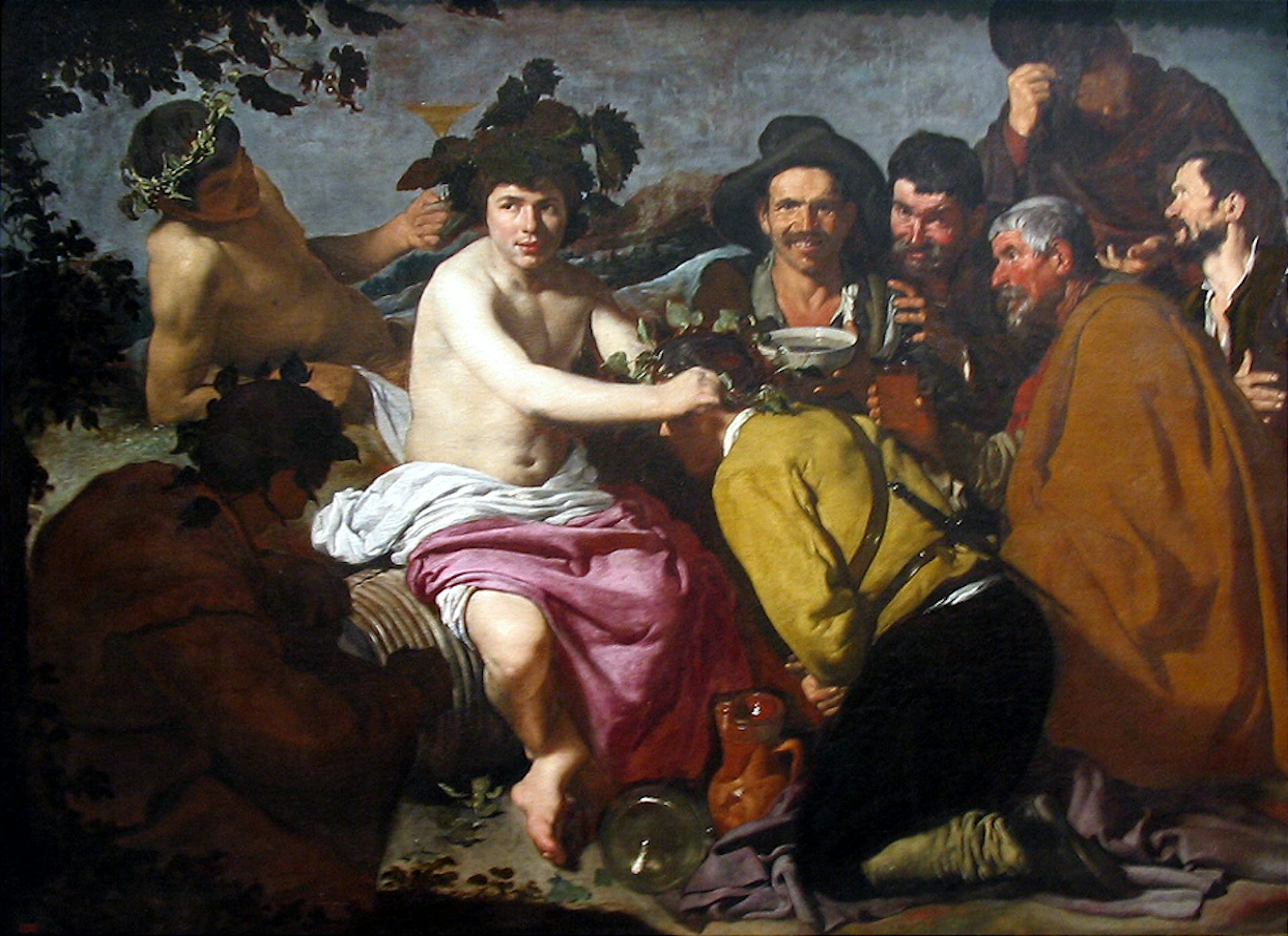 As the god of ritual madness and ecstasy, Dionysus brought madness (mania in Greek) to his worshippers. He was especially connected with women's ritual ecstasy,[17] though married women were thought to achieve a closer communion with the god than unmarried girls.[18]
As a god of theater and the arts, Dionysus was associated in particular with music and dance. He was the god of drama, an art that evolved (according to Aristotle) from the dithyramb—the specific cult song of Dionysus.[19] Dionysus was also the god of the mask, which was prominent in cult and performance as a representation of Dionysus himself.
Dionysus' role as a god of the dead and the afterlife was stressed above all in mystery cults. In this capacity, Dionysus offered rebirth and even deification. One early writer went so far as to identify Dionysus with Hades, the traditional lord of the dead.[20]
Attributes
Dionysus' main attributes were, of course, related to wine and viticulture: vines, ivy, cups of wine, and so forth. The god was known to reveal himself to his human worshippers in various forms, both human and animal. He was, above all, an ambivalent god, "the most terrible and yet most mild to men."[21] This was likely a reflection of the Greeks' understanding that wine could bring both joy and suffering.[22]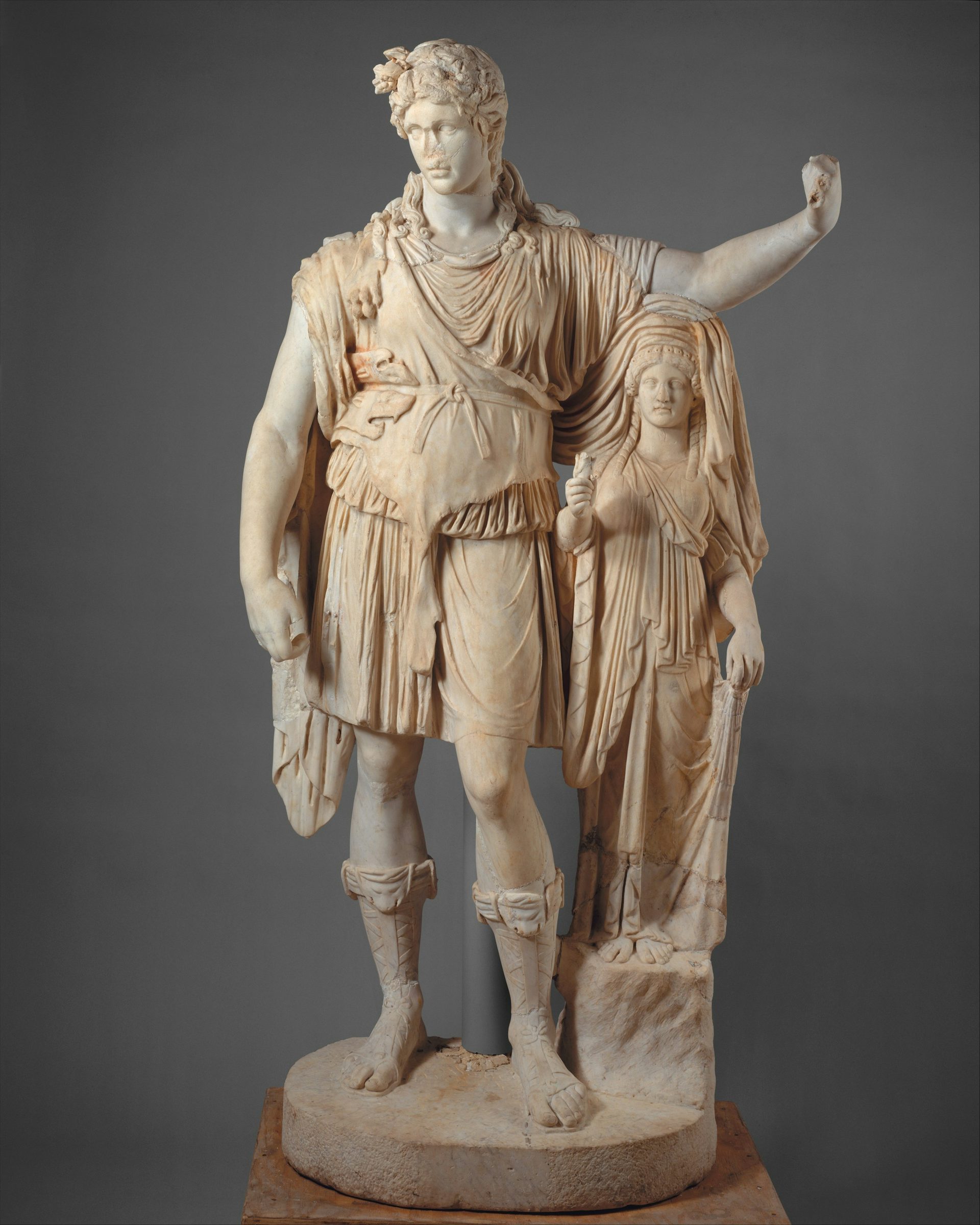 Like most of the Greek gods, Dionysus was imagined as anthropomorphic (meaning he had the features of a human being). However, Dionysus could also be theriomorphic, sporting the features of various animals. He was especially connected with bulls, whose form he often assumed,[23] though he could also manifest as a young goat,[24] a ram,[25] a lion,[26] or a snake.[27]
Dionysus was remarkable for the variety of forms his appearance could take: he could be human or animal, young or old, bearded or beardless, feminine or masculine. Ancient writers and artists placed a particular emphasis on Dionysus' hair, which was usually imagined as flowing and curly;[28] though sometimes described as dark,[29] it was more commonly blonde or tawny.[30]
Dionysus was typically represented wearing a chiton, a kind of tunic fastened at the shoulder, over which he wore a nebris—the skin of a fawn, kid, or leopard.[31] The god often sported a crown of foliage, vines, ivy, or other crops on his head, with his feet clad in high boots such as kothornos[32] or embas.[33]
Dionysus was usually shown holding his attributes, such as a branch of pine or fir, or a vine or ivy plant. His special rod was the thyrsus—a stem of narthex or fennel topped by a pinecone and foliage. Dionysus' attributes also included all kinds of musical instruments, especially the tympanum, a kind of hand drum.
Dionysus was usually accompanied by his entourage (or thiasos) of frenzied worshippers. These were often headed by the maenads (also known as Bacchae, Bassarides, or Thyiades)—scantily clad female worshippers in a state of ritual ecstasy. In early sources, the maenads were sometimes worshipped as the infant Dionysus' nurses.[34]
The god's entourage also included other nymphs as well as satyrs or silens—joyful woodland creatures with a human torso and head, but with the ears, tail, and sometimes hind legs of a horse. Silenus, the eldest of the satyrs, was often described as the tutor of Dionysus (though this role was later assumed by Hermes).[35]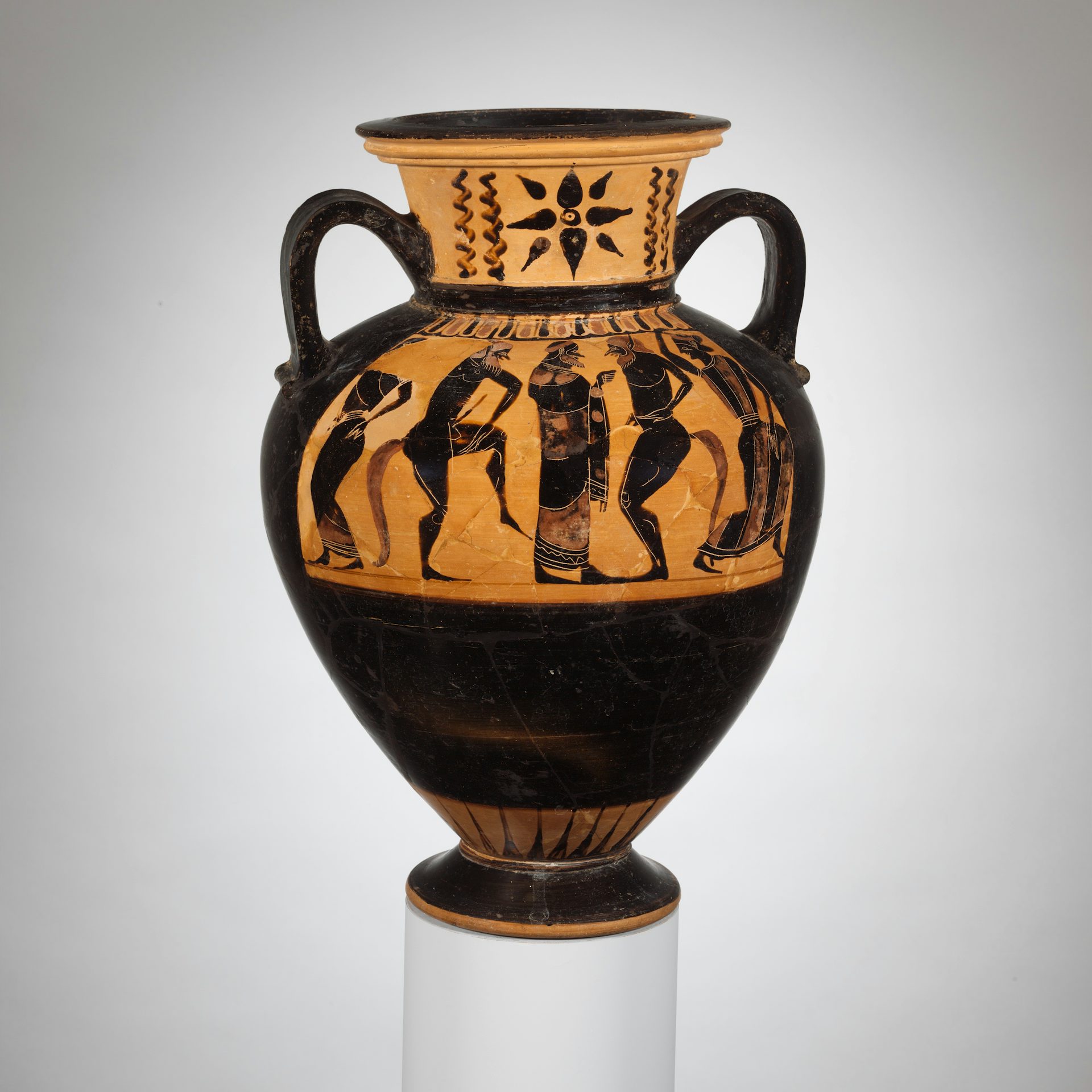 Dionysus was also associated with other gods of nature, culture, and the arts, including the Charites (the Graces), the Muses, Pan, Apollo, Aphrodite, and Rhea (or her Phrygian counterpart Cybele).
Iconography
Dionysus appeared in ancient art more than any other Greek deity and was shown in connection with almost every type of myth, cult, and aspect of daily life.
The earliest depictions of Dionysus, from the sixth century BCE (or perhaps even earlier), showed the god with his attributes of wine and the amphora. During this period, Dionysus often had a full beard, but by the Classical period (479–323 BCE) he was increasingly represented as a beardless young man.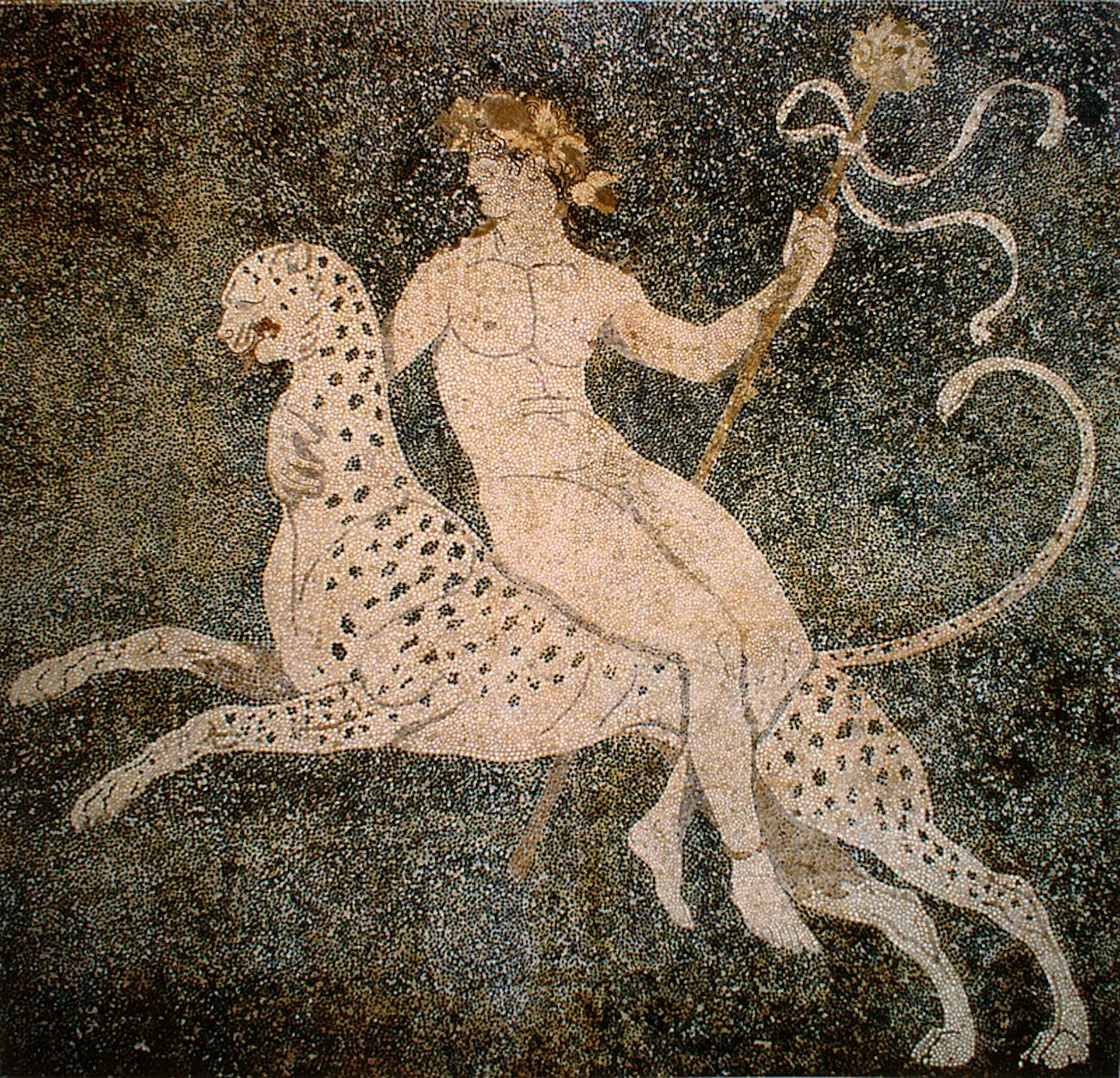 In both art and literature, Dionysus was typically depicted wearing a nebris (animal skin) and carrying a kantharos (drinking cup) or thyrsus. Sometimes he was shown riding atop wild cats, such as leopards, lions, and panthers, and was often accompanied by his entourage of satyrs, silens, maenads, and/or nymphs.[36]
Etymology
The name Dionysus (Greek Διόνυσος, translit. Diónysos; Homeric Greek Διώνυσος, translit. Diṓnysos, Aeolic Greek Ζόννυσος, translit. Zónnysos) was first recorded on Mycenaean tablets from the twelfth or thirteenth century BCE. Originally written in a script called Linear B (which predates the Greek alphabet), the name appears on these tablets as di-wo-nu-so.
There is no consensus as to the exact meaning of the god's name, but most philologists believe the word is rooted in Dios, the possessive (genitive) form of the name "Zeus" (Dionysus' father).
The latter part of his name may be derived from Mount Nysa, where the infant Dionysus was thought to have been raised by nymphs, known as the Nysiads. Thus, when put together, "Dionysus" probably meant something like "the Zeus of Nysa" or "of Zeus and Nysa."[37]
Other etymologies for Dionysus' name have also been suggested, and scholars disagree on which is the most accurate. Robert Beekes, arguing that all attempts to trace the name to Indo-European languages have proven dubious, has suggested a pre-Greek origin.[38]
Pronunciation
| English | Greek |
| --- | --- |
| Dionysus | Διόνυσος |

| Phonetic | IPA |
| --- | --- |
| [dahy-uh-NAHY-suhs] | /ˌdaɪ əˈnaɪ səs/ |
Other Names
As perhaps the most widely worshipped of all the Greek gods, Dionysus had a colorful array of alternative names. The best known of these is Bacchus (Greek Βάκχος, translit. Bákchos), the name often used in Roman literature. By the fourth century BCE, the Roman god Liber or Liber Pater was commonly identified with Dionysus and/or Bacchus.
Zagreus (Greek Ζαγρεύς, translit. Zagreús) sometimes appeared as another name for Dionysus (though he likely originated as a separate god). The name was especially connected with the Dionysus worshipped by the Orphics, a cult that believed a blissful afterlife could be attained through a combination of strict ritual and an ascetic lifestyle. Though the name Zagreus does not appear in any surviving Orphic texts, other ancient authors associated this name with Orphism.
Another obscure god, Iacchus (Greek Ἴακχος, translit. Iákchos), was often identified with Dionysus. Iacchus was more properly a god of the Eleusinian Mysteries, worshipped alongside Demeter and her daughter Kore (Persephone).
Finally, Dionysus was sometimes identified with Sabazius (Greek Σαβάζιος, translit. Sabázios), a sky and horse god worshipped by the Phrygians and Thracians.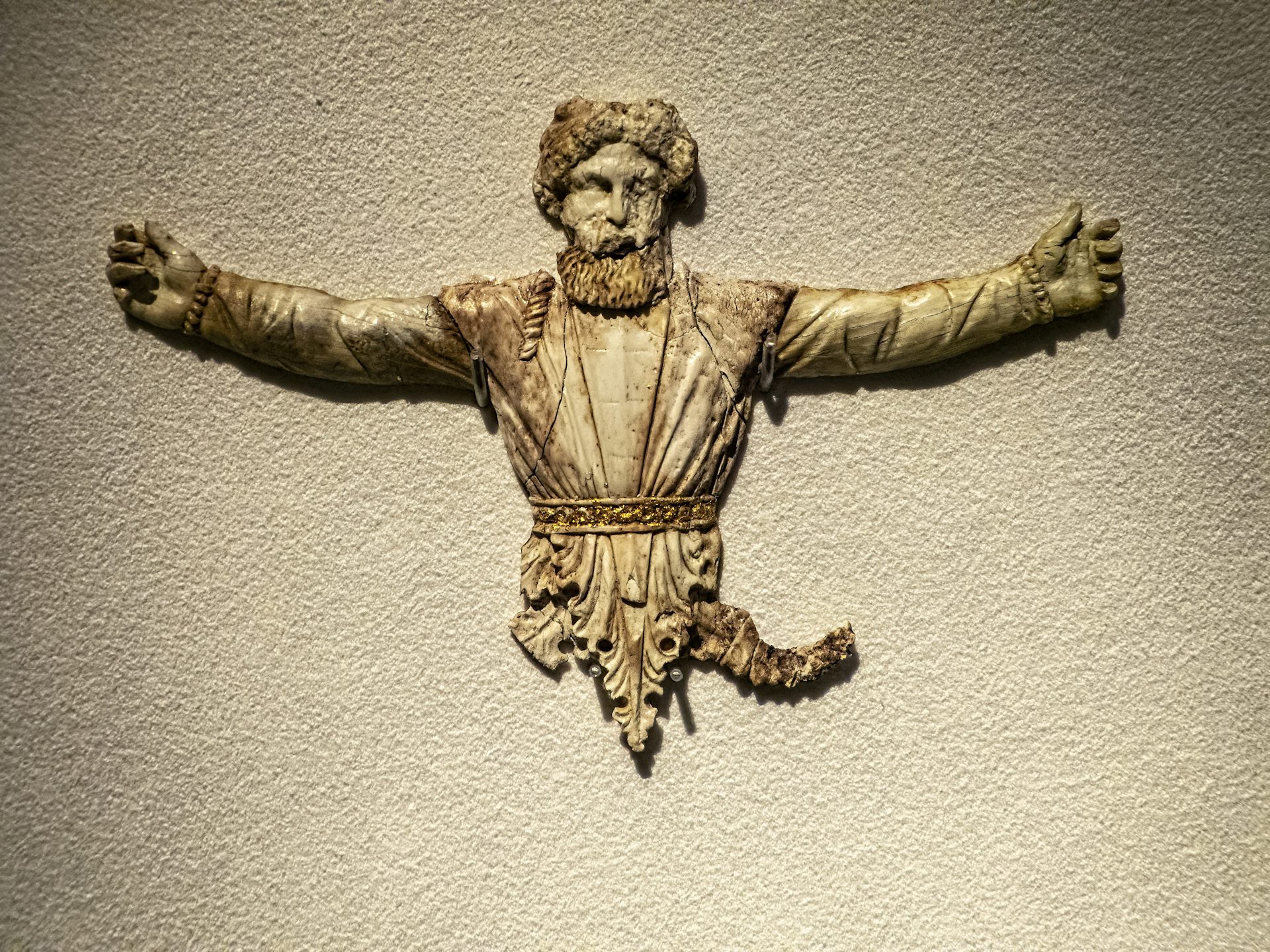 Titles and Epithets
Dionysus had many epithets and cult titles (also known as "epicleses"), reflecting his wide range of roles and powers.[39]
As a god of madness and ecstasy, Dionysus was given epithets such as μαινόμενος (mainómenos), "raving." This aspect of the god seems to be behind his most familiar cult titles, including Βάκχος (Bákchos) and its variants Βακχεῖος (Bakcheîos) and Βακχεύς (Bakcheús), meaning "reveler," as well as Βρόμιος (Brómios), meaning "roaring."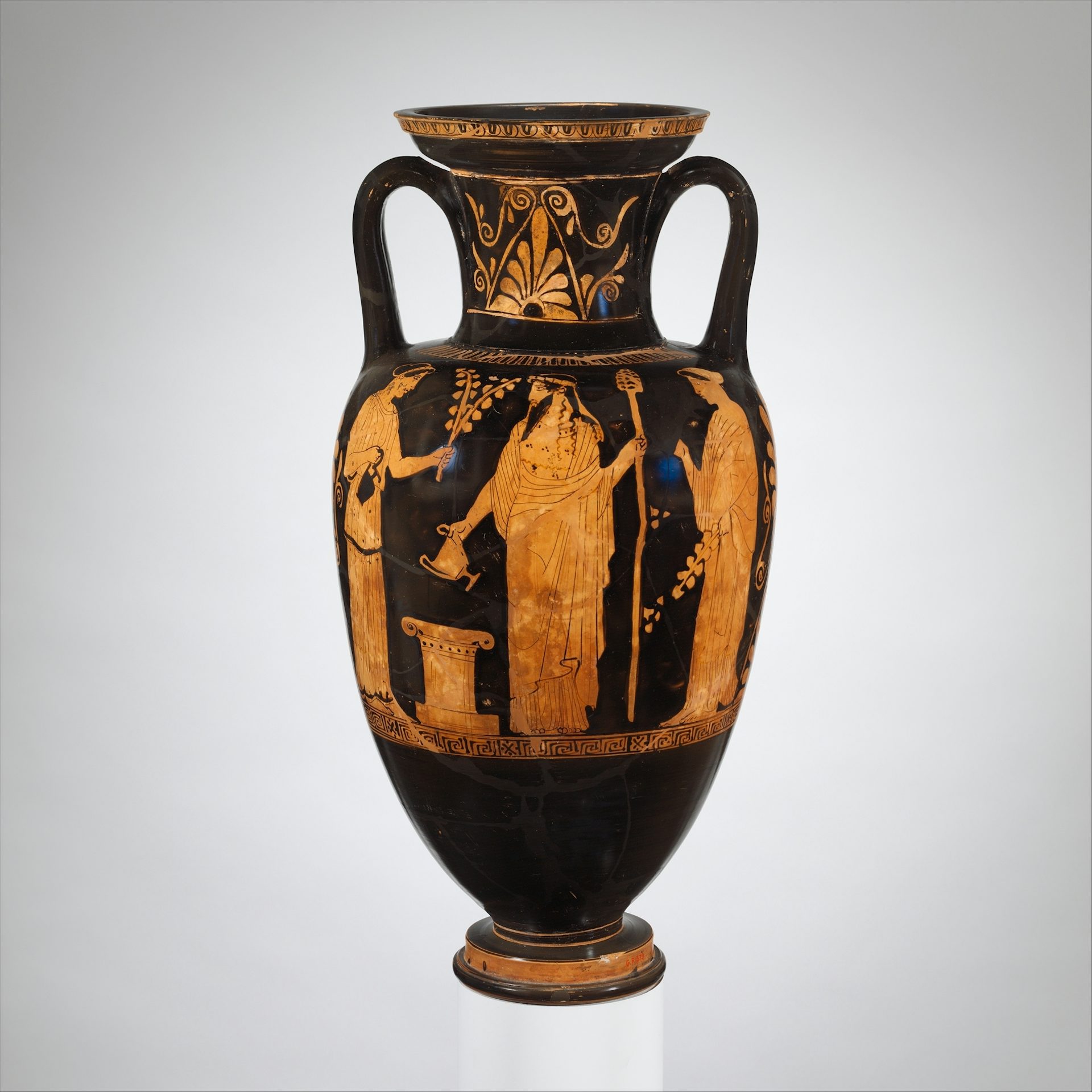 As a loosener of social norms, Dionysus was known as the "loosener," rendered as λυαῖος (lyaîos) in Mantinea or λύσιος (lýsios) in Corinth and Sicyon. A similar title is Ἑλευθερεύς (Eleuthereús) or Ἐλευθέριος (Eleuthérios), meaning "liberator."
Other regional titles focused on various aspects of the cult of Dionysus. He was ὠμάδιος (ōmádios) on Chios and ὠμηστής (ōmēstḗs) on Lesbos—the "eater of raw flesh." This title reflected the custom in some cults of Dionysus of tearing apart animals and consuming them raw (omophagia).
Family
In the most familiar tradition, Dionysus was the son of Zeus, the king of the gods, and Semele, a mortal princess from Thebes.[40] Some sources, however, assigned him a different mother. In the mysteries, Dionysus' mother was either Persephone[41] or Demeter,[42] while other traditions made his mother Aphrodite,[43] Arge[44] or Dione.[45]
Dionysus' most famous relationship was with Ariadne, daughter of the Cretan king Minos. Dionysus fell in love with Ariadne after she was abandoned by Theseus on the island of Naxos.
He made her his wife, and in some accounts she was even immortalized so that she could live forever by his side.[46]
Dionysus had several children, though none of them achieved great cultural renown. His children by Ariadne included the Argonaut Staphylus[47] (and perhaps Phanus),[48] the Lemnian king Thoas,[49] and the Chian king Oenopion.[50]
Other traditions supplied further consorts and children for Dionysus. By Aphrodite, Dionysus was sometimes said to have fathered the vegetation god Priapus or even the love god Eros. By Althaea, wife of the Calydonian king Oeneus, he fathered Deianira.[51] By the nymph Nicaea, he fathered Telete, the personification of initiation.[52] And by Hera, he fathered the goddess Pasithea.[53]
Worship
Temples and Sanctuaries
On Naxos one can still see the remains of an especially ancient sanctuary of Dionysus. The site was probably in use as early as the fifteenth or fourteenth century BCE, but the temple whose columns are still standing today dates from around the sixth century BCE. There were also many temples of Dionysus in the region of Boeotia, where the god's mother Semele lived.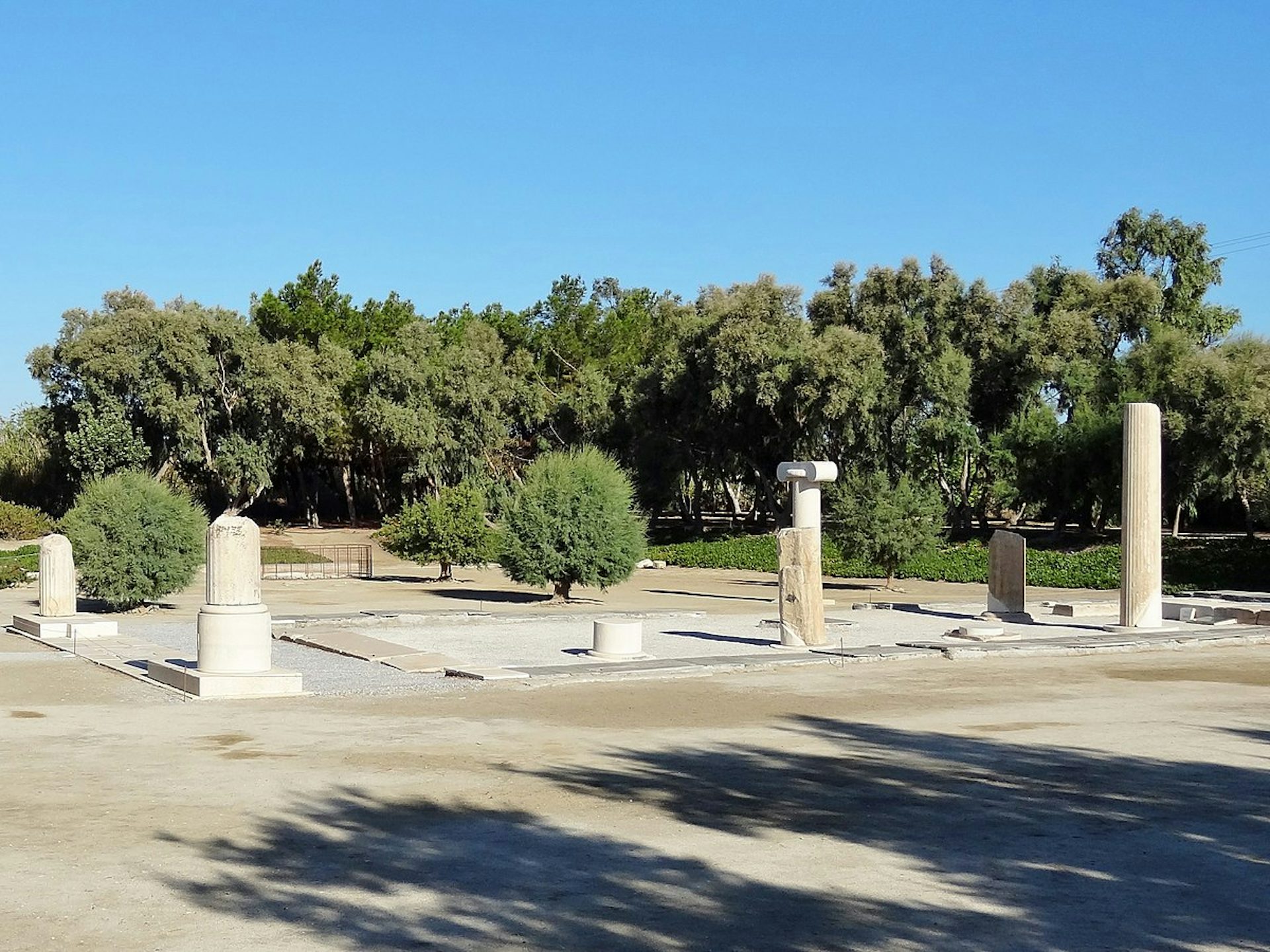 In Athens, there was a temple of Dionysus connected with the theater complex at which the god was honored a few times per year. This temple was said to have been quite ancient and included paintings of various scenes from Dionysus' mythology.[121]
In Argos, there was also a temple of Dionysus that was said to be very ancient. The Argives claimed that Dionysus buried his beloved Ariadne near this temple after she was killed by Perseus. The cult image inside was thought to have been there since the time of the Trojan War.[122]
During the Hellenistic and Imperial Roman periods, associations or colleges of Dionysus became larger and more important (examples include the Lobakchoi of Athens, the Bakchiastai of Cos and Thera, and the Bakcheastai of Dionysopolis). As a result, Dionysus became one of the most widely worshipped gods of the ancient Mediterranean.
Festivals and Rituals
Dionysus was honored with many festivals across many different cities and regions. Some of these were annual, but others were only celebrated every third year (e.g., Dionysus' festivals at Delphi, Thebes, Camirus, Rhodus, Miletus, and Pergamum).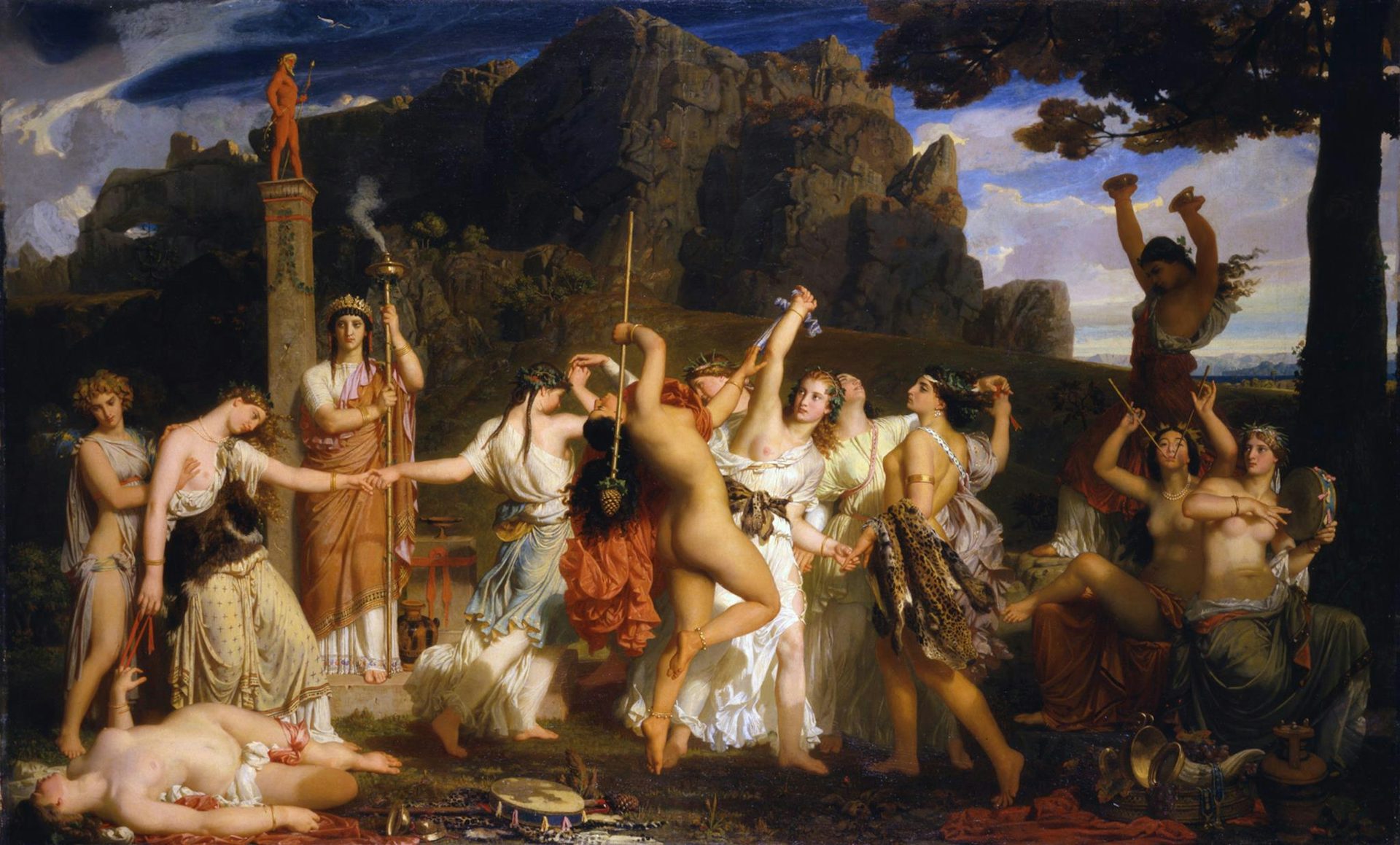 The festivals and rituals of Dionysus were characterized by licentiousness, revelry, and the reversal of social roles. The most famous of these festivals were orgia ("orgies")—riotous rituals that included dancing, singing, intoxication, and sacrifice. These events could be so raucous that some ancient cities and regions (including Attica) prohibited their practice.
Another important component of Dionysus' cult was the phallic procession, a long procession of worshippers who marched behind a large sculpted phallus. 
Dionysus was sometimes said to have received human sacrifices,[123] but there is no concrete evidence for this. Even if Dionysus did receive human sacrifice at some early stage in his worship, this custom almost certainly came to an end by the Classical period and was replaced with more traditional animal sacrifice. 
Animals commonly sacrificed to Dionysus included pigs, sheep, and goats; goats and rams became particularly associated with the cult of Dionysus.[124] The god also received non-meat sacrifices such as produce, gifts, and cakes.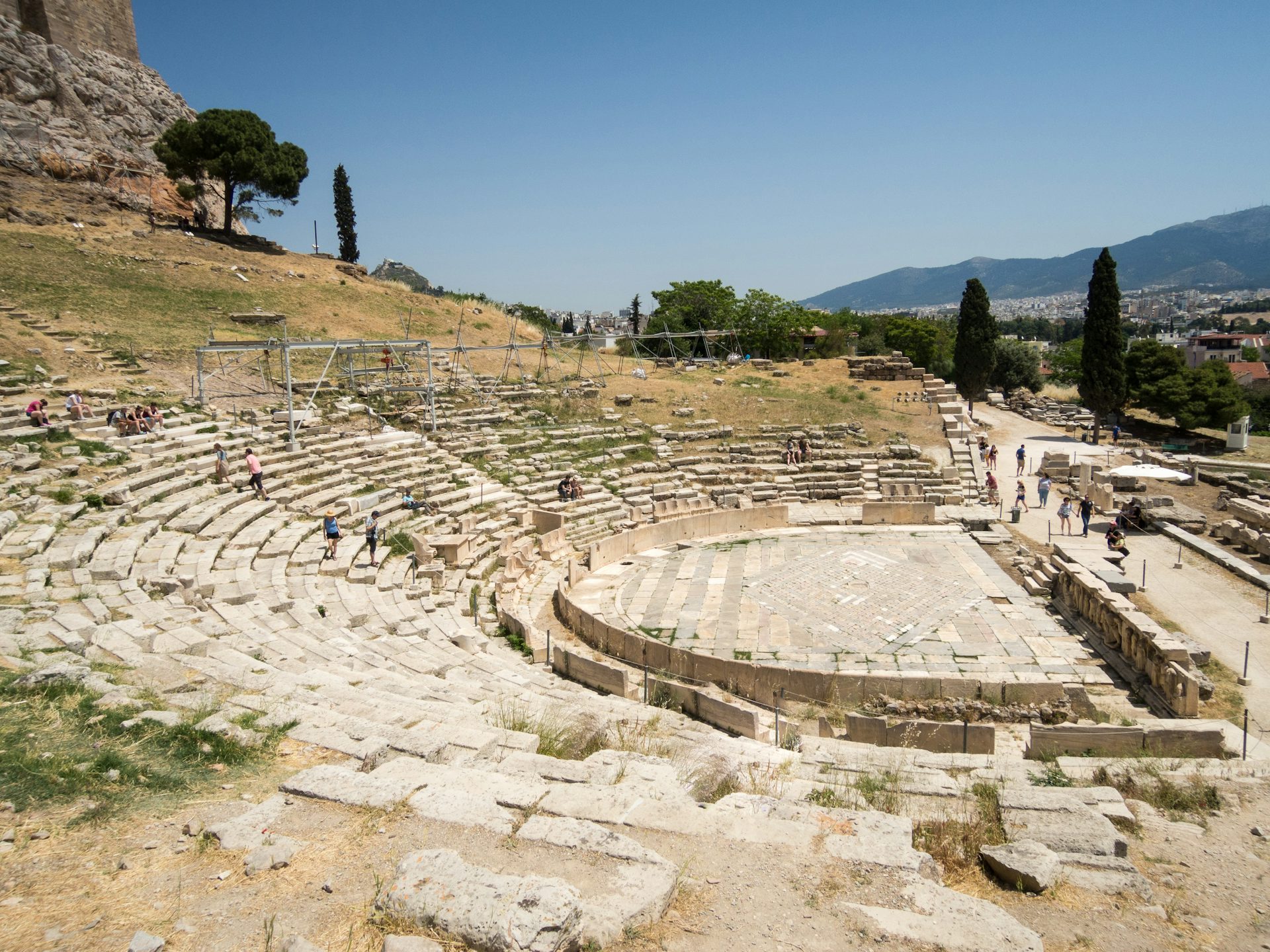 Some of the festivals honoring Dionysus were more "family friendly" than the orgia. In Athens, the most famous annual festival of Dionysus was the Great Dionysia (sometimes called the City Dionysia). This fantastic, multiday celebration included processions, sacrifices, and theatrical performances; it was here that many of the most famous plays by Aeschylus, Sophocles, Euripides, and Aristophanes were originally performed. 
Other Dionysus festivals in Athens included the Lenaea, another dramatic festival; the Rural Dionysia,[125] whose central events were a phallic procession and contests; and the Anthesteria, called the oldest Dionysia, a kind of day of the dead in which the souls of those who had died were said to rise from the Underworld and wander the world of the living.
The Athenians also celebrated Dionysus at the Oschophoria (held after the conclusion of the grape harvest), the Theionia, and the Iobakcheia, though much less is known about these festivals.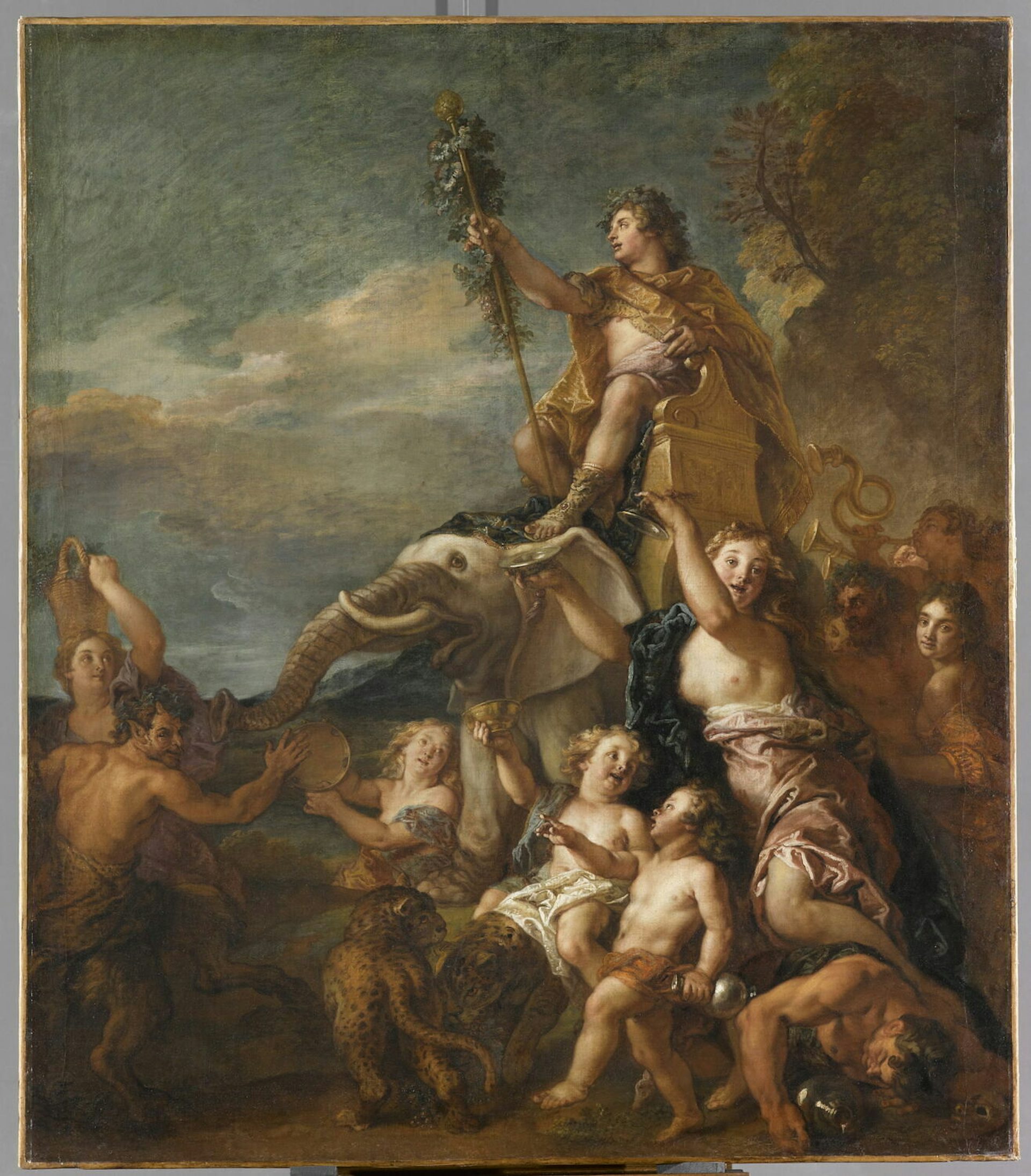 Other rituals of Dionysus were connected with death (like the Athenian Anthesteria). In Argos, for example, Dionysus was summoned from the water by throwing a lamp into an abyss for Hades and then blowing on a trumpet concealed in thyrsi.[126] The Delphians even displayed a tomb of Dionysus.[127]
Dionysus was a major god in ancient Greek mystery religions—religions that required initiation and forbade initiates from revealing their rites to the uninitiated. The Dionysian Mysteries were not limited to a particular geographic location; rather, they were organized by private communities of followers, made up of both men and women.[128]
Fueled by wine, music, and dance, the Dionysian Mysteries brought worshippers together in frenzied, orgiastic celebrations that freed them from social inhibitions. Many revelers wore masks to disguise themselves, and it was said that Dionysus himself would often appear among the throngs. These mysteries seem to have promised their initiates rebirth and even deification rather than a blessed afterlife.
Dionysus also played a central role in other mystery cults, such as the Orphic and Eleusinian Mysteries (whose respective mythologies have been outlined above).
Foreign Cults
In antiquity, Dionysus was often identified with the gods of foreign peoples, a practice sometimes known as interpretatio Graeca (literally, "translation into Greek"). Dionysus was thus conflated with gods such as the Etruscan Fufluns, the Egyptian Osiris or Epaphus-Horus, and, of course, the Italian Liber or Liber Pater.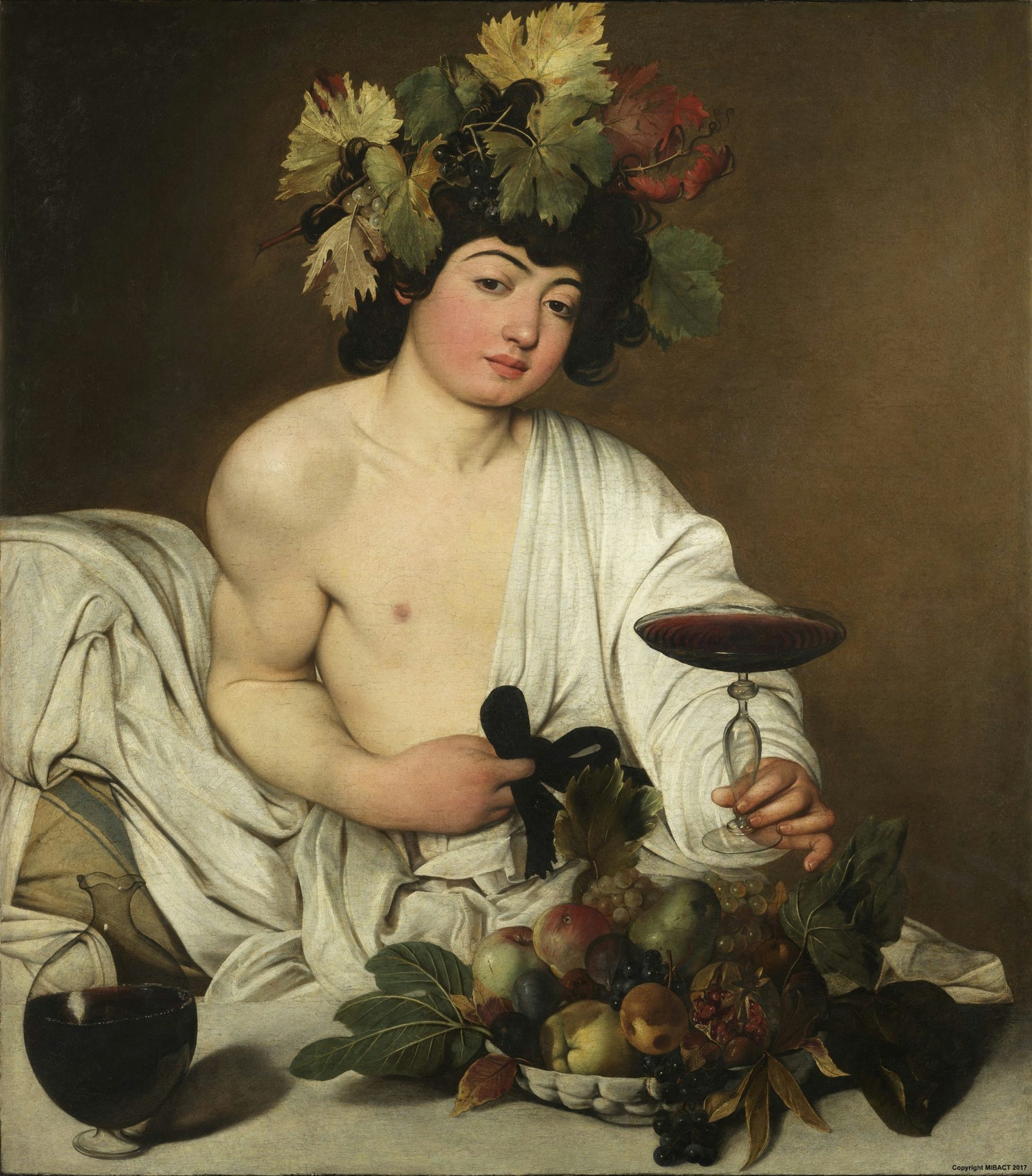 In Rome, the mysteries of Dionysus were immensely controversial. Imported from Greece, the god's rites—known in Rome as the Bacchanalia—involved intoxication and omophagy (the eating of raw meat). By the early second century BCE, these Bacchanalia had become so out of control that they were largely banned by the government.[129] This highlights the extreme effect that Dionysus could have on his devotees.
Popular Culture
Dionysus makes regular appearances in contemporary popular culture, often alongside the rest of the Olympic pantheon. He has appeared in countless retellings and reimaginings of Greek myth, from Disney's Hercules, to the Hercules and Xena: Warrior Princess television series, to Rick Riordan's Percy Jackson and the Olympians books and films. In these media appearances, Dionysus is almost always depicted as a wine-besotted pleasure seeker.
Because wine is so heavily associated with Dionysus, the god has also lent his name to myriad wineries, from Greece to Napa Valley.