Greek Goddess
Aphrodite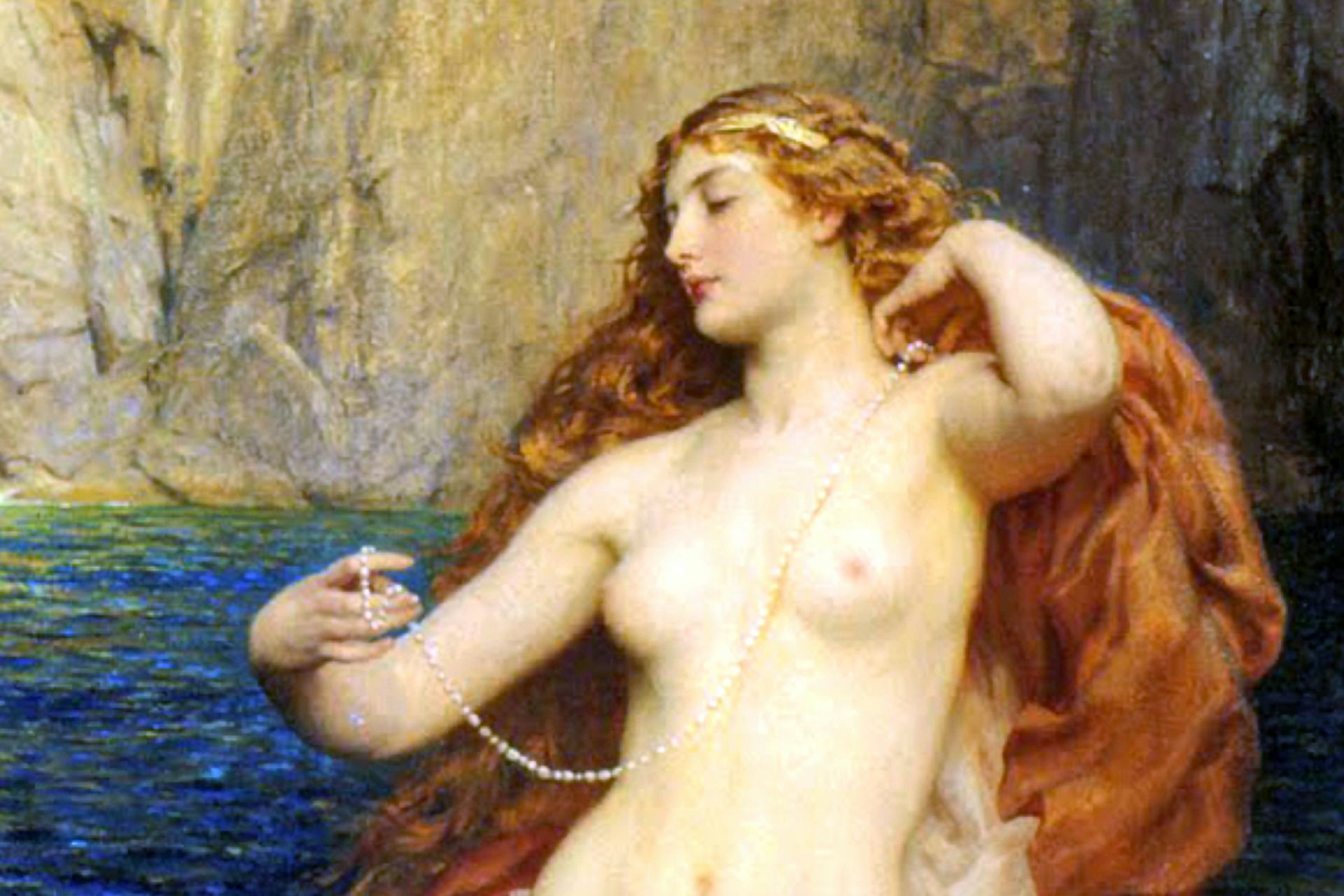 Overview
The goddess of love, passion, and procreation, sensual Aphrodite was the wellspring of both heterosexual and homosexual erotic desire. A figure both generously nurturing and passionately destructive, she embodied all the possibilities that love and desire had to offer.
Aphrodite was a powerful personality and a force to be reckoned with. Though she was married to Hephaestus, the god of fire and the forge, many lovers flitted through her mythology (most notably, the war god Ares). The symbol of all desire and longing, Aphrodite exerted an immense influence on mortal affairs and played an important role in provoking the Trojan War.
Etymology
In ancient times, the Greeks believed the name "Aphrodite" derived from the Greek word aphros, meaning "sea foam." In the Theogony, the poet Hesiod described how Aphrodite was born from the foam that bubbled up after Cronus severed the genitalia of his father Uranus and cast it into the sea. He thus interpreted Aphrodite's name as meaning "born from sea foam."[1] 
Nowadays, most scholars regard this derivation as a folk etymology. Some have sought various Indo-European origins for the name, tracing it to words such as *abʰor- ("very"), *dʰei- ("to shine"), or *abrhá- ("cloud").[2] Others, such as Martin West, have searched for a Semitic source.[3] Still others have turned to Etruscan for the name's origin, comparing it to (e)prϑni, an Etruscan honorific meaning "lord" (in this case, Aphrodite's name would mean "the lady").[4]
In short, the etymology of the name "Aphrodite" is highly uncertain and likely originated from a non-Greek language.[5] TheThe Indeed, there is no evidence of the goddess during the earliest periods of Greek history (the Bronze Age or Mycenaean period, ca. 1600–1100 BCE); she may have originally been an Eastern goddess later adopted by the Greeks.[6]
Pronunciation
| English | Greek |
| --- | --- |
| Aphrodite | Ἀφροδίτη |

| Phonetic | IPA |
| --- | --- |
| [af-ruh-DAHY-tee] | /ˌæf rəˈdaɪ ti/ |
Other Names
Aphrodite had two common alternative names in ancient literature: Cypris and Cytherea, referring to her close association with the islands of Cyprus and Cythera, respectively.
Epithets
Aphrodite was most commonly described as ourania ("heavenly") and pandēmos ("of all people"). Many epithets, such as chryseē ("golden"), dia ("brilliant"), or eustephanos ("well-crowned"), related to her attributes or appearance. In other cases, Aphrodite's epithets reflected her duality as a goddess of bliss as well as destruction—she was known as both philommeidēs ("smile-loving") and skotia ("dark one").
Attributes
Domains
Aphrodite was worshipped primarily as the goddess of erotic love and women. In these capacities, she was honored in connection with sex, marriage, and childbirth. But her functions also extended into other areas: for example, Aphrodite was a goddess not only of women's fertility and childbirth, but also of the fertility of the earth—of vegetation and farming. Aphrodite was also seen, naturally enough, as the patron of prostitutes. Perhaps somewhat less naturally, another of her functions was the protection of sailors at sea.
Iconography
In art and literature, Aphrodite's chief attribute was always her stunning physical beauty. As if this were not enough, she was also said to possess a magical girdle that made the person wearing it irresistible. There is a famous scene in Homer's Iliad where Hera borrows Aphrodite's girdle to seduce Zeus.[7]
Unlike the other Greek goddesses, who were usually depicted as modestly clothed, Aphrodite was almost always represented in various stages of undress. This trend began at the end of the fifth century BCE and quickly caught on, epitomized in Praxiteles' statue Aphrodite of Cnidos (345/340 BCE) and Apelles of Cos' painting of Aphrodite rising from the sea (Aphrodite Anadyomenē, or the "Aphrodite of Cos"). These works were endlessly copied throughout antiquity.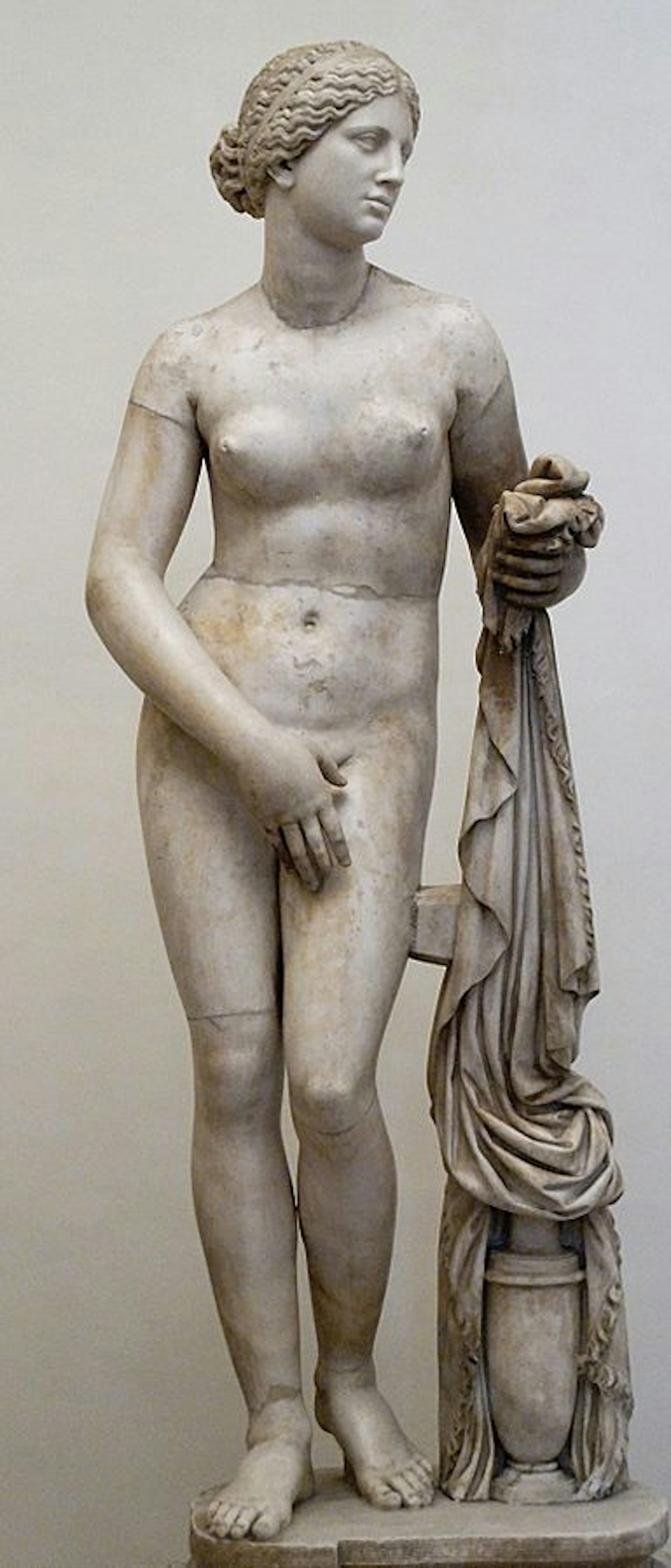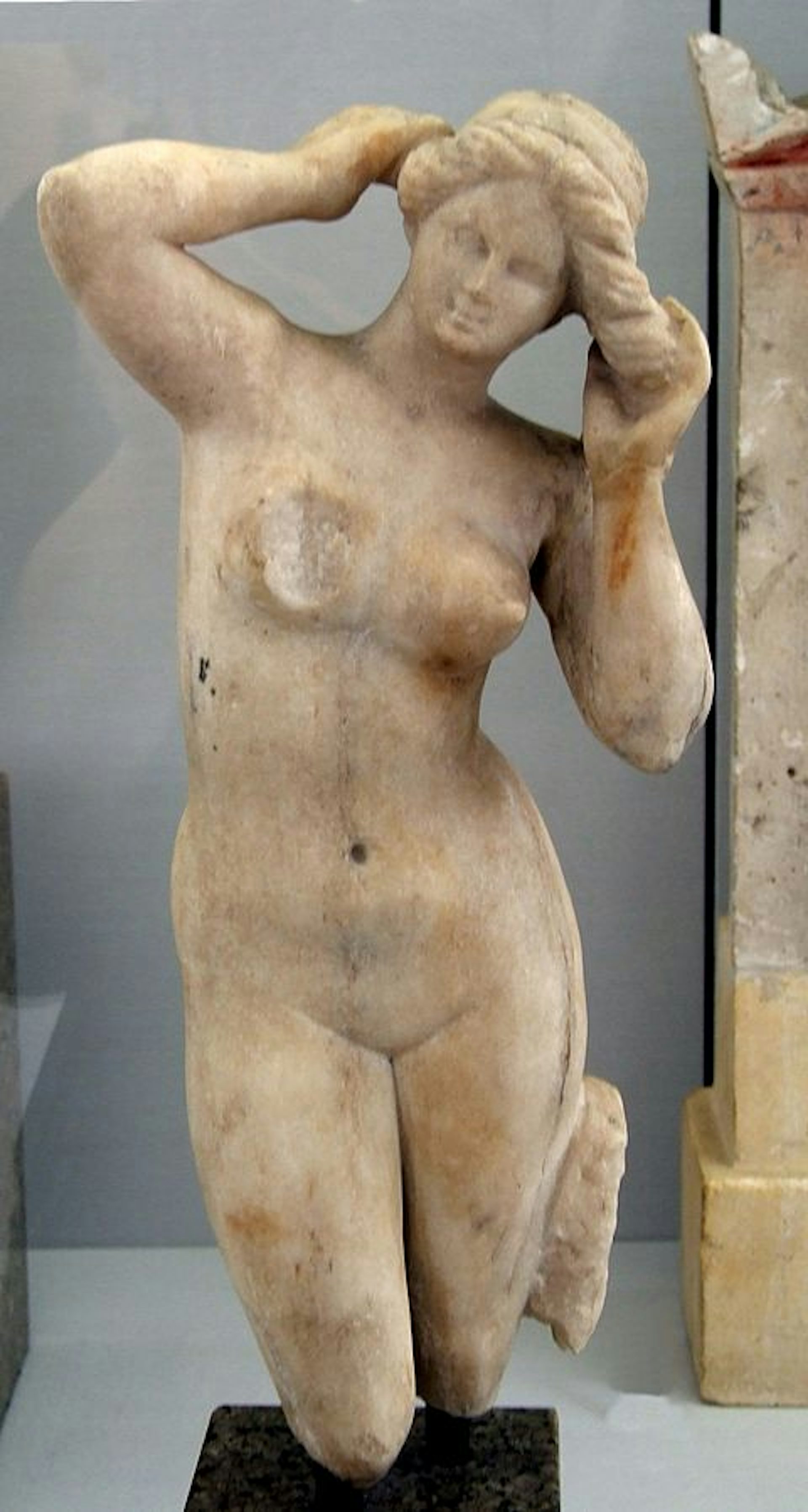 Aphrodite was often depicted in the company of other gods, especially Eros or the other Erotes (gods of love usually said to have been the children of Aphrodite). Other times her entourage included the Graces, the Nereids, or the wild half-goat Pan. 
Finally, Aphrodite was sometimes represented as victorious and armed for war, with helmet, shield, and weapons. This was how she was shown, for example, in Corinth, Cythera, and Sparta.[8]
Symbols
Aphrodite had various animal and plant symbols that helped distinguish her in antiquity. She was especially closely associated with male goats, but also with doves, sparrows, swallows, and swans, all of which were often imagined as pulling her chariot or serving as her messengers.[9] Another one of Aphrodite's sacred animals was the tortoise.[10]
Aphrodite's sacred plants included the apple, rose, myrtle, and poppy.[11]
Worship
Festivals
The festivals of Aphrodite were usually called Aphrodisia. Large annual festivals to the goddess were held in the cities of Paphos and Amathus in Cyprus, as well as in other major cities such as Athens and Corinth. Some Aphrodisia festivals seem to have involved symposia (dinner parties) held in the company of courtesans.[45]
Aphrodite was also celebrated privately. In many Greek cities and towns, for example, girls would sacrifice to Aphrodite on the night before their wedding so that their first sexual encounter would be favorable.[46]
Temples
Aphrodite's most splendid temples were located in Cyprus, especially in the cities of Paphos and Amathus. The temple of Aphrodite at Amathus was even said to house the mythical Necklace of Harmonia, which gave its wearer eternal youth but also bore a terrible curse.[47]
Aphrodite had important temples throughout Greece, including at Athens, Corinth, Sparta, and Cythera, but her worship also penetrated deep into the Mediterranean: there are temples of Aphrodite in Italy, Sicily, and Asia Minor.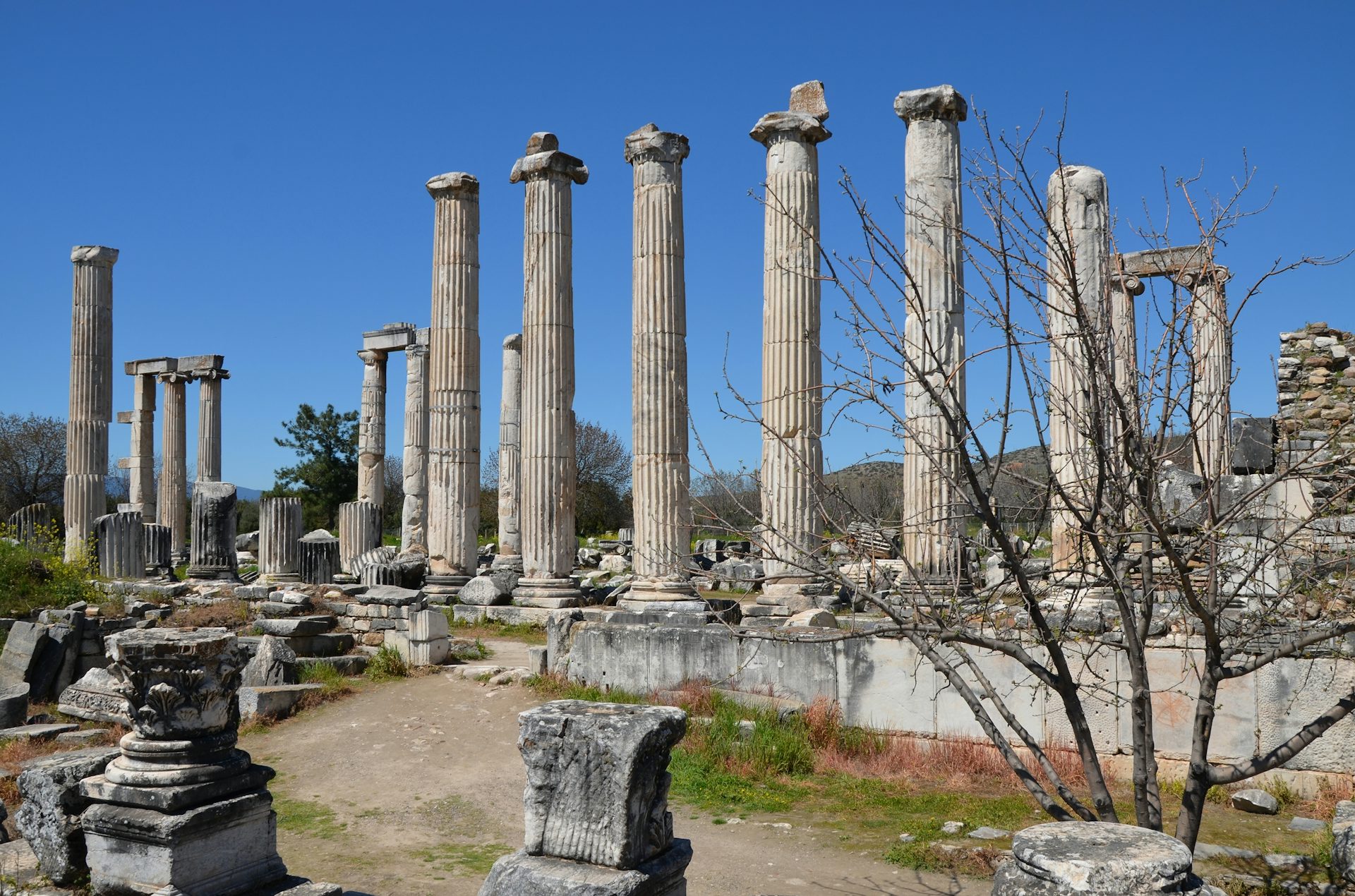 Aphrodite sometimes played a surprising role in local cults. At some temples in northern Greece, such as those at Cassope, Epirus, and Metropolis, she appears to have been worshipped primarily as a goddess of the polis (the city-state). In others, such as Corinth, Sparta, and Cythera, she was worshipped as a war goddess associated with Ares ("Aphrodite Areia").
In the Hellenistic period (323–31 BCE), Aphrodite was increasingly identified with Egyptian goddesses such as Hathor and Isis. She also had numerous temples throughout Greek Egypt, from Alexandria in the north to Philae in the south.
The Romans worshipped Aphrodite as Venus. According to the Roman historian Livy, this identification was first officially instituted at the end of the third century BCE when the cult of Venus Erycina—that is, Venus of Mount Eryx in Sicily—was imported to Rome.[48] 
Later, as the Romans increasingly adopted Aphrodite's son Aeneas as their ancestor, Venus became even more important, and numerous temples to her were built across the Roman world. In this function, the goddess came to be known as Venus Genetrix ("Mother Venus"). Indeed, one of Venus' most important temples was the temple of Venus Genetrix that Julius Caesar built on the Roman Forum shortly before his death in 44 BCE.
It was once fashionable for scholars to suggest that the temples of Aphrodite practiced "sacred prostitution" or "temple prostitution," meaning prostitutes would come to the temple and sleep with the men who arrived seeking companionship. Sacred prostitution does seem to have existed in parts of the Middle East, especially in the temples of Ishtar or Astarte, the Semitic goddess of love.[49] Most scholars today, however, admit that there is no substantial reason to think that sacred prostitution was practiced in connection with Aphrodite.[50]
Pop Culture
Aphrodite has often appeared in popular culture as a symbol of beauty and love. During the Renaissance and early modern periods, she was frequently depicted in art as the embodiment of feminine beauty.
In more recent times, Aphrodite has maintained a lively presence. In the television series Hercules: The Legendary Journeys and Xena: Warrior Princess, for example, Aphrodite is a gossipy, love-obsessed character, appearing in anachronistic pink lingerie. She is also an important character in the Rick Riordan book series Percy Jackson and the Olympians, which was later adapted for film, stage, and television.
The ancient goddess's name has also been appropriated by the beauty company Aphrodite Skin Care, whose products promise "the secret of natural beauty."