Overview
Tityus, son of Zeus and Elara, was a brutish man of enormous size and strength. He is best remembered for trying to rape Leto, one of Zeus' lovers and the mother of the gods Apollo and Artemis. For this crime, Tityus was slain by either Artemis, Apollo, or both. 
He was then cast into Tartarus, where his sins earned him a terrible punishment, alongside the likes of Tantalus, Sisyphus, and Ixion: Tityus was stretched out and had his innards perpetually torn out by a pair of vultures (or, in some traditions, a snake).
Etymology
There are several possible etymologies for the name "Tityus" (Greek Τιτυός, translit. Tityós). It may be related to the Greek verb τείνω (teínō), meaning "to stretch," itself derived from the Indo-European *ten(h₂)-, also meaning "to draw, stretch." 
In this case, Tityus' name would mean something like "the outstretched one"—presumably a reference to his mythological punishment in the Underworld (where he was doomed to forever lie outstretched as his innards were devoured by birds or snakes).
Alternatively, the name "Tityus" might be derived from the Indo-European *teuh₂-, meaning "to swell." This would make Tityus "the swollen one," perhaps another way of saying "the powerful one."
Finally, the name could also be connected with words that denote punishment, such as τίνω (tínō)—"to pay, atone"—and τίσις (tísis)—"penalty."
Pronunciation
| English | Greek |
| --- | --- |
| Tityus | Τιτυός (Tityós) |

| Phonetic | IPA |
| --- | --- |
| [TIT-ee-uhs] | /ˈtɪt i əs/ |
Attributes
Tityus' defining attributes were his enormous size and strength. According to Homer, his massive body lay stretched in Tartarus across a span of nine plethra—roughly 900 feet![1]
Though he was giant, Tityus was not usually regarded as one of the Giants, the race of earth-born monsters who tried to overthrow the Olympians. Even so, many Roman poets referred to Tityus (somewhat inaccurately) as a Giant, and he is still often thought of as a "Giant" today.[2]
Iconography
Tityus was a popular subject in ancient art, especially in early Greek vase paintings. He also featured in Etruscan and Roman art, including sculptural reliefs and wall paintings.
In both art and literature, Tityus was represented as overwhelmingly large and strong. His wildness was often highlighted by his unkempt hair or the animal skins he wore. When artists depicted Tityus, they typically showed him abducting Leto; sometimes Apollo and Artemis were also shown coming to their mother's rescue or striking Tityus down.[3]
The famous artist Polygnotus was known to have depicted Tityus' sufferings in Tartarus in an important painting (now lost). According to Pausanias, Polygnotus represented Tityus worn away to a shadow, no longer even being torn apart by vultures.[4]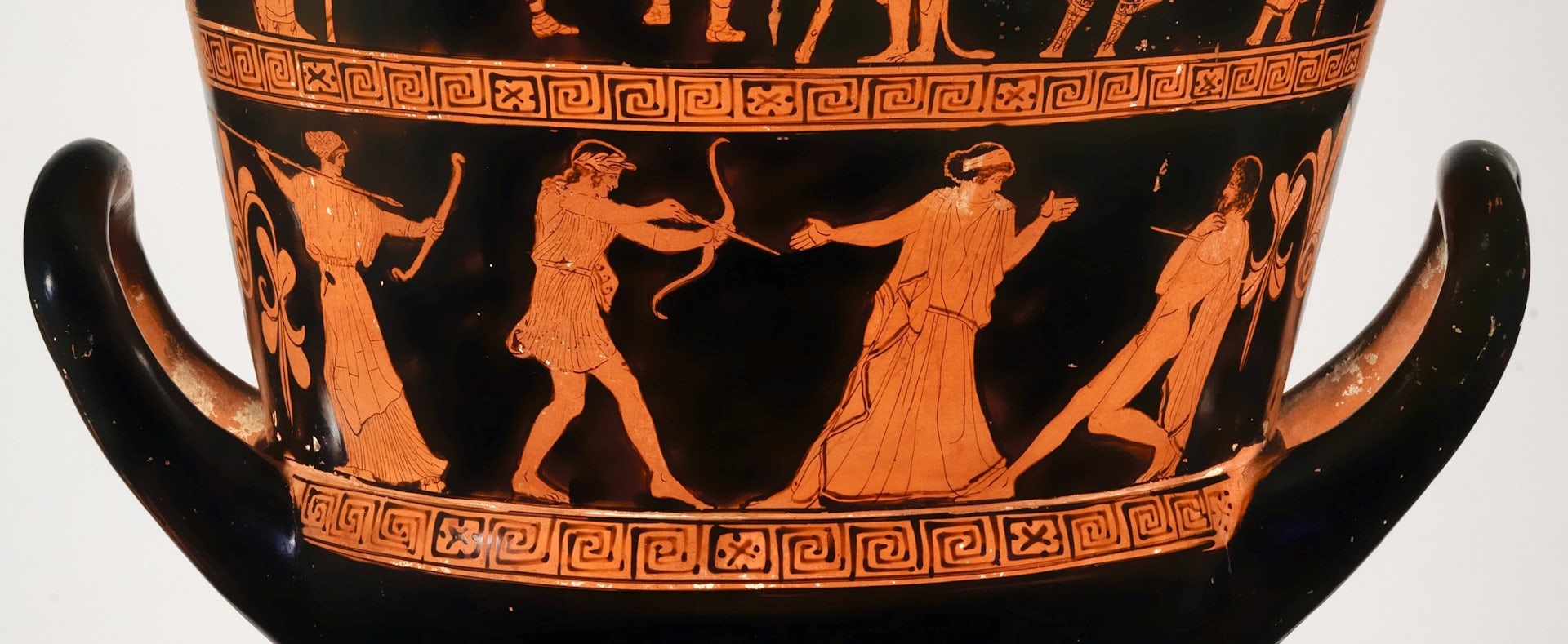 Family
According to the earliest sources, Tityus was a son of Gaia, the primordial goddess of the earth.[5] But in a better-known account, he was the son of Zeus and a mortal woman named Elara (or Alera), the daughter of Orchomenus.[6] Some sources combined these two traditions of Tityus' parentage, claiming that Elara gave birth to Tityus while buried beneath the earth.
According to Pindar, Tityus was the father of Europa, who later became a lover of Poseidon and the mother of the hero Euphemus.[7]
Worship
There was a tomb of Tityus at Panopeus, the site (not far from Delphi) where Tityus was killed while trying to rape Leto. This tomb was a mound with a circumference of some 200 feet.[20] The presence of such a tomb suggests the existence of some kind of local cult that honored Tityus. Tityus also had a heroon (a hero shrine) where he was worshipped.[21]
On the island of Euboea, there was a cave called the "Elarium," named for Tityus' mother Elara. 
Popular Culture
Though Tityus is not as well known as the Greek gods, he has continued to resurface in Western culture, appearing, for instance, in Dante's Inferno. Tityus sometimes also appears in modern pop culture: the "Tomb of Tityus," for instance, is a location in the video game Assassin's Creed: Odyssey that features a huge broken statue of Tityus being tormented by vultures.