Creature
Scylla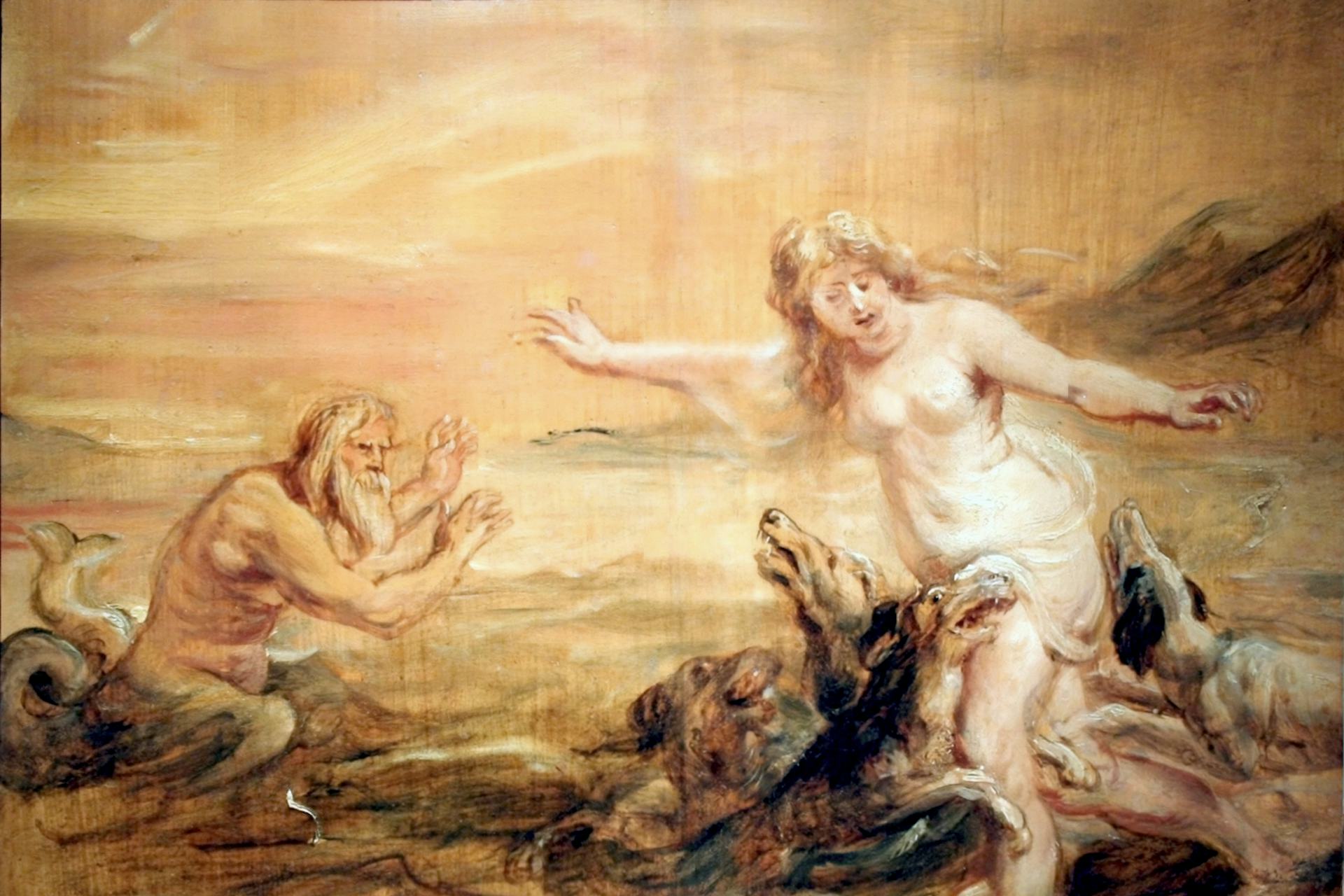 Overview
Scylla was a nightmarish monster of obscure origins. The most common description gave her the body and head of a woman, six long serpentine necks (each ending in a mouth with three rows of teeth), twelve feet, and six dog heads growing out of her waist. 
Scylla lived in the cliffs on one side of a narrow strait, just opposite the whirlpool Charybdis. Any sea creatures or sailors forced to cross the strait needed to make a terrible choice: either pass by Charybdis and risk being sucked into the sea, or pass by Scylla and become a meal for the six darting heads. Scylla featured most famously in the myth of Odysseus' wanderings.
In the earliest traditions, Scylla was simply a monster, born of other monsters. But later sources sometimes claimed that Scylla was originally a beautiful nymph who was transformed into a monster by an envious goddess.
Etymology
The name "Scylla" may be related to the Greek words skylax, meaning "puppy," and skylion, meaning "dogfish."[1] There may also be a connection with the verb skyllō, "to tear apart." Sure enough, Scylla was imagined as a monster with both dog and fish features who tore apart her victims.
Pronunciation
| Phonetic | IPA |
| --- | --- |
| [SIL-uh] | /ˈsɪl ə/ |
Attributes
Locale
Scylla lived in the cliffs of a narrow strait, directly opposite the whirlpool Charybdis. Consequently, anything that passed through the strait—be it sea creature or ship—was doomed to be either swallowed up by Charybdis or attacked by Scylla. The location of this strait was originally said to be somewhere in the west but was later identified with the Strait of Messina, which separates the island of Sicily from mainland Italy.[2]
Appearance
The earliest description of the monster Scylla comes from Homer's Odyssey:
Her voice is indeed but as the voice of a new-born whelp, but she herself is an evil monster, nor would anyone be glad at sight of her, no, not though it were a god that met her. Verily she has twelve feet, all misshapen, and six necks, exceeding long, and on each one an awful head, and therein three rows of teeth, thick and close, and full of black death. Up to her middle she is hidden in the hollow cave, but she holds her head out beyond the dread chasm, and fishes there, eagerly searching around the rock for dolphins and sea-dogs and whatever greater beast she may haply catch, such creatures as deep-moaning Amphitrite rears in multitudes past counting. By her no sailors yet may boast that they have fled unscathed in their ship, for with each head she carries off a man, snatching him from the dark-prowed ship.[3]
Other sources offered variations on this description. Apollodorus, for example, added that Scylla had six dog heads ringing her waist and that her twelve "misshapen" feet were actually dog feet.[4] Hyginus wrote that Scylla was a woman from the waist up, a fish from the waist down, and had six dogs coming out of her middle.[5] Other authors, meanwhile, gave Scylla six heads of various animals (not only dogs),[6] while still others gave her only three heads.[7]
Iconography
In the visual arts, by contrast, Scylla was usually represented as a young and beautiful maiden with mermaid-like features. This gentler Scylla also had fewer serpent necks and dog heads than in the literary tradition (usually three rather than six).[8]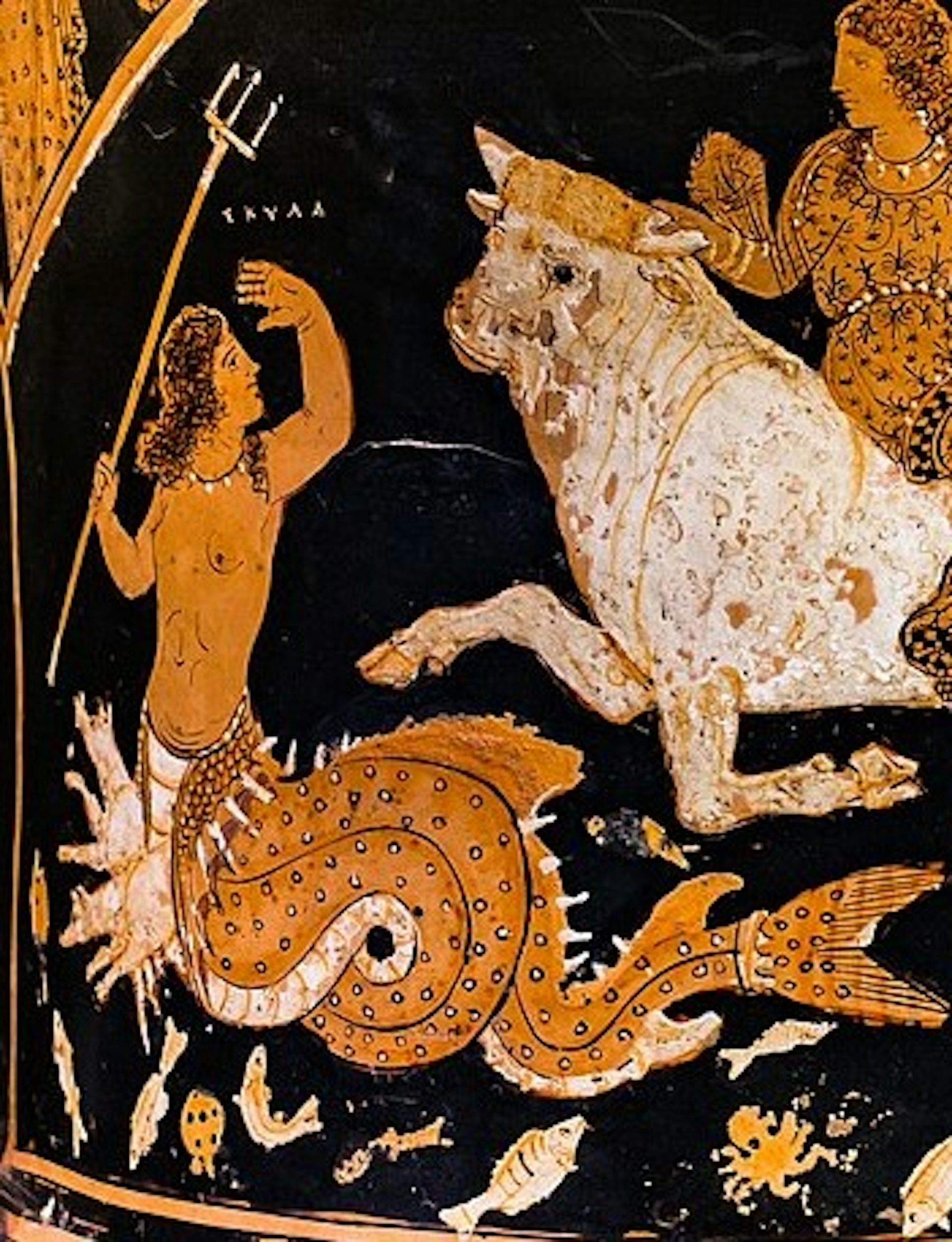 Family
Family Tree
Parents

| Father | Mother |
| --- | --- |
| Apollo, Deimos, Phorcys, Trienos, Triton, Typhoeus, Tyrrhenus | Crataeis, Echidna, Hecate, Lamia |
Pop Culture
Scylla has been featured a few times in modern pop culture. She makes notable appearances in the 1997 miniseries The Odyssey and in Rick Riordan's The Sea of Monsters, the second novel in the Percy Jackson and the Olympians series (adapted into a movie in 2013).