Aztec God
Quetzalcoatl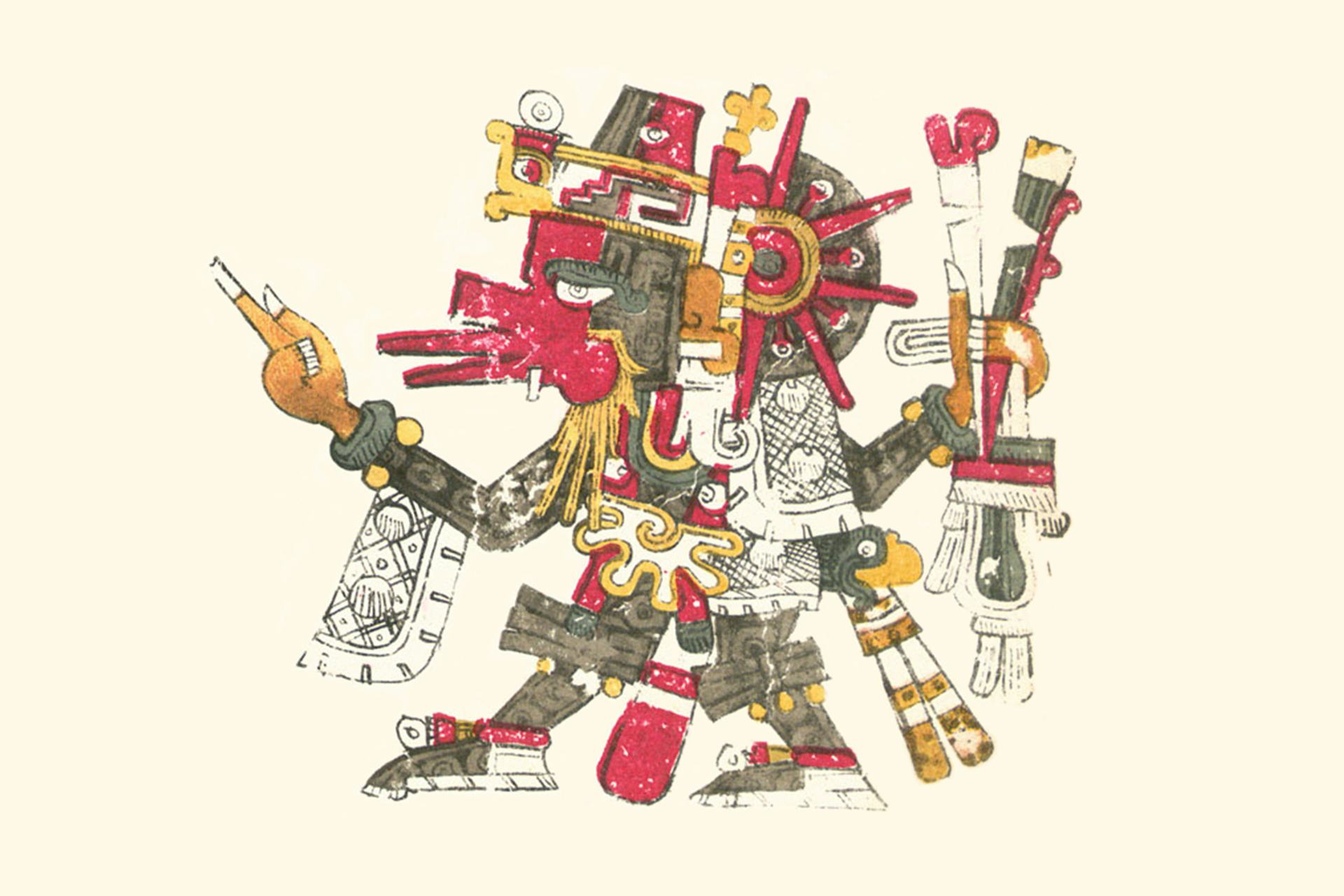 Overview
Quetzalcoatl (pronounced Ket-zal-ko'-wat) was the Aztec version of the Feathered Serpent god that permeated Mesoamerican mythologies. Though he originated as a vegetation god, Quetzalcoatl's role in the Aztec mythos expanded over time.
By the time the Spanish arrived in the New World, Quetzalcoatl was regarded as the god of wind, patron of priests, and inventor of calendars and books. He was also occasionally used as a symbol of death and resurrection.
Etymology
Quetzalcoatl's name, which means "Feathered Serpent," was derived from the Nahuatl words for the quetzal bird and "coatl," meaning serpent. Unlike the newer gods of the Aztec pantheon, Quetzalcoatl shared his namesake with the feathered serpent deities of the K'iche' Maya and the Yucatec Maya. The name of the K'iche' Maya deity Q'uq'umatz meant "Quetzal Serpent" while the Yucatec Maya god Kukulkan translated to the less specific "Feathered Serpent."
Attributes
The Feathered Serpent deity common to much of Central America first appeared in images, statues, and carvings starting around 100BCE.[1] Depictions of the Feathered Serpent usually took the form of a carved snake head placed upon a wall, with further relief carvings depicting feathers or birds. These carvings also included a conch shell, which was a symbol of the wind.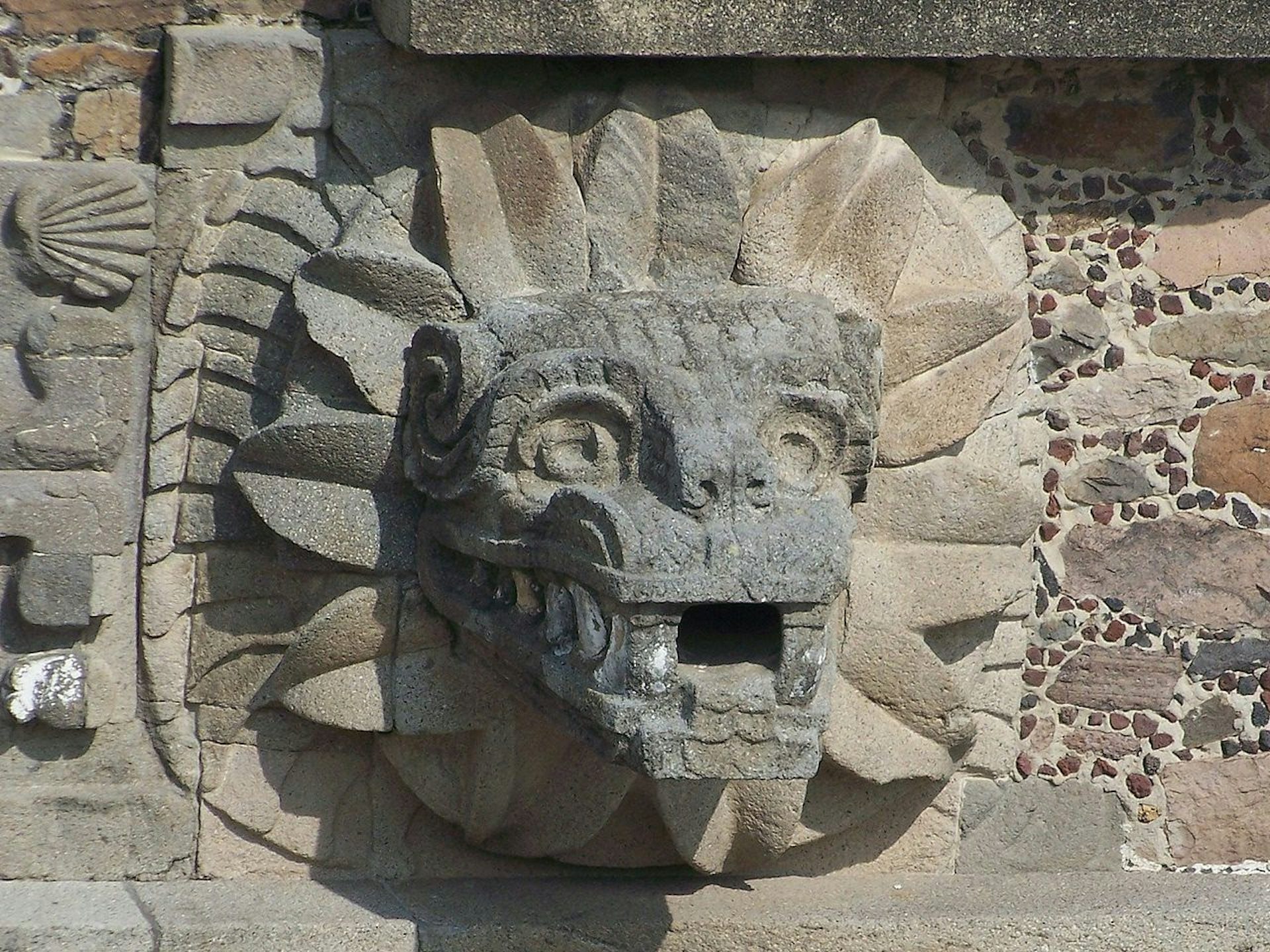 Starting around 1200CE, the manner in which Quetzalcoatl was depicted began to change. From this point on, he was usually portrayed as a man wearing a conical hat, conch shell pectoral brooch, shell jewelry, and red duck-billed face mask.[2]
Family
Quetzalcoatl was the third son of the dual creator god Ometeotl. His older brothers were Xipe Totec and Tezcatlipoca while his younger brother was Huitzilopochtli.
Other legends posited that Quetzalcoatl was the son of the goddess Chimalma. While these stories vary, some said Mixcoatl (the Aztec god of the hunt) impregnated the goddess Chimalma by shooting an arrow from his bow.
In this legend, Mixcoatl shot at Chimalma for spurning his advances. Chimalma caught the arrows in her hand, however, which is how she got her name (which means "Shield Hand"). Chimalma later married Mixcoatl, but the two were unable to conceive. After praying at an altar to Quetzalcoatl and swallowing a precious stone (emerald or jade, depending on the version of the tale), Chimalma became pregnant with Topiltzin-Quetzalcoatl. Also called One-Reed and Ce-Acatl, Topiltzin-Quetzalcoatl founded a dynasty that would last until 1070CE.[3]
Mythology
Quetzalcoatl's role in the Aztec cosmology was complex and multifaceted. While he was responsible for creating humanity and providing them with their staple crops, it was his brother Tezcatlipoca that ultimately ruled the modern era. As with many of his peers, Quetzalcoatl's role has been revised throughout history and was altered to better suit the sensibilities of contemporary Spanish writers, who were trying to comprehend an entirely different way of thinking. Quetzalcoatl was sometimes portrayed as a trickster god, and while his plans did not always work as intended, they did consistently benefit humanity.
Pop Culture
The third president of the Church of Jesus Christ of Latter-day Saints, John Taylor (1808-1887), believed that Quetzalcoatl was Jesus Christ. Taylor wrote that "the story of the life of the Mexican divinity, Quetzalcoatl, closely resembles that of the Savior; so closely, indeed, that we can come to no other conclusion than that Quetzalcoatl and Christ are the same being."[12] It is unclear how widely accepted Taylor's argument was amongst the LDS Church, but Quetzalcoatl is not currently an important part of the LDS belief system.
The pterosaur Quetzalcoatlus northropi was named after Quetzalcoatl. First discovered in 1971, Quetzalcoatlus stood nearly 10 feet tall and had a wingspan of at least 36 feet.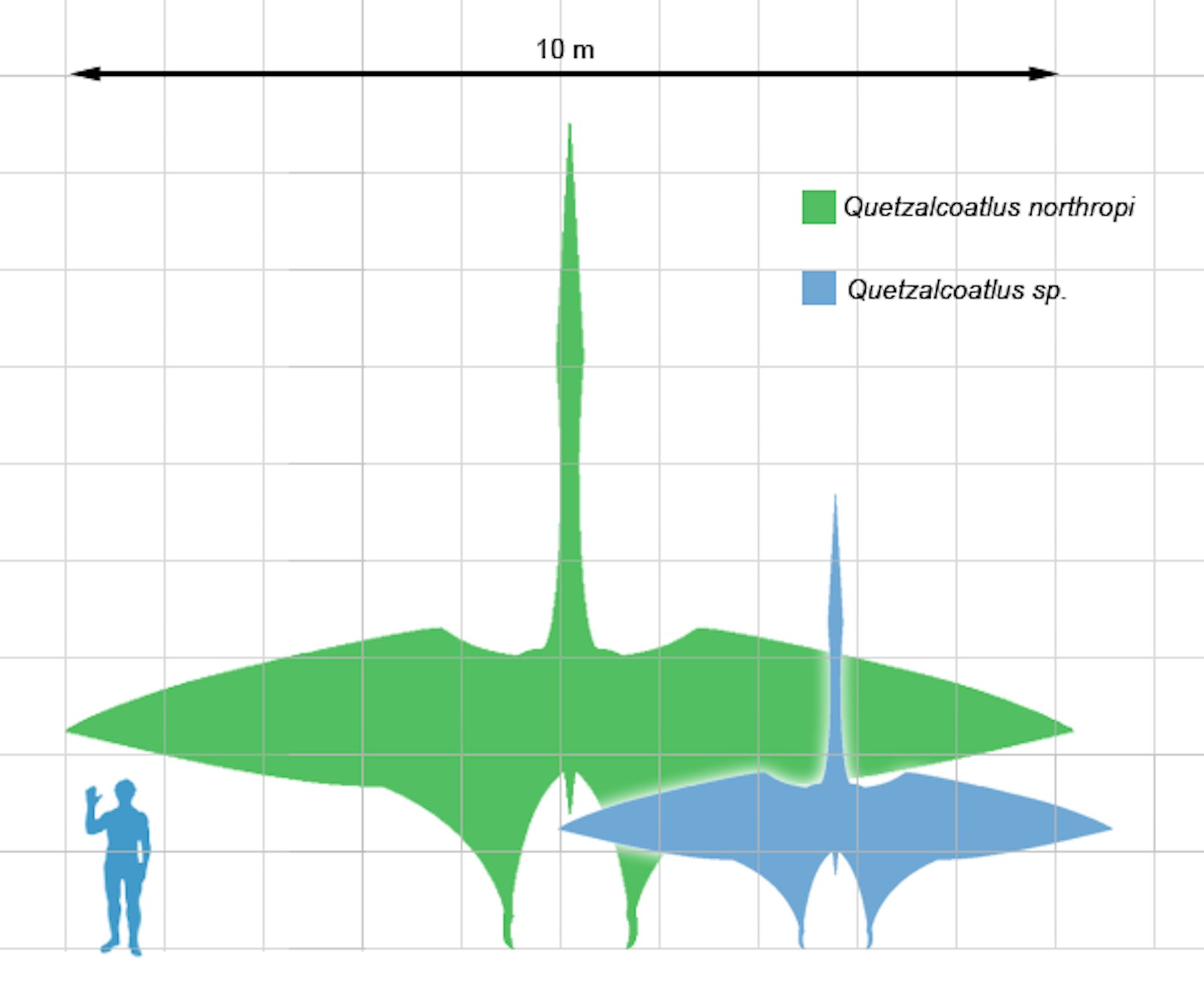 Sir Terry Pratchett's novel Eric included a parody of Quetzalcoatl in the form of a demon named Quezovercoatl. Quezovercoatl was described as being "half man, half chicken, half jaguar, half serpent, half scorpion, and half mad" for a total of "three homicidal maniacs."[13]
The Nuevo Laredo International Airport (NLD) in Taumilaupas, Mexico, was also known as the Quetzalcoatl International Airport.
In the Final Fantasy video game series, Quetzalcoatl was a recurring summon or creature. While his artwork changed considerably since he was first included in Final Fantasy VIII, he was consistently portrayed as a flying, lightning-like creature. Quetzalcoatl has appeared in Final Fantasy VIII, XII, and XV, as well as the Final Fantasy trading card game.