Greek Titan
Prometheus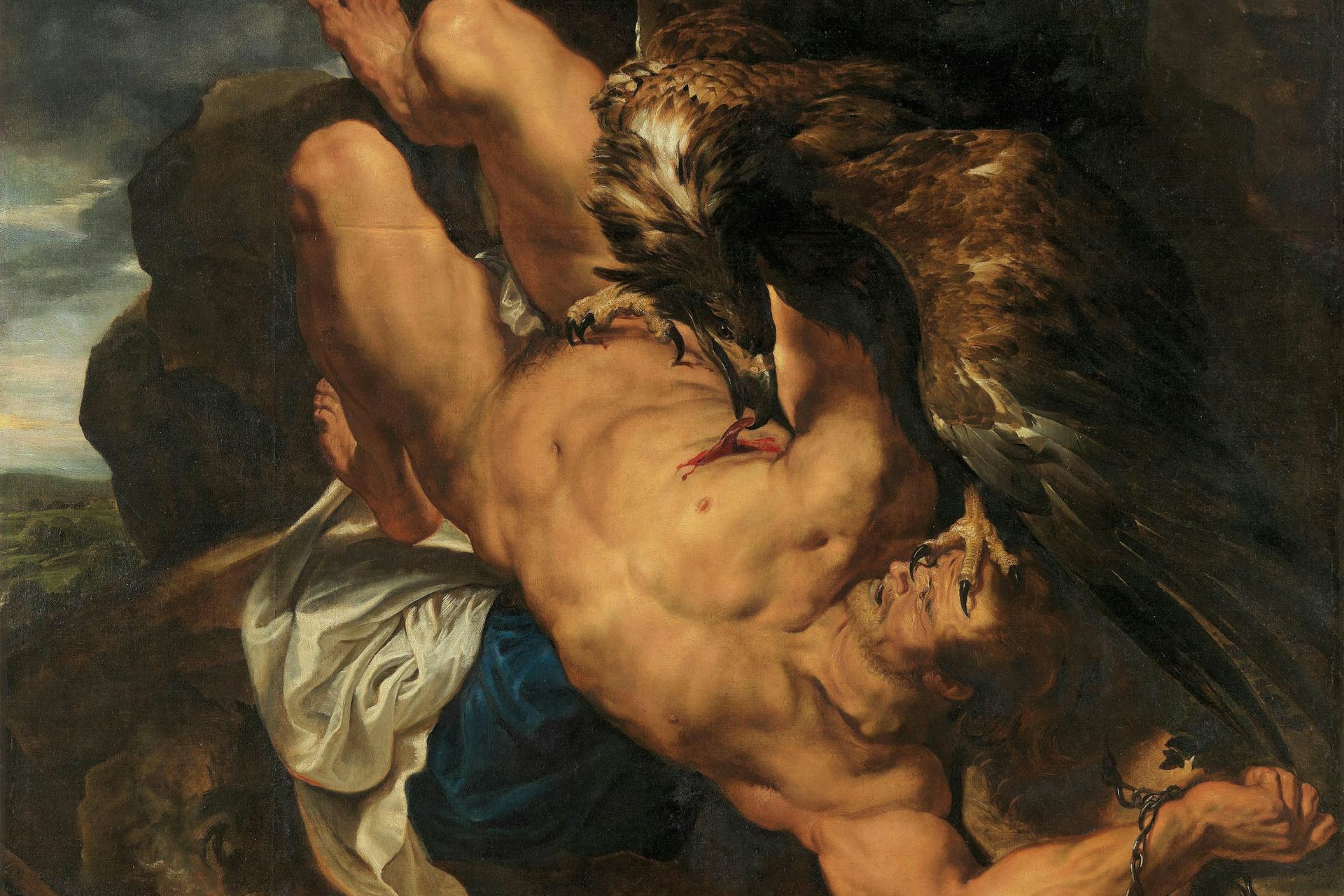 Overview
Prometheus, son of Iapetus, was a crafty Titan who acted as a benefactor of the first humans, giving them fire in defiance of the mighty Zeus. For this crime, he was fastened to a rock, where an eagle ate his liver every day for all eternity. Prometheus was also the father of the mortal Deucalion, a hero who helped to repopulate the world after a great flood nearly destroyed mankind.
For the Greeks and many who followed, Prometheus was revered as a champion of humanity, as well as a fount of wisdom, reason, and knowledge. In Athens, the center of his ritual observance, he was credited as the bringer of not only fire but also metallurgy as well. Alongside Athena and Hephaestus, Prometheus was celebrated by the city in connection with technology, craft, and the civilized arts.
Etymology
The name "Prometheus" (Προμηθεύς, translit. Promētheús) stemmed from the Greek prefix προ- (pro-), meaning "before," and the verbal root μηθ-/μαθ- (mēth-/math-), meaning "to think" (itself derived from the Indo-Germanic root *mendh-/*men-, also meaning "to think").[1] Prometheus is thus often translated as "forethinking"—one who knows or thinks about something before others. This name could be indicative of Prometheus' role in bringing fire and metallurgy to humanity. It also distinguishes Prometheus from his brother Epimetheus, whose name is conversely translated as "afterthinking."
Another possible etymology, derived from Indo-European linguistics, argues that the name actually originated from the Sanskrit root math-, meaning "to steal."[2] In this case, "Prometheus" thus refers to his theft of fire rather than to his intellectual capacities.
Pronunciation
| English | Greek |
| --- | --- |
| Prometheus | Προμηθεύς (translit. Promētheús) |

| Phonetic | IPA |
| --- | --- |
| [pruh-MEE-thee-uhs, -thyoos] | /ˈprəˈmi θi əs, -θyus/ |
Epithets
Prometheus was given a handful of epithets in Greek literature, including πυρφόρος (pyrphóros, "fire-bearer") and αἰπυμήτης (aipymḗtēs, "lofty-minded").
Other Names
According to Hesychius of Alexandria, a scholar of the fifth or sixth century CE, Prometheus was also called Ithas or Ithax (though in some traditions Ithas/Ithax was a distinct figure).[3]
Attributes
Prometheus was known above all for his shrewd intelligence and cunning. During the Titanomachy, which pitted the Titans against the Olympian deities, Prometheus betrayed his brethren and sided with Zeus. However, this prudent choice of allegiance did not mean that Prometheus' actions were always well advised. According to Hesiod, Prometheus was guilty of hybris ("insolence" or "hubris") in trying to outwit Zeus. 
This ended poorly for the Titan, who is most commonly remembered for his gruesome punishment: Prometheus was chained to a cliff and had his liver torn out each day by an eagle. Because Prometheus was immortal, his liver would grow back, only to be torn out anew the next day.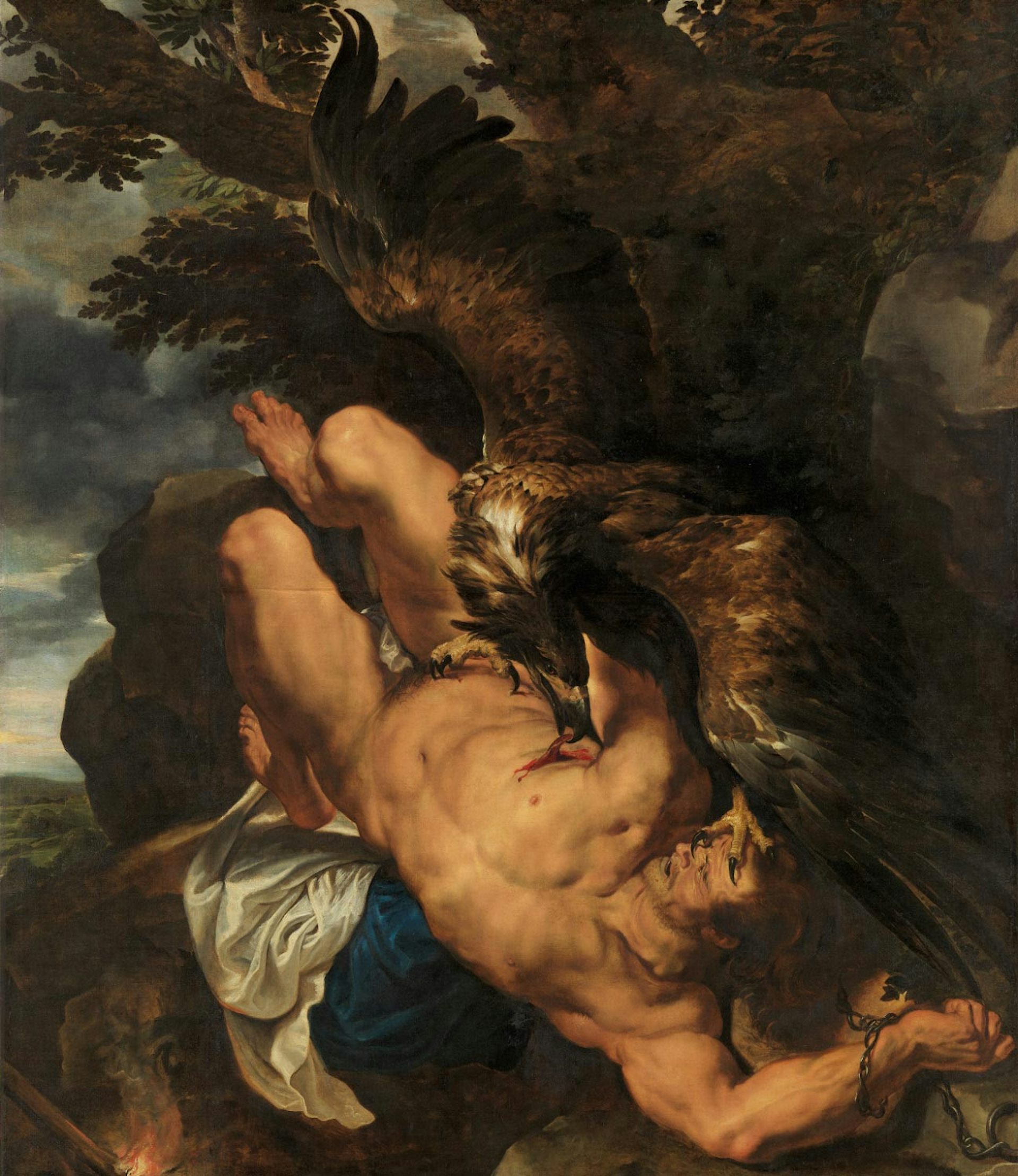 In ancient art, Prometheus was often depicted chained to his rock or being released from the rock by Heracles. Scenes showing him stealing fire or creating human beings are less common and only began to appear in later historical periods.[4]
Family
In the best-known traditions, Prometheus was the son of the Titan Iapetus and the Oceanid Clymene.[5] There were, however, other versions in which Prometheus' mother was Asia (also an Oceanid)[6] or Themis.[7] His brothers included Epimetheus, Monoetius, and Atlas, but also, according to some traditions, Anchiale,[8] Buphagus,[9] and Dryas.[10]
Different sources list different wives for Prometheus. These include Asia,[11] Axiothea,[12] Celaeno,[13] Clymene,[14] Hesione,[15] Pandora,[16] Pryneia,[17] and Pyrrha.[18]
Worship
Despite his prominent role in their mythology, Prometheus was seldom worshipped by the ancient Greeks. His cult was largely limited to Athens, where, alongside Hephaestus and Athena, he served as part of an unofficial triumvirate of deities associated with technology and culture.
The Athenians erected an altar to Prometheus in the grove outside the Academy, a key learning center founded by Plato in the fourth century BCE.[36] This altar served as the starting point for torch races held in honor of Prometheus during the Panathenaea, an Athenian civic festival held every four years, as well as during the Prometheia, the festival of Prometheus.[37]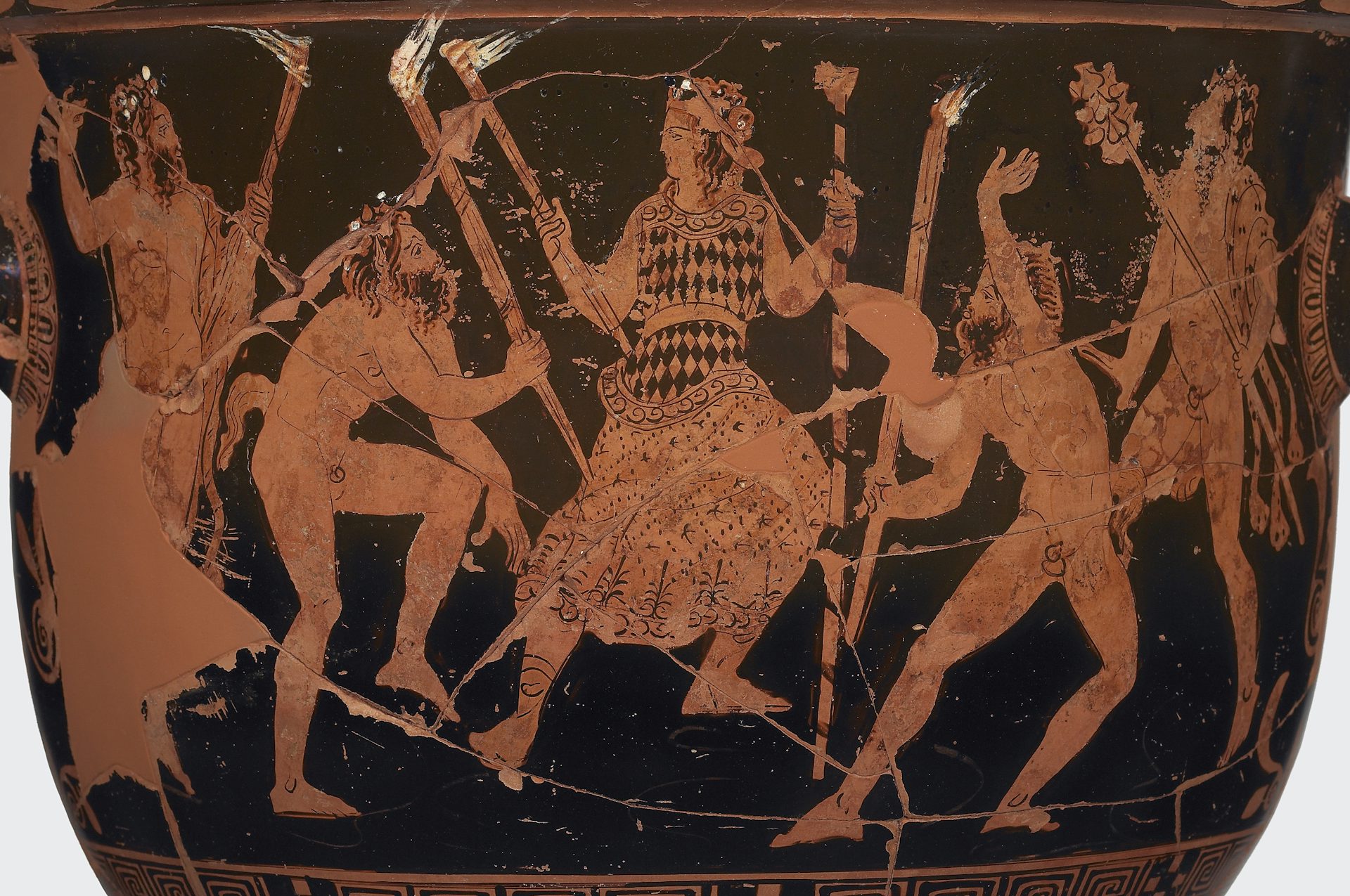 Outside of Athens, tombs of Prometheus were worshipped in the cities of Opus and Argos.[38] There was also a statue of Prometheus in Panopeus,[39] as well as a mystery cult in Thebes that was said to have been founded by Prometheus and his son.[40]
Pop Culture
One of the most popular figures from Greek mythology, Prometheus still thrives in modern pop culture. Unlike other ancient figures, he has enjoyed a continuous presence in the public imagination, from the Classical era to the present day.
Prometheus was a central figure in the Romantic movement in art and literature, which celebrated the unrestrained and mysterious powers of nature and man. In Johann Wolfgang von Goethe's 1789 poem "Prometheus," for example, the Titan rages against Zeus for crafting a fallen world. In Mary Shelley's Frankenstein (1818), the author channels themes implicit in Prometheus' theft of fire—namely, the dangers of pursuing knowledge beyond our reach (the novel's alternative title is, appropriately, "The Modern Prometheus"). 
Prometheus also appears in literary works by Percy Bysshe Shelley, Franz Kafka, and Ayn Rand, among others. Joseph Campbell used Prometheus in his analysis of hero archetypes, comparing Prometheus' torment to that of Jesus, as both figures suffered for humanity.
Ridley Scott's 2012 film Prometheus explores many of the same themes as Shelley's Frankenstein. In this Alien prequel, the search for humanity's origins leads scientists to a distant planet, where they discover the vestiges of an alien race called the Engineers who not only created life on earth, but also tried to destroy it by unleashing deadly Xenomorphs.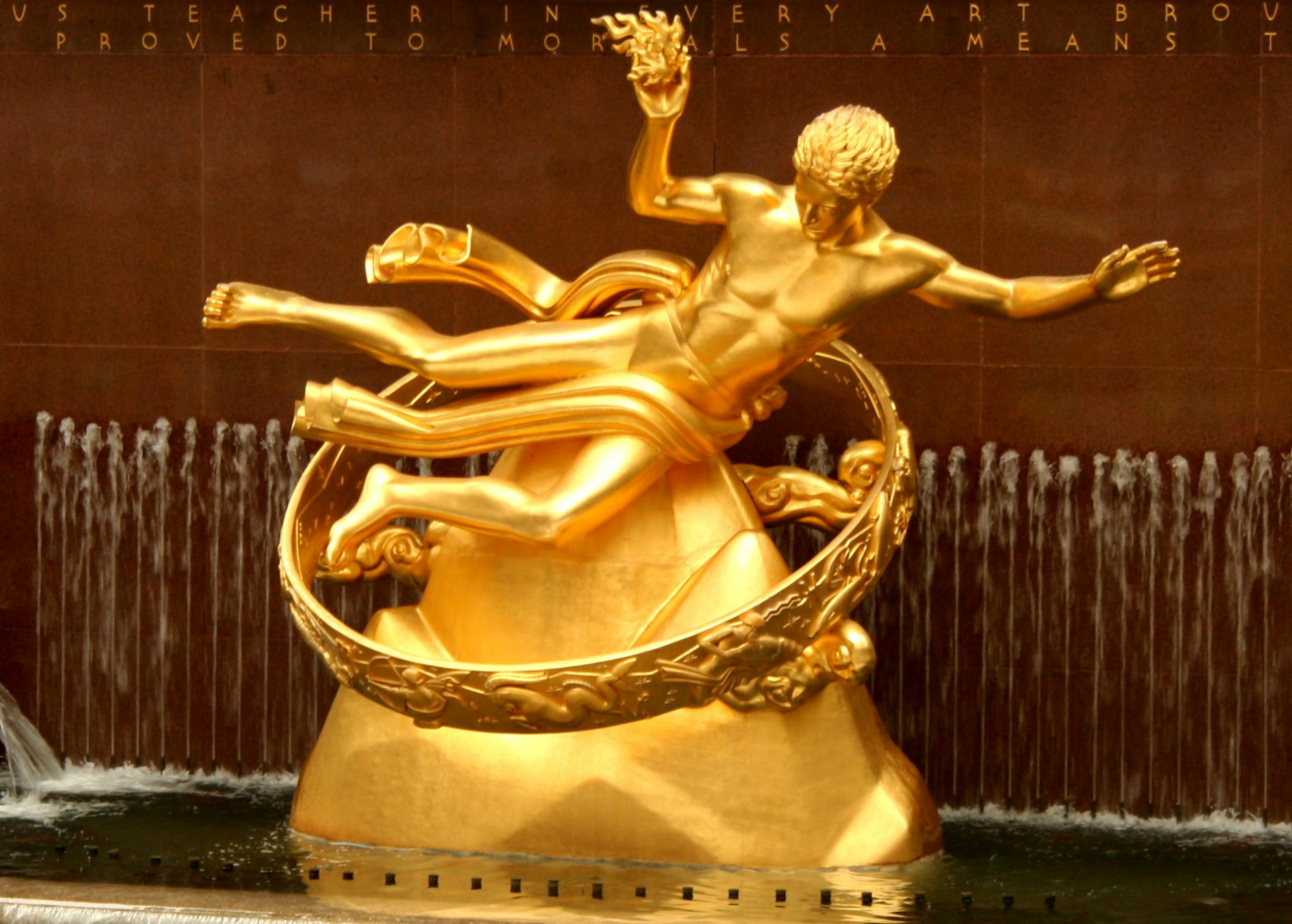 Prometheus has appeared in other media as well, such as the television show Hercules: The Animated Series and the video game God of War II. In the latter, player avatar Kratos frees Prometheus from his confinement and thereby earns "the Power of the Titans."
Finally, Prometheus has a scientific legacy: the rare element promethium (atomic number 61) was named after him.