Greek God
Poseidon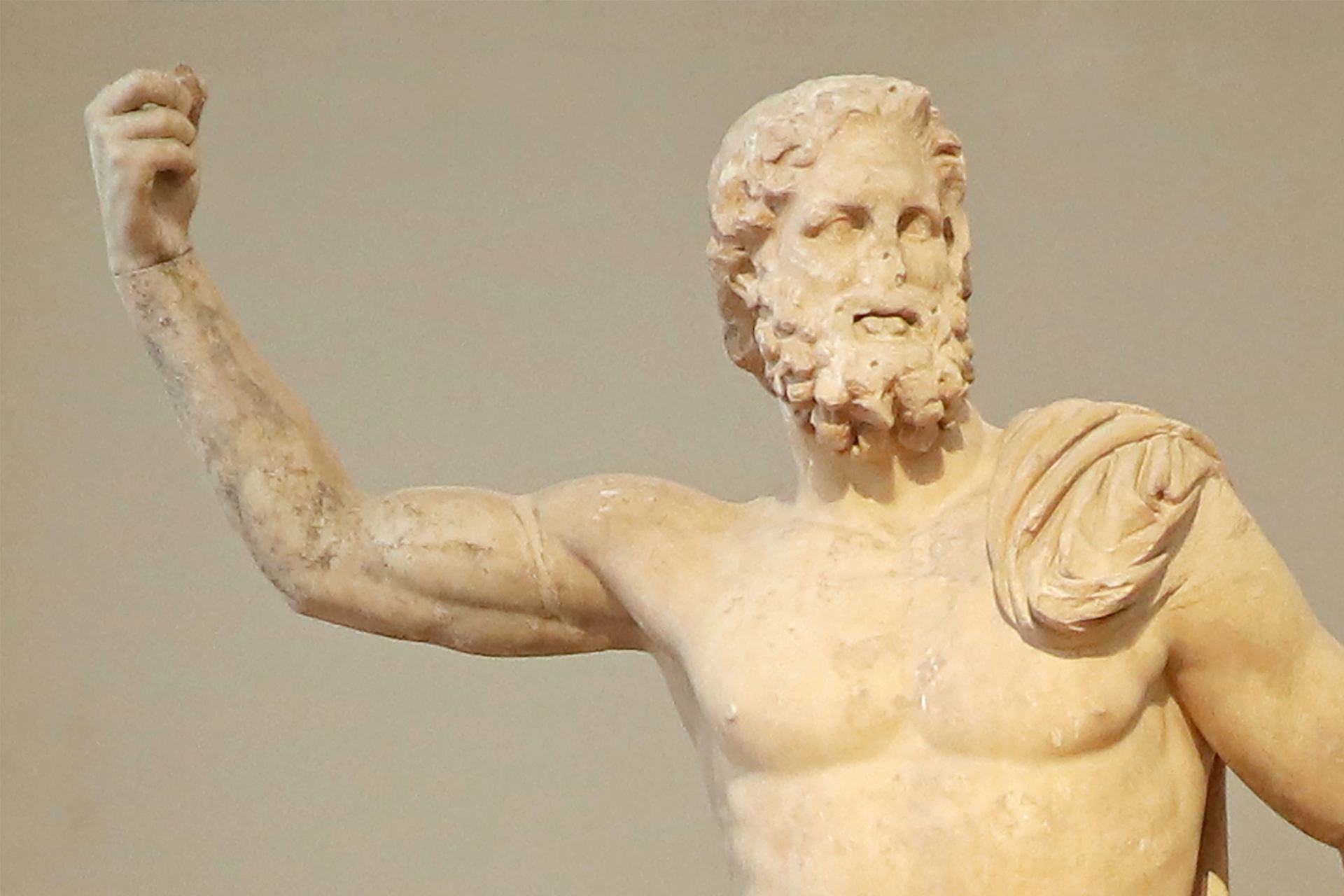 Overview
One of the chief Olympian deities, Poseidon was a defiant god whose power was second only to that of Zeus. Although he was chiefly known as god of the sea and seafarers, his power extended to other domains, including earthquakes and horses/horsemanship.[1] Worshipped across the entirety of the Greek world, Poseidon had particularly strong followings in seafaring city-states such as Athens and Corinth.
Poseidon was as unruly as the seas he was thought to control. An instigator, a firebrand, and a rebel, Poseidon figured prominently in Greek mythology thanks to his resistance to Zeus' control over the pantheon. He was also well known for his disruptive influence over human affairs in Homer's the Iliad and the Odyssey. Stories of Poseidon provided the Greeks with some illusion of control over the one domain they could never fully master—the sea.
Etymology
Poseidon was present in Greek religion from the earliest times: he was already well attested in the Mycenaean period (ca. 1600–1100 BCE). Originally written in a script called Linear B, which predates the Greek alphabet, the name appears in Mycenaean texts as Po-se-da-o or Po-se-da-wo-ne. 
The name "Poseidon" likely has roots in two distinct words. The first of these is the Greek word posis, itself derived from the Proto-Indo-European root *pótis. Both words mean "husband," "lord," or "master." 
Some uncertainty surrounds the second linguistic element of Poseidon's name. One interpretation holds that it comes from the root da-, meaning "earth" or "land," which would make "Poseidon" translate to "lord of the earth," or perhaps even "husband of the earth." This latter translation indicated an association with the earth goddess Demeter. Indeed, the oldest Mycenaean Greek references to Poseidon pointed to an intimate—though imprecise—relationship with Demeter, and possibly Persephone.[2]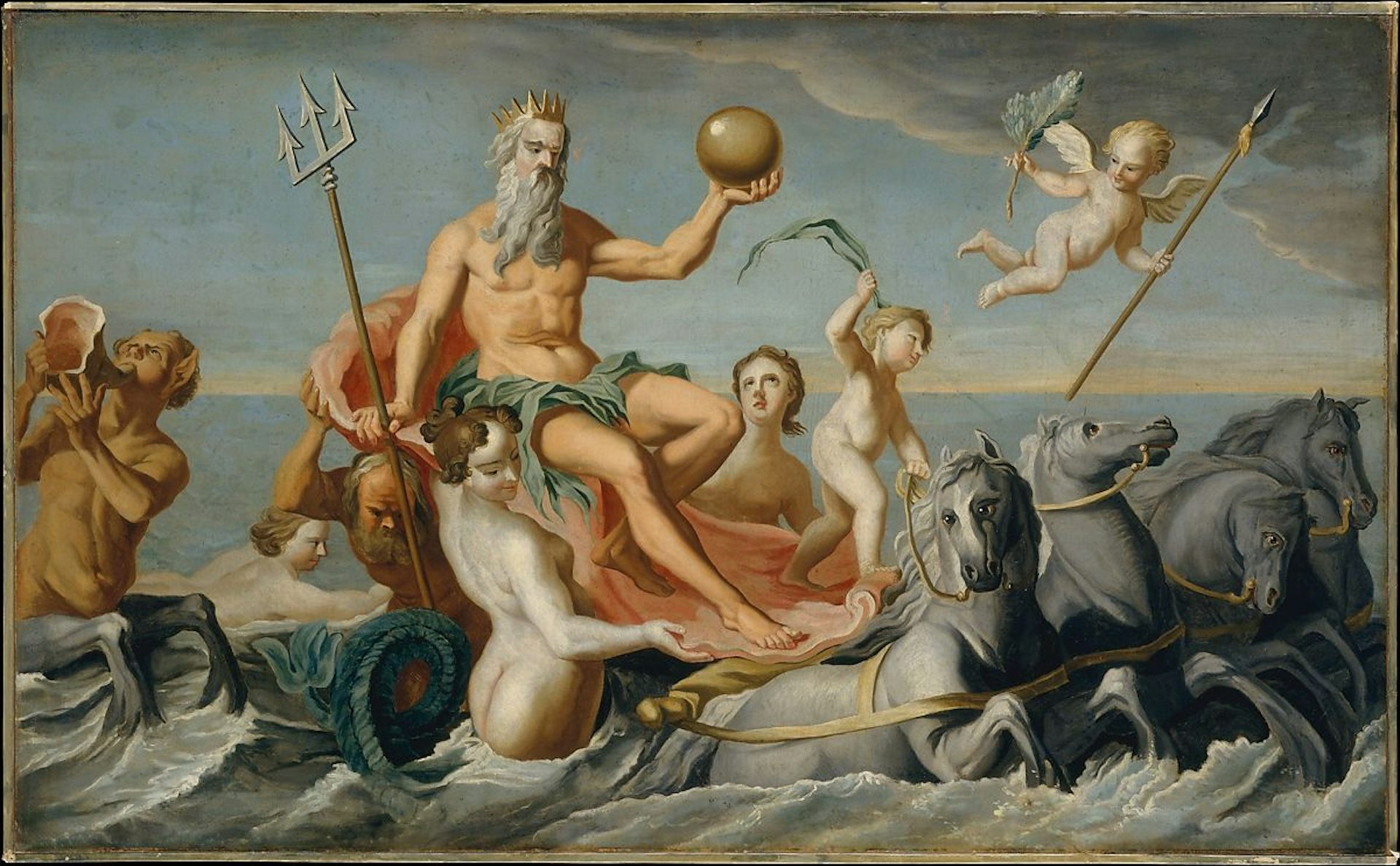 The second interpretation suggests a link to the word dâwon, or "water," which would make "Poseidon" translate to "lord of the waters." This was an attractive translation as it linked Poseidon's name with the sea.[3] This association may be misleading, however, as none of the early Mycenaean references to Poseidon indicated that the god held any association with the ocean, water, or sea. Indeed, Poseidon's main Bronze Age cult title was E-ne-si-da-o-ne, or "Earth-Shaker." 
Nowadays many scholars consider the origins of the name Poseidon to be pre-Greek, and possibly not even Indo-European.[4]
Pronunciation
| English | Greek |
| --- | --- |
| Poseidon | Ποσειδῶν |

| Phonetic | IPA |
| --- | --- |
| [poh-SAHYD-n, puh-] | /poʊˈsaɪd n, pə-/ |
Other Names
There were a few dialectic variations of Poseidon's name in ancient Greece. In Homeric Greek he was called Ποσειδάων (Poseidaōn); in Aeolic he was Ποτειδάων (Poteidaōn); and in Doric he was Ποτειδάν (Poteidan), Ποτειδάων (Poteidaōn), and Ποτειδᾶς (Poteidas).
Epithets
Poseidon's most important epithets were related to his capacity not as god of the sea but as god of earthquakes—hence his titles Enosichthōn or Ennosigaios ("earth-shaker"). He was also called Gaiēochos ("he who holds the earth"). 
Other epithets attest to Poseidon's role as god of the sea. These include Kyanochaitēs ("dark-haired"), Pelagios ("belonging to the sea"), and even Phykios ("full of seaweed").
Finally, Poseidon was also called Hippios ("horseman") because of his close association with horses.
Attributes
Poseidon was usually depicted as a mature god, powerfully built and bearded. His signature weapon was the trident, a three-pronged spear with which he did battle, mastered the sea, and caused earthquakes. 
A god of horses, Poseidon was often pictured riding a chariot drawn by hippocampi—part-horse, part-snake creatures that glided across the waves. Poseidon was also associated with other animals of both land and sea, including dolphins, seahorses, tuna, and bulls.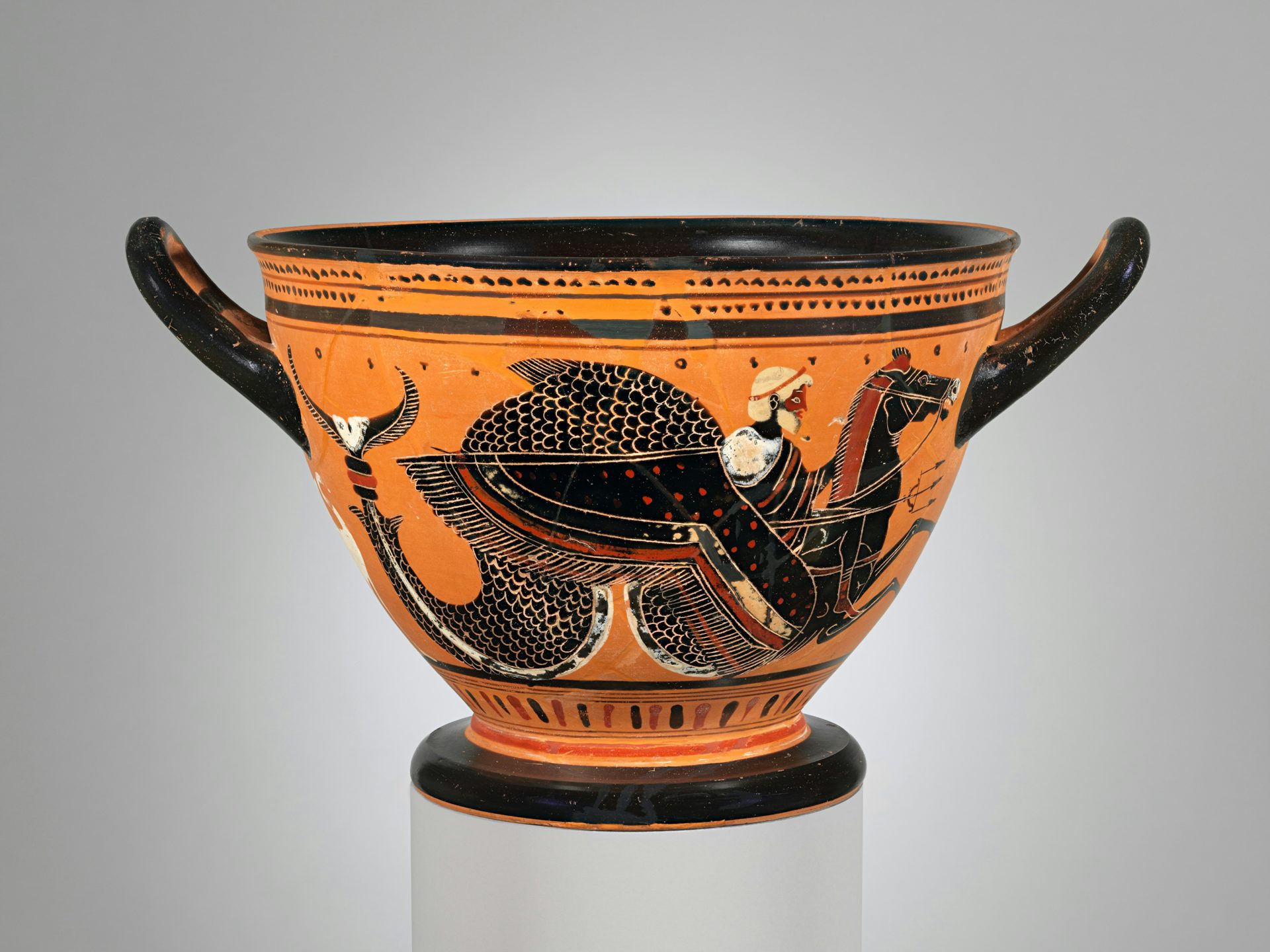 In addition to his residence on Mount Olympus with the other gods, Poseidon was said to possess beautiful undersea palaces adorned with coral, pearls, and gems. He owned a stable of magnificent horses as well as numerous herds of horses throughout Greece. 
Family
Poseidon wed Amphitrite, one of the nymphs known as the Nereids and a figure long associated with the sea (and salt water in particular). Together, they had three children: the merman Triton; Benthesicyme; and Rhodos, the patron goddess of Rhodes and future wife of Helios.[5]
Like other male deities, Poseidon was celebrated for his many infidelities and violent sexual conquests. Among his numerous illegitimate offspring were some of the most legendary figures in Greek mythology. With his grandmother Gaia, he sired the giant Antaeus, who did battle with Hercules during the Twelve Labors, and Charybdis, a sea monster that lurked in the straits of Messina and formed massive, relentless whirlpools to suck in unexpecting travelers. He also reproduced with Aphrodite[6] and his sister Demeter. According to some traditions, he sired two children with the latter, including a small talking horse named Arion.[7]
Poseidon also raped Medusa in the temple of Athena. This union was ultimately responsible for the birth of the winged horse Pegasus and the giant Chrysaor; these two creatures burst from Medusa's neck after Perseus lopped off her head. 
In addition to goddesses, Poseidon courted nymphs such as Thoosa, who gave birth to the fearsome Cyclops Polyphemus.[8] Polyphemus would terrorize the cunning Odysseus on his way home from Troy, with dire consequences. 
Poseidon also sought the pleasures of mortal women, with whom Poseidon fathered various heroes and other important mythical personalities. Among Poseidon's most famous children were Theseus,[9] Bellerophon,[10] the hunter Orion, Otus and Ephialtes (who tried to storm Olympus), the twins Pelias and Neleus, and the shape-shifting Proteus. 
Poseidon was regarded as the ancestor of several important ethnic groups and cities in the ancient world. His sons Minyas and Boeotus, for example, were founding figures in the central Greek region of Boeotia; his son Aeolus was the founder of Aeolia; another son, Eumolpus, was an early Thracian king who was killed in a war with the Athenians.
Family Tree
Parents

Siblings

Consorts

Children

Daughters

Sons

Triton

Aloads

Antaeus

Chrysaor

Neleus

Orion
Worship
Temples
Poseidon held temples throughout the ancient Greek world, but the most important ones were located at Corinth, Helice (in Achaea), and Onchestus (in Boeotia). 
There was an altar to Poseidon in the Erechtheion in Athens, a shrine dedicated to one of the city's early founders and kings. Near this shrine was the spring that Poseidon was said to have created when he and Athena competed for the city. It was thought that a stone by the spring still bore the sign of Poseidon's trident where the god had once smote it.[20]
Many of Poseidon's temples were built on the coast or on capes and islands. One remarkably well-preserved example is the Temple of Poseidon on Cape Sounion, about 43 miles southeast of Athens.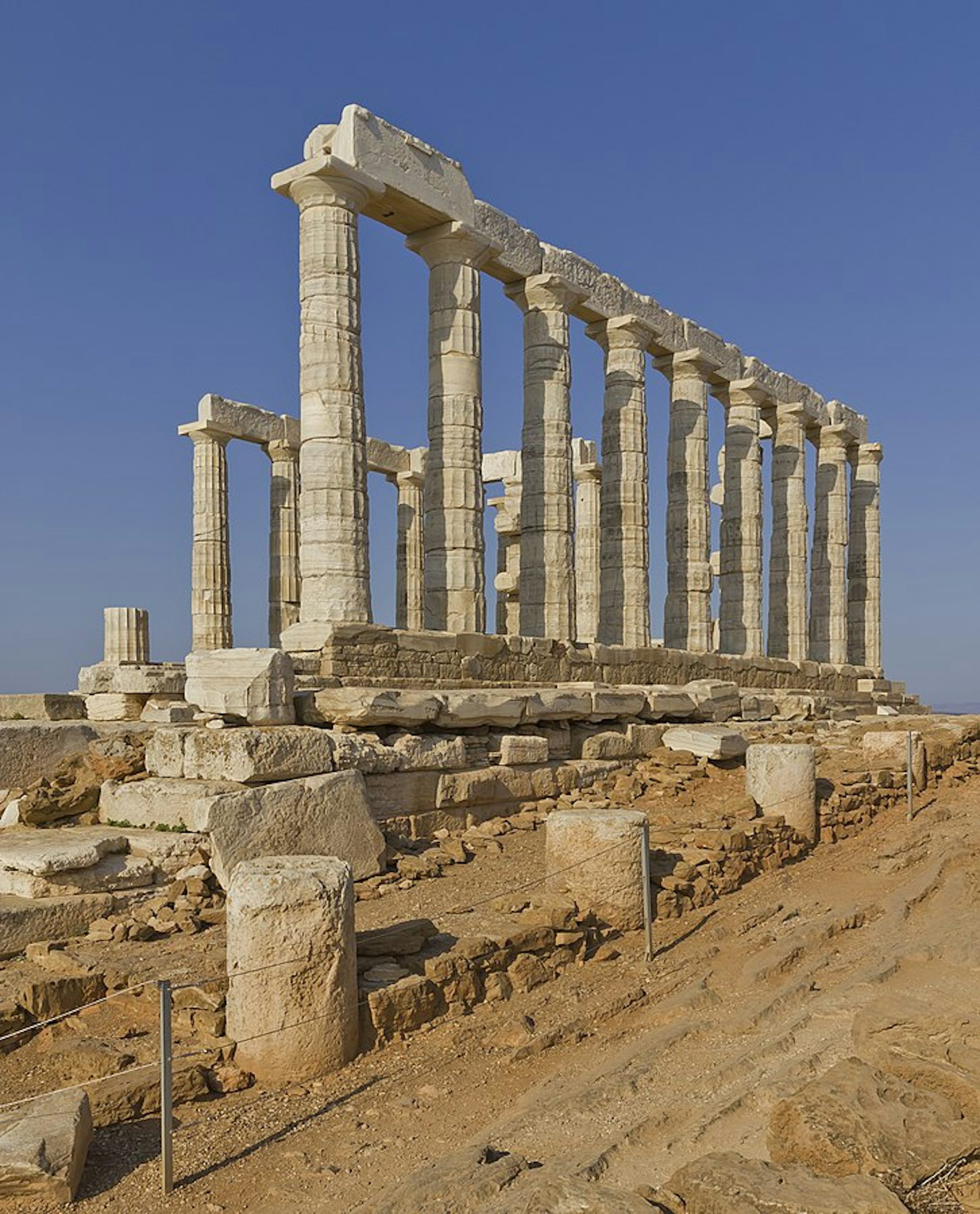 Festivals
The most important of Poseidon's festivals were the Isthmian Games, one of the four major Greek athletic festivals (the other three were the Olympic Games and Nemean Games, both in honor of Zeus, and the Pythian Games, in honor of Apollo). These were held every two years near the great Temple of Poseidon in Corinth. Participants would compete in various athletic and musical competitions for the first prize, which was a crown of celery leaves.
Poseidon was also worshipped throughout the Greek world with sacrifices of bulls, other livestock, and even horses.[21] Horse sacrifices were unusual in Greece, but Poseidon was, after all, the god of horses (hence his title Hippios). There are also vase paintings showing that tuna were sometimes sacrificed to Poseidon.
Pop Culture
Thanks to his central role in the Homeric epics, Poseidon has maintained a lively presence in contemporary popular culture. There have been many film and television versions of the Iliad and the Odyssey, and Poseidon is often featured as a main character. 
Poseidon briefly appears in the Disney animated films Hercules (1997) and The Little Mermaid (1989); in the latter he takes the guise of the benevolent King Triton, also known as Neptune (the Roman version of Poseidon).
The sea god also figures prominently in Percy Jackson and the Olympians, a book series by Rick Riordan in which Poseidon plays the father of the eponymous hero. 
Poseidon has frequently appeared in popular video games, including the God of War and Assassin's Creed series. 
Poseidon is also the subject of many vivid, colorful, and dramatic internet illustrations on forums such as Pinterest. In these popular manifestations, Poseidon has maintained much of his ancient masculine vigor. Often appearing heavily muscled and bearded, he can be seen wielding his fearsome trident, rising menacingly out of the frothy seas, and intimidating his opponents into submission.