Greek Hero
Oedipus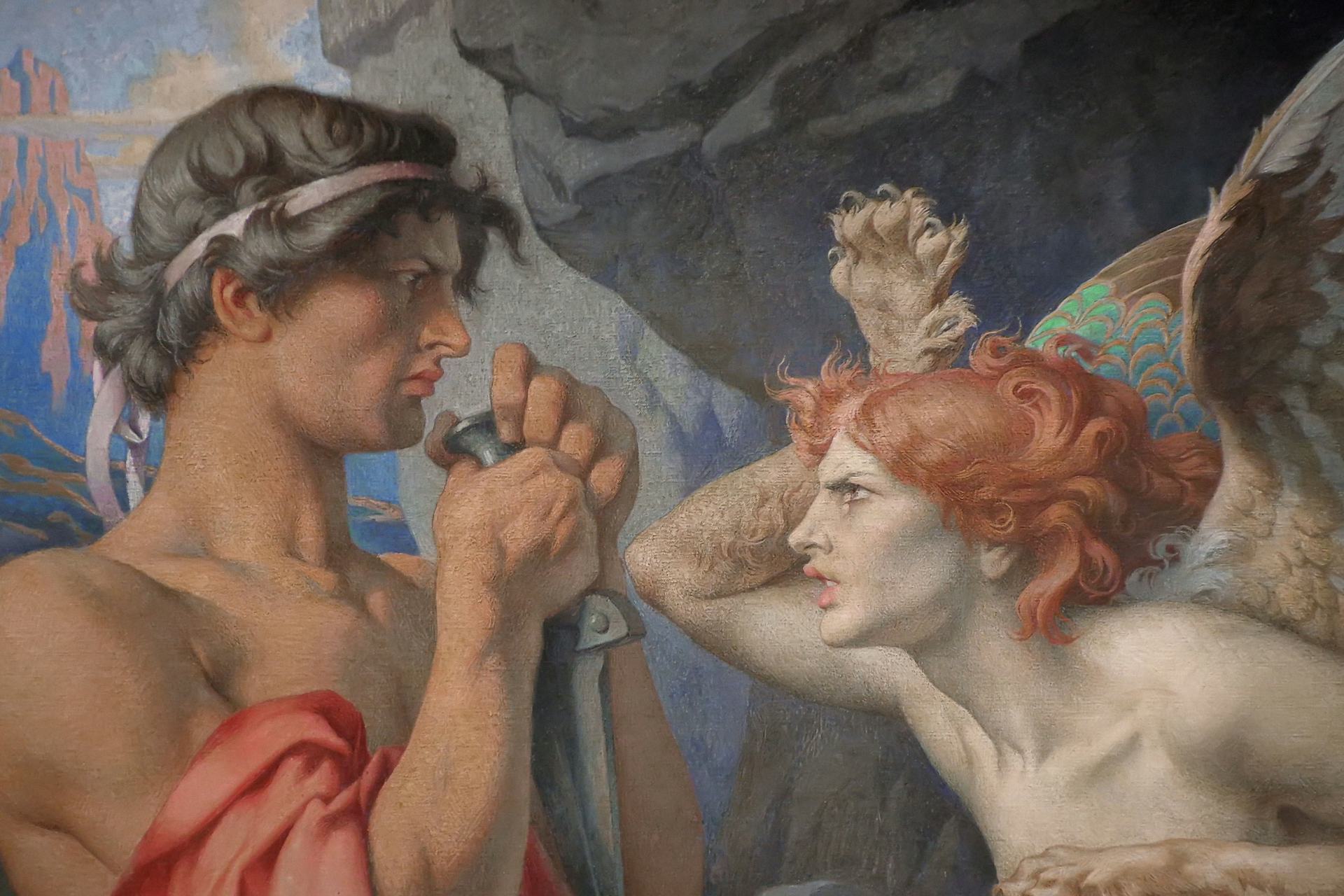 Overview
Oedipus was the son of Laius, a king of Thebes, and his wife Jocasta (or Epicasta, according to some sources). When Laius learned from an oracle that he was destined to die at the hands of his son, he left the newborn Oedipus to die in the mountains. But Oedipus was rescued and raised by Polybus, the king of Corinth. Once he reached adulthood, Oedipus set out on a journey, during which he quarreled with and killed an old man, defeated the Sphinx, and became the king of Thebes by marrying the widow of the late king.
Oedipus soon discovered, however, that the old man he had killed on his travels was none other than his true father, Laius, and that the woman he had married was his mother, Jocasta. Horrified, Oedipus blinded himself and went into exile. Because of this sharp reversal in fortune, Oedipus is often remembered as the great "tragic hero" of Greek mythology.
Etymology
The name "Oedipus" is derived from the Greek verb oideō, meaning "to swell," and the noun pous, meaning "foot." Oedipus' name thus translates to "he who has a swollen foot." This etymology is reflected in the myth that Oedipus' ankles were pierced when he was abandoned as a baby.[1]
An alternative etymology derives the name from the verb oida, "to know" (rather than oideō, "to swell"), so that Oedipus' name means "he who knows feet." This is also related to his mythology, for the famous "riddle of the Sphinx," which Oedipus solved, was about feet.
Pronunciation
| English | Greek |
| --- | --- |
| Oedipus | Οἰδίπους |

| Phonetic | IPA |
| --- | --- |
| [ED-uh-puhs, EE-duh-] | /ˈɛd ə pəs, ˈi də-/ |
Alternate Names
There are a handful of variants of Oedipus' name, including Oedipos, Oedipodos, and Oedipoun.
Family
Oedipus' father was Laius, a king of Thebes. His mother was usually named as Jocasta,[2] though ancient sources did not all agree on this name: Homer, for example, called Oedipus' mother Epicasta.[3] In some traditions, Laius fathered several other children, including the Sphinx, with various concubines.[4]
After being raised in Corinth by Polybus and his wife (whose name was either Merope,[5] Periboea,[6] or Medusa[7]), Oedipus found his way back to Thebes and unknowingly married his own mother.
Worship
There were tombs and hero cults of Oedipus in the region of ancient Attica, including in Colonus and Athens itself.[29] Oedipus was also worshipped in other parts of the Greek world, including Sparta, the island of Thera,[30] and the Boeotian town of Eteonus.[31]
Pop Culture
In modern pop culture, Oedipus is perhaps best remembered through Sigmund Freud's concept of the "Oedipus complex." Freud used the myth of Oedipus (specifically, Sophocles' version) to illustrate the male's unconscious desire to become the sole object of his mother's love by killing his father. The Oedipus complex remains a famous and central tenet of psychoanalytic theory.
The myth of Oedipus has also been adapted for the arts. He was a strangely popular figure in the 1960s, a decade that saw the release of at least two films based on the Oedipus myth: Oedipus Rex (1967), from Italian director Pier Paolo Pasolini, and Oedipus the King (1968), starring Christopher Plummer in the titular role. Rota Otimi's novel The Gods Are Not to Blame (1971) is an adaptation of the myth set in a Yoruba kingdom (originally published as a play in 1968).