Norse God
Odin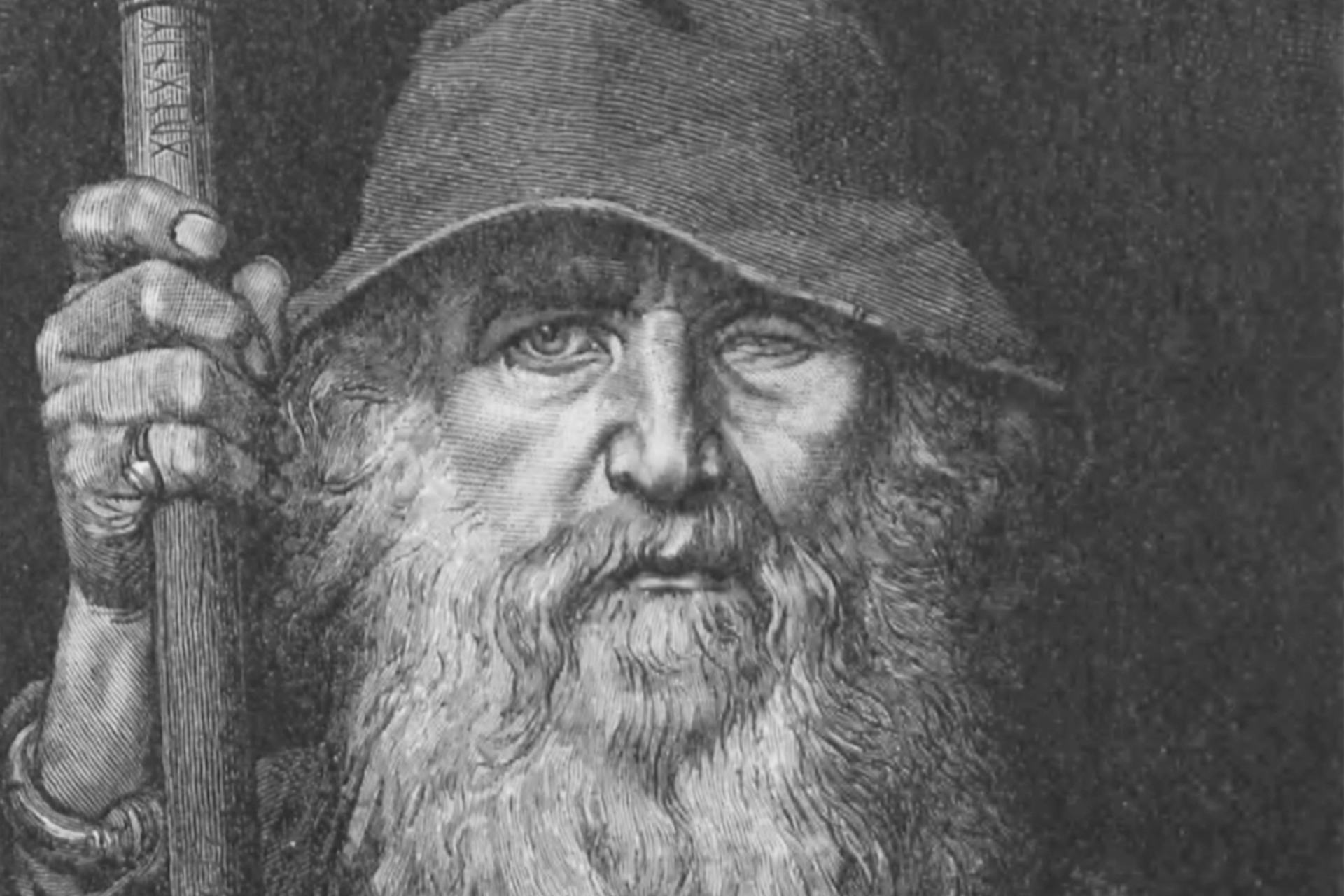 Overview
Widely worshiped by the Germanic peoples of the Middle Ages, Odin, furious lord of ecstasy and inspiration, was the highest of deities and the chief of the Aesir tribe of gods and goddesses.
Known as "all-father," among many other epithets, Odin was usually depicted with one eye and a long beard. He would often be accompanied by his familiars—the wolves Geri and Freki, and ravens Huminn and Muninn—and rode an eight-legged horse named Sleipnir.
Befitting his kingly stature, Odin was also a mighty warrior—it was said that he never lost a battle; there were even some who believed he could not lose a battle.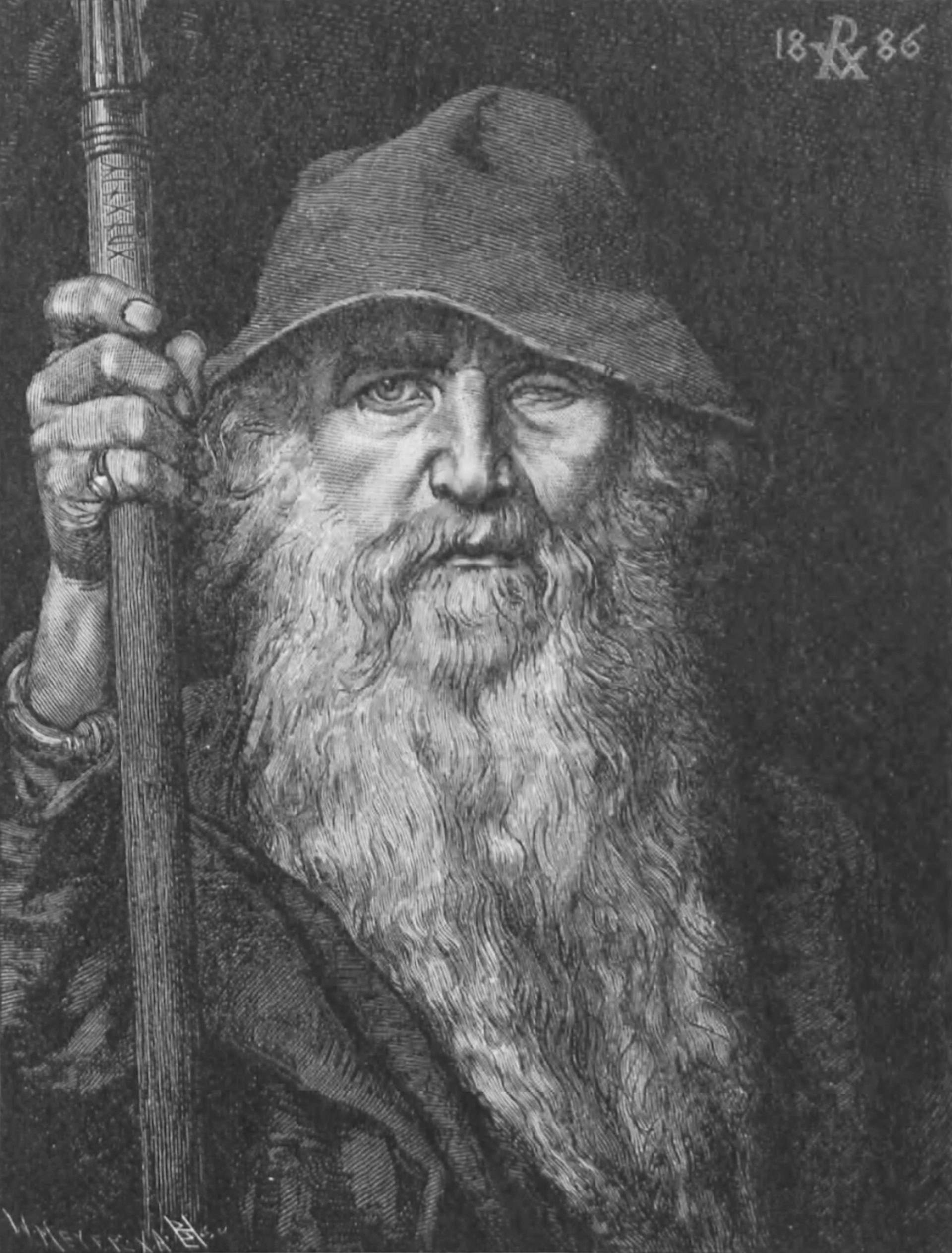 Despite his military prowess, Odin defied many conventions of the warrior-king archetype so highly idealized by the Norse. While Odin kept his court in the hall of Valhalla located in Asgard—one of the Nine Realms in Norse mythology—he preferred to wander in the guise of a traveler.
He sought knowledge above all else—of his enemies and the future—and courted shamans, seers, and necromancers in order to attain it. He spoke in poetry and riddles and commanded beasts, even taking their forms upon occasion. Though hero gods, such as the mighty Thor, fought with brute strength and bravado, the trickster god Odin dismissed these tools in favor of craft and cunning.
Etymology
The name "Odin," rendered in the Old Norse as Óðinn, derived from two words: óðr, meaning "fury, rage, passion, ecstasy, or inspiration," and the masculine definite article suffix -inn. The name has been translated to mean "the Fury." The German chronicler Adam of Hamburg proposed this as a literal translation in his eleventh-century work, the History of the Archbishops of Hamburg-Bremen.[1] Other translations included "the furious," "the passionate," "the inspired," and, more appropriately, "the inspiring." Odin was thought to inspire fury, passion, and ecstasy even as he was defined by such traits.
The name fit Odin's character nicely, as a kind of inspired fury and passion permeated his many thoughts and actions. In all his personae—as warrior and king, shaman and seer, traveler and trickster—Odin channeled a focused intensity and single-mindedness of purpose. Such focus was a boon; knowledge, magic, and war—among other domains over which Odin held sway—all necessitated such intensity.
Odin was recognized and commonly referred to in other Germanic languages: he was known as Wōden in Old English, Wōdan in Old Saxon, and as Wuotan and Wotan in Old German. The god's name also lent itself to the word "Wednesday," meaning "Wōden's day."
Attributes
Odin's chief attributes were his wit, wile, and wisdom. Having cultivated the magical arts of seidr, the set of rituals enabling foresight, Odin could see the future and commune with spirits and the dead. He was also a shapeshifter who could take the form of snakes, eagles, and other powerful creatures. Additionally, Odin spoke in poetic verse and had the power to bewitch humans into committing deeds outside their characters.
Odin was often depicted with a staff or spear, but otherwise wielded no specific weapons. On multiple occasions, he consulted with the decapitated and embalmed head of Mimir which revealed many secrets to him. His magnificent throne Hlidskjalf offered a complete view of all Nine Realms.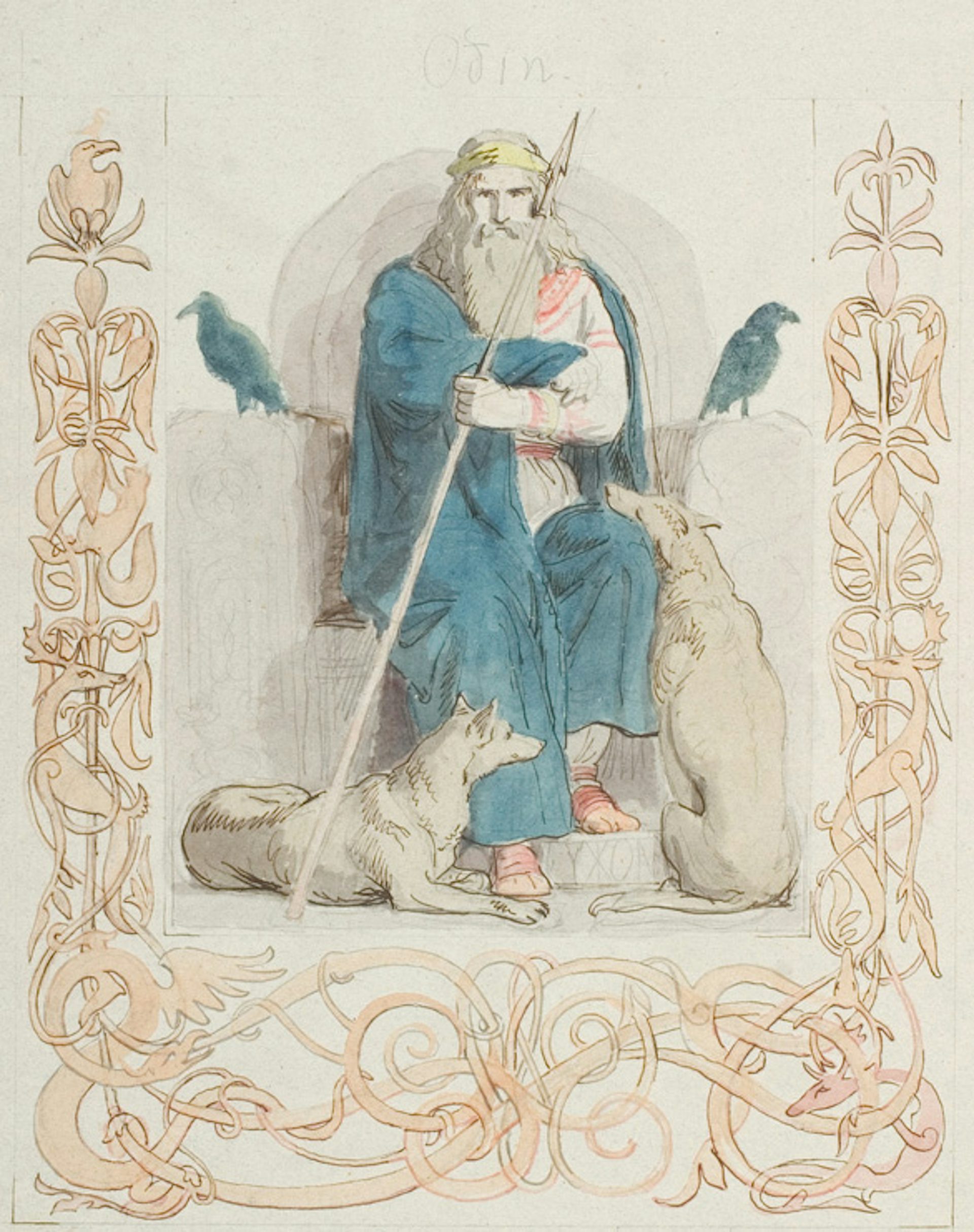 Odin's familiars were the wolves Geri and Freki, who traveled alongside their master and scoured battlefields for the corpses of fallen warriors. Odin also kept a pair of ravens known as Huninn and Muninn. These ravens served as spies and informers, leaving each morning to travel the nine worlds and returning each night to tell Odin of all they saw.
Family
Although much about Odin's origins has remained obscure, consensus held him to be the son of the Bestla and Borr. Bestla, his mother, was a frost giant, one of the races of the jötnar, or non-human creatures that included dwarves, elves, trolls, and giants. While little was known about Odin's father Borr, Borr's father Buri was licked out of a salty ice formation by a magical cow. According to Snorri Sturluson, Icelandic author of the Prose Edda (also known as the Younger Edda and Snorri's Edda):
She [the cow] licked the ice-blocks, which were salty; and the first day that she licked the blocks, there came forth from the blocks in the evening a man's hair; the second day, a man's head; the third day the whole man was there. He is named Búri: he was fair of feature, great and mighty. He begat a son called Borr...[2]
Bestla and Borr had two more children, boys called Vili and Vé. As Sturluson succinctly continues:
...[Búri] begat a son called Borr, who wedded the woman named Bestla, daughter of Bölthorn the giant; and they had three sons: one was Odin, the second Vili, the third Vé.[3]
In later life, Odin married Frigg (also Frija, Fria, and Frige), a goddess associated with wisdom, forethought, and divination; Frigg was likely connected to the goddess Freya. With Frigg, Odin sired a son, Baldur (a name meaning "lord"), who was known as the wisest and fairest of the Aesir.
According to most traditions, Odin fathered children with many other women. With the jötunn Jord, Odin had Thor, the hammer-wielding god who commanded thunder, lightning, and storms. With Gridr, another of the jötnar, he had the vengeful Vidarr, who according to prophecy was to rescue Odin from the brink of death during Ragnarök. With the giant Rindr, Odin fathered Váli, whose chief purpose was to avenge the death of Baldur.
Less reliably, Odin was also said to have fathered Tyr, Heimdall, Bragi, and Hodr. Although modern manifestations of Odin, particularly those in Marvel comic books and movies, have depicted him as the adoptive father of the mischief-maker Loki, this claim was never made in any sources of Norse mythology. Loki was, however, sometimes described as the brother or half-brother of Odin.
Mythology
As the "all-father" and chief god of the diverse Norse pantheon, Odin figured prominently in all of the central mythological traditions—from the creation of the first humans and the Aesir-Vanir War that united the gods into a single pantheon, to the prophecies of Ragnarök marking the end of time.
Pop Culture
In the nineteenth century, the emergence of German nationalism stimulated a revival of Germanic culture and a rediscovery of its mythic history. Odin, among other gods and heroes of old, was brought back into the realm of popular culture and has remained there ever since.
In recent years, Odin has been featured prominently in many pieces of popular media. In Neil Gaiman's novel American Gods (2001), Odin appeared as the character Wednesday and recruited Old Gods to battle against the New Gods. He also appeared in the God of War video game series.
Perhaps the most accessible manifestation of Odin was seen in the Marvel comic book franchise, where Odin was featured as the father of Thor. In the Marvel Cinematic Universe, Odin was portrayed by Anthony Hopkins and has appeared in several films. In these movies, as with most modern depictions of Odin, the all-father was cast as a wizened old leader who ruled benevolently over Asgard, fought honorably against various cosmic foes, and generally dispensed fatherly wisdom.
These representations revealed the ways in which Odin, the "all-father," has become confused with other patriarchal deities, such as Zeus from Greek mythology. In reality, Odin ruled with great cynicism, fought dishonorably through trickery and subterfuge, and was seldom the fatherly figure he has become in recent years.