Aztec God
Huitzilopochtli
Overview
The famed Aztec god of war, Huītzilōpōchtli (pronounced Weet-zee-lo-pocht'-lee) was the patron god of the Mexica people and a key figure in the creation of the Aztec cosmogony. Huitzilopochtli led the Aztec people to Tenochtitlan, a fact that was not easily forgotten: half of the city's Templo Mayor was dedicated to him.
Fallen warriors and women who died in childbirth were thought to become a part of his retinue. After accompanying Huitzilopochtli for a period of four years, the fallen warriors would be reborn as hummingbirds.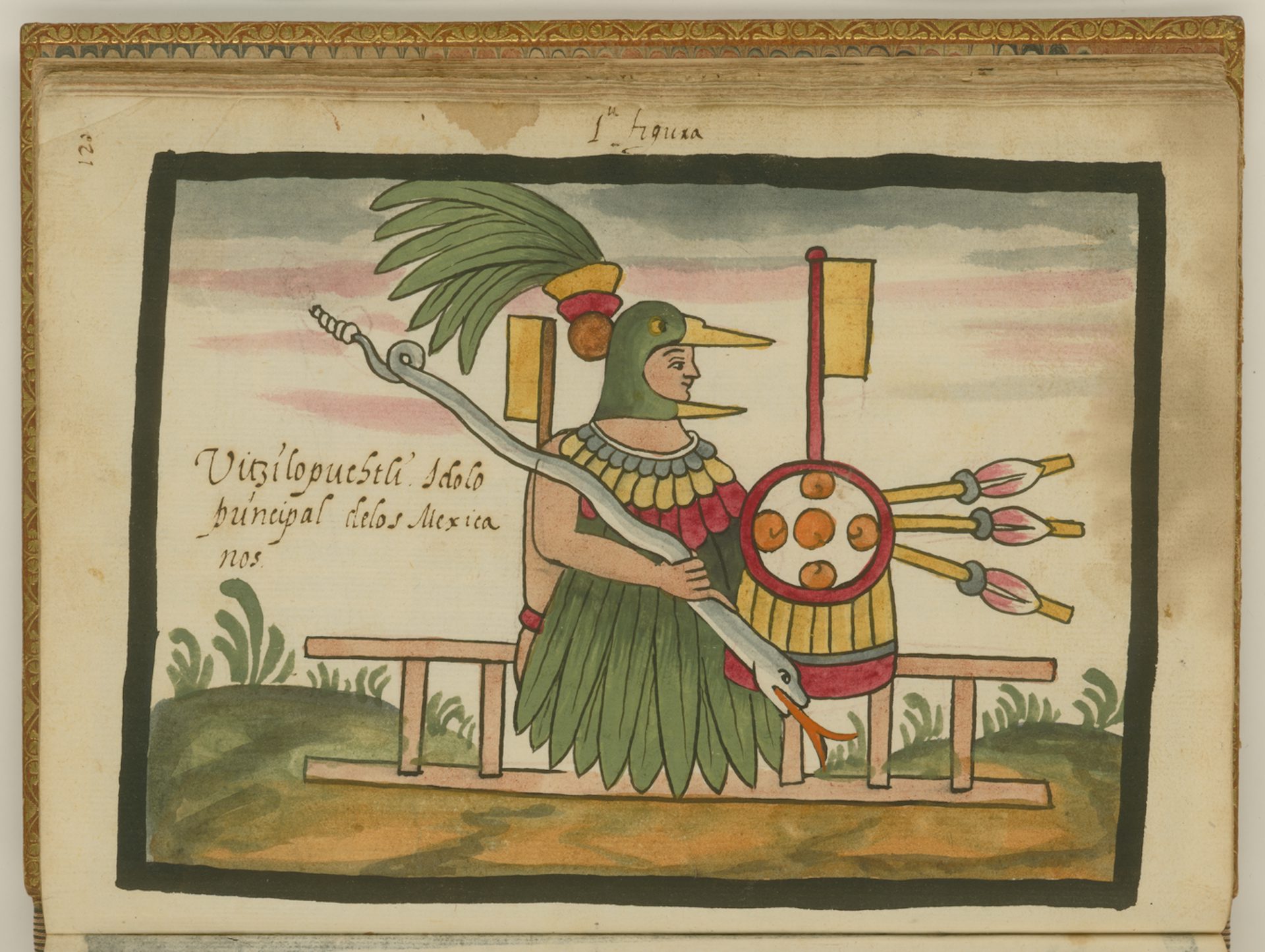 Etymology
Translated literally, Huītzilōpōchtli's name meant "Hummingbird's Left," or "Hummingbird on the Left." For a while, scholars suggested this should be taken to mean "left-handed hummingbird." Most modern scholars disputed this translation, however, noting that in Aztec cartographic tradition south was depicted to the left. As hummingbirds were thought to be reincarnated warriors, the implied meaning of the name was adjusted to "Reincarnated Warrior God from the South."
Attributes
Befitting his status as a god of war, Huitzilopochtli was believed to be an immensely powerful warrior. He wielded a shield, war darts, and Xiuhcoatl (a lightning-like fire serpent) as a spear. Despite his awesome martial prowess, the Aztecs believed that Huitzilopochtli could be defeated. Legends held that the god of war would one day meet his match, and that his fall would mark the end of the Aztec empire.[1]
Family
As with many Aztec gods, Huitzilopochtli had multiple origin stories. All of these origins were equally valid, as Aztec mythology had neither required hierarchies nor rigid family structures.[2]
The first story featured the dual creator gods Ometecuhtli and Omecihuatl as Huitzilopochtli's father and mother, respectively. In this telling, Huitzilopochtli was the final of their four children. His older brothers included Xipe Totec (god of agriculture, rebirth, and goldsmiths), Tezcatlipoca (omnipresent god of the night sky and knower of all thoughts), and Quetzalcoatl (god of the wind, giver of maize, and inventor of books and calendars).
In the second story, Huitzilopochtli was born to Coatlicue, a primordial earth goddess. He was conceived when his mother put a ball of hummingbird feathers underneath her breasts. As hummingbirds represented reincarnated warriors, the implication was that Huitzilopochtli had been sired by an anonymous warrior. This was how Coatlicue's 400 other children took the news. Offended by the nature of their mother's pregnancy they either killed her, attempted to kill her, or attempted to kill the unborn Huitzilopochtli, depending on the version of the myth being told. In any case, a fully armed Huitzilopochtli then emerged from the womb and swiftly defeated his attacking siblings.
Family Tree
Parents

Siblings

| Brothers | Sister |
| --- | --- |
| | |
Mythology
Huitzilopochtli played many roles within the Aztec pantheon. He led the Mexica people to Tenochtitlan, the eventual seat of power of the Aztec Empire, and was venerated as the primary god of war. Sacrifices were made to him after every victory and defeat, and the dawn of creation even paused and waited for his arrival. It was foretold that Huitzilopochtli would eventually be defeated, and that the Aztec Empire would fall with him.
While Huitzilopochtli was an undeniably significant deity within Aztec mythology, some scholars have argued that the Spanish attributed greater significance to him than the Aztecs ever did. Bernardino de Sahagun's seminal text, Historia general de las cosas de la Nueva España, drew parallels between the Aztec gods and their ancient Mediterranean counterparts, playing up certain gods that better fit European archetypes.[3] Huitzilopochtli's virgin birth, in addition to his position as god of war (akin to Mars), set him up perfectly to be received by Europeans as a god of preeminent importance.[4]
Pop Culture
Huitzilopochtli makes an appearance in the trading card game Vampire: The Eternal Struggle as—somewhat unsurprisingly—a vampire. In the game's lore, Huitzilopochtli "used the… Aztecs as tools to drive out the werebeasts that inhabited the lands."