Greek God
Hephaestus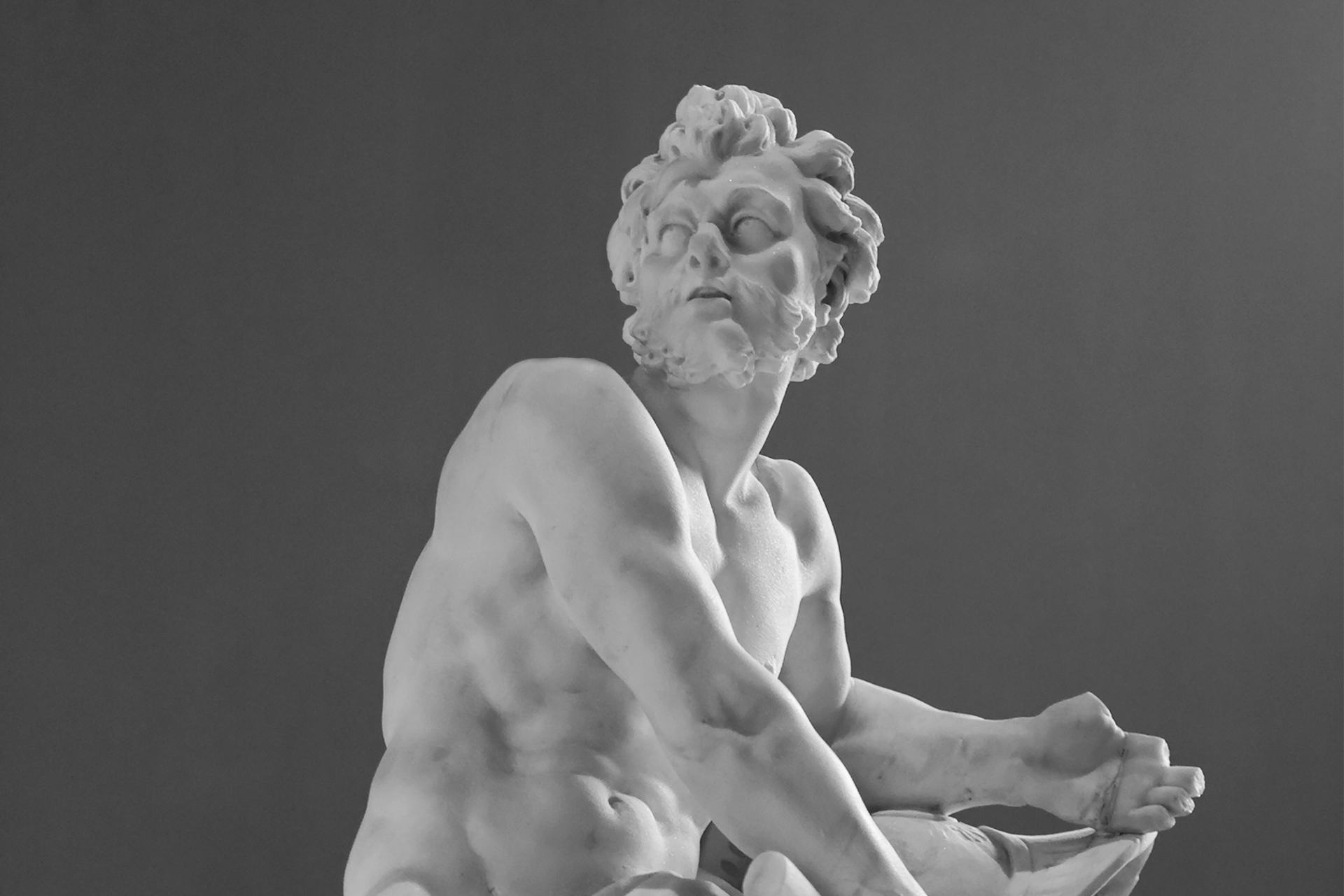 Overview
God of the kiln, master of metallurgy, and patron of all artisans, Hephaestus was the deft and dexterous craftsman of Mount Olympus. He was worshipped as one of the Twelve Olympians throughout the Greek world and had major cult centers at Athens and on the island of Lemnos.
While Hephaestus resided among the gods as an artisan and trap-setter, he nevertheless often found himself unloved and unwanted by the other gods. In his mythology, Hephaestus was mistreated and rejected by many of the gods, including his mother, Hera, his wife, Aphrodite, and the supremely powerful Zeus. But Hephaestus could also hold his own among the Olympians, and he usually found creative ways to get back at his abusers.
Etymology
As with many Greek deities, there is no reliable etymology for the name "Hephaestus." The first known recording of the name (or a form of it) is in an inscription on the palace at Knossos on Crete, where it appears as a-pa-i-ti-jo in the syllabic Linear B script used in Bronze Age Greece (ca. 1600–1100 BCE). 
The palace at Knossos was a relic of the Minoan people who lived more than a thousand years before the Greek classical period (490–323 BCE), indicating that the word was present in early Greek society. However, scholars have generally interpreted the name that appears on this inscription as theophoric—that is, as a name that contains the name of the god, rather than the name of the god itself (similar to later Greek names such as Hephaestion).[1] 
Today, the etymology of Hephaestus' name is usually thought to have been pre-Greek.[2]
Pronunciation
| English | Greek |
| --- | --- |
| Hephaestus | Ἥφαιστος |

| Phonetic | IPA |
| --- | --- |
| [hi-FES-tuhs] | /hɪˈfɛs təs/ |
Epithets
Many of Hephaestus' epithets referred to his physical appearance or his lameness, such as amphigyeis ("the lame one") and kyllopodiōn ("foot-dragging"). Other epithets were more positive, emphasizing Hephaestus' skills as a craftsman and smith. These epithets included klytotechnēs ("famous artificer"), polymētis ("shrewd"), and chalkeus ("bronze-working").
Attributes
Domains
Hephaestus was the god of crafts of all kinds, especially metalworking. He was also the god of fire, and his workshop was said to be located (appropriately) beneath a volcano. 
Iconography
Hephaestus was usually depicted as a burly man, either bearded or unbearded. Due to his lameness, he lacked the physical perfection of the other Olympians, and there are artistic representations that call attention to his crippled legs. In art, Hephaestus was generally dressed simply, in a tunic and a cap called a pilos. He was distinguished by his attributes, the tools of his trade: an ax, double hammer, tongs, bellows, and firebrands.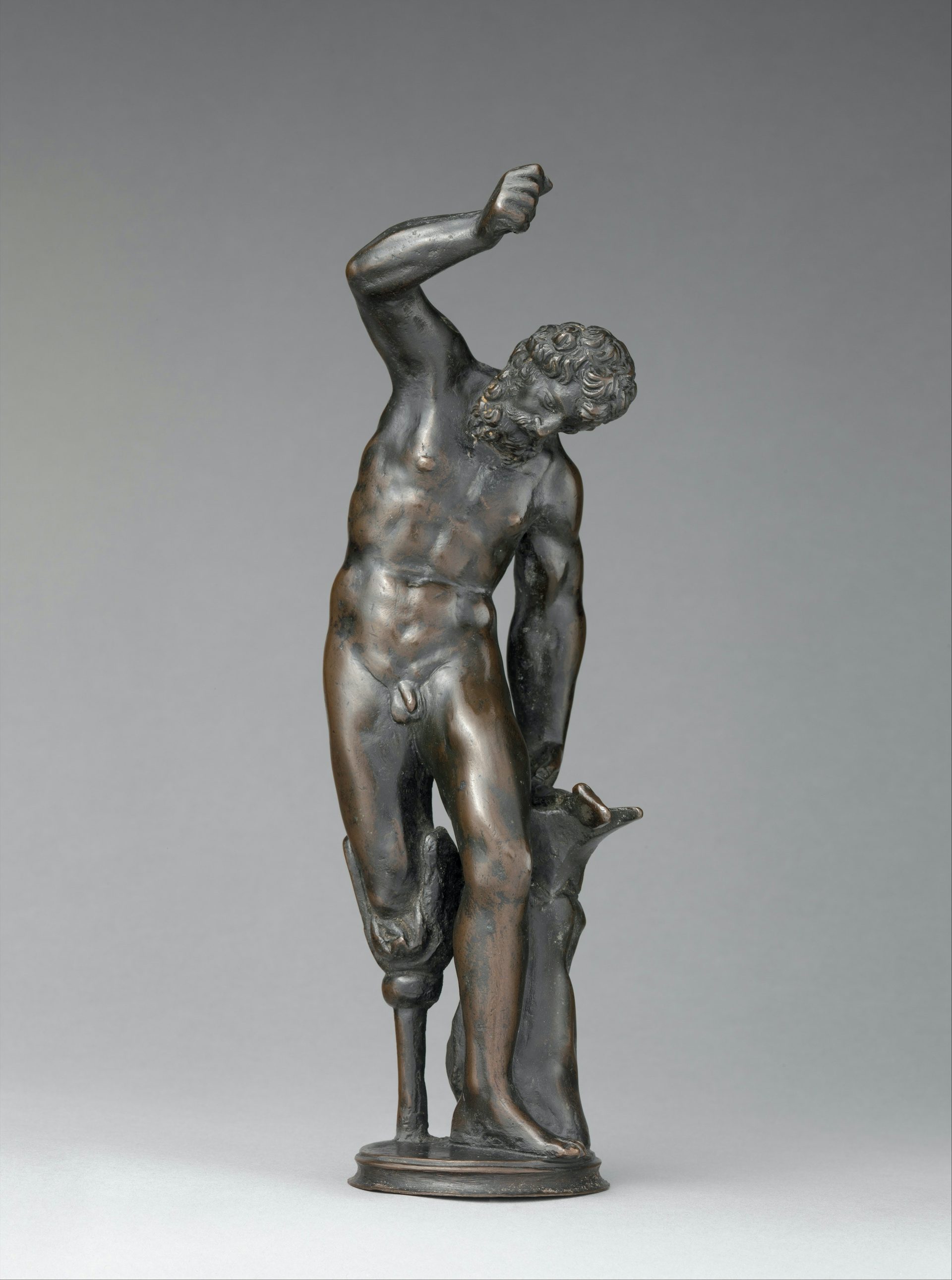 Though somewhat removed from the other gods, Hephaestus did have an entourage of his own, consisting of the giant, one-eyed Cyclopes, who served as his helpers at his workshop. The god was sometimes also shown riding atop a donkey.
Family
Family Tree
Parents

Siblings

Consorts

Children

Sons

Erichthonius (son of Hephaestus)

Palaemon

Periphetes
Worship
Festivals
The most well-known ancient festivals of Hephaestus were celebrated in Athens, where, as the father of the founding hero Erichthonius, he was especially revered. The Hephaestia, celebrated every four years, involved a torch race and sacrifices to the god.[30] In another festival, the Chalkeia, craftsmen walked in a procession through the city in honor of Hephaestus and his counterpart Athena.[31]
In different parts of the Greek world, Hephaestus was also connected with the mystery cult of the Cabiri (whom he was said to have fathered).[32] These mysteries most likely involved initiation rites, feasting, and sacrifices; they were practiced primarily in Asia Minor, Macedonia, Boeotia, and some northeastern Aegean islands.
Temples
The public cult of Hephaestus was not as widespread in Greece as that of most of the other Olympians. Hephaestus did, however, have important cult centers at Lemnos, an Aegean island that was especially sacred to him, and Athens, where he was worshipped together with Athena as one of the city's chief patron gods.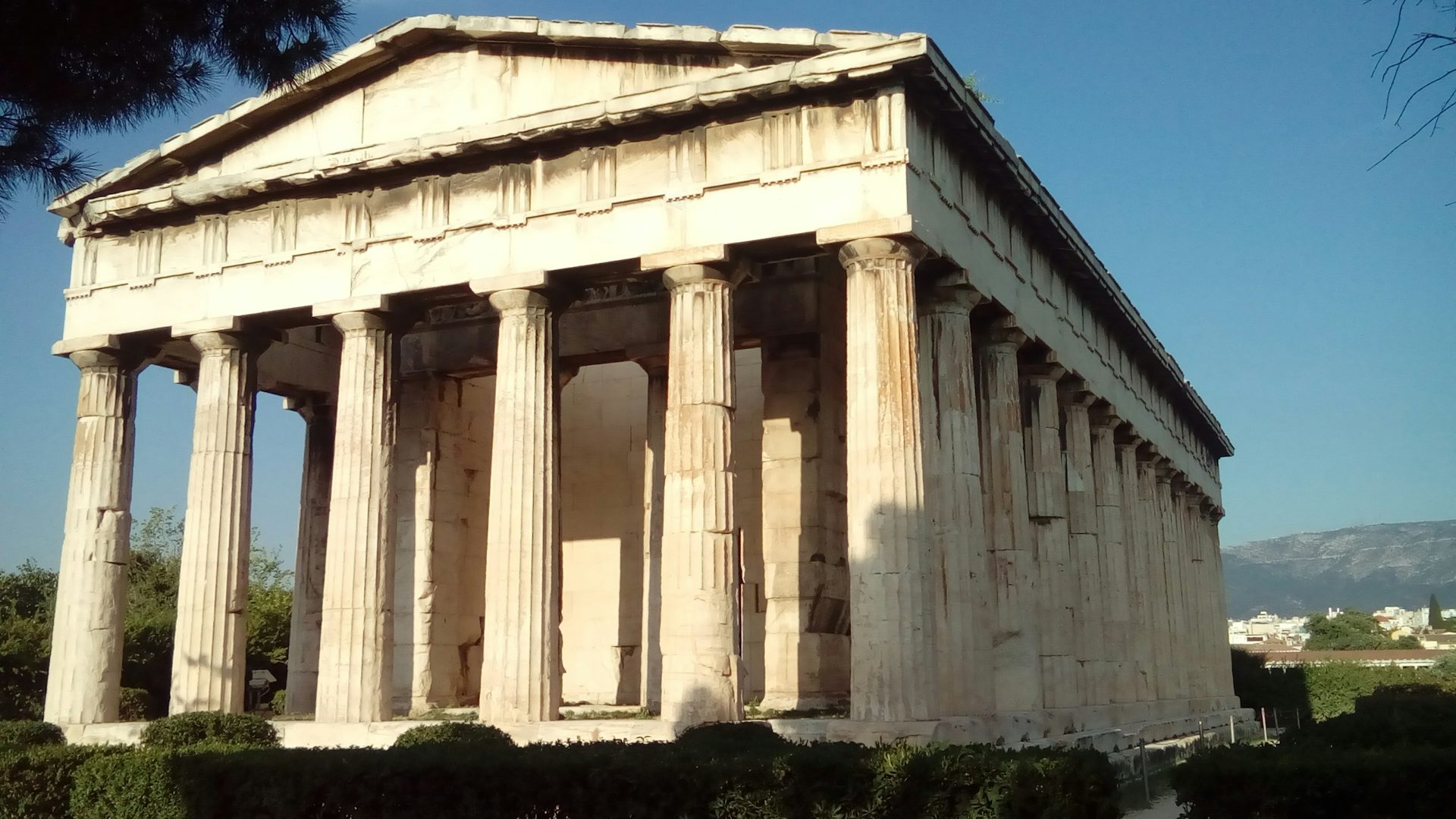 At Lemnos, the spot where Hephaestus supposedly landed when he was thrown from heaven was an especially sacred site. It was believed that this spot could cure various ailments, including snake bites.[33]
There was a large temple of Hephaestus, called the Theseium, near the agora of Athens; in it, the cult statue of Hephaestus stood next to that of Athena.[34]
Hephaestus also had a handful of temples in Sicily, where he was sometimes said to have had a workshop. 
Pop Culture
Hephaestus has enjoyed a lively presence in popular media. In films and television based on Greek mythology, he usually appears as a powerful, thick-armed craftsman in the archetypal blacksmith mode. In the 1981 film Clash of the Titans, he was played by the large British wrestler Pat Roach. In the television series Hercules: The Legendary Journeys and Xena: Warrior Princess, meanwhile, he appeared as a large, leather-clad blacksmith played by actors Julian Garner and James Hoyte.
In video games, too, Hephaestus is a renowned crafter of items. In the God of War series, he makes weapons for the protagonist, Kratos. In the classic video game Diablo II, a crazed blacksmith and dungeon master is named Hephaesto in a clear homage to the Greek deity.
Finally, Hephaestus plays a role in the popular Percy Jackson and the Olympians book series by Rick Riordan—a series that has reignited interest in Greek mythology. In the fourth book, The Battle of the Labyrinth, Hephaestus appears as the master of the kiln, with a workshop that pumps out finely-tuned objects. Because the novel is a modern retelling, however, his most notable act is repairing an old Toyota that had broken down.