Celtic Hero
Cu Chulainn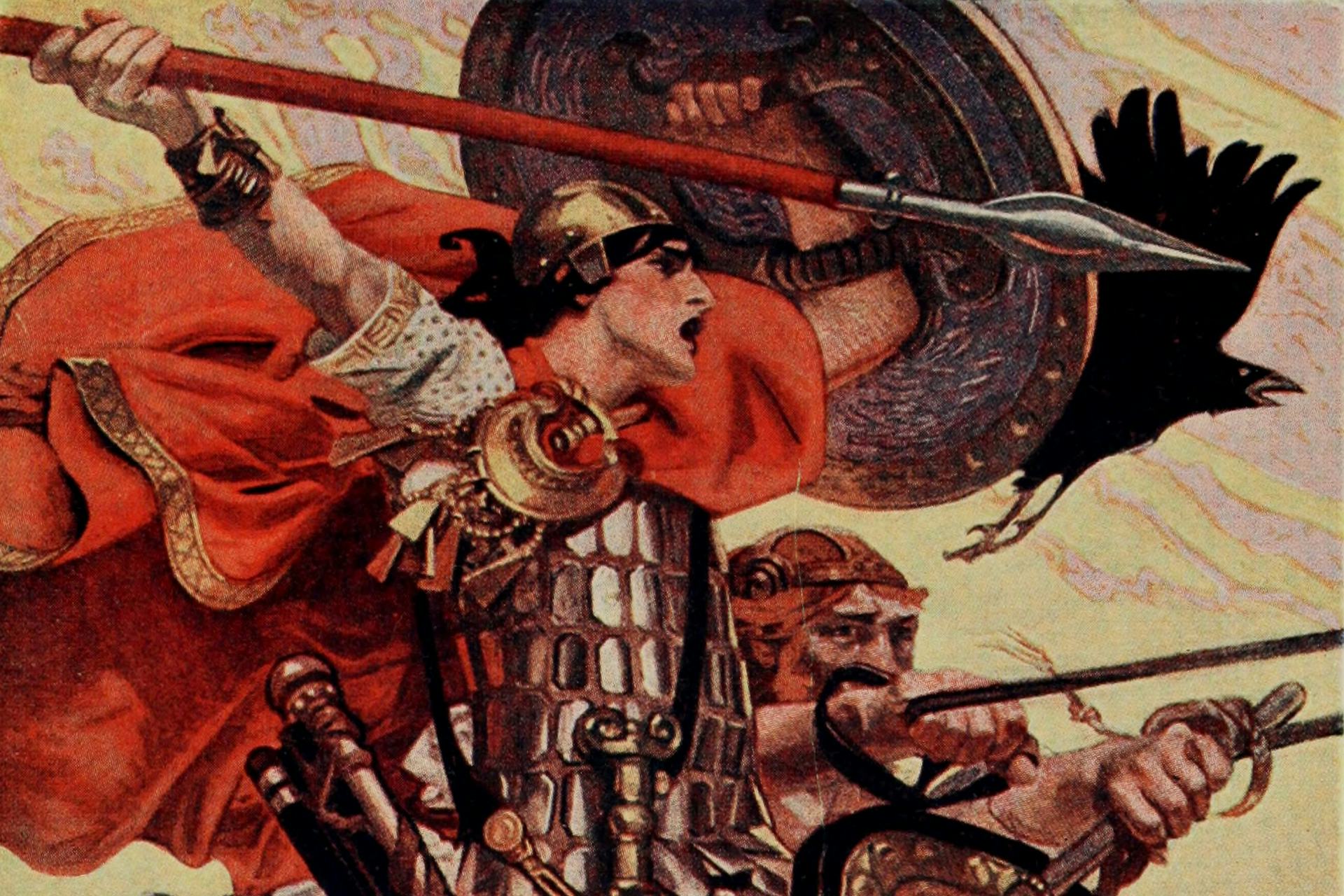 Overview
Cú Chulainn was the great warrior-hero of the Ulster Cycle. As a demigod born of a mortal mother and a divine father, he defended Ulster from many threats with his unstoppable rage, inhuman strength, and iron will. His passions were great, his sorrows deep, and his feats awe-inspiring. To this day, he remains Ireland's best-known folk hero.
Etymology
Pronunciation
| English | Irish |
| --- | --- |
| Cú Chulainn | Cú Chulainn |

| Phonetic | IPA |
| --- | --- |
| Koo KUL-in | /kuːˈkʌlɪn/ |
Alternate Names
Cú Chulainn, meaning "Hound of Culann,"[1] was a nickname that the warrior earned as a young boy. Various spellings of Cú Chulainn can be found across Old and Middle Irish texts, including Cú Chulaind and Cúchulain, due to the unstandardized nature of Irish language at the time. Cú Chulainn's birth name was Sétanta, meaning "one who has knowledge of roads and ways."[2]
Attributes
From an early age, Cú Chulainn trained in Ireland and Scotland to become the deadliest warrior of his era. His skill was unmatched, and he was more than capable of taking on many foes at once. His strength and athletic ability were so great that he was able to metabolize a sleeping potion in just one hour—despite it being potent enough to make an ordinary man sleep for an entire day.[3]
In battle, Cú Chulainn's most important asset was his supernatural rage, called ríastrad, sometimes translated as "warp spasm."[4] When Cú Chulainn used his ríastrad, he became an unstoppable force that would kill friend and foe alike. The ríastrad had such an effect on him that his body would contort with rage: 
You would have thought that a spark of fire was on every hair. He closed one eye until it was no wider than the eye of a needle; he opened the other until it was as big as a wooden bowl. He bared his teeth from jaw to ear, and he opened his mouth until the gullet was visible.[5]
Cú Chulainn rode into battle on a chariot driven by his charioteer, Laeg, and his horses, Liath Macha and Dub Sainglend. Liath Macha has been described as the King of Steeds.[6] Cú Chulainn made use of several different weapons in battle, the most notable being his slingshot and the Gae Bolga. Over the years, scholars have debated exactly what kind of weapon the Gae Bolga was, but the general consensus is that it was a sort of deadly spear that would release several small barbs into its victim.[7]
Cú Chulainn was bound by two separate geas, or magical taboos, that provided him with great strength—provided he did not break their rules. The first of these rules was that Cú Chulainn must take and eat any food offered to him by a woman; the second was that he could not eat dog meat in any form. These geas would ultimately lead to his demise, when he was forced to make an impossible choice between the two in Aided Con Culainn (The Death of Cú Chulainn).[8]
While depictions of Cú Chulainn vary, it was generally agreed that he was beardless, youthful, and strikingly handsome. In the Táin Bó Cúailgne (The Cattle Raid of Cooley), Fedelm the Seer prophesies Cú Chulainn's prowess and describes his beauty:
A noble countenance I see,

Working effect on womenfolk;

A young man of sweet colouring;

A form dragonish in the fray.[9]
In fact, Cú Chulainn had such an effect on women that the ladies of Connacht climbed over their own men in order to behold his beauty:
And certainly the youth Cú Chulainn mac Sualdaim was handsome as he came to show his form to the armies. You would think he had three distinct heads of hair—brown at the base, blood-red in the middle, and a crown of golden yellow...he had four dimples in each cheek—yellow, green, crimson and blue—and seven bright pupils, eye-jewels, in each kingly eye.[10]
Cú Chulainn was also explicitly described as beardless, which created tension in many tales. Having a beard was a sign of manhood in ancient Ireland,[11] so some warriors refused to fight Cú Chulainn based on the fact that he was still considered a boy.[12] In one amusing episode, Cú Chulainn even donned a fake beard to try to entice more warriors to fight him.[13]
Family
Family Tree
Parents

| Fathers | Mother |
| --- | --- |
| | |

Siblings

Consorts

| Wife | Lovers |
| --- | --- |
| | |

Children
While nearly all sources agree that Cú Chulainn's mother was Deichtine of Ulster, the identity of his father is a matter of some dispute. The most famous stories held that his mortal father was Sualtam mac Róich, while his divine father was said to be the god Lugh of the Tuatha Dé Danann.[14] Lugh even appears to Cú Chulainn during the Táin and tells him "I am Lug mac Ethnenn, your father from the síde [fairy mound]."[15] His maternal uncle, Conchobar mac Nessa, was King of Ulster, and his foster father was Fergus mac Róich.
Cú Chulainn was married to Emer, though he had no children by her. Later, he fell in love with Fand, the wife of Manannán mac Lir, a sea god of the Tuatha Dé Dannan. The lovers were ultimately kept apart, and Cú Chulainn and Emer drank a druid's potion to forget the whole affair.[16] 
Cú Chulainn fathered his son, Connla, with the Scottish warrior Aífe; however, Connla was so skilled at fighting that he put the Ulster warriors to shame while he was only a boy. Thus, Cú Chulainn killed Connla to uphold the honor of the Ulstermen in Aided Óenfhir Aífe (The Death of Aífe's Only Son).[17] 
Cú Chulainn and his foster brother, Ferdia, were very close. In the Táin, Cú Chulainn and Ferdia were forced to fight each other. The battle raged over a number of days, but eventually Cú Chulainn triumphed. Upon his victory, Cú Chulainn lamented his lost foster brother in a long, beautiful poem,[18] leading some scholars to speculate that Cú Chulainn and Ferdia were perhaps lovers. However, the bond between foster brothers was often portrayed as being even closer than that between biological brothers at the time. Thus, Cú Chulainn's heartfelt lament makes sense in the context of losing his favorite brother and friend.[19]
Pop Culture
Cú Chulainn is perhaps the most famous figure in all of Celtic folklore and has made innumerable appearances in pop culture.
His name is mentioned in several popular songs, including the title theme of the film The Boondock Saints, Thin Lizzy's "Róisín Dubh," and The Pogues' "The Sickbed of Cú Chulainn."
Cú Chulainn has been featured as a character in numerous comic book series, such as Marvel Comics—where he appears as part of the Celtic pantheon—and 2000AD. He can also be found in the television show Gargoyles and the Fate anime series. A frequent figure in video games, Cú Chulainn appears as an esper, or summonable spirit, in Final Fantasy XII, as a demon in Final Fantasy Tactics and the Megami Tensei series, and as a character in SMITE.
Cú Chulainn also plays an important role in Irish culture and politics. He has not only served as a symbol of modern Irish nationalism, but also of Ulster separatism. He became a well-known figure to Victorian readers through the writings of Lady Gregory, which combined several of Cú Chulainn's most notable adventures. During the struggle for Irish independence and the subsequent Troubles, Cú Chulainn was used by both sides to argue for Irish solidarity against the British and against the Irish invaders of Ulster/Northern Ireland.