Greek Hero
Bellerophon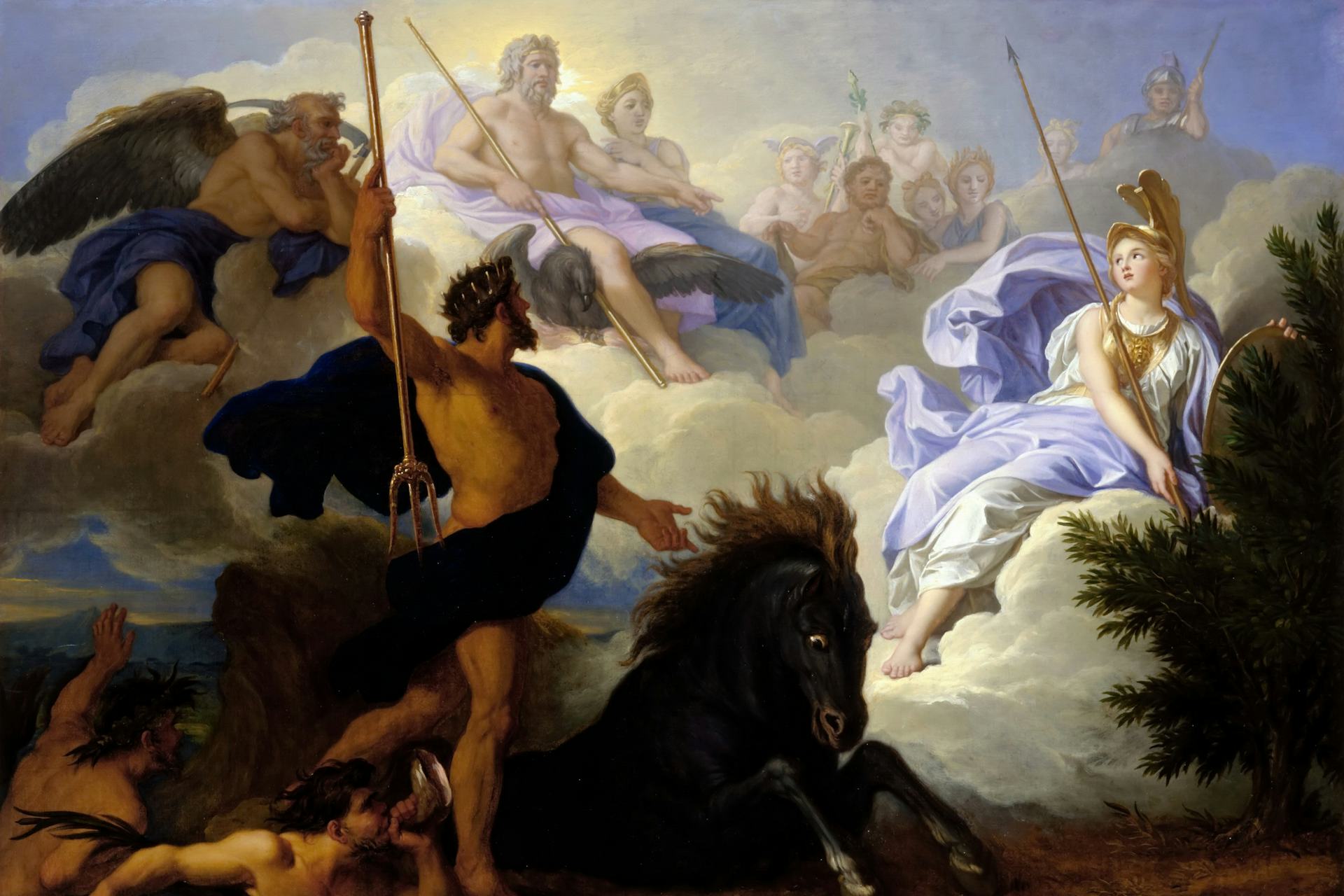 Overview
As a son of Poseidon, Bellerophon was destined for greatness from early on. Following a series of accidents and misadventures in his youth, Bellerophon found himself in the faraway kingdom of Lycia. There, he battled the Chimera, the Amazons, and other fearsome enemies. 
Bellerophon's successes were due in no small part to Pegasus, the immortal winged horse that Bellerophon had tamed. Eventually, however, Bellerophon fell out of the gods' favor. Because of a terrible act of hubris, Bellerophon was punished by the gods and became an outcast.
Etymology
The name Bellerophon may have been derived from the words belos ("projectile") and phontēs ("killer"). Bellerophon would thus mean "he who kills with a projectile." According to an alternative ancient etymology, Bellerophon received his name because he had killed a tyrant of Corinth named Bellerus; in this version, his name would mean "killer of Bellerus."[1]
Modern scholars have suggested various Indo-European etymologies. Rhys Carpenter, for example, has argued that the name Bellerophon means "bane-slayer," deriving from the rare word elleron ("evil").[2] Joshua Katz subsequently suggested that the word "eleron" is related to an Indo-European word for a water snake or dragon. As a result, the name Bellerophon could also mean "dragon slayer."[3]
Pronunciation
In ancient Greek, the name of the hero Bellerophon was usually spelled Βελλεροφόντης (Bellerophontes), though the alternative Βελλεροφῶν (Bellerophon) was also attested.[4]
| English | Greek |
| --- | --- |
| Bellerophon | Βελλεροφόντης or Βελλεροφῶν |

| Phonetic | IPA |
| --- | --- |
| [buh-LER-uh-fon] | /bəˈlɛrəfən/ |
Attributes
Bellerophon's most distinctive attribute was his winged horse Pegasus; in antiquity, he was usually depicted riding him. Ancient art sometimes featured his battle with the Chimera as well.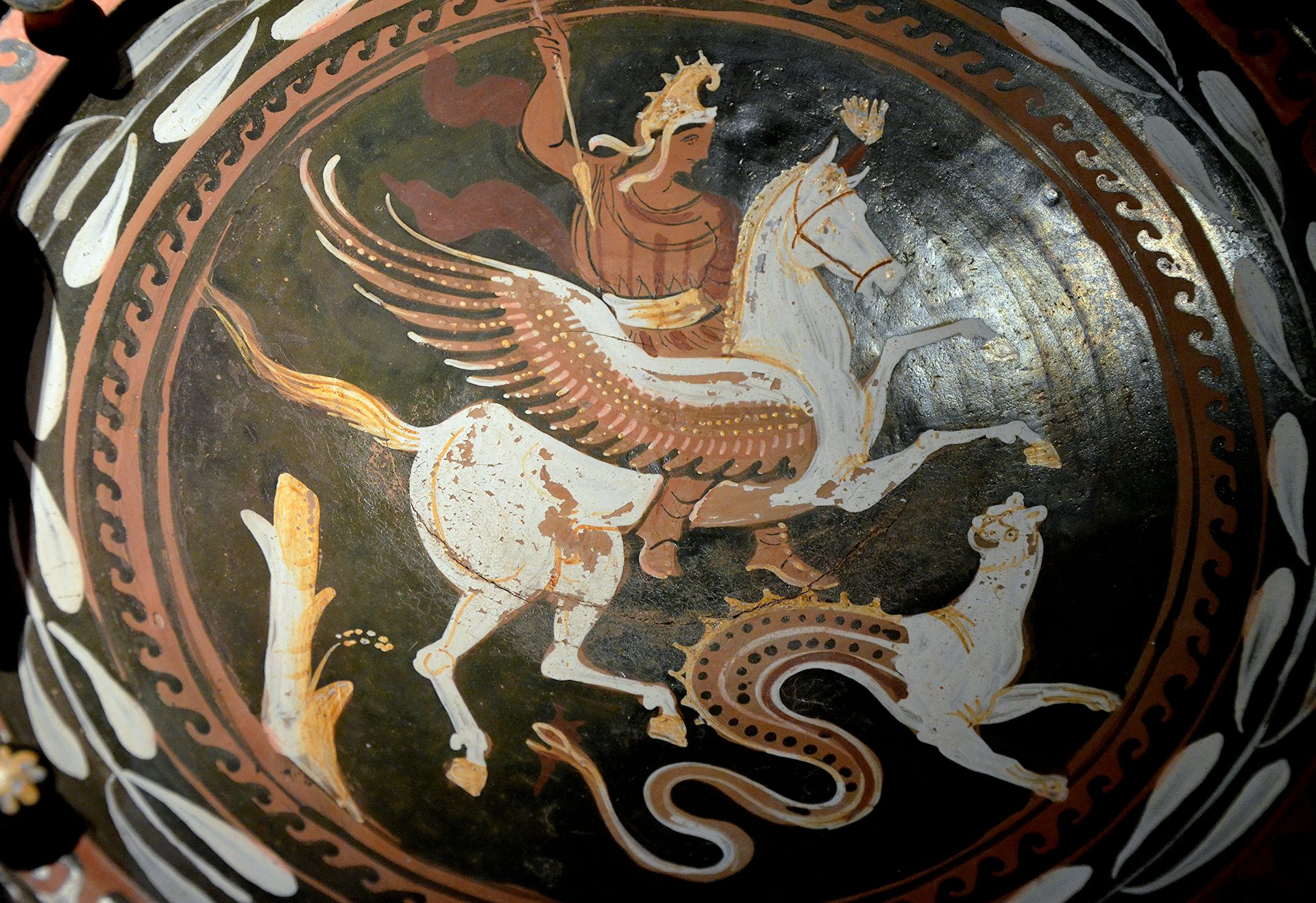 Family
Bellerophon was born into the court of Glaucus, the king of Corinth, and his wife, whose name was either Eurynome[5] or Eurymede.[6] According to most accounts, however, Bellerophon's true father was the sea god Poseidon. Bellerophon also had a younger brother, though ancient sources debate whether his name was Alcimenes, Deliades, or Peiren.[7]
Bellerophon's wife was named either Alcimedousa, Anticleia, Pasandra, or Cassandra.[8] According to Homer, Bellerophon and his wife had three children together: Isander, Hippolochus, and Laodamia.[9] In some traditions, Bellerophon also fathered Hydissus by Asteria, the daughter of Hydeus.[10]
Worship
Bellerophon received cult worship in Corinth, which was said to have been his hometown. It contained the Craneion, a sanctuary dedicated to Bellerophon.[18] Bellerophon was also an object of hero cult in Lycia.[19]
Bellerophon was worshipped as the founding hero of the Carian city of Baryglia. In antiquity, he was claimed as the ancestor of Leucippus, the founder of Magnesia on the Maeander. He was also possibly connected to the family of Cossutius Sabula in the late Roman Republic.
As the tamer of Pegasus, Bellerophon was sometimes revered as the inventor of horsemanship.[20] In some sources, his desire to ascend to the heavens contributed to his image as the first astronomer.[21]
Pop Culture
There are relatively few modern pop culture representations of Bellerophon. He is the main character of Cathleen Townsend's 2019 novel Bellerophon: Son of Poseidon. He also features in Rick Riordan's Percy Jackson's Heroes. Finally, Bellerophon is a minor character in the 1990s TV show Xena: Warrior Princess, where he is portrayed by the New Zealand actor Craig Parker.