Olympian Goddess
Artemis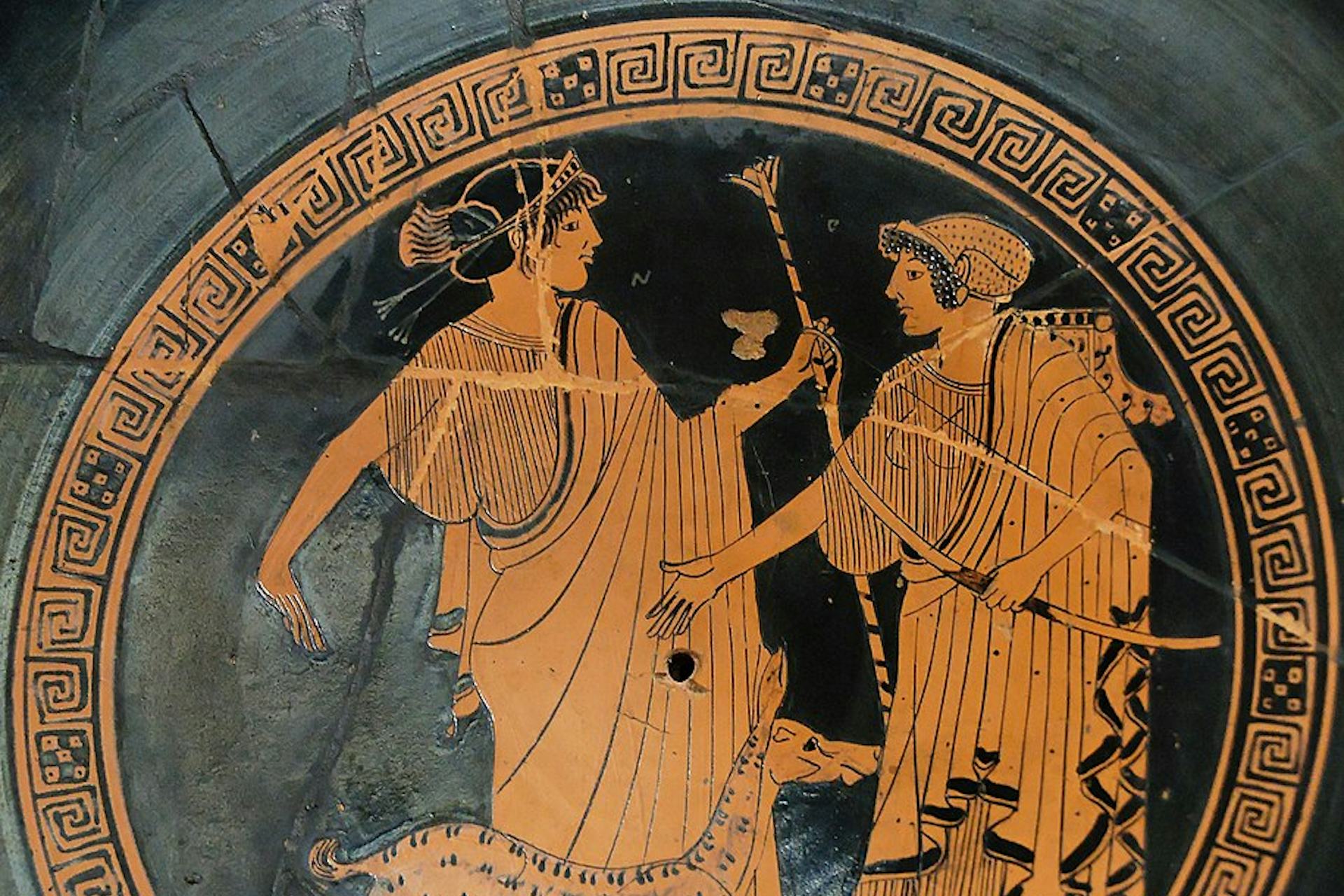 Overview
Artemis was the Greek goddess of the hunt, nature, and wild animals. She was typically regarded as one of the major Olympians, numbered among the so-called "Twelve Gods."
In art and literature, Artemis was often imagined hunting in the forest with her bow. While her twin brother Apollo represented reason and order, Artemis signified the wilder and more untamed aspects of human and natural life.
Key Facts
Who were Artemis' parents?
Artemis, like her twin brother Apollo, was born from the union of the supreme god Zeus and the goddess Leto. She was most likely born on the island of Delos (though some sources placed her birth on a different island nearby). Delos later became the site of one of Apollo's most important sanctuaries.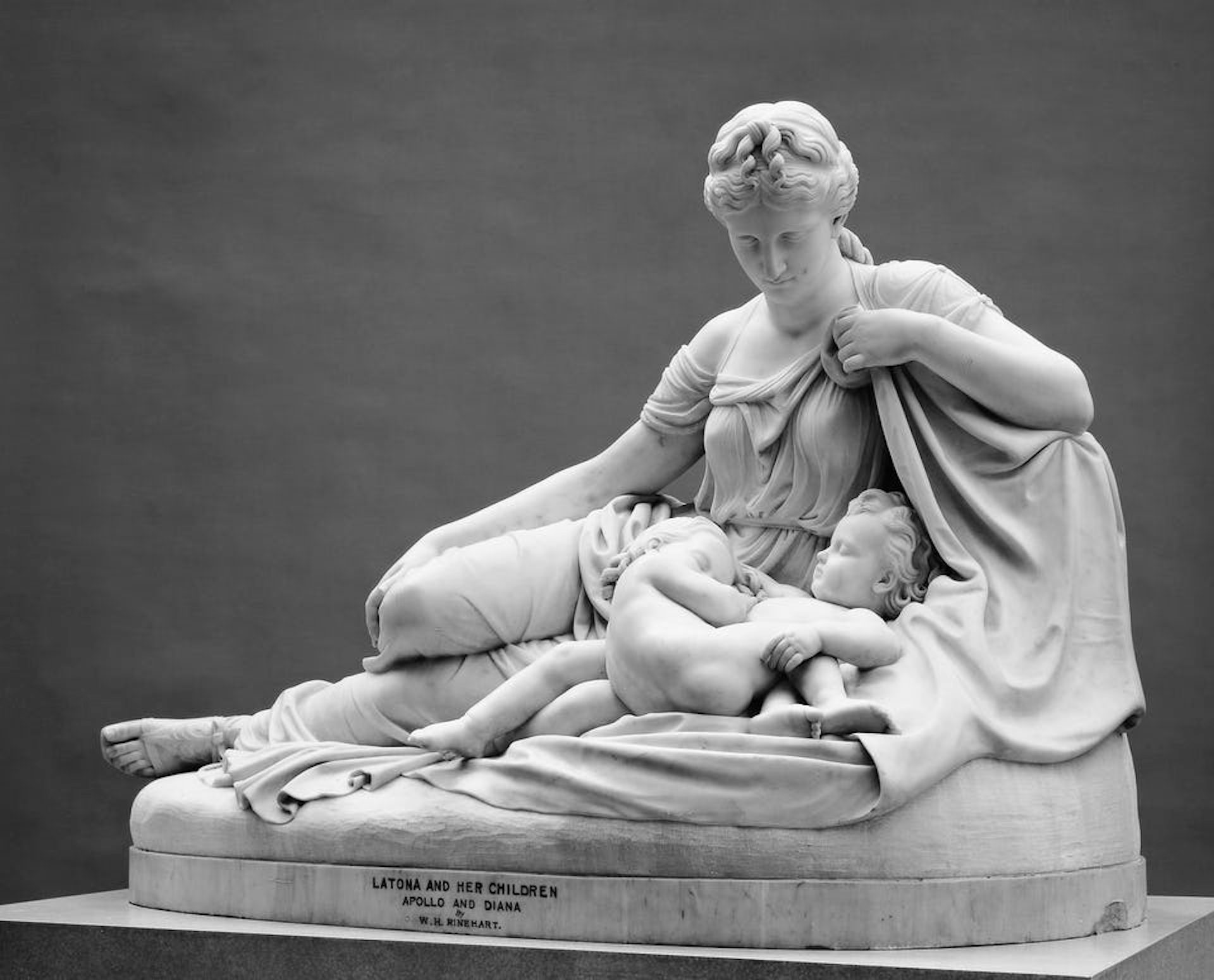 What were Artemis' attributes?
Artemis' most recognizable attribute was probably her bow, though she was sometimes shown with other weapons as well. She was generally depicted clad in a short hunter's tunic. Artemis' entourage included nymphs and woodland animals such as deer and bears.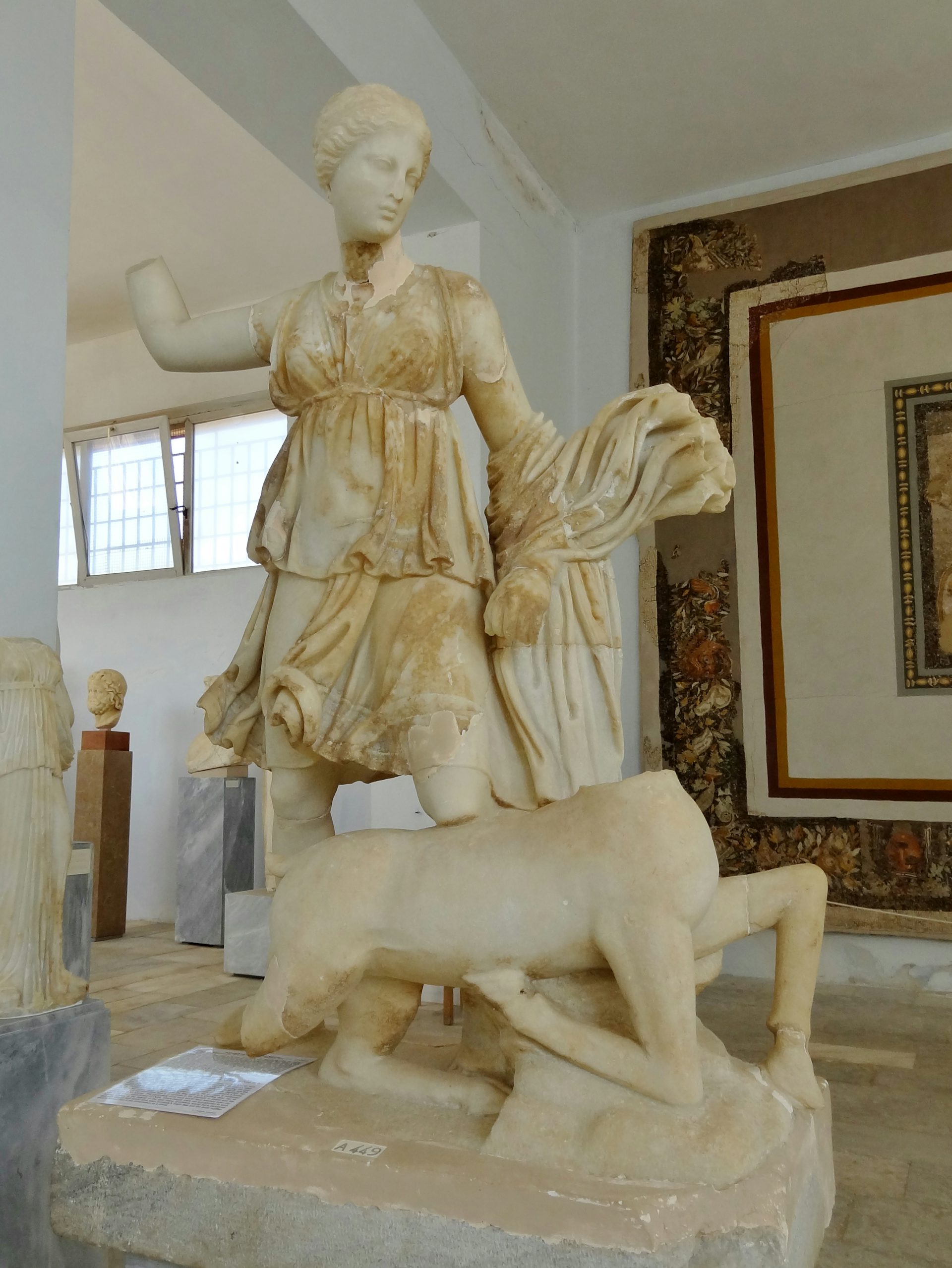 The Bath of Artemis
Artemis was notoriously protective of her chastity. One well-known myth told of how the Theban prince Actaeon was out hunting in the woods when he stumbled upon Artemis bathing in a stream. Horrified that a mortal man had seen her naked, Artemis transformed the unfortunate Actaeon into a deer. Actaeon's hunting dogs promptly turned on him and, failing to recognize their master, tore him apart.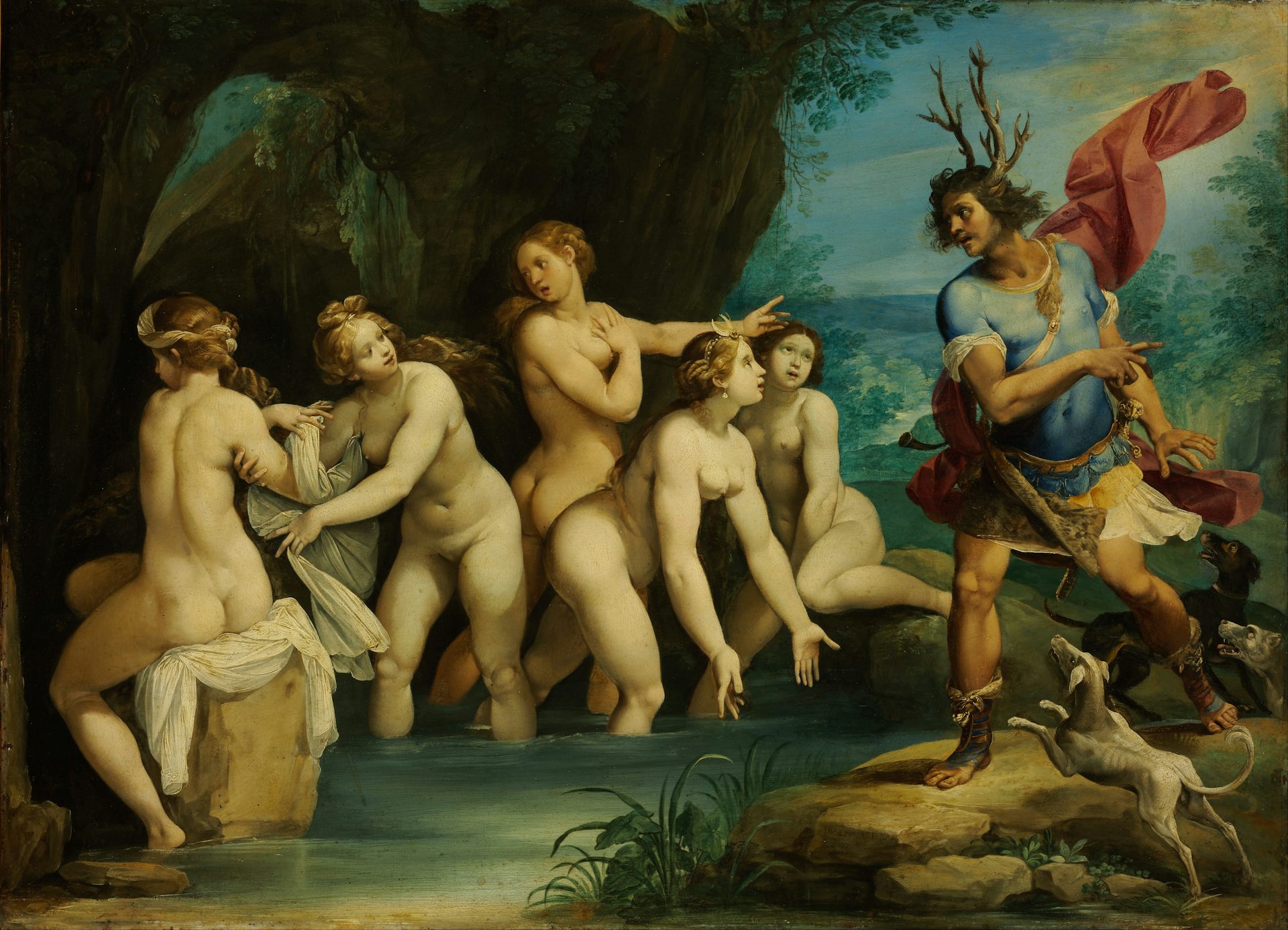 Etymology
Speculation over the etymology of the name "Artemis" began in antiquity. In Cratylus, Plato traced the name's origins to the Greek word artemēs, meaning "pure" or "unblemished."[1] Though this is a tempting theory—the words are similar, and the quality of purity nicely captures Artemis' nature—it is most likely too neat to be true. Most scholars and linguists today regard Plato's interpretation as a folk etymology.
The search for the origins of Artemis' name are made even more difficult by the fact that there is no clear consensus on how old it is. Some scholars have suggested that the name "Artemis" appears in the first Greek texts, equating the goddess of the hunt with a-te-mi-to or a-te-mi-te in the Linear B script (the writing system in use ca. 1600–1100 BCE, prior to the development of the Greek alphabet). If this is correct, it would mean that Artemis was known and worshipped in Greece from the earliest times. However, it is still disputed whether Artemis and a-te-mi-to/a-te-mi-te refer to the same entity.[2]
While there is no widely agreed-upon etymology for "Artemis," several hypotheses have nevertheless gained popularity. According to some, Artemis' name is related to the Greek word arktos, meaning "bear" (from the Proto-Indo-European *h₂ŕ̥tḱos). Indeed, Artemis was closely associated with a bear cult in Attica and was often depicted alongside bears (as well as a number of other animals, such as deer, boars, and hunting dogs).[3]
Pronunciation
| English | Greek |
| --- | --- |
| Artemis | Ἄρτεμις |

| Phonetic | IPA |
| --- | --- |
| [AHR-tuh-mis] | /ˈɑr tə mɪs/ |
Other Names
The Roman counterpart of Artemis was called Diana. Artemis was sometimes also referred to as Phoebe by both the Greeks and Romans, though this did not become a common alternative name or epithet until a relatively late historical period.
Artemis was sometimes identified with other deities, especially Hecate (a goddess of boundaries and witchcraft) and Eileithyia (the goddess of childbirth). "Hecate" and "Eileithyia" were also among the epithets of Artemis. Later on—that is, during the Hellenistic period (323 BCE–31 BCE) and Imperial period (after 31 BCE), Artemis was increasingly identified with the moon and the moon goddess Selene.
Epithets
Among Artemis' most important epithets were agrotera ("she of the hunt"), keladeinē ("strong-voiced"), and parthenos ("virgin"). Like her brother Apollo, Artemis also boasted many epithets relating to archery. These included hekatēbolos and hekatē ("far-shooter"), hekaergē ("far-worker"), and iocheaira ("she of the showering arrows"). Artemis also had many epithets related to her ritual functions or places of worship, such as Delia ("Delian," referring to the island where she and Apollo were born), sōteira ("savior"), phōsphoros ("bringer of light"), and eileithyia (in her capacity as a goddess of childbirth).
Attributes
Domains
Artemis' primary domains were hunting and all aspects of initiation (especially female initiation). 
Artemis offered something for nearly everyone. Among hunters and rustics, she was the source of cyclic growth. It was she who controlled the rhythms of nature and the whims of the creatures in it. For maidens and the young, she was a beacon of innocence and chastity. For mothers, she was a symbol of fecundity and health, as well as a midwife to their babies (just like Eileithyia, with whom she was sometimes conflated). 
Artemis also presided over initiation rites and the passage of females (but also males) from one life stage to another (childhood to adulthood, virginity to marriage, marriage to parenthood, etc.).
Iconography and Symbols
Artemis herself was a virgin goddess, in many ways more mannish than effeminate. She was known to roam the mountains and forests in search of game. In art, Artemis was often shown wearing a short hunter's tunic and carrying a bow or spear. Her entourage was made up of nymphs and wild animals.
Artemis' symbols included her weapons and hunting gear (the bow and arrow or the spear); her sacred animals, such as deer, boar, and bears; and her sacred plants, such as the cypress and palm. In later art and literature, Artemis came to be associated with the moon (complementing her brother Apollo, associated with the sun).
The common representation of Artemis is as a young, beautiful virgin, clad for the hunt. There is one important local variation, however. At Ephesus (a Greek city on the coast of modern Turkey), Artemis was identified with a fertility goddess called either the "Lady of Ephesus" or the "Artemis of Ephesus." The cult statues of this Artemis were very different from those of the more familiar Artemis, showing the goddess decked out in elaborate jewelry, headdress, and—most striking of all—with small ovals covering her upper body. These ovals seem to have symbolized fertility; they have been variously interpreted as breasts, eggs, or scrotal sacs.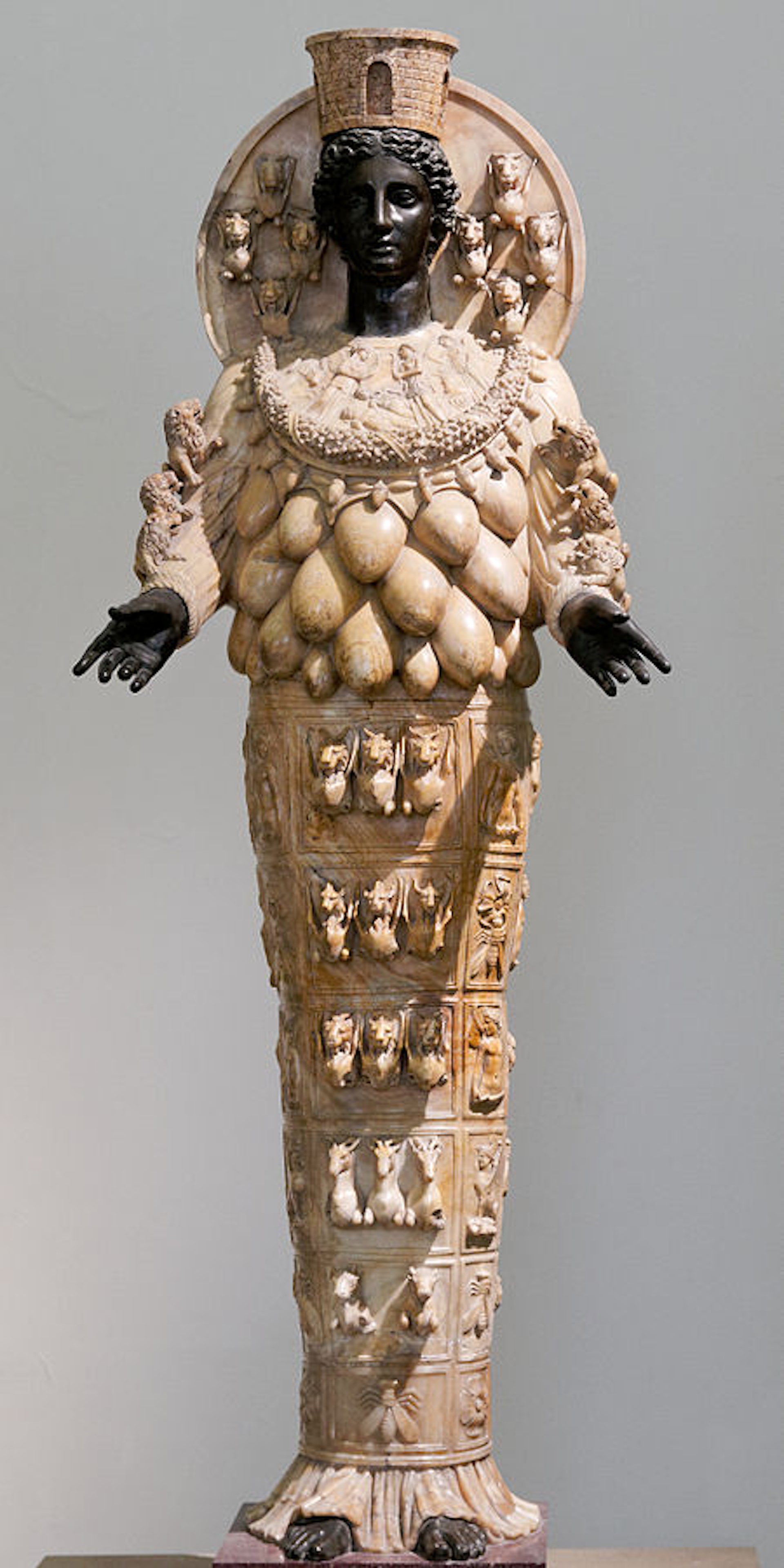 Worship
Festivals
Artemis was honored in numerous festivals and celebrations. In Attica, important festivals included the Elaphebolia, which involved making stag-shaped cakes in honor of Artemis; the Charisteria, which celebrated the famous Greek victory at the Battle of Marathon in 490 BCE; the Munichia, which included a goat sacrifice; and the Brauronia, in which young girls between the ages of five and ten dressed up and danced like bears (in atonement for the mythical killing of one of Artemis' sacred bears in Attica).
In Sparta, Artemis was worshipped as Artemis Orthia and was associated with sinister rituals. The Roman statesman and writer Cicero describes how, at the festival of Artemis Orthia, a young man was whipped at the goddess's altar until he bled.[34] Another infamous festival of Artemis Orthia involved a competition between two groups of young Spartan boys in which each group tried to steal cheese that had been placed on the altar. As the boys attempted the theft, they were beaten mercilessly. Whichever team managed to endure the beatings best and steal more cheese was declared the winner.[35] Such rituals were sometimes interpreted as replacements for human sacrifices that used to be offered to Artemis Orthia.[36]
Another important festival of Artemis was called the Laphria. It was held at Patrae, in southern Greece. The ceremony involved a huge procession that ended with throwing animal sacrifices into a bonfire.
Artemis' birthday (generally assigned to the sixth day of the Greek month Thargelion, around late May) was also celebrated in many places.
Temples
Artemis' most important temples were located on the island of Delos, at Brauron and Munichia (in the region of Attica), at Sparta, and at Ephesus (in Asia Minor). 
The last of these—the Temple of Artemis at Ephesus—was known to have been especially grand. Built in the middle of the sixth century BCE, this temple stood for centuries; yet today, little more than a single column remains. The ancients, from Herodotus to Plutarch, marveled at its beauty and size (roughly double the size of the Parthenon in Athens). Antipater of Sidon, a Hellenistic poet of the late second century BCE, ranked it as the most magnificent of ancient sites: 
I have set eyes on the wall of lofty Babylon on which is a road for chariots, and the statue of Zeus by the Alpheus, and the hanging gardens, and the colossus of the Sun, and the huge labour of the high pyramids, and the vast tomb of Mausolus; but when I saw the house of Artemis that mounted to the clouds, those other marvels lost their brilliancy, and I said, "Lo, apart from Olympus, the Sun never looked on aught so grand."[37] 
The temple was razed by an arsonist in the fourth century BCE, then rebuilt on new foundations, only to be ransacked by the Goths in the third century CE. It was finally destroyed as a pagan idol at the behest of the Christian emperor Theodosius in 401 CE.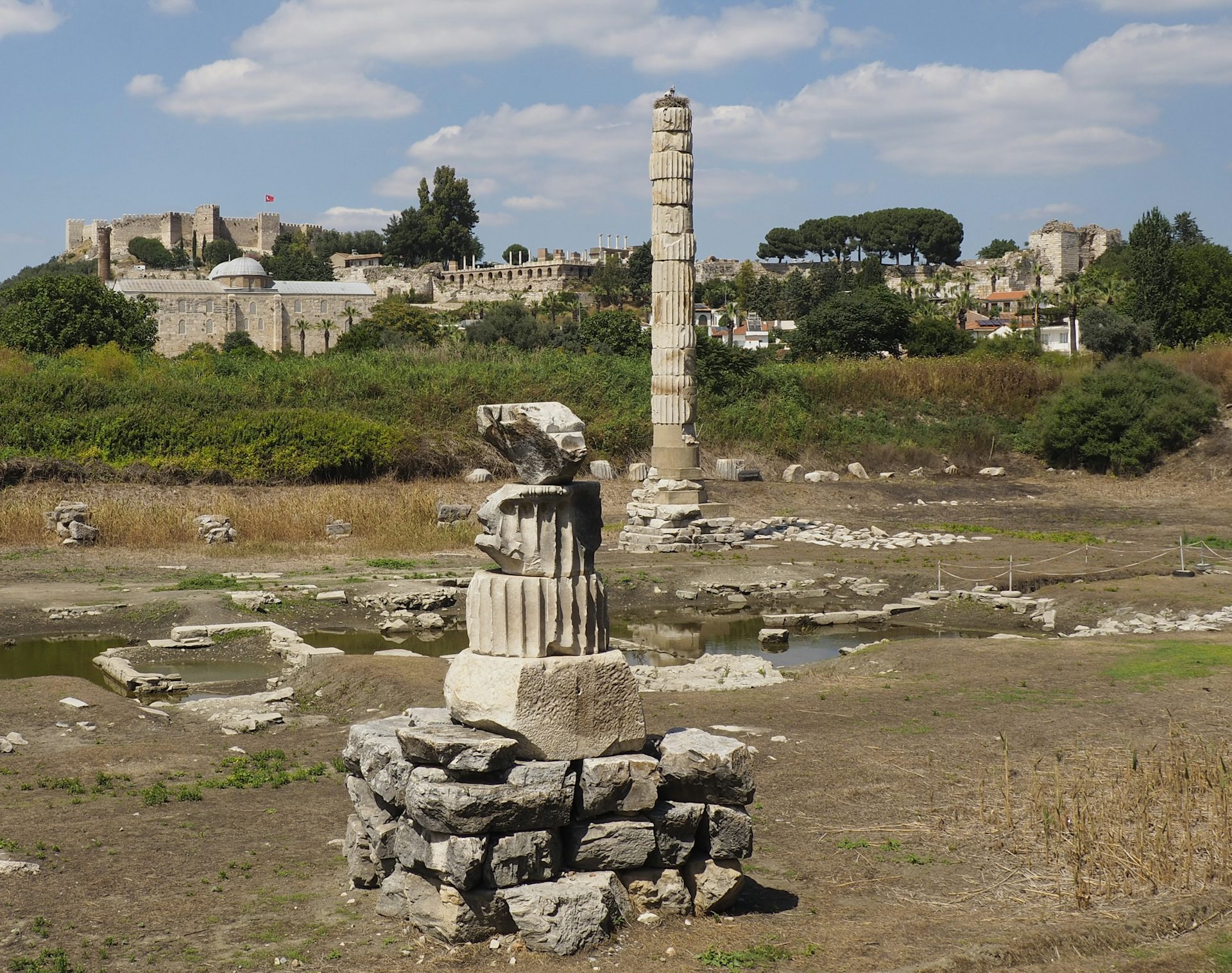 Pop Culture
Artemis regularly appears in modern adaptations of Greek mythology, such as the Percy Jackson and the Olympians book series by Rick Riordan and the God of War video game series. She is also featured in the 1990s TV series Hercules: The Legendary Journeys.
Artemis is often remembered first and foremost as an archer and is therefore invoked as a symbol of swiftness and accuracy; for example, Artemis Racing is a professional sailing team that has competed in America's Cup. 
The Artemis archetype—a young girl, often withdrawn from life, who bravely transgresses physical and moral boundaries and fights fiercely for what is right—has become especially popular in the last decade. This archetype is perhaps best exemplified by the character of Katniss Everdeen, the heroine of Suzanne Collins' Hunger Games novels. Like her inspiration, Katniss even wields a bow in her quest for justice.
Artemis has also lent her name to the Artemisia, a genus of plants used in a variety of herbal and medicinal preparations. The genus was so named because analgesics made from the plants were used by midwives, and Artemis was a goddess of midwifery. Besides the analgesics, Artemisia plants make up the wormwood used in absinthe as well as Artemisinin, a compound used in the treatment for malaria.