Overview
Andromeda was the daughter of Cepheus and Cassiopeia, the king and queen of mythical Ethiopia. Andromeda and her mother Cassiopeia were renowned for their beauty; but Cassiopeia's excessive boasting soon angered the gods. As atonement, Cepheus and Cassiopeia were ordered to present Andromeda as a sacrifice to Poseidon's sea monster.
Chained to a rock and left on the seashore, Andromeda would have been killed had it not been for Perseus, the slayer of Medusa, who passed by at just the right moment. In return for saving Andromeda, he was awarded the princess's hand in marriage. Together, Perseus and Andromeda traveled to Greece and began the powerful Perseid dynasty. 
Etymology
The name "Andromeda" (Greek Ἀνδρομέδα, translit. Andromeda) is a compound of two Greek words: anēr, meaning "man," and medō, meaning "rule over."
Pronunciation
| English | Greek |
| --- | --- |
| Andromeda | Ἀνδρομέδα (translit. Andromeda) |

| Phonetic | IPA |
| --- | --- |
| [an-DROM-i-duh] | /ænˈdrɒm ɪ də/ |
Attributes, Ethnicity, and Iconography
Andromeda was known for her remarkable beauty. As she was a princess of Ethiopia, it is reasonable to assume that she was black; indeed, it seems that ancient authors took it for granted that the mythical Ethiopians had dark skin.[1]
Yet the question of Andromeda's ethnicity is more complicated. First, the exact location of mythical Ethiopia is unclear. In the Odyssey, Homer says that the Ethiopians "dwell sundered in twain, the farthermost of men, some where Hyperion [i.e., the sun] sets and some where he rises."[2] Some later sources—for example, the fifth-century BCE historian Herodotus—identified Ethiopia with the ancient Kingdom of Kush, just south of Egypt, and therefore viewed the Ethiopians as black Africans.[3] Others, however, located Ethiopia near India in the east—close to where the sun rises every day.[4]
To complicate matters further, another tradition had emerged by the first century BCE that identified the site of Andromeda's binding and rescue as Jaffa (also called Joppa, Iope, and Yaffo), a port city that is now part of Tel Aviv, Israel.[5] In this case, Andromeda and her parents would have been ethnically Phoenician, rather than black Africans.
As a result, some ancient authors described Andromeda as black[6] while others imagined her as white.[7] In ancient art, likewise, Andromeda could be depicted as either black or white.[8]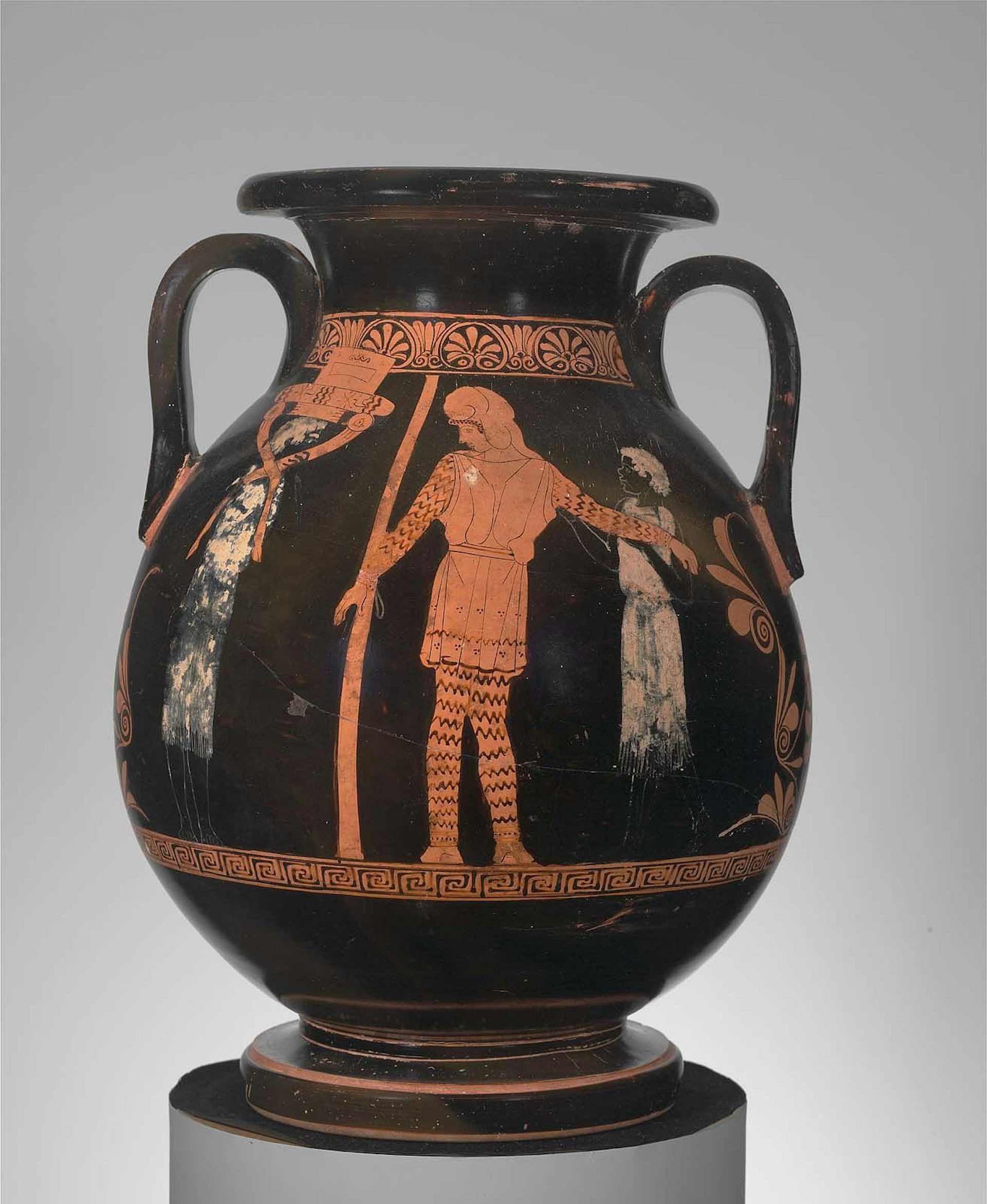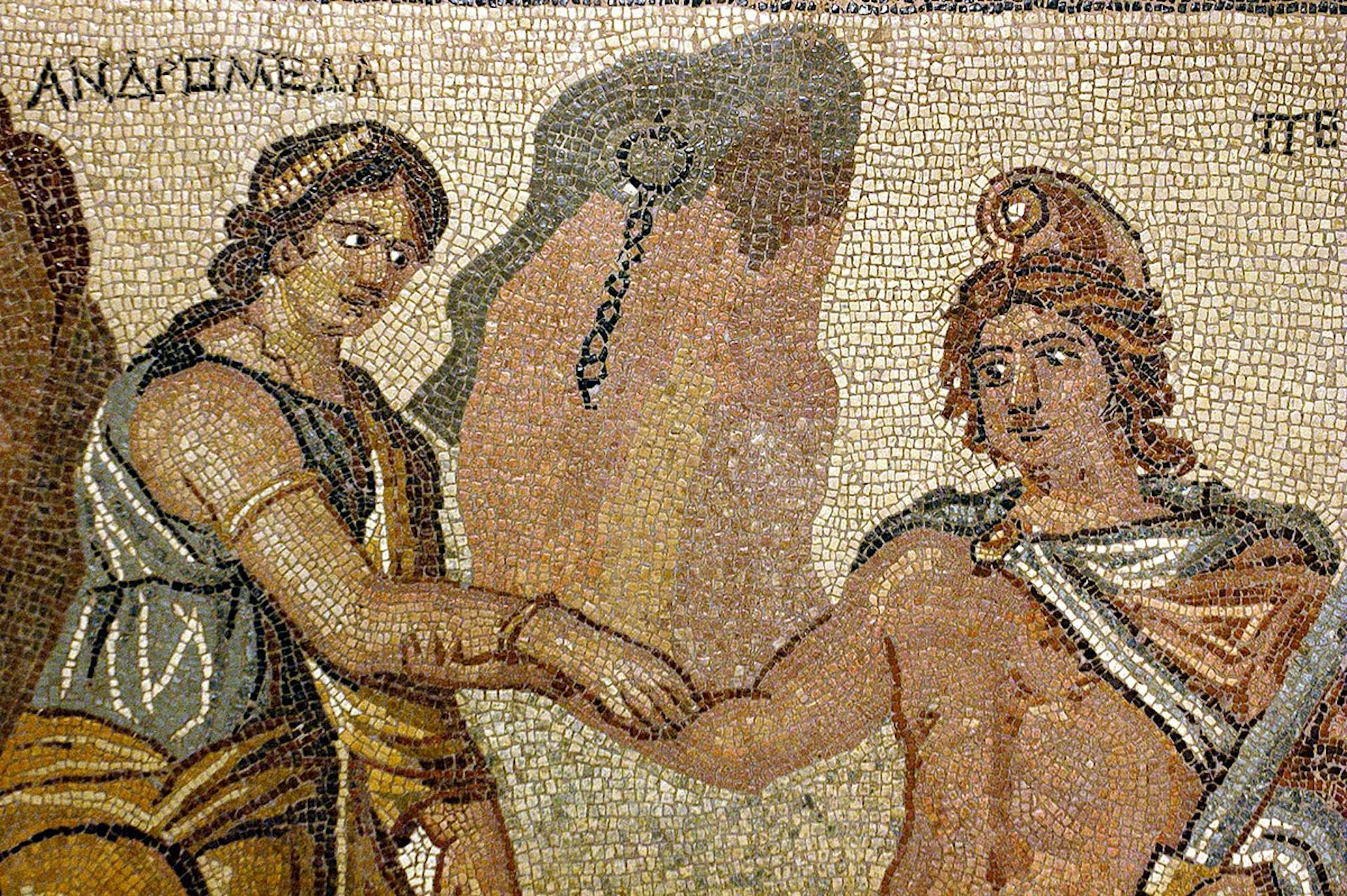 Over the centuries, however, it became standard to portray Andromeda as white. There are a few exceptions—for example, Abraham van Diepenbeeck's The Rescue of Andromeda—but most European artists who painted the scene of her captivity (including Rembrandt, Rubens, Poynter, and Doré) represented her with light skin. The same trend can be detected in other media: in the 1981 film Clash of the Titans, for example, Andromeda is played by white actress Judi Bowker.[9]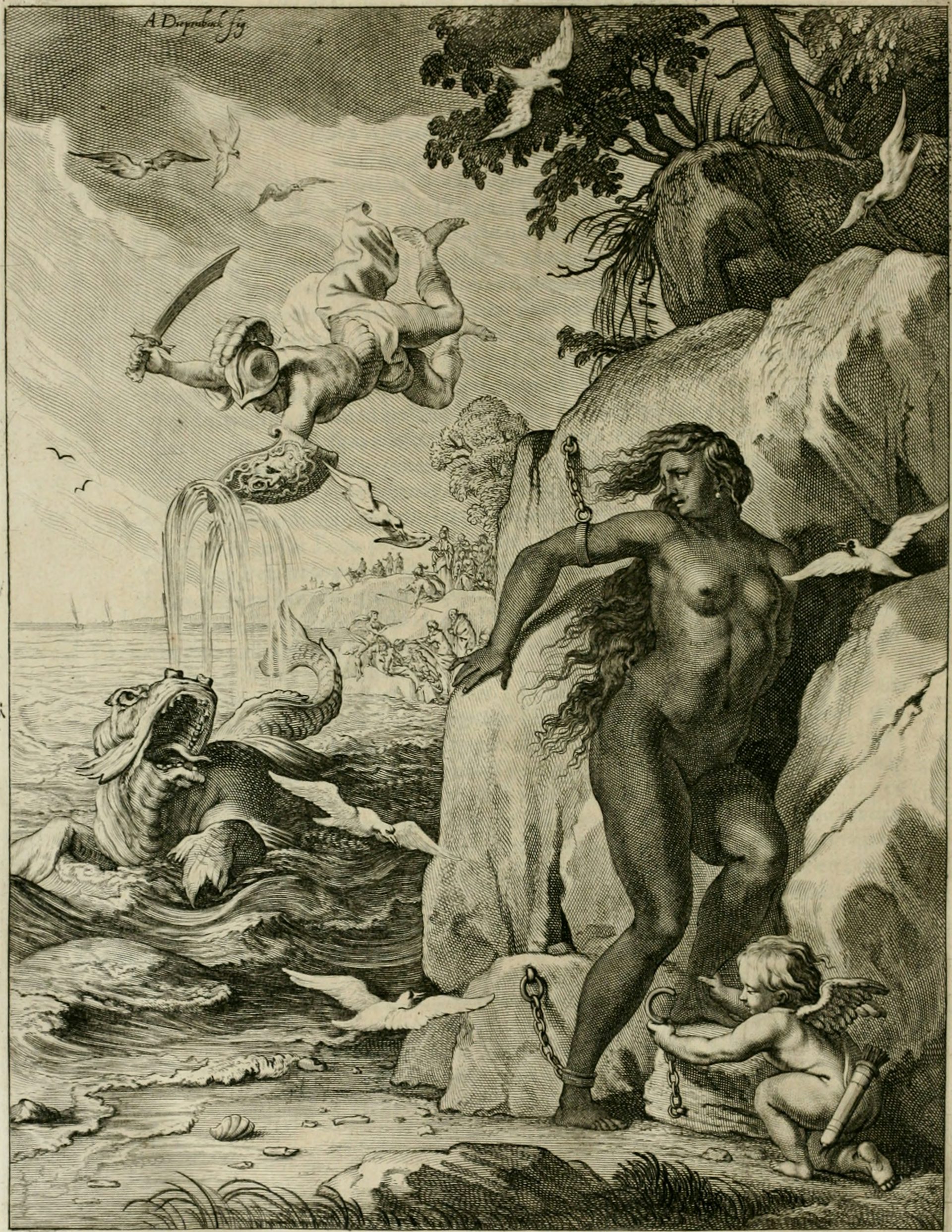 Family
Andromeda was the daughter of Cepheus and Cassiopeia, the king and queen of Ethiopia. After Perseus rescued Andromeda from Poseidon's sea monster, the two were married. Sources vary on how many children they had. According to the most common tradition, they had six sons (Perses, Alcaeus, Sthenelus, Heleus, Mestor, and Electryon) and one daughter (Gorgophone).[10] But other traditions also included among their children two sons named Aelius and Cynurus[11] and a daughter named Autochthe.[12]
Mythology
Perseus
Andromeda was born to Cepheus and Cassiopeia, the king and queen of Ethiopia (or, according to some sources, of Jaffa in modern Israel; see above). Andromeda and her mother Cassiopeia were blessed with remarkable beauty. But this beauty would prove their undoing. In a moment of unforgivable hubris, Cassiopeia boasted that she (or Andromeda—there are different versions)[13] was more beautiful than the Nereids, the daughters of the sea god Nereus.[14] 
This angered Poseidon, the supreme god of the sea. To punish Cassiopeia, Poseidon sent a sea monster (named Cetus in some sources) to ravage the shore of her and her husband's kingdom. Cepheus eventually learned that the only way to get rid of the monster was to sacrifice his daughter Andromeda to it. Thus, Andromeda was bound to a great rock on the shore and left to die.
As Andromeda was awaiting her fate, Perseus happened to pass by on his way home from killing the Gorgon Medusa. When he learned what was happening—that the beautiful girl bound to the rock was to be sacrificed to Poseidon's sea monster—Perseus made Cepheus and Cassiopeia an offer: if they promised him Andromeda's hand in marriage, he would save her life. Cepheus and Cassiopeia agreed (apparently not considering that killing the sea monster might further anger Poseidon).[15]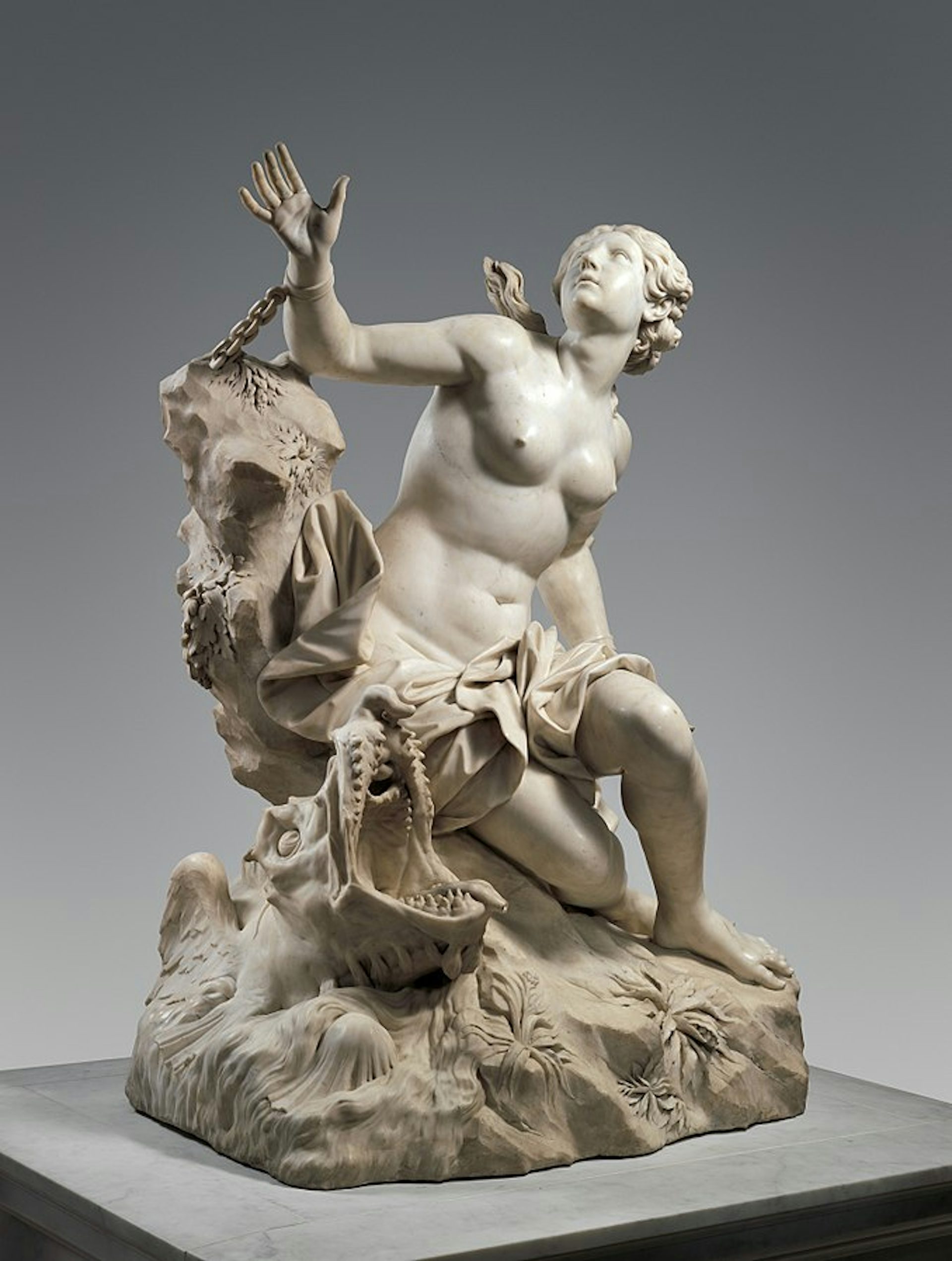 Perseus was still armed with the divine weapons the gods had given him for his battle with Medusa: a helmet of invisibility, an adamantine sword, and winged sandals. He also had the head of Medusa, which turned all those who looked upon it to stone. With this arsenal he was able to kill the sea monster and rescue Andromeda.
The wedding ceremony of Perseus and Andromeda was interrupted, however, by Phineus, Andromeda's former fiancé. A struggle ensued, in which Perseus ended up killing Phineus and his companions. In the wake of this carnage, Perseus and Andromeda left Ethiopia.
Greece and the House of Perseus
Andromeda followed Perseus back to Greece. The newlyweds stopped first on the island of Seriphos, where Perseus had been raised, so that he could save his mother Danae from the unwanted advances of King Polydectes. Perseus then took Andromeda to his ancestral kingdom of Argos on the Greek mainland.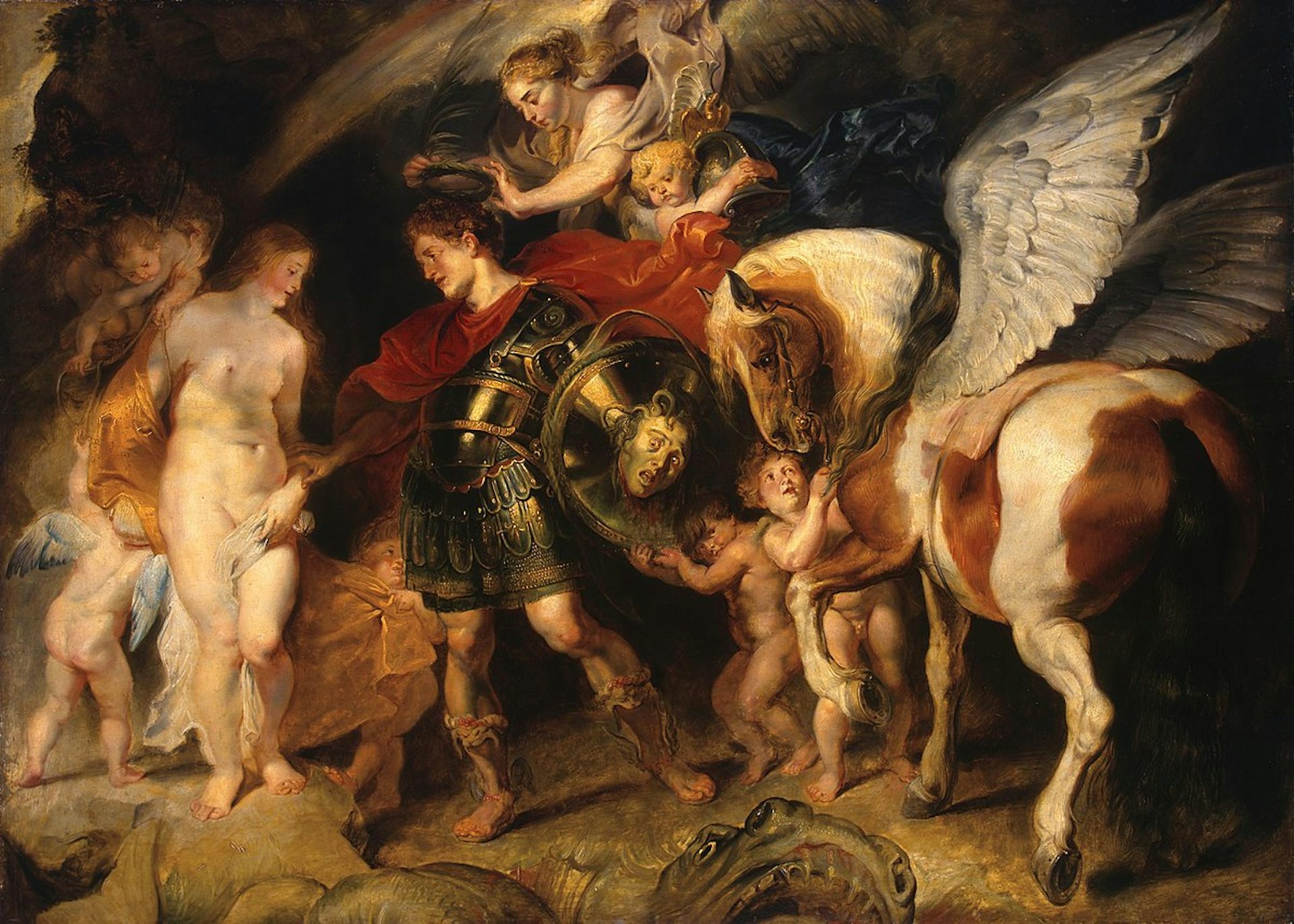 After Perseus accidentally killed his father Acrisius (as an old prophecy had predicted he would), he gave up the throne of Argos—though he didn't abandon royal life altogether. Instead, he became the king of Tiryns and Mycenae and made Andromeda his queen.[16] Together, Perseus and Andromeda had many important children and began the Perseid dynasty, or "House of Perseus." Among their famous descendants was Heracles, perhaps the greatest hero of Greek mythology.
Constellation
After her death, Andromeda was transformed into a constellation, along with the other characters of her myth (Perseus, Cepheus, Cassiopeia, Cetus, etc.).[17] The Andromeda constellation contains the Andromeda Galaxy, the nearest major galaxy to the Milky Way.
Pop Culture
Andromeda has appeared in several modern adaptations of the Perseus myth, including the 1981 film Clash of the Titans and its 2010 remake. 
Andromeda has also given her name to various fictional characters and entities, among them the protagonist of Jodi Picoult's novel My Sister's Keeper (2004), the Harry Potter character Andromeda Tonks, Michael Chrichton's novel The Andromeda Strain (1969), and a ship called the Princess Andromeda in Rick Riordan's Percy Jackson and the Olympians series.