Greek Hero
Agamemnon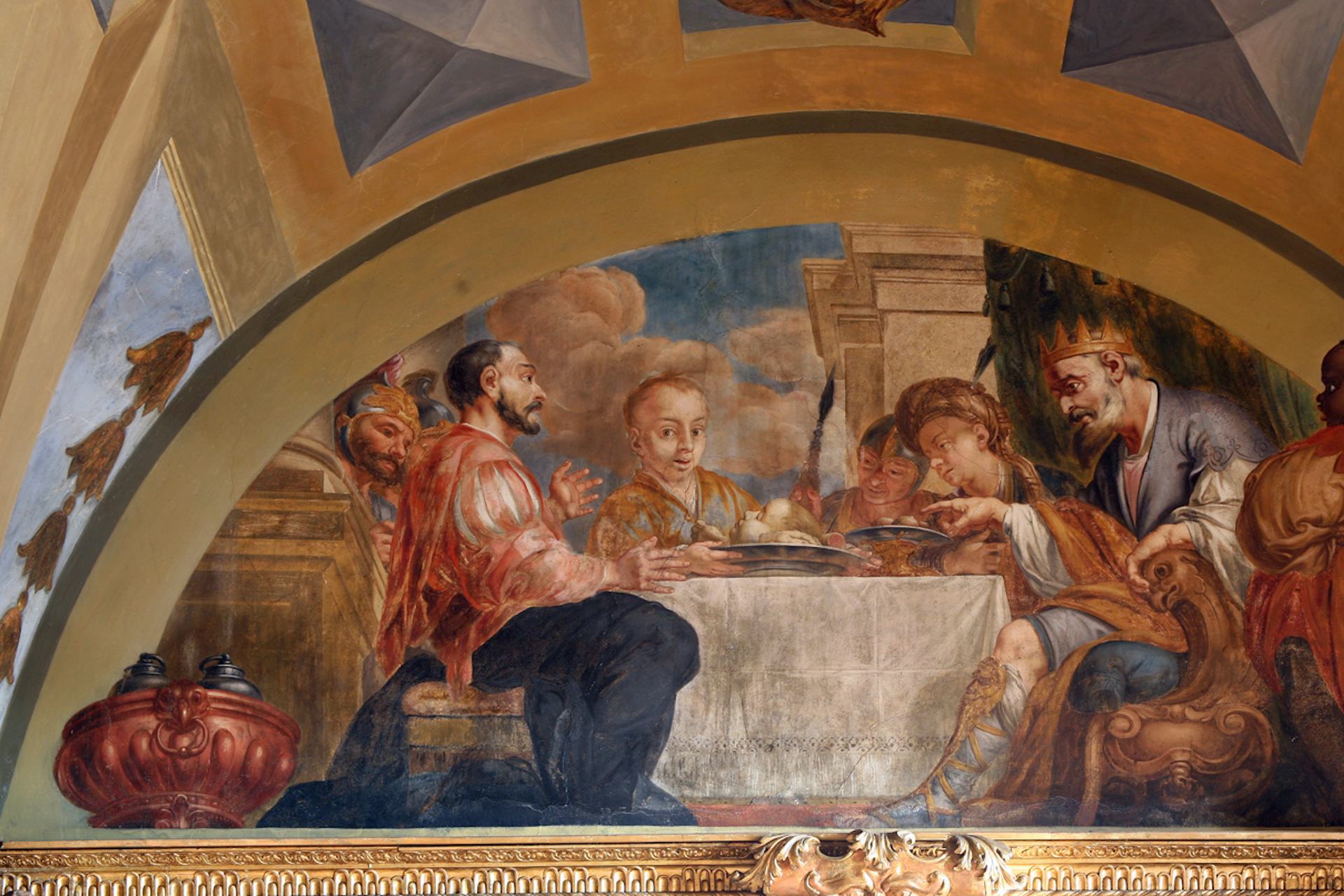 Overview
Agamemnon, son of Atreus, was the king of Mycenae (or Argos, in some traditions) and the most powerful king of mythical times. When his brother's wife Helen ran off with a handsome prince from Troy, Agamemnon raised an immense army to get her back.
Agamemnon would stop at nothing to win the glory of conquering Troy, even sacrificing his own daughter Iphigenia in exchange for a favorable wind for his fleet. Though Agamemnon did finally sack Troy after a ten-year war, he was not able to enjoy his glory for long. As soon as he returned home, he was murdered by his wife Clytemnestra and her lover, Aegisthus.
Etymology
The etymology of the name "Agamemnon" is uncertain. In antiquity, it was sometimes thought to mean "long-remaining," deriving from the Greek words agan ("very, a long time") and menein ("to remain").[1] According to modern scholars, however, the name is derived from either the Greek verb medesthai, meaning "to think on, plan," or the Greek noun menos, meaning "strength, might."[2]
Pronunciation
| English | Greek |
| --- | --- |
| Agamemnon | Ἀγαμέμνων |

| Phonetic | IPA |
| --- | --- |
| [ag-uh-MEM-non, -nuhn] | /ˌæg əˈmɛm nɒn, -nən/ |
Alternate Names
Some variants of the name "Agamemnon" are known from antiquity, mostly from Attic vases. These include Agamesmōn, Agammemōn, and Agamen(n)ōn.
Titles and Epithets
Agamemnon laid claim to a number of important epithets in Greek literature. These include anax andrōn, "lord of men"; eury kreiōn, "wide-ruling"; and poimēn laōn, "shepherd of the people." Agamemnon was often also known by his patronymic, Atreidēs, meaning "son of Atreus."
Attributes
Kingdom
Agamemnon was a powerful king. In the earliest sources, he ruled over the city of Mycenae and its surroundings. Homer laid out the extent of Agamemnon's impressive dominion in the Iliad:
And they that held Mycenae, the well-built citadel, and wealthy Corinth, and well-built Cleonae, and dwelt in Orneiae and lovely Araethyrea and Sicyon, wherein at the first Adrastus was king; and they that held Hyperesia and steep Gonoessa and Pellene, and that dwelt about Aegium and throughout all Aegialus, and about broad Helice,—of these was the son of Atreus, lord Agamemnon.[3]
Mycenae, a fortified city in the northeastern Peloponnese, was an extremely important political and cultural center during the Greek Bronze Age (sometimes also referred to as the "Mycenaean period"), lasting from ca. 1600–1100 BCE. It is particularly famous for its distinctive fortifications, built of tightly-fitted boulders (also known as "Cyclopean masonry"), and its imposing Lion's Gate—all of which still stand today.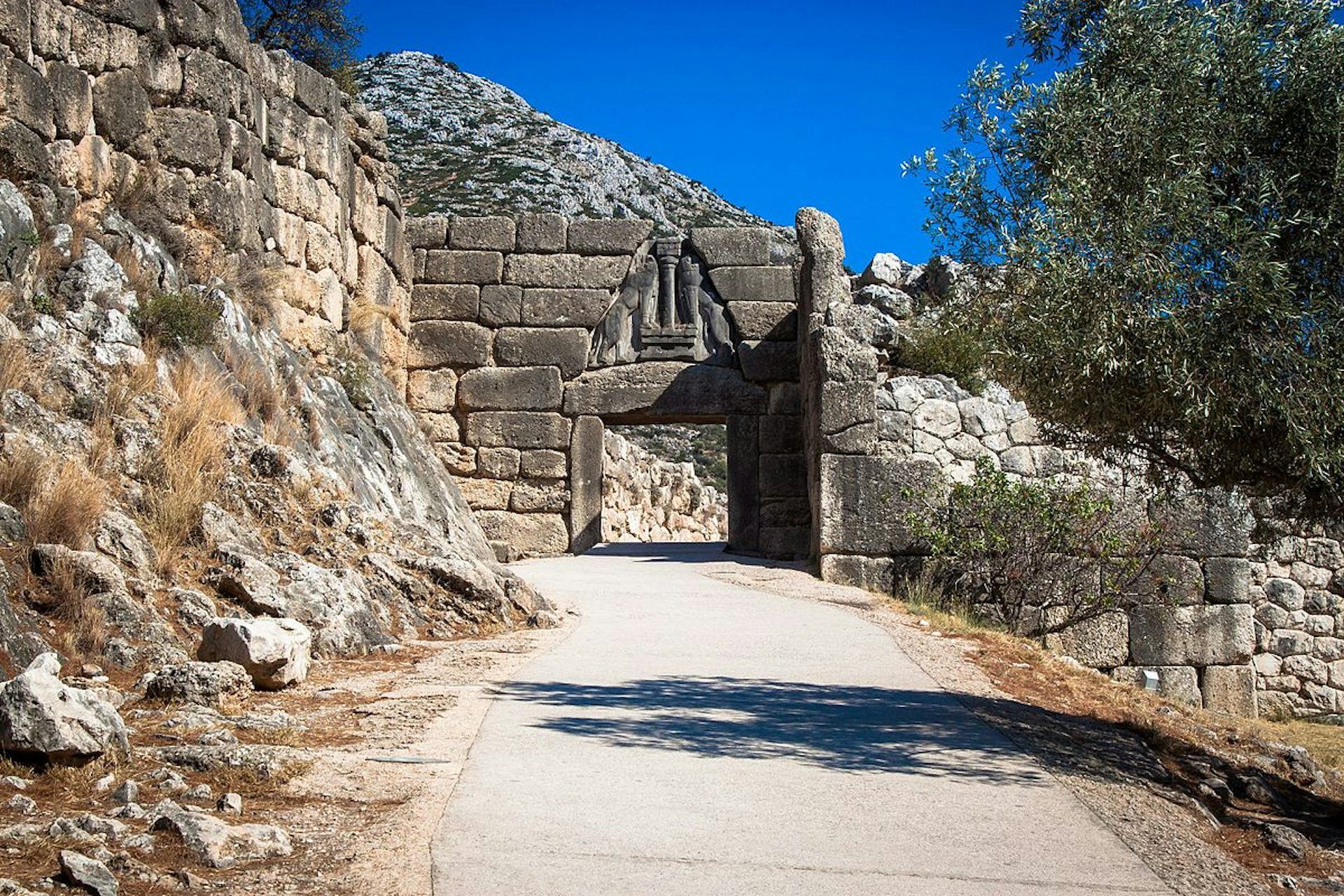 But by the Classical period (490–323 BCE), Mycenae had become little more than a backwater. Due to this altered political landscape, many classical authors moved Agamemnon's kingdom from Mycenae to the neighboring Argos, a much more important power during their time.[4] Depending on the source, Agamemnon was thus either king of Mycenae or of Argos.
Whatever eventually happened to his kingdom, the mythical Agamemnon was extremely powerful. According to the Iliad, Agamemnon mustered the largest individual army of any of the Greeks who sailed against Troy, with one hundred ships.[5] He was also the commander-in-chief of the entire expedition.
Military and Royal Attributes
Like many of the other heroes of the Trojan War, Agamemnon had a brilliant suit of armor, described in detail in the Iliad. It included greaves "fitted with silver ankle-pieces"; a breastplate with bands of dark blue, gold, and tin; a sword "whereon gleamed studs of gold, while the scabbard about it was of silver, fitted with golden chains"; a powerful shield with circles of bronze, tin, gleaming white, and dark blue, decorated with a grim, glaring Gorgon; a helmet "with two horns and with bosses four, with horsehair crest;" and, finally, "two mighty spears, tipped with bronze."[6]
Agamemnon was also said to be in possession of a magnificent scepter fashioned by Hephaestus, the god of the forge.[7]
Skills, Abilities, and Character
Though Agamemnon was usually represented as an impressive fighter—he kills numerous Trojans in the Iliad and other ancient sources[8]—he was also vain, easily discouraged, and overall a subpar general and strategist.
The Curse of Atreus
There was also a dark side to Agamemnon's power and wealth. His family carried a terrible curse, originally incurred by the cruel and violent feuding between Agamemnon's father, Atreus, and uncle, Thyestes. This curse—usually known as the "Curse of Atreus"—haunted Agamemnon throughout his life; according to many traditions, it led him to sacrifice his daughter and ultimately die at the hands of his wife and her lover.
Iconography
In ancient art, Agamemnon was usually represented with the typical attributes of royalty: a diadem or his famous scepter. He also tended to have a large beard; as a result, Agamemnon, "lord of men," looked similar to Zeus, lord of the gods. In painting and sculpture, he appeared in a variety of scenes, most of them related to the Trojan War.[9]
Family
In most traditions, Agamemnon was the son of Atreus and his wife Aerope.[10] Atreus, a son of the hero Pelops (and thus grandson of the infamous Tantalus), competed viciously with his brother Thyestes for the throne of Mycenae. In some traditions, however, Agamemnon was the son not of Atreus but of Atreus' son Pleisthenes and his wife (whose name was either Aerope, Cleolla, or Eriphyle).[11]
All traditions agreed that Agamemnon's brother was Menelaus, who later became famous for his rather embarrassing marriage to Helen of Troy. In some traditions, he also had another brother named Pleisthenes[12] and a sister named Anaxibia,[13] Astyoche,[14] or Cydragora.[15]
Agamemnon married Clytemnestra, the daughter of King Tyndareus of Sparta. Together they had one son, Orestes,[16] and several daughters, whose names varied considerably in the ancient sources. According to Homer, our earliest literary source, Agamemnon's daughters were Chrysothemis, Laodice, and Iphianassa.[17] But most later sources substituted Electra for Laodice[18] and added another daughter, Iphigenia, whom Agamemnon sacrificed so that the gods would allow him to sail to Troy.[19] 
This Iphigenia is particularly confusing: in some traditions, Iphigenia was a substitute for Iphianassa;[20] in others, Iphigenia and Iphianassa were two different daughters of Agamemnon and Clytemnestra;[21] in still others, Iphigenia's name was either Iphimede[22] or Iphigone.[23] To make matters even more confusing, there was one tradition in which Iphigenia was actually the daughter of Clytemnestra's sister Helen and had merely been adopted by Clytemnestra and Agamemnon.[24]
While at Troy, Agamemnon took several captive women as lovers. These included Chryseis, the daughter of a priest, known for her role in the beginning of the Iliad. By her, Agamemnon was sometimes said to have fathered a son named Chryses.[25]
After the Greeks sacked Troy, Agamemnon carried off the princess Cassandra as his captive. Pausanias reports that they had two sons together, Pelops and Teledamus, both of whom were murdered (together with Agamemnon and Cassandra) by Clytemnestra and Aegisthus.[26]
Some traditions also name Agamemnon as the father of a boy called Halesus, probably a bastard born to one of Agamemnon's slaves or captives at Troy. This Halesus was an ally of Aeneas and died fighting with him in Italy.[27] 
Finally, there was also a tradition that said that Agamemnon had a young male lover named Argynnus who drowned in the river Cephissus in central Greece.[28]
Worship
Agamemnon received hero worship in many parts of the Greek world, and was sometimes even equated with Zeus.[56] There were at least two sites that claimed to house and pay heroic honors to Agamemnon's remains: Agamemnon's traditional kingdom of Mycenae[57] and the Laconian town of Amyclae, just southeast of Sparta.[58] At both sites, Agamemnon was said to have been buried together with the Trojan Cassandra, who died with him. 
Agamemnon was worshipped at other sites as well. These included the region of Laconia;[59] Chaeronea in central Greece, which claimed to be in possession of Agamemnon's scepter;[60] Clazomenae on the coast of Anatolia;[61] and Tarentum in southern Italy.[62] There was also an important statue of Agamemnon at Olympia, the site of the Olympic Games.
Pop Culture
Agamemnon has retained a significant presence in modern pop culture, especially in adaptations of the Trojan War myth. He is an important character in novels such as Barry Unsworth's The Songs of the Kings (2002), David Gemmell's Troy trilogy (2005–2007), and Margaret Miller's The Song of Achilles (2011); in plays such as Eugene O'Neill's Mourning Becomes Electra (1931); in poems such as Denton Jacques Snider's Agamemnon's Daughter: An Epopee (1885); and in graphic novels such as Eric Shanower's Age of Bronze series (1998–).
Agamemnon has also appeared in film and television, with various actors taking on the role. In film, these include Robert Douglas in Helen of Troy (1956), Nerio Bernardi in The Trojan Horse (1961), Mario Petri in The Fury of Achilles (1962), Sean Connery in Time Bandits (1981), and Brian Cox in Troy (2004). In television, Agamemnon has been portrayed by Yorgo Voyagis in The Odyssey (1997), Rufus Sewell in Helen of Troy (2003), and Johnny Harris in Troy: Fall of a City (2018).
Finally, Agamemnon has been featured in other media, such as the video game Total War Saga: Troy (2020).
Most modern adaptations of Agamemnon represent the character unfavorably. He is seen as a cruel and greedy king who will stop at nothing to achieve his goals, even if that means sacrificing his own daughter.