Overview
Aeneas, son of Aphrodite and Anchises, was a Trojan hero who bravely fought against the Greeks during the Trojan War. Though the Greeks eventually sacked Troy, Aeneas managed to escape and settle in the West, where he became the ancestor of the Romans.
Though originally a figure from Greek mythology, Aeneas was wholeheartedly adopted by the Romans, who claimed him as their founding hero. Today, in fact, Aeneas is best known from Roman sources, not Greek ones. These Roman sources fleshed out Aeneas and his mythology, characterizing him as a courageous, long-suffering hero, notable above all for his sense of duty (pietas in Latin).
The Romans worshipped Aeneas under the title "Indiges" or even "Jupiter Indiges."[1]
Key Facts
Etymology
The etymology of the name "Aeneas" (Greek Αἰνείας, translit. Aineías, or Αἰνέας, translit. Ainéas; Latin Aeneas) is uncertain. In antiquity, it was connected with the adjective αἰνός (ainós), meaning "terrible." Aphrodite supposedly gave her son this name because of the αἰνóν ἄχος (ainón áchos)—the "terrible grief"—caused by knowing Aeneas was mortal and therefore destined to die.[2]
But this etymology, while very influential in antiquity, may or may not reflect reality. Aeneas' name also recalls the Greek word αἶνος (aînos), meaning "story, praise," as well as the derivative verbs αἰνέω (ainéō) and ἐπαινέω (epainéō), meaning "to praise."
It has also been suggested that the name is Thraco-Illyrian—that is, originating in the languages spoken by the Thracian and Illyrian people living northeast and northwest of the Greeks.[3]
Pronunciation
| English | Greek |
| --- | --- |
| Aeneas | Greek Αἰνείας (Aineías)/Αἰνέας (Ainéas); Latin Aeneas |

| Phonetic | IPA |
| --- | --- |
| [ih-NEE-uhs] | /ɪˈni əs/ |
Titles and Epithets
As one of the most impressive Trojan heroes in Homer's Iliad, Aeneas was endowed with a number of equally impressive epithets, including μεγαλήτωρ (megalḗtōr, "great-hearted"), ἄναξ ἀνδρῶν (ánax andrôn, "lord of men"), and the patronymic Ἀγχισιάδης (Anchisiádēs, "son of Anchises").
The Romans also bestowed many epithets upon Aeneas when they adopted him into their mythology and religion. Some of these were inspired by Greek (especially Homeric) epithets: magnanimus, for instance, is a Latin translation of the Greek μεγαλήτωρ (megalḗtōr, "great-hearted"). Roman authors also gave Aeneas Latin epithets such as bonus ("good"), magnus ("great"), or simply heros ("hero"). But his most important epithets by far were pius ("dutiful") and pater ("father"), used to characterize the hero in Virgil's Aeneid and other important Roman works.
Aeneas between Greece and Rome
Few figures can lay claim to a mythology as complex and dissonant as that of Aeneas. This is in large part because Aeneas was an important figure to both the Greeks and the Romans.
In fact, Aeneas' mythology evolved over an extremely long period of time: Aeneas first appears in the Homeric epics, which were composed around 800 BCE but which preserved oral traditions that were much older. The myth of Aeneas then appears to have reached Italy through Etruria by around the sixth century BCE, where it continued to evolve.[97] By the fourth or third century BCE, Aeneas was picked up by the Romans, who connected his myth with that of their own founding father Romulus.[98]
The myth of Aeneas—especially the myth of Aeneas in Italy—appealed to different kinds of people and groups of people. Of course, it appealed to the Romans who wished to trace their ancestry to the Greeks, whose civilization they greatly admired. But the myth also appealed to Greeks (like Dionysius of Halicarnassus) who wanted to prove that the Romans—who by 31 BCE had conquered all of the Greek world—were in fact Greeks themselves.
Finally, the myth was of particular interest to Augustus, who became the first "emperor" of Rome in 27 BCE. Augustus was a member of the Julian clan—the gens Iulia—that traced their descent to Aeneas' son Iulus (also known as Ascanius). By turning Aeneas into a Roman "national hero," Augustus cemented his own legitimacy as a ruler. This was no doubt part of the reason that Augustus and his political allies encouraged Virgil to compose the Aeneid.[99]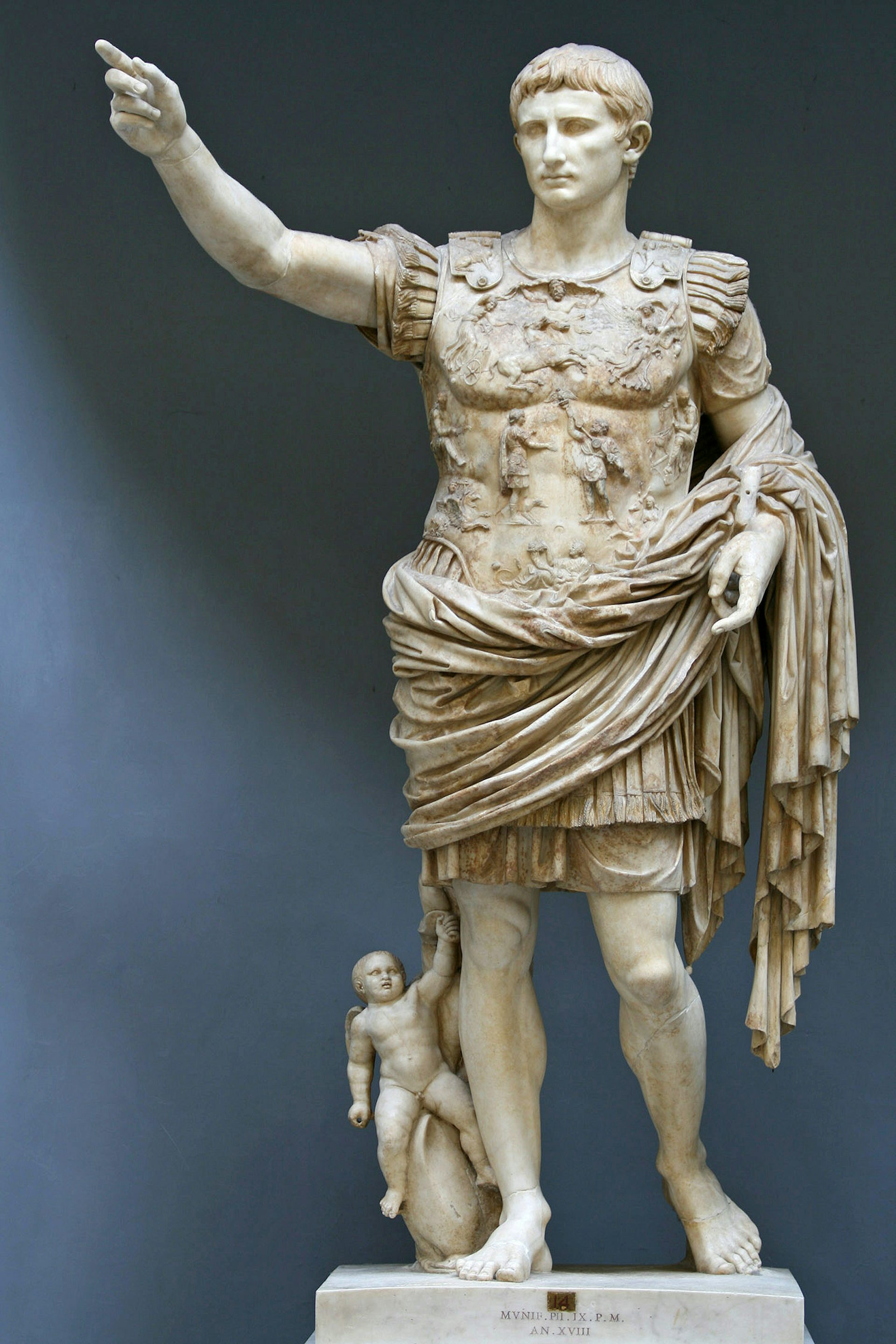 Worship
The worship of Aeneas—as a hero as well as a god—seems to have been known in Asia Minor, on the site of Troy, from an early period.[100] There, the family of Aeneas, the Aeneadae, claimed hereditary privileges for many centuries.[101]
But information on the cult of Aeneas in antiquity is very sparse and unsatisfactory. Aeneas was worshiped in the various sites that traced their origins to him.[102] There is some evidence that the cult of Aeneas reached Sicily from Greece and the results of excavations at the site of Lavinium suggest that his cult may have even traveled as far as central Italy by the fourth century BCE; however, this is far from certain.[103]
Many tombs of Aeneas were known in antiquity, in many different places.[104] This is hardly surprising given the many diverse traditions about where Aeneas ended up. Perhaps the most famous tomb was—or became—the tomb of Aeneas on the River Numicius, where the hero was said to have fallen according to the prevailing Roman tradition.[105] But Aeneas also had tombs in other places, such as Berecynthia in the Troad.[106]
Aeneas received cult honors at his tombs as well. In fact, Aeneas' Roman cult appears to have been centered upon his tomb at the River Numicius, where he was worshiped under the name of Jupiter Indiges, the "Native Jupiter."[107]
Pop Culture
Aeneas' presence in modern pop culture is almost entirely shaped by Virgil's Aeneid. Aeneas is particularly popular in Italy, where he has inspired films such as The Avenger (1962) and the TV series Eneide (1971–1972).
Aeneas often appears in contemporary adaptations of the Trojan War (including the 2004 film Troy and the 2018 miniseries Troy: Fall of a City), but usually only as a minor character. Aeneas is (somewhat) more central to Ursula Le Guin's Lavinia (2008), a novel that retells the second half of the Aeneid from the perspective of Aeneas' bride-to-be Lavinia.
Aeneas also features in video games such as Warriors: Legends of Troy (where he is a playable character) and Total War Saga: Troy.